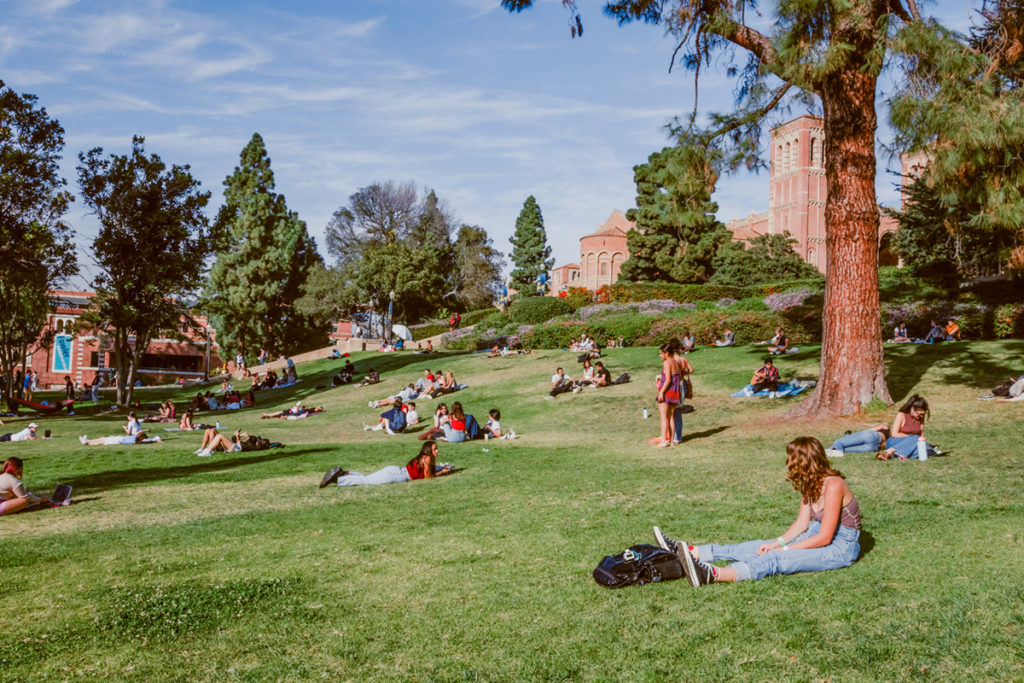 On a February afternoon, UCLA students sit in the sun near Janss Steps.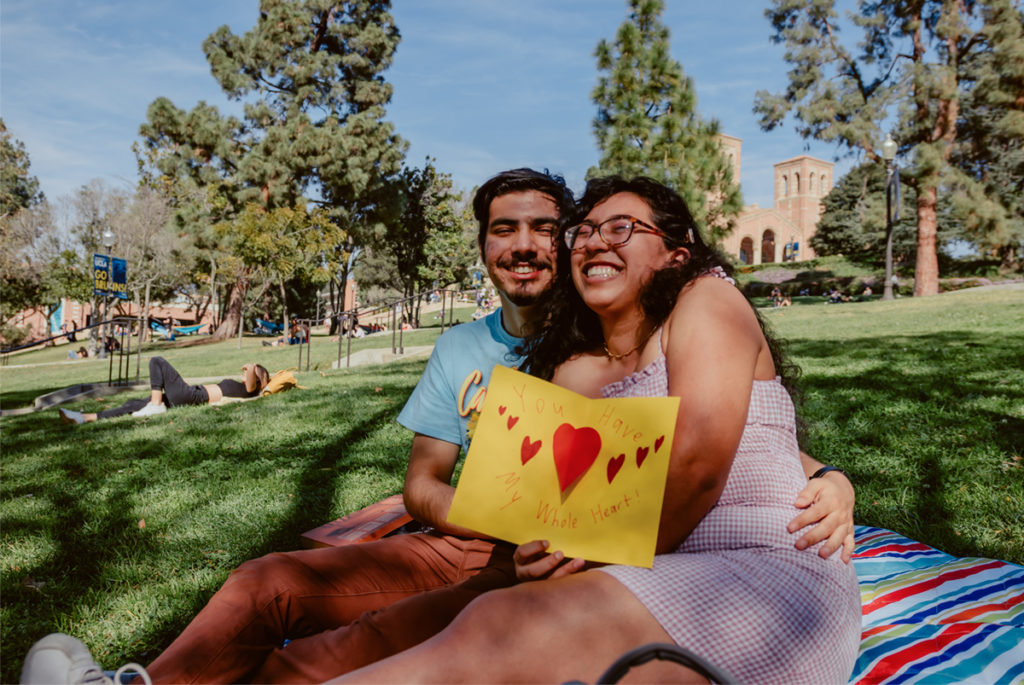 On the lower end of Janss Steps, Victoria Sanchez and Ruben Lugo, both third-year civil engineering students, celebrate their Valentine's Day afternoon with a picnic.
Luga said that they met during their freshman orientation. Afterward, not only did they live on the same floor on the Hill, but they also were a part of the same clubs and had classes together, Lugo added.
Sanchez said the moment she knew Lugo was the one was when she went to an LCC Theater Company performance to support some of her friends and saw Lugo on stage.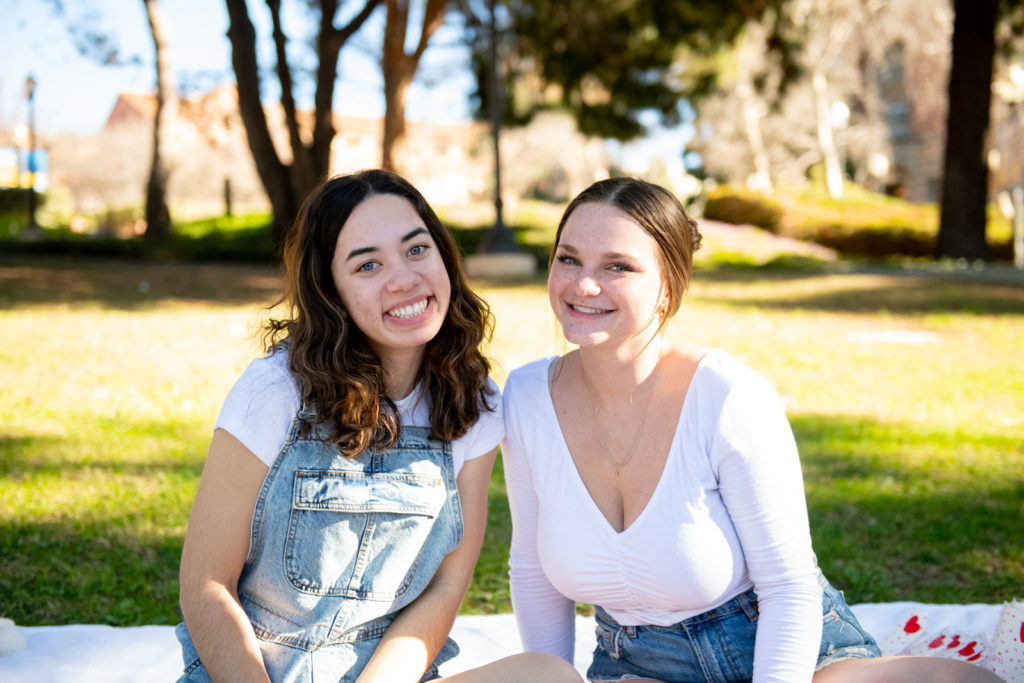 Third-year biochemistry student Juliana Chopelas and first-year political science student Kelsie Hull smile while preparing for a picnic. Chopelas said the two recently became sorority sisters.
Chopelas said, "I love that she's like my helping hand."
Hull said she admired how Chopelas stayed calm and collected, even when she was stressed.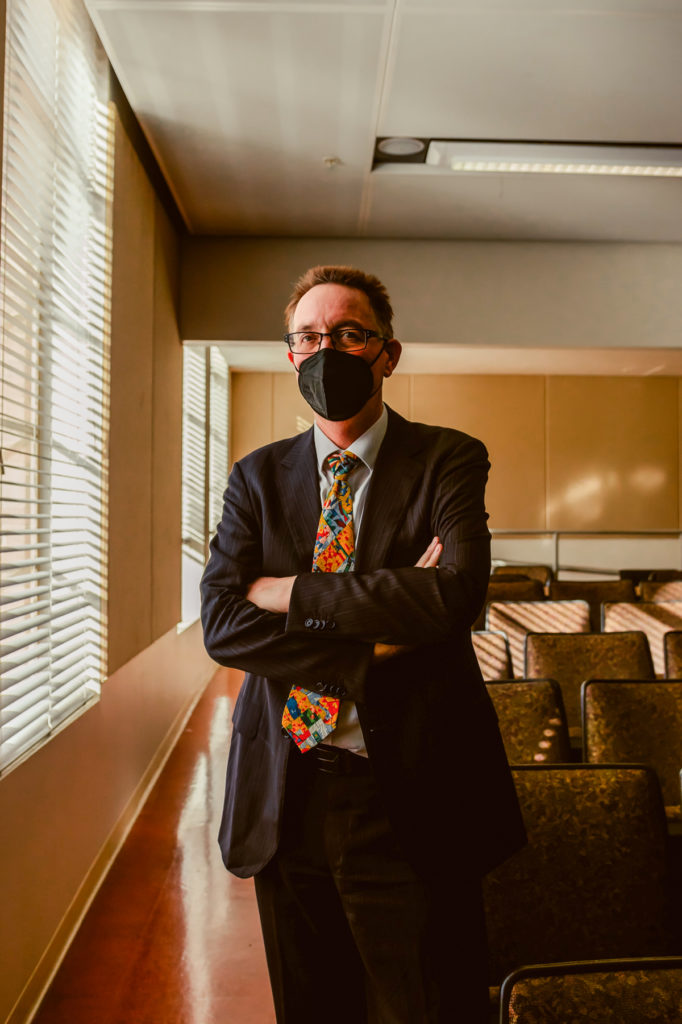 On February 15, Hans Barnard, an associate adjunct professor of the department of Near Eastern languages and cultures, celebrated 42 years of being with his wife.
"Love, of course, is the most important and the most powerful thing in the world," Professor Barnard said.
Professor Barnard shares his advice on how to navigate the abstract idea of love. When it comes to navigating the abstract idea of love, Professor Barnard's advice is to be as nice and accommodating to others as you can.
"We are on this world only for maybe 80-90 years – if you're lucky – and that time is just too short to make other people's lives a misery or other people's lives difficult," Professor Barnard said.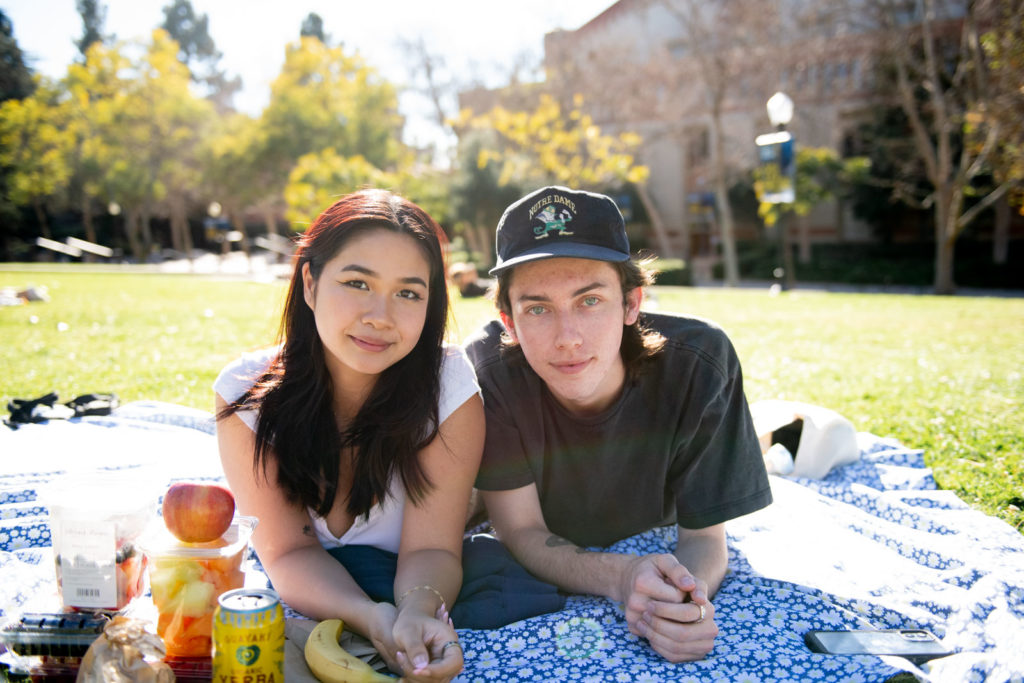 Second-year environmental science student Natalie Pham lays in the grass with Nolan Ortiz on their first date.
Pham said she likes Ortiz's music taste. Ortiz said he likes Pham's smile.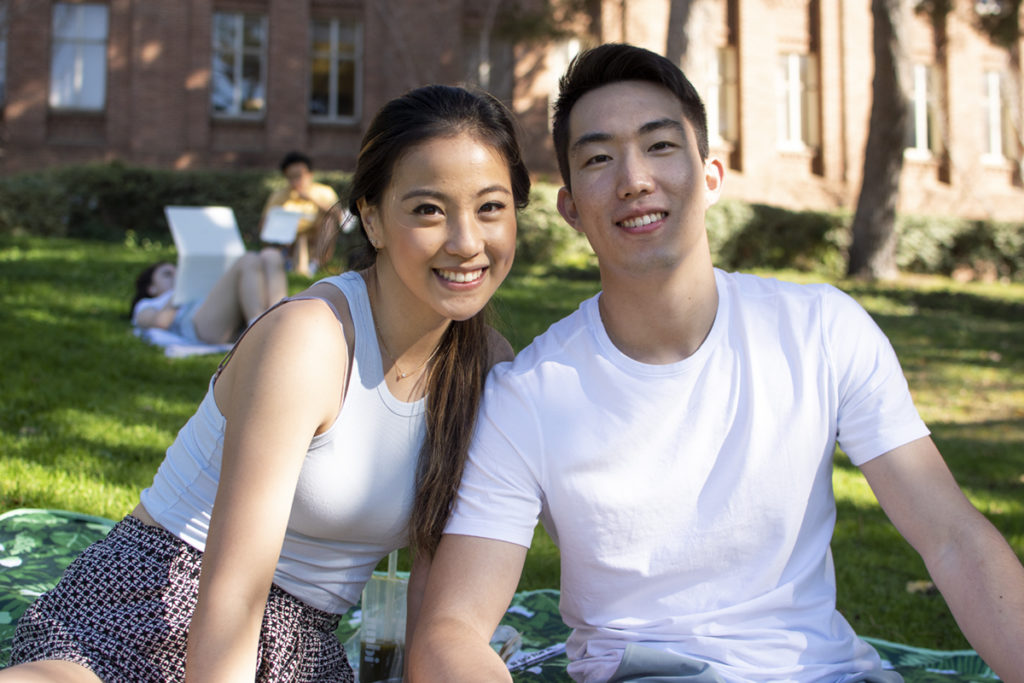 Fourth-year human biology and society student Jamie Hsu and alumnus Daniel Kwak relax on a blanket as they picnic in front of Powell Library. The couple met over the dating app Hinge. Hsu said Kwak was her first like on the app.
Kwak said he loves Hsu's constant positive outlook and attitude.
"She always knows how to brighten up the mood, no matter what mood I am in or she is in," Kwak said.
Hsu said she appreciates how Kwak lets her be authentic and true to who she is.
"I can be very comfortable and be myself," said Hsu. "Whenever I have random stupid thoughts, I know he'll want to listen to them and he won't just be like, 'Oh, cool.'"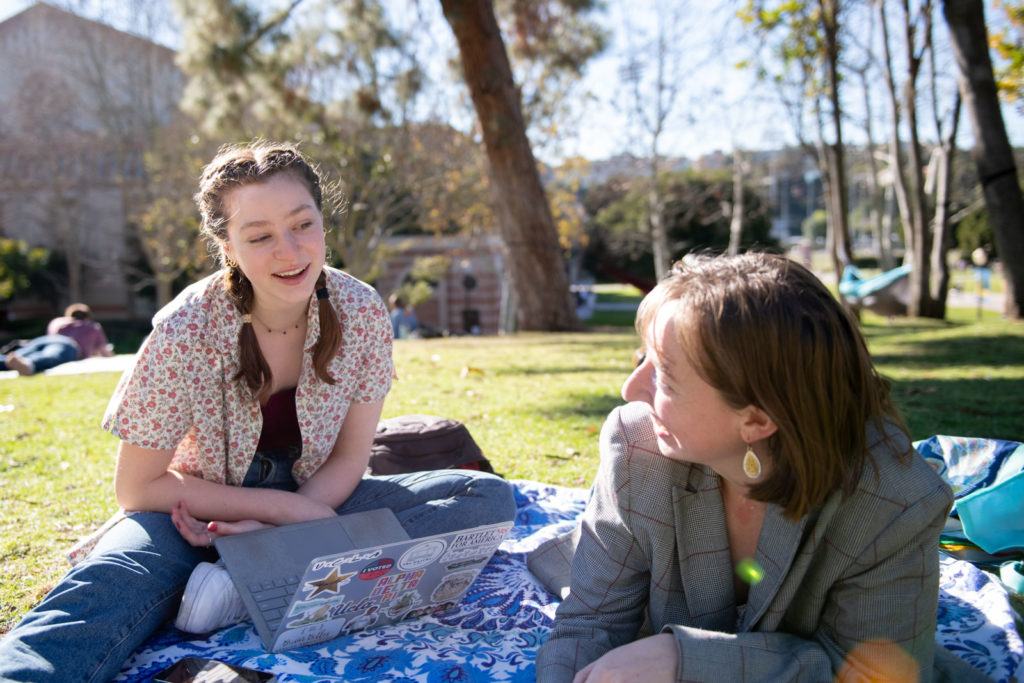 Fourth-year microbiology, immunology and molecular genetics student Juliet Stephenson and fourth-year public affairs and labor studies student Samantha Schwartz smile at each other.
Schwartz said Stephenson, her friend and roommate, feels like family.
"Talking to her is just really comforting to me. I always feel seen and respected and valued and it makes me want to be a more loving person," Schwartz said.
Stephenson said she loves how Schwartz stays true to her values.
"She doesn't compromise those values for anyone or anything," Stephenson said. "It's something that I really look up to."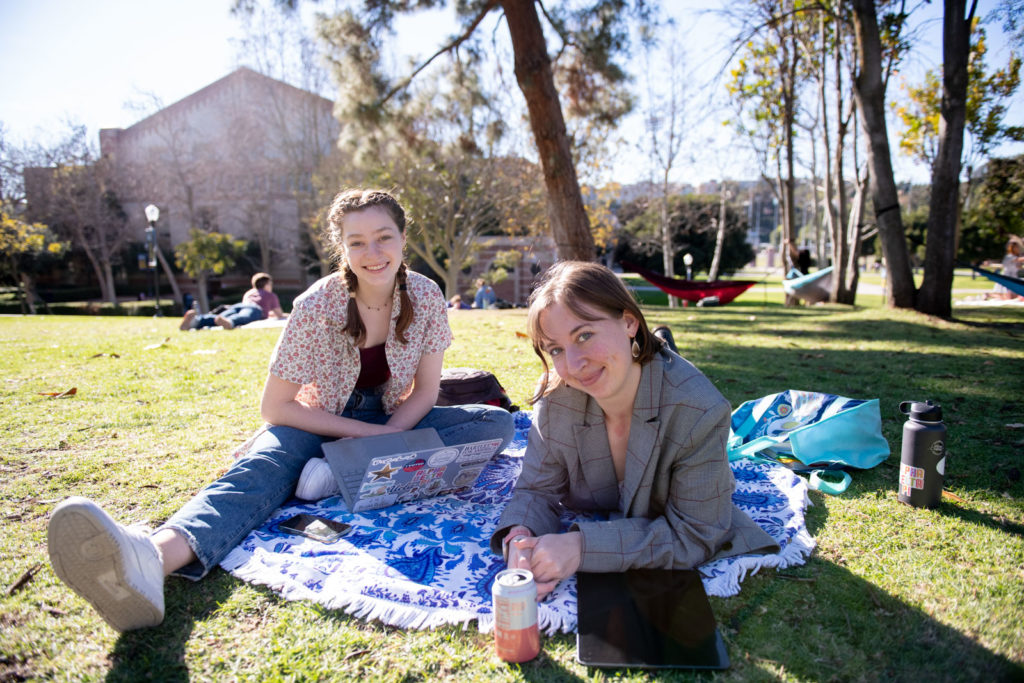 Schwartz and Stephenson study together in the grass. Stephenson said the two had only been friends for a few months before the pandemic began.
"We've gotten to spend a lot of time just us, not going out and not doing anything really." Stephenson said. "So I think it's given us a chance to really learn to enjoy each other."
Schwartz said she couldn't imagine quarantining with anyone else.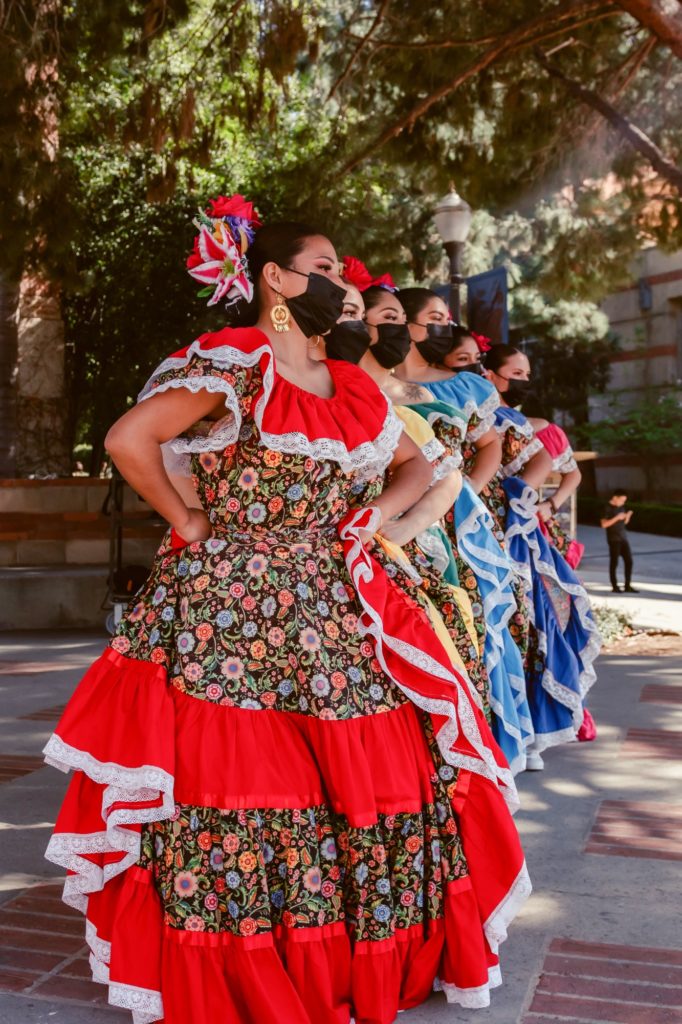 Grupo Folklórico de UCLA put on a special Valentine's Day performance titled "Bailando con Cupido" at the McClure Stage. Student performers stood on stage wearing a traditional dress from the Mexican state of Sinaloa.
Fourth-year human biology and society student Diana Jimenez-Briseño (second to the left) said she found love in Grupo Folklórico.
"We just danced Caballo Dorado on the stage," Jimenez-Briseño said . "That was such a good, cute moment … showing our love for our culture."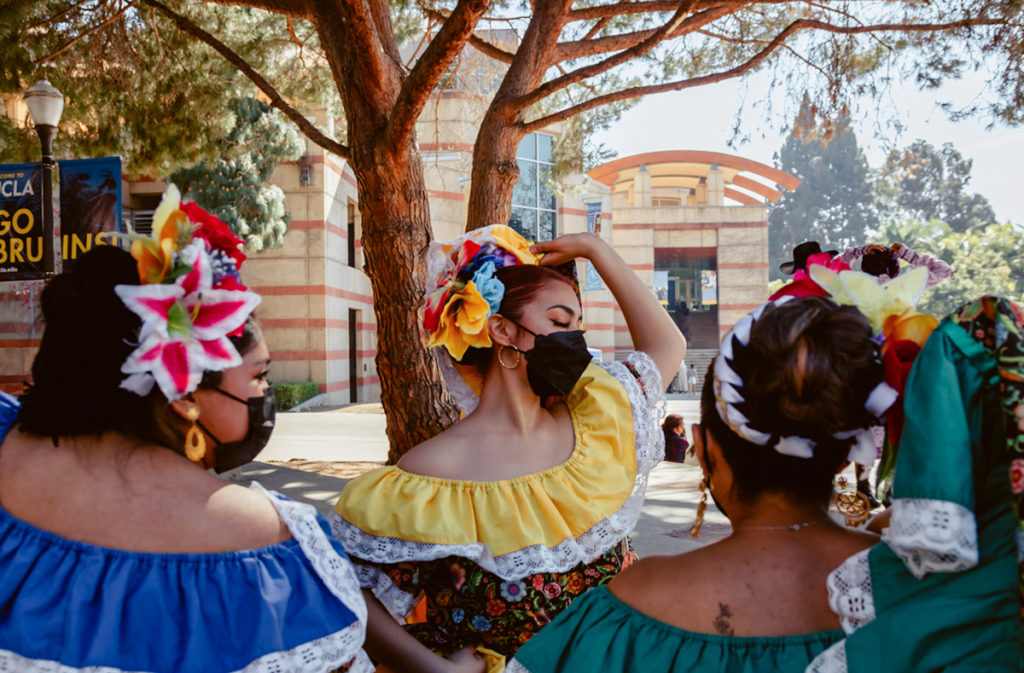 Jimenez-Briseño said Grupo Folklórico is a way to showcase the love she has for her culture.
"Being part of Folklórico has been like showing me a different side of love that I didn't know before," Jimenez-Briseño said.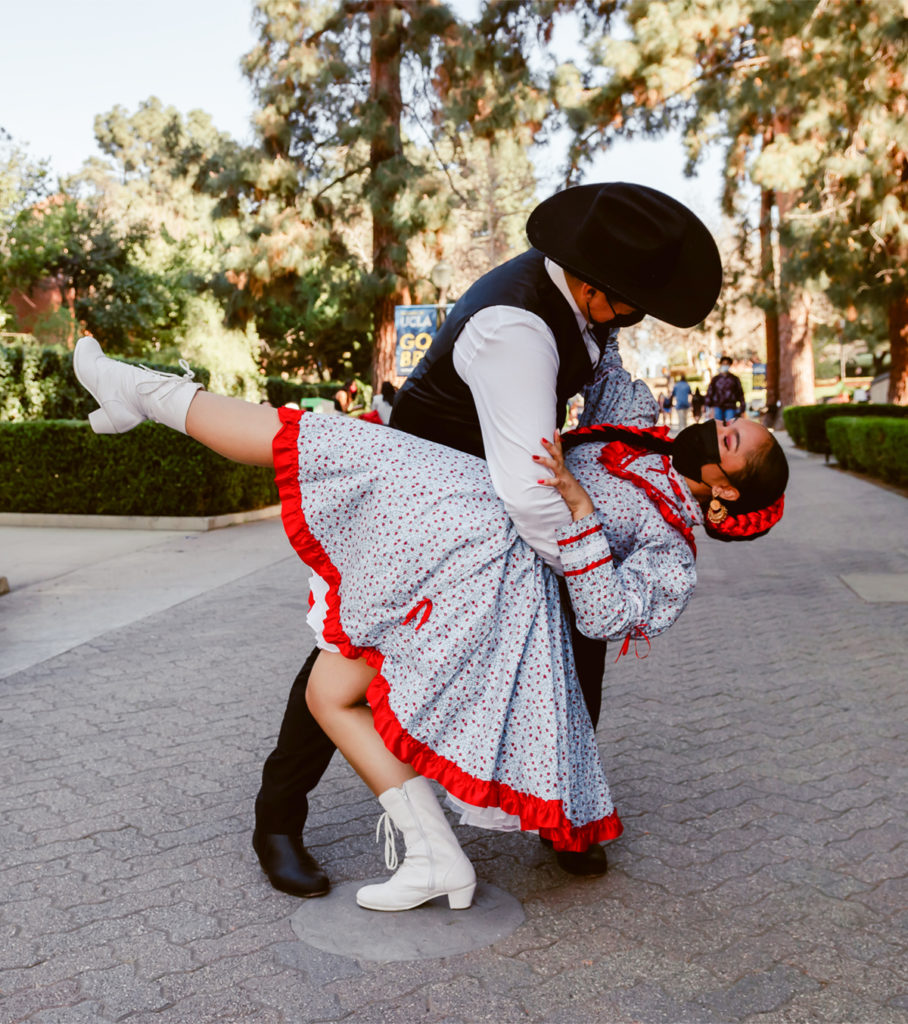 UCLA alumnus Abraham Jurado is another Grupo Folklórico performer.
"The song that we performed at the end of the performance, "El Son de la Negra," has a lot to do with love," Jurado said.
Jurado said the song reminds him of his mother.
"Every time I dance to this song, I wonder whether she would be proud of me," Jurado said. "She cannot see me perform because she is in Mexico but Folklórico is a way I can still feel her love and feel connected with her even without her physical presence."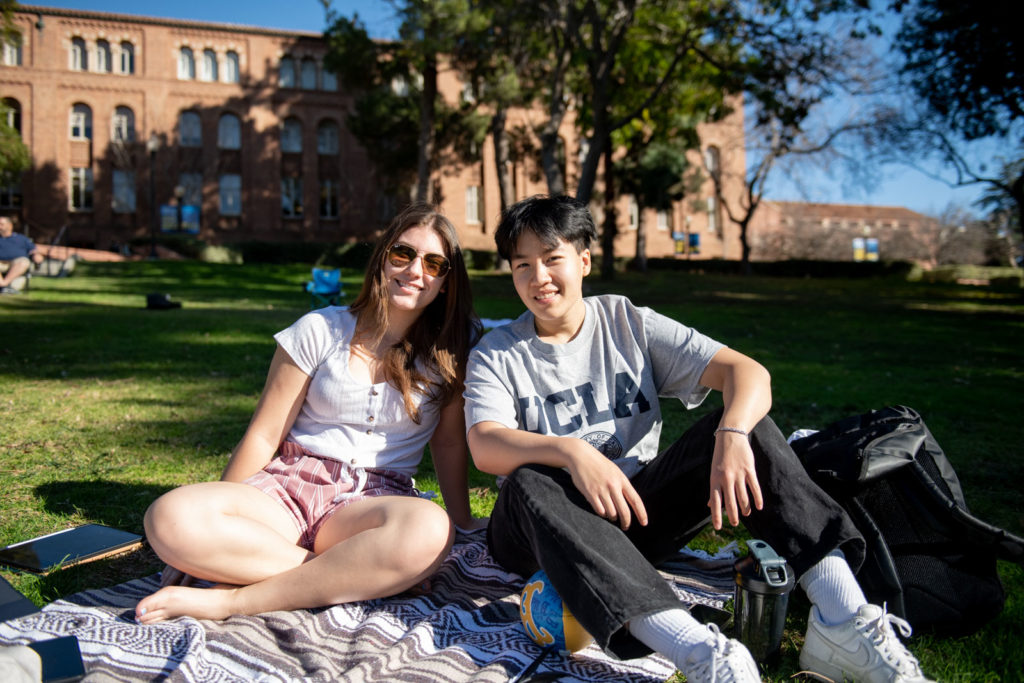 Sophie Vikram, a first-year physiological science student, and Brianna Hutchens, a first-year biology student, sit together near Janss Steps. Vikram said that although the two are new friends, they have already formed a special bond.
When asked what she loved about Vikram, Hutchens said, "I really appreciate how open you are, about being yourself and being who you are."
Vikram said she did not think the pandemic had affected their relationship significantly. The two friends said they felt they had a very reliable relationship.
Hutchens said, "It was very nice to still have contact and know that even if I don't see you it's still gonna be fine. That relationship isn't going to change at all."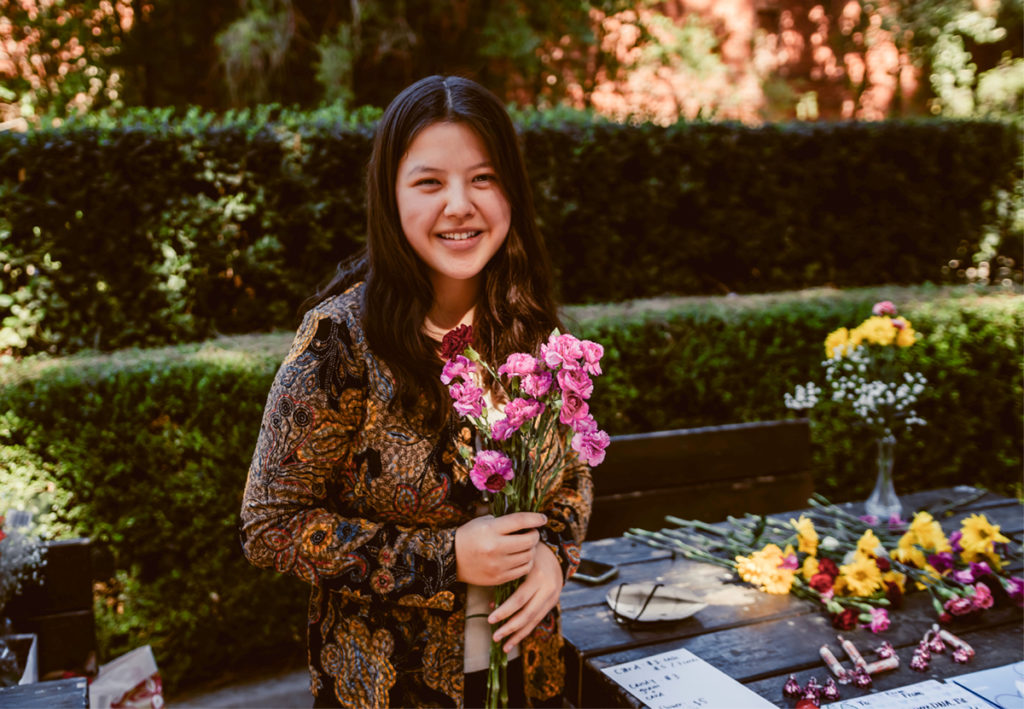 For Valentine's Day, various student organizations sold flowers, food and other gifts on Bruin Walk.
Sophia Wang, a third-year environmental science student, sold Valentine's Day grams and flowers for Advocating Intersectional Medicine. Wang said AIM is a student organization dedicated to dismantling internalized biases within health and promoting the well-being of physicians.
"I love the board," Wang said. "The board is very energetic and very enthusiastic about our club's mission and everybody there is so uplifting. They really truly believe in what they do."
Wang said AIM helps her feel more connected to the greater UCLA community.
"Something as simple as a flower can make somebody's day on Valentine's Day. And maybe they're buying it for themselves. Maybe it's self-love, or maybe they're buying it for a loved one or sharing that love."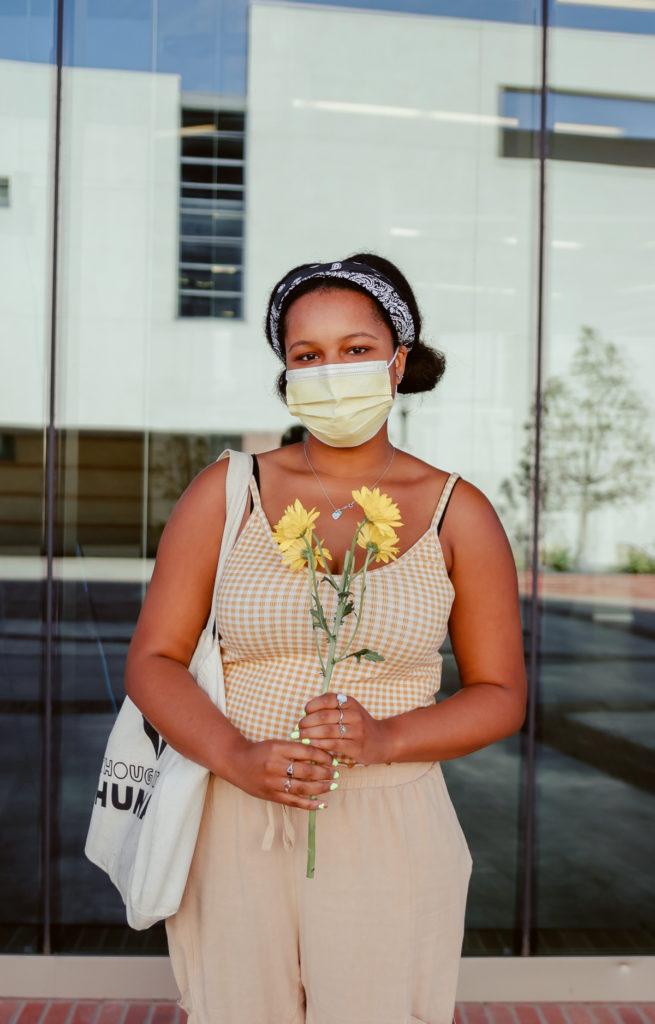 Jalyn Davis, a third-year psychology student, bought flowers for her roommate from AIM on Bruin Walk.
Davis said she met her roommate during freshman orientation. In her sophomore year, they moved in together and have lived with each other ever since, Davis added.
"I just feel like she is like me, but in another person in a way. I think we just match very well," Davis said.
Davis said she hopes that those who do not have close friends in their lives right now have other people that they love.
"Your person is out there," Davis said. "It'll come at some point."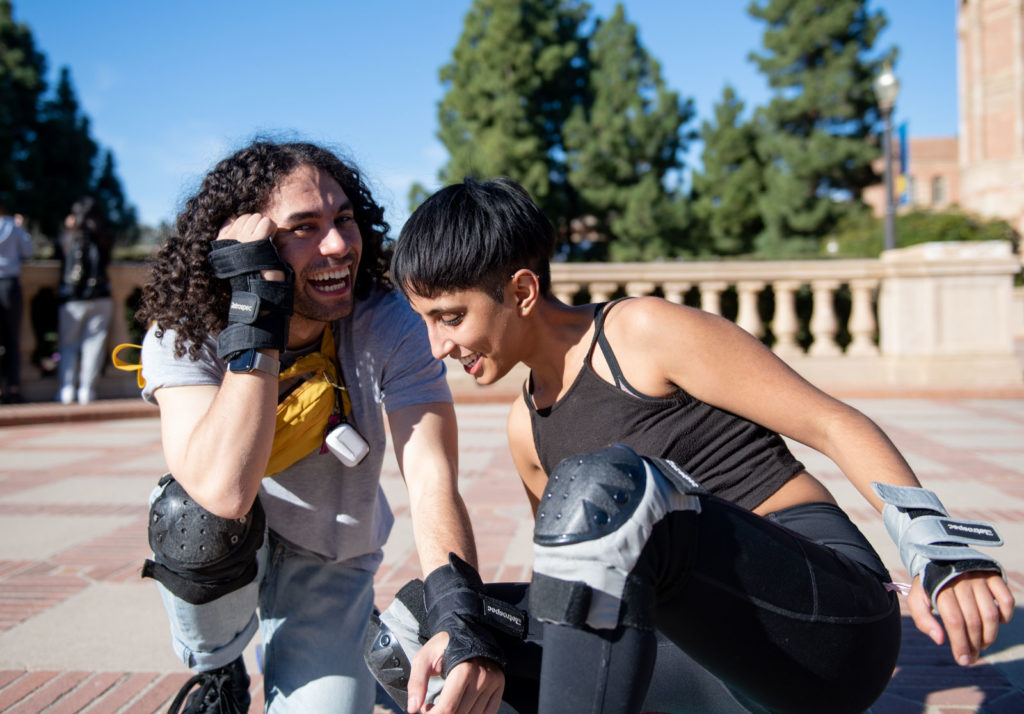 Alumni Jasmine Samra and Sebastian Waz roller skate together around UCLA's campus. The two said they describe their relationship as togetherness.
"We're both (polyamorous)," Samra said. "I have a primary partner, but [Waz] and I go way back and understand portions of each other that I think no one else does."
The two attended UCLA together and both graduated in 2016 with degrees in cognitive science. Samra said the two reconnected over the pandemic and were spending the afternoon roller skating around their former stomping grounds.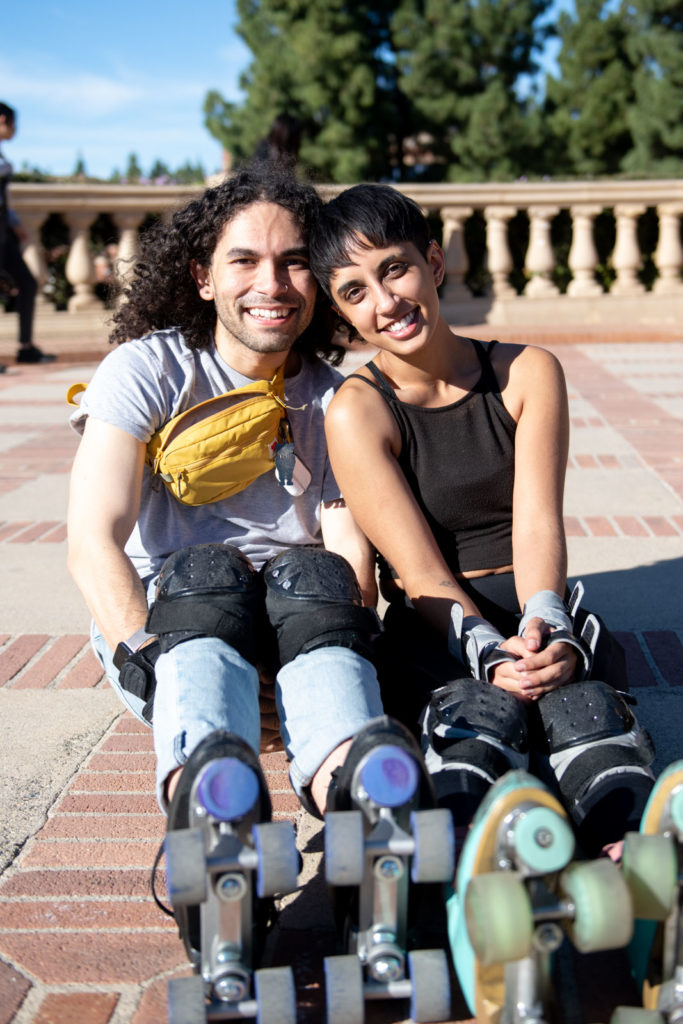 Samra and Waz stop to sit and smile. Samra said she loves the way Waz approaches the world.
"(Waz) sees everything in a way that no one else can," Samra said. "They've got a very childlike way of approaching any situation that they're in."
Waz believes Samra knows how to draw the best out of people.
"​​Jasmine is a person I feel is very full of love, and generally a lot of optimism about human connection," Waz said.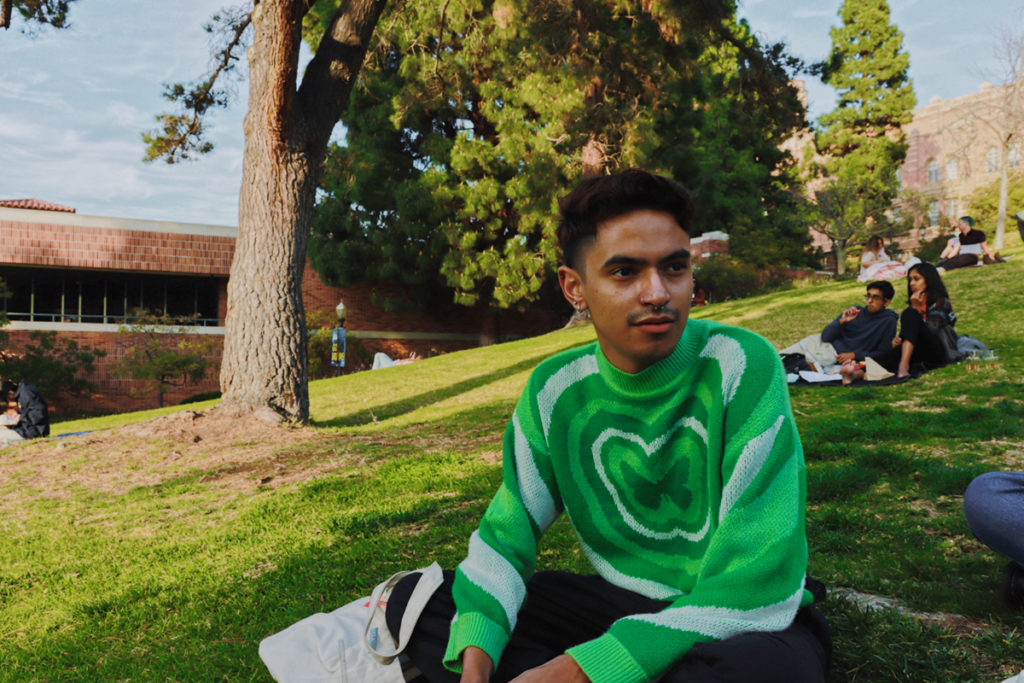 Fourth-year gender studies student Martin Aleman gathers with friends to eat lunch at Janss Steps.
"Dating a closeted man is bittersweet," Aleman said.
Aleman said he described his ex-partner as living two different lives.
"He was not living his authentic life," Aleman said. "He was living the life his parents wanted for him … his parents wouldn't accept him for who he is."
Aleman added that he was lucky to have seen his former partner's true self.
"I got to see the real him and I wish the rest of the world could see the person I saw," said Aleman. "I was fortunate enough to share that experience with him."
Reflecting back on the painful experience, Aleman said, "You have to choose yourself too."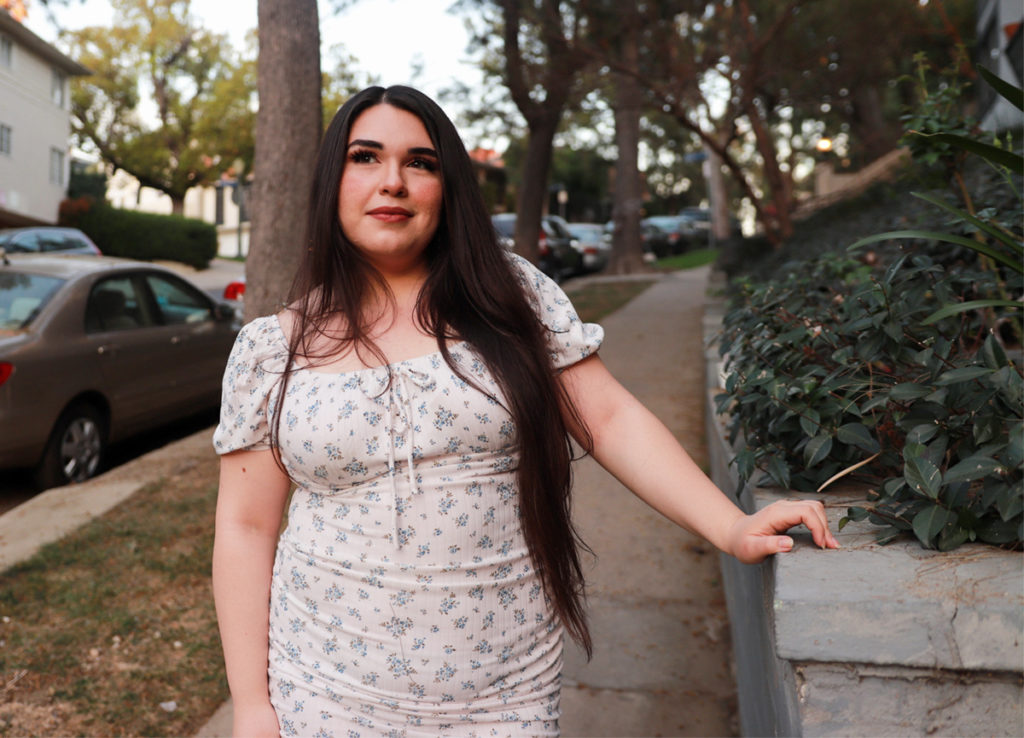 Monserrat Alvarado, a fourth-year Chicano and Chicana studies; Spanish, community and culture and Central American Studies student, reflects back on her experience with heartbreak.
Alvarado said her first date with her ex-lover was too cheesy.
Alvarado said she remembers how on their first date, a morning picnic, the tree right next them had white petals delicately falling down.
She said everything was perfect until she began to realize that there were some inconsistencies.
"Looking back, there were so many red flags but I think this is where the whole idea of love comes into play – love blinded me," Alvarado said. "You kind of put on these pink shades … and you just see them as so much potential."
Alvarado said she hopes that her story will help others who may be going through a similar scenario.
"The number one advice would be to set your boundaries," Alvarado said. "Even if you feel guilty. Even if you feel like they're not going to like you. Even if you are scared. Even if you are literally shaking when you tell them your boundaries."
Alvarado said she remains hopeful that one day she will find genuine love.
"I truly believe that love, although there is so much heartbreak, love is so worth it," Alvarado said.