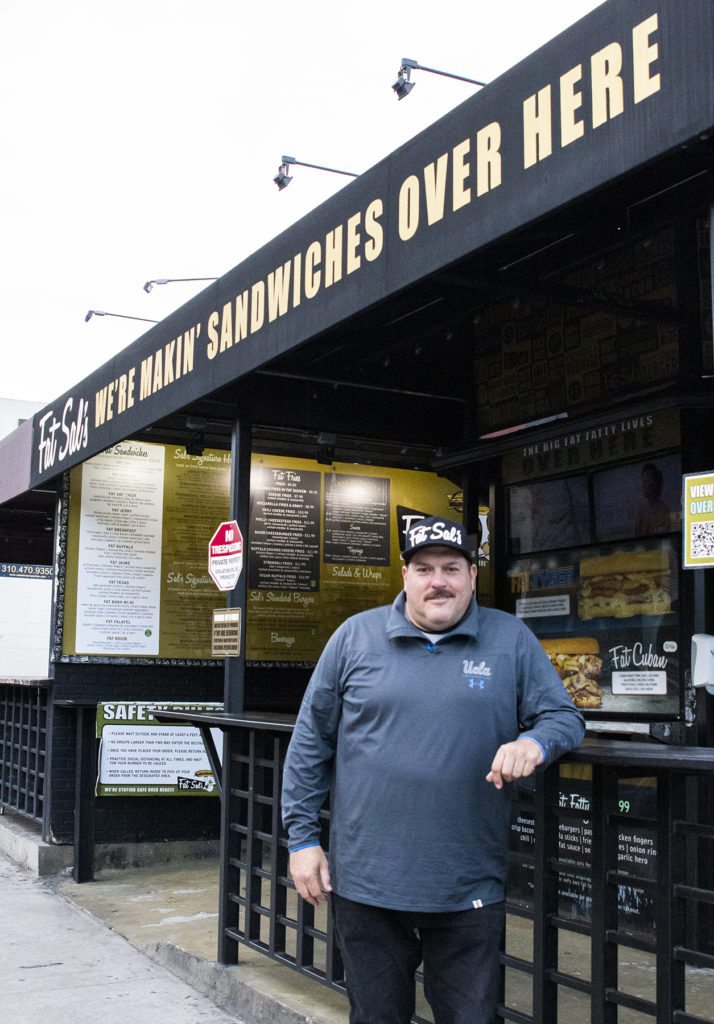 Co-founder Salvatore Capek leans against the bar at the flagship Fat Sal's in Westwood.
Since its opening in September 2010, Fat Sal's has solidified its place as a Westwood staple, but its success was not without struggle. Shortly after its opening, Westwood experienced an unprecedented amount of rain, preventing people from visiting Fat Sal's. When brainstorming ways to attract customers, Capek and co-founder Josh Stone decided to forge bonds with the UCLA community.
"We said, 'How do we get customers? UCLA is right up the street. Let's go to the frats and the sororities and the athletes. Let's drive it home and let them get our brand and get our food in their face,'" Capek said.
They continued their outreach through social media by polling students on what they wanted to have on the Fat Bruin sandwich. The final result was a bacon chili cheeseburger with onion rings.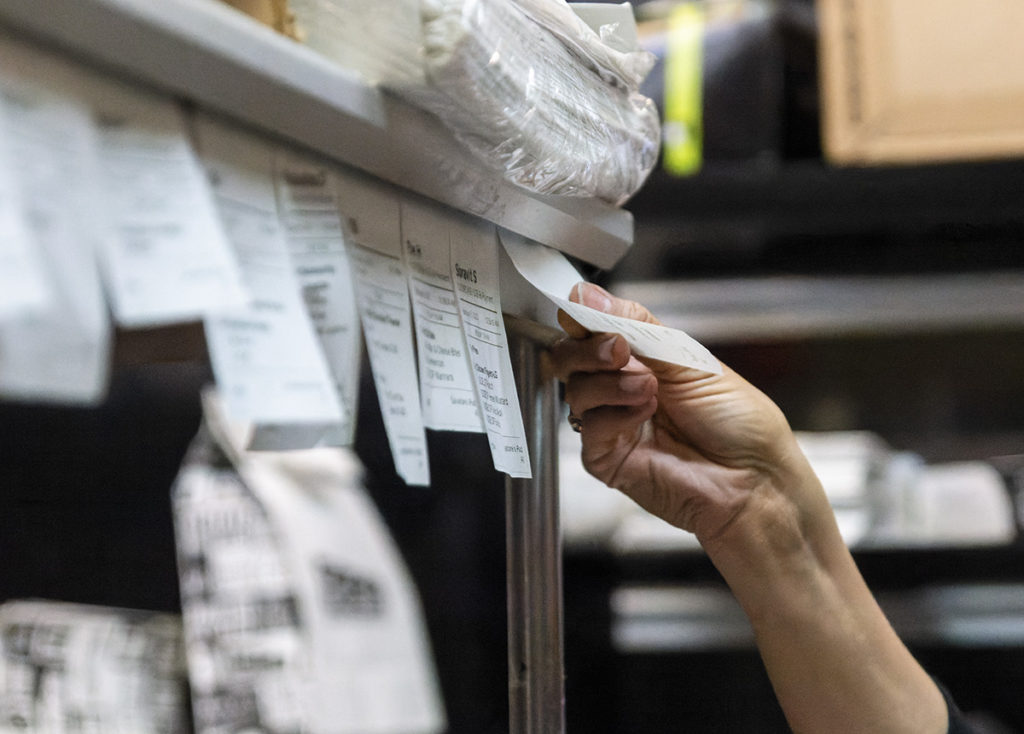 General manager Michelle Verdin adds another order to the growing list of receipts.
Despite its rainy start, Fat Sal's experienced enough success to open multiple locations across Southern California and even one in Saudi Arabia. On a typical weekend, the 450-square foot restaurant fulfills hundreds of in-person and online orders every night.
"You barely have enough room for a fryer, a grill and a sandwich table. So when it gets busy here at night, as you see, there's four guys in that kitchen making sandwiches as fast as they can, and you can't really fit a fifth or sixth guy in there," Capek said. "It was a little smaller than we wanted at first, but we took the opportunity and we made it work. You're forced to be organized, and I think in the long run it does help."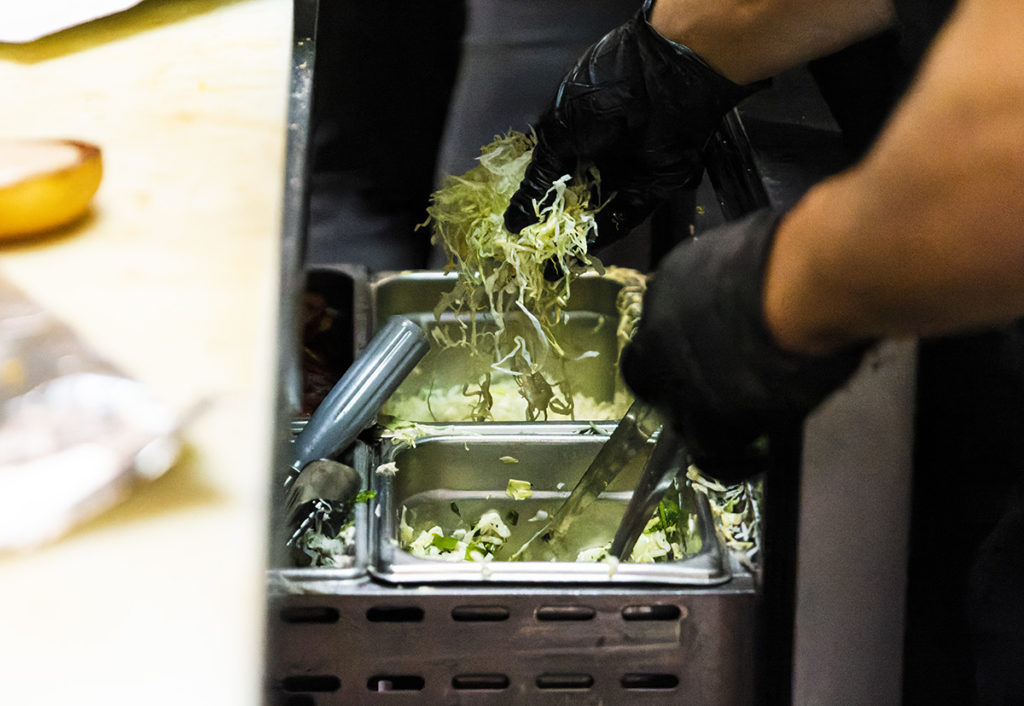 An employee pulls a handful of lettuce from under the sandwich table to put on top of the Fat Hot Chick sandwich. The use of drawers to store ingredients maximizes the little space available in the kitchen.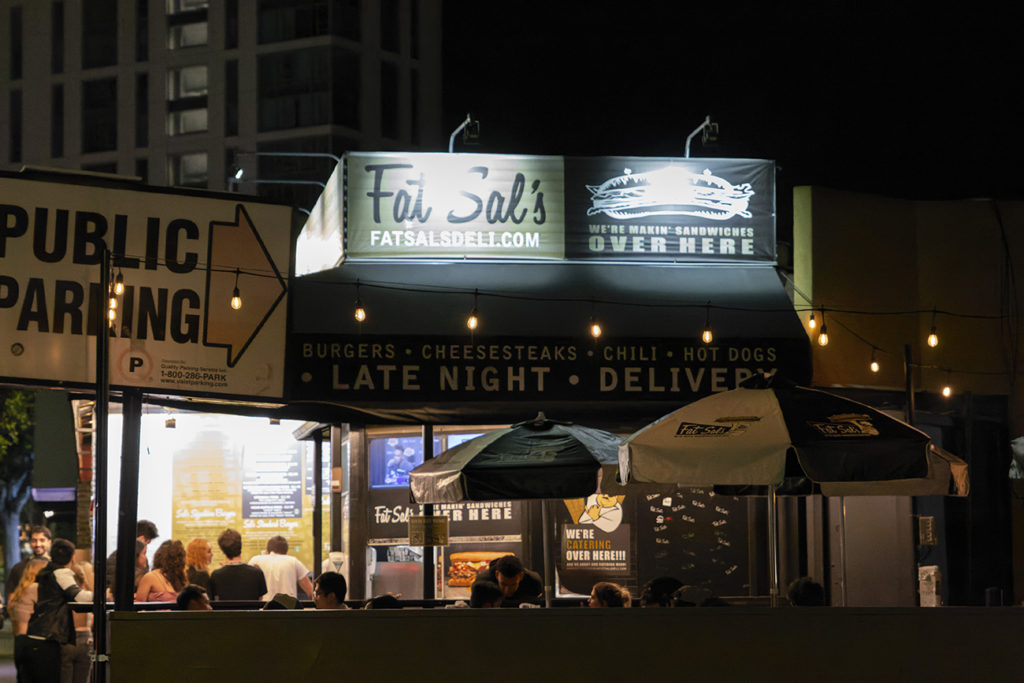 Patrons fill the tables in the parking lot patio. The low-light ambience provides a relaxed environment for late-night customers.
Although the pandemic slowed down in-person business, it opened up new opportunities for Fat Sal's. Before 2020, physical seating at the restaurant was limited, but now the restaurant sports a patio furnished with tables, chairs, umbrellas and glowing string lights.
"When the pandemic hit, the city allowed you to take a certain amount of parking spots and convert it to outdoor dining, and that's the first thing we did here," Capek said. "It's actually really cool."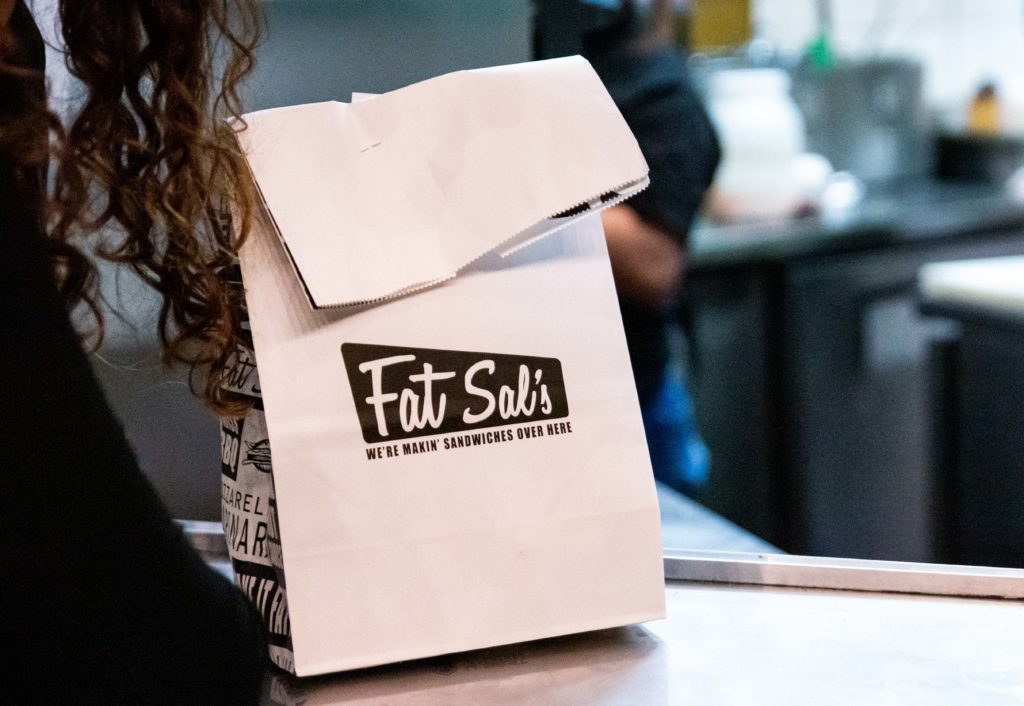 Around 2 a.m., Westwood native Sophene Kevorkian waits for her order to be called.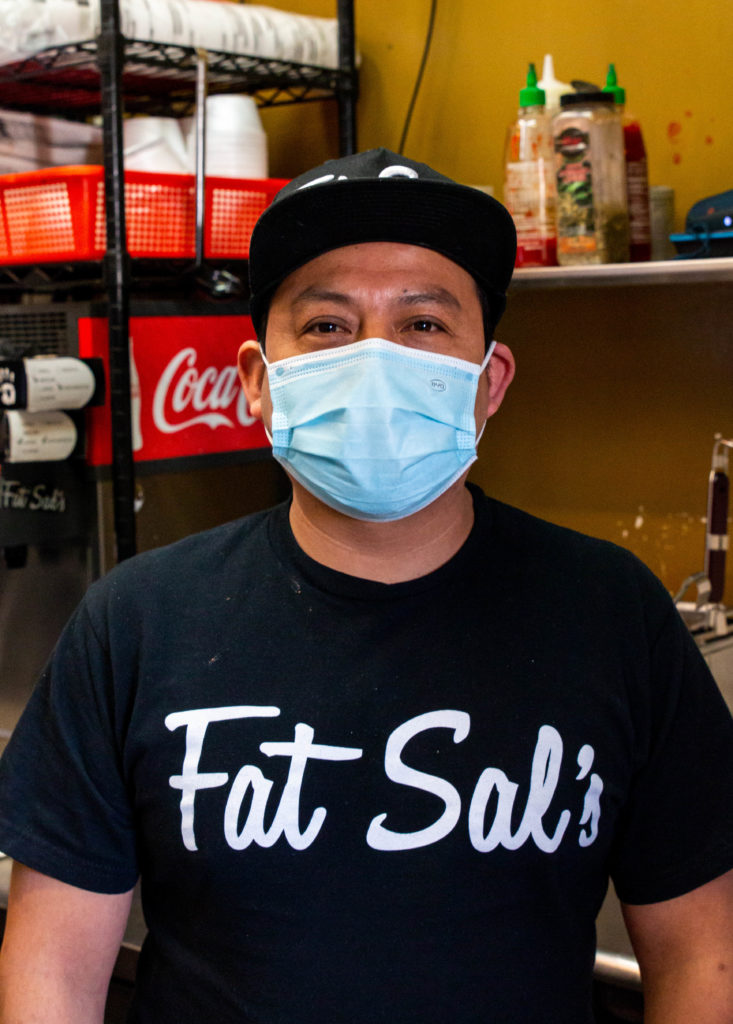 Without the work of Juan Carlos Cuz, Fat Sal's Westwood would not be able to operate.
For four years, Cuz has been responsible for preparing all the ingredients that Fat Sal's uses in a day. He starts his day at 7 a.m. in a kitchen space located behind Fat Sal's, prepping everything from the pastrami to the coleslaw to the dressings. Making all of the dressings takes up to an hour on its own. Cuz usually finishes around 4 p.m., but he will stay extra hours to meet the demand in case food starts to run low.
Despite the amount of food that Fat Sal's goes through in a day, Cuz's coworker Eduardo Santiago said Cuz prefers to work alone because he has his own work space and can get more things done.
"He knows how to calculate everything, he's been here for four years," Santiago said.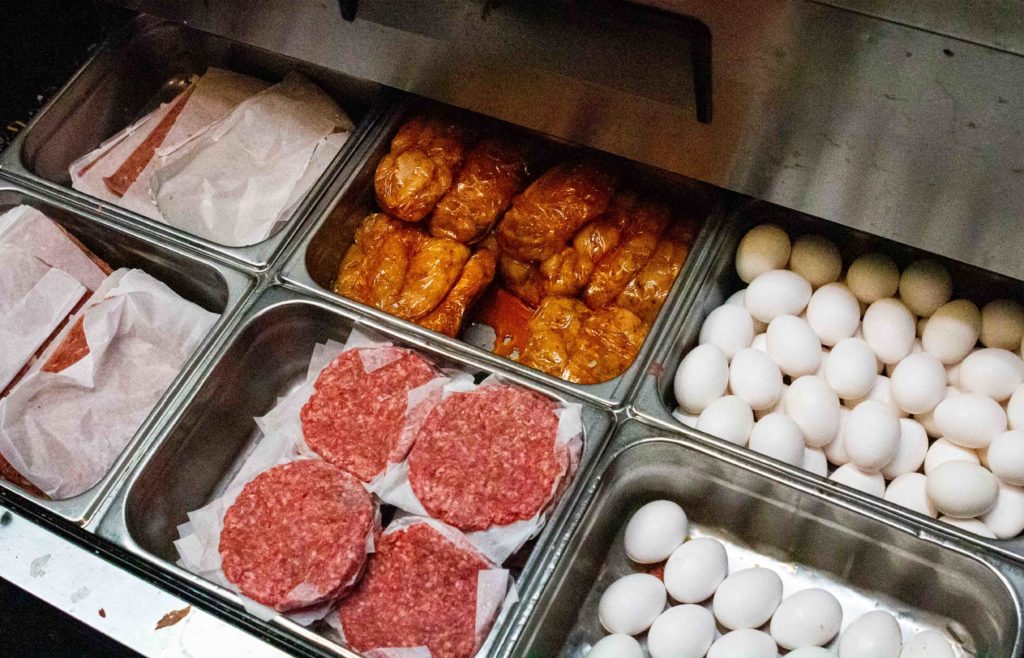 The various types of meat that are used in each sandwich are stored in a drawer under the grill for easy access.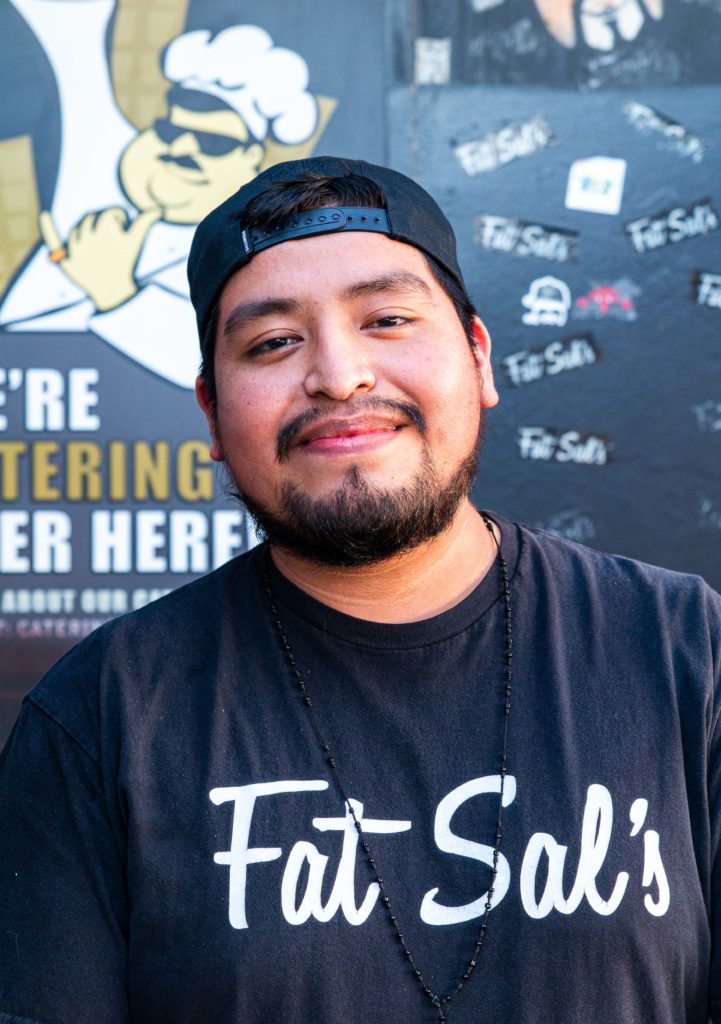 Eduardo Santiago, a long-time worker, experienced the changes Fat Sal's underwent in the past four to five years.
Santiago has worked at Fat Sal's since he was 18 and has experienced its early expansions, its pandemic struggles and now its gradual recovery.
"Back then, we didn't have the dining area. We started with the chairs outside and it's still growing," Santiago said.
Fat Sal's struggled in the beginning of the pandemic, but as time progressed, it started to use delivery services such as DoorDash to keep the business running. Since the return to in-person instruction last fall, Santiago believes that business has almost returned to pre-pandemic levels.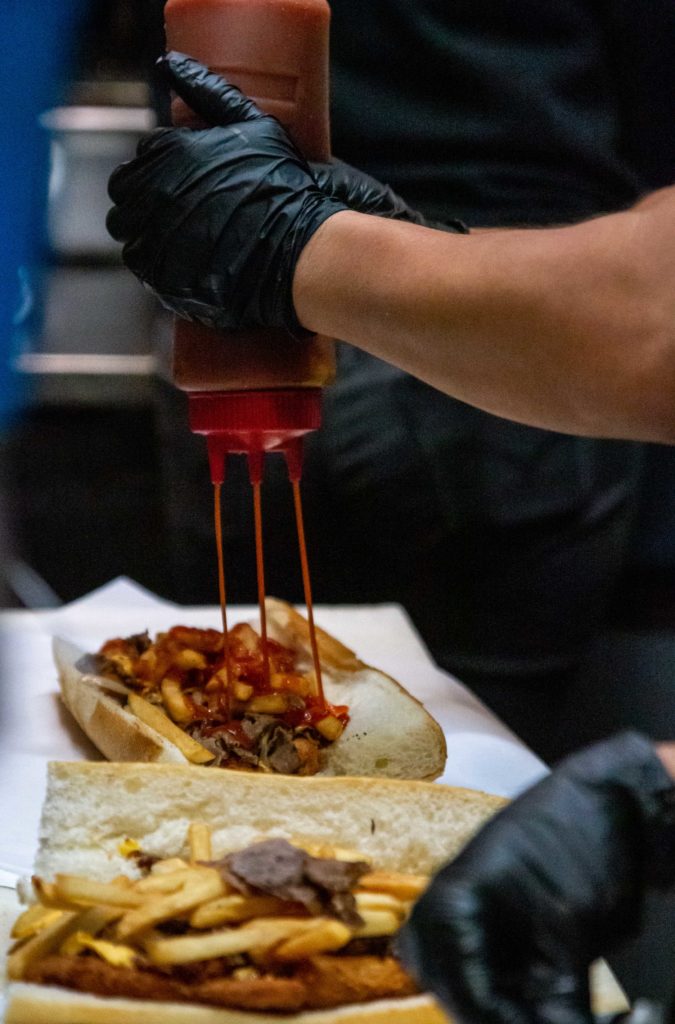 An employee adds sauce to a sandwich while a coworker next to him works to complete another sandwich.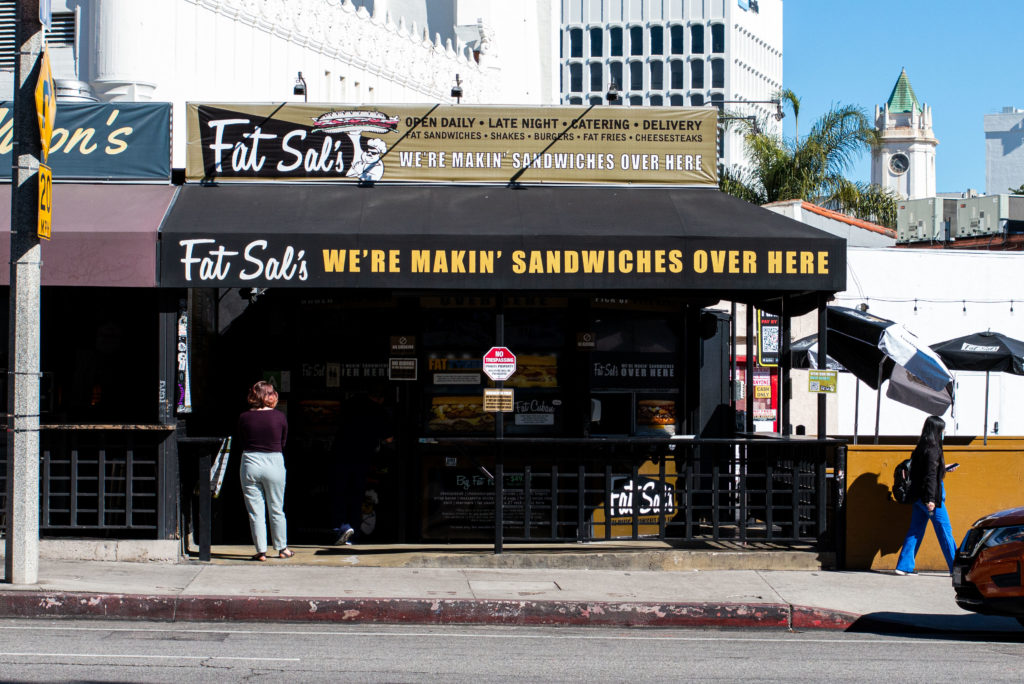 A lone patron waits to order Fat Sal's during the day.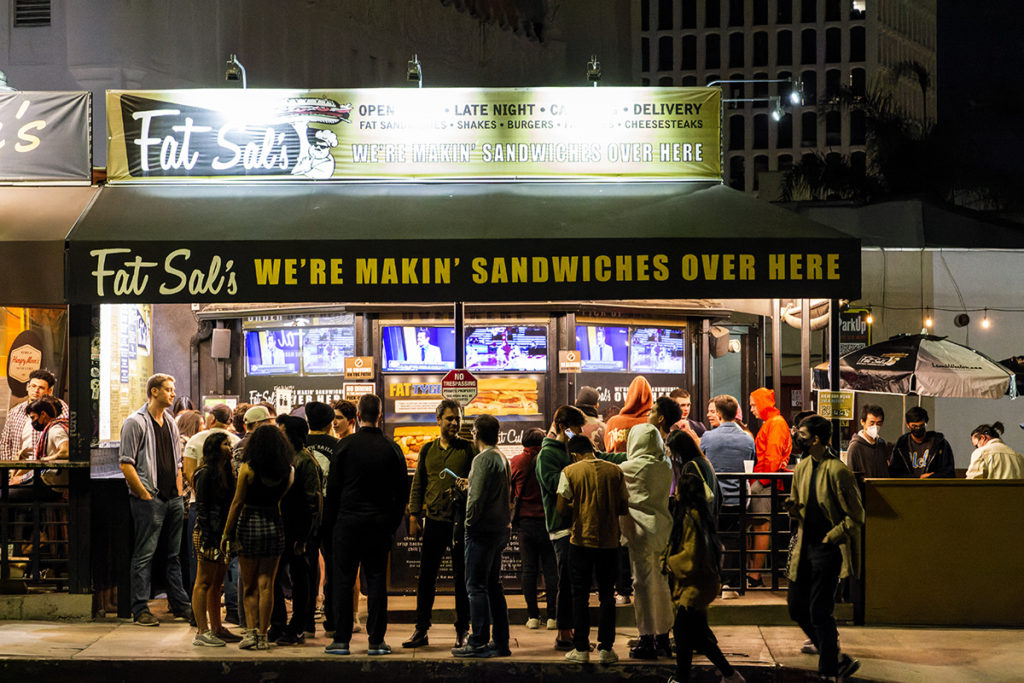 The line for Fat Sal's spills out onto the sidewalk on a Friday night.
While Santiago loves working both morning and night shifts, he said he prefers to work during the night.
"You see a lot of fun people," Santiago said. "It's always fun."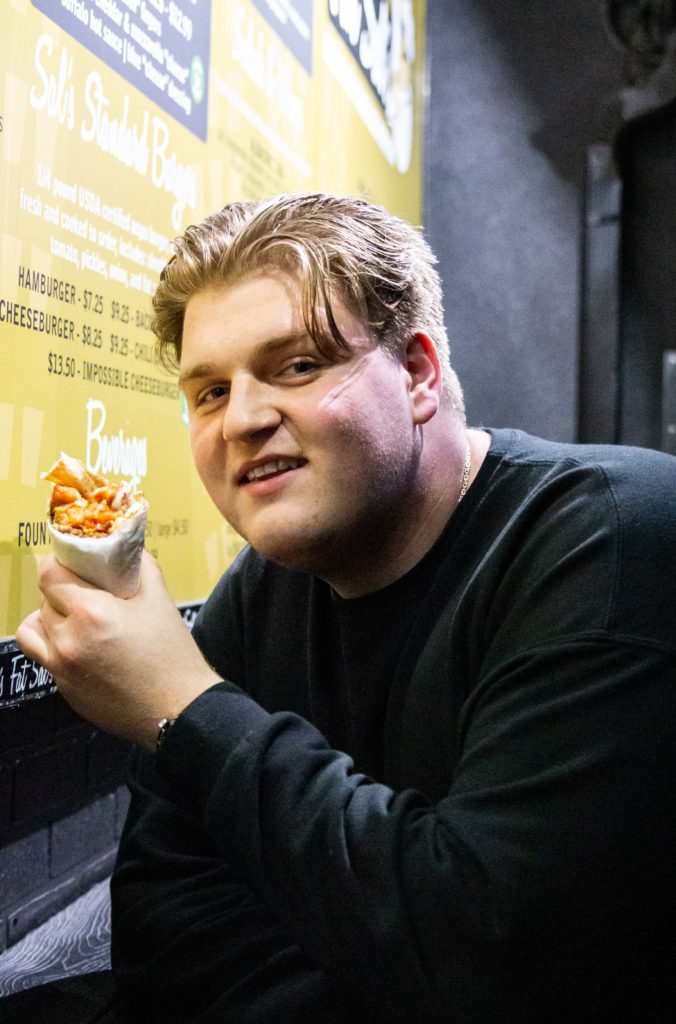 Third-year political science student Tara Ordubgian holds up a sandwich as the lights in Fat Sal's turn off, indicating that it's now closed.
While Fat Sal's is known for its sandwiches, the restaurant also offers to make them into a salad. Following a ketogenic diet, Ordubgian prefers to order his Fat Texas sandwich as a salad.
Along with its sandwiches, a part of Fat Sal's allure is its late hours. "When it's 2 a.m. like it is right now? (Fat Sal's) is good," Ordubgian said.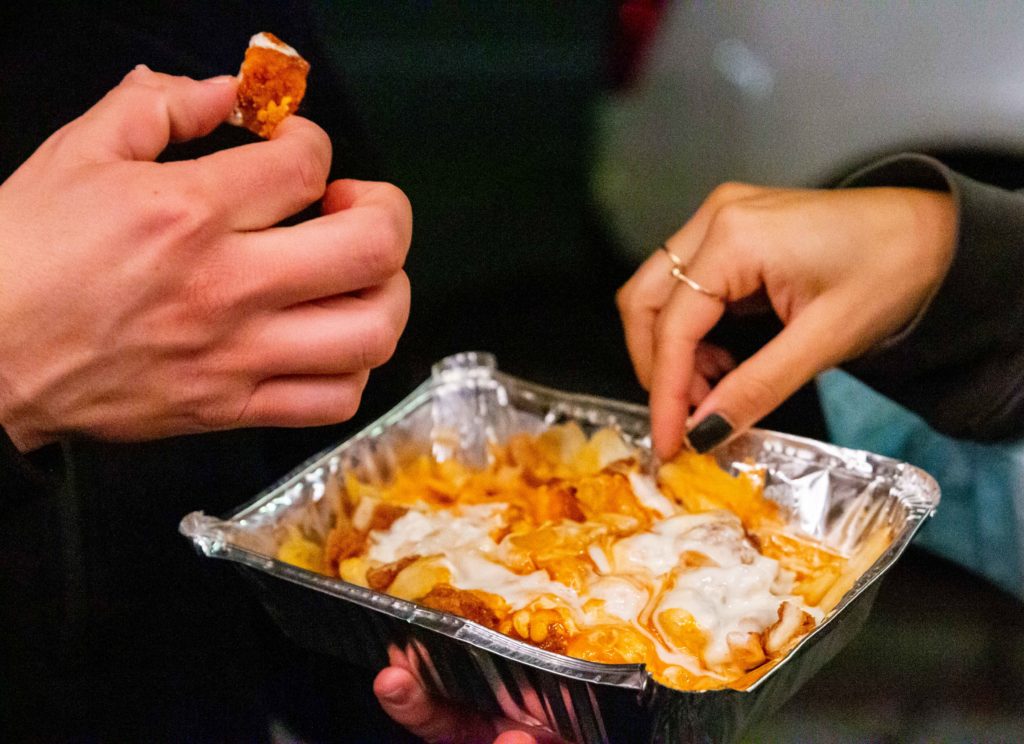 Starting at midnight, more and more people flock to Fat Sal's in search of something that can satisfy their cravings. First-year medical school student Jacob Alderete shares his order of buffalo chicken cheese fries.
"This is Westwood. We are all Fat Sal's," Alderete said. As a UCLA undergraduate student turned UCLA medical student, Alderete said he has been a customer at Fat Sal's for approximately six years.
"It's tasty and it's open late," Alderete said. "Fat Sal's is a staple."