After a delayed start because of the COVID-19 pandemic, UCLA Athletics had quite a year full of big moments. Ranging from adding national championship No. 119 to its trophy case to a revival of a long-storied program to a Michelle Obama tweet, Daily Bruin Sports takes a look at the very best moments of the 2020-2021 year in UCLA sports.
Men's basketball's Final Four run
Sam Connon, Daily Bruin senior staff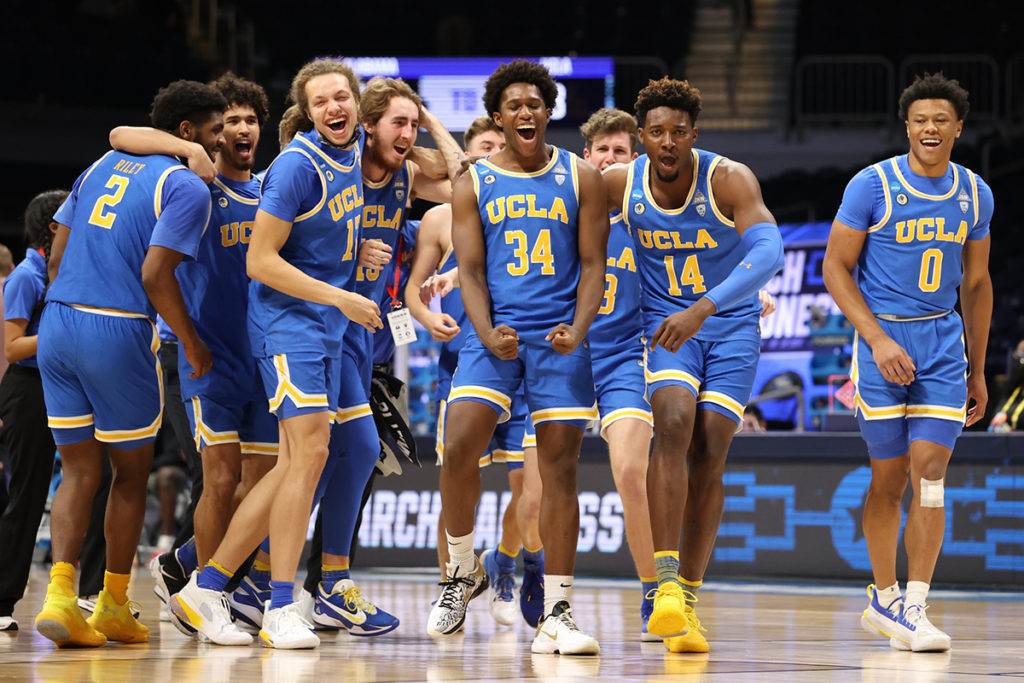 The Bruins' run to the Final Four was more than an unexpected winning streak.
It completely revitalized UCLA's men's basketball program and a fanbase that's been looking for an excuse to buy back into this team for over a decade.
To pick out one play above the rest would be a disservice to the magic of the run as a whole. Sophomore guard/forward Jaime Jaquez Jr. forced overtime against Michigan State with an and-one in the First Four, junior guard Jules Bernard got red hot in the first half against Alabama in the Sweet 16 and sophomore guard Johnny Juzang exploded for 28 clutch points against Michigan in the Elite Eight – and that's just looking at what happened on the court.
Fans flew out to Indianapolis to watch the Cinderella run go down in person, while students back in Westwood took to the streets to celebrate the Bruins' first Final Four appearance since 2008. Players who had managed to duck the national spotlight all year were getting serious NBA Draft buzz.
But more than anything else, those five crazy wins in March put UCLA back on the map.
The Bruins are a consensus top-five team entering next season, multiple high-level recruits and transfers have committed to join the team and every player on the roster has achieved folk hero status. Whatever winds up happening moving forward with coach Mick Cronin's team, the fans are on board from here on out.
As one of the lucky few who was able to witness it all courtside – the hugs, dancing, drama and even the heartbreaking defeat to cap it all off – I can't help but think this is the kind of run that lays the foundation for future championships down the line.
Nia Dennis goes viral (again)
Sam Settleman, assistant Sports editor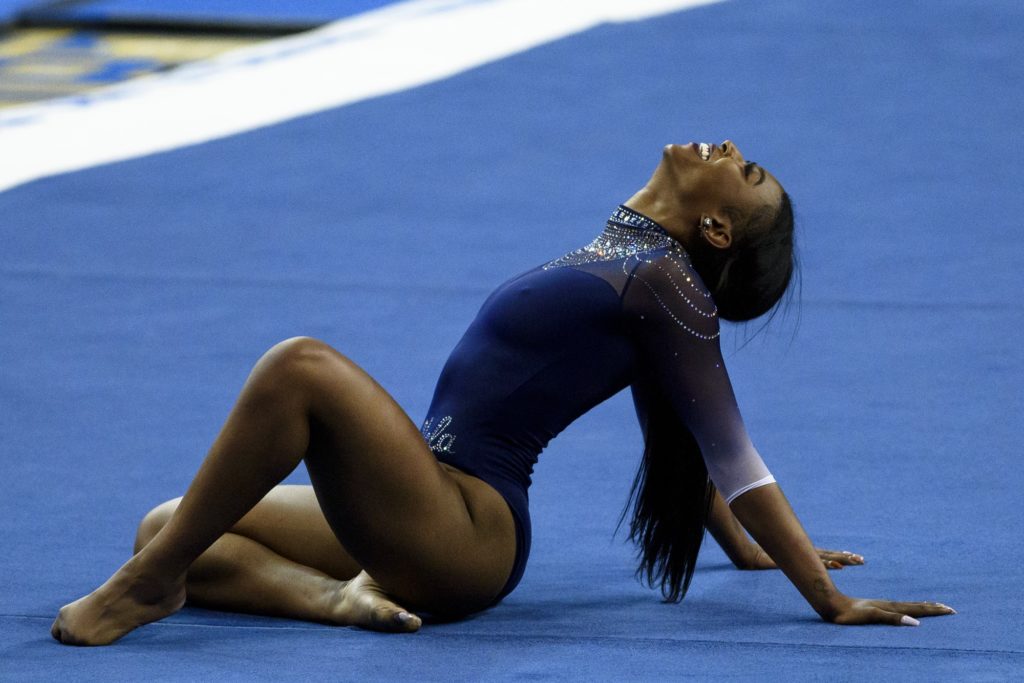 In the middle of a Tuesday practice in late January, senior Nia Dennis and her UCLA gymnastics teammates broke out in a boisterous celebration.
But it wasn't a stuck vault or a hit tumbling pass that caused Yates Gym to erupt. Former first lady Michelle Obama had just tweeted a video of Dennis' floor routine from three days prior.
Dennis had officially gone viral – again.
Amassing millions of views on her floor routine for the second consecutive season – this time over 11 million on Twitter alone – the Columbus, Ohio, product proved once again that nobody does it quite like Dennis.
Months in the making, the latest iteration of Dennis' beloved floor routine garnered recognition from Janet Jackson, Missy Elliot, Common, Kerry Washington and other famous figures.
Dennis had one goal in mind as she, alongside volunteer assistant coach BJ Das, constructed the final floor routine of her gymnastics career: to celebrate Black excellence.
The routine began as Dennis dropped to one knee and raised her fist, paying homage to the athletes before her who have stood up against racial injustice.
Intertwined among her high-flying tumbling passes, Dennis put on a show, dancing to a mashup of tracks exclusively from Black artists, including Tupac Shakur, Megan Thee Stallion, Kendrick Lamar, Soulja Boy and Beyoncé.
Dennis incorporated stepping, a tribute to the historically Black fraternity Phi Beta Sigma pledged by her father. She effortlessly crip walked as she displayed the "4s Up" symbol to represent UCLA.
And in the leadup to her final tumbling pass, Dennis spelled her name out in the air, turned to the judges and crowned herself.
She wasn't the first UCLA gymnast to go viral and she certainly won't be the last, but Nia Dennis' 2021 floor routine will always be one of one.
Men's water polo wins national championship
Kyle Boal, Daily Bruin senior staff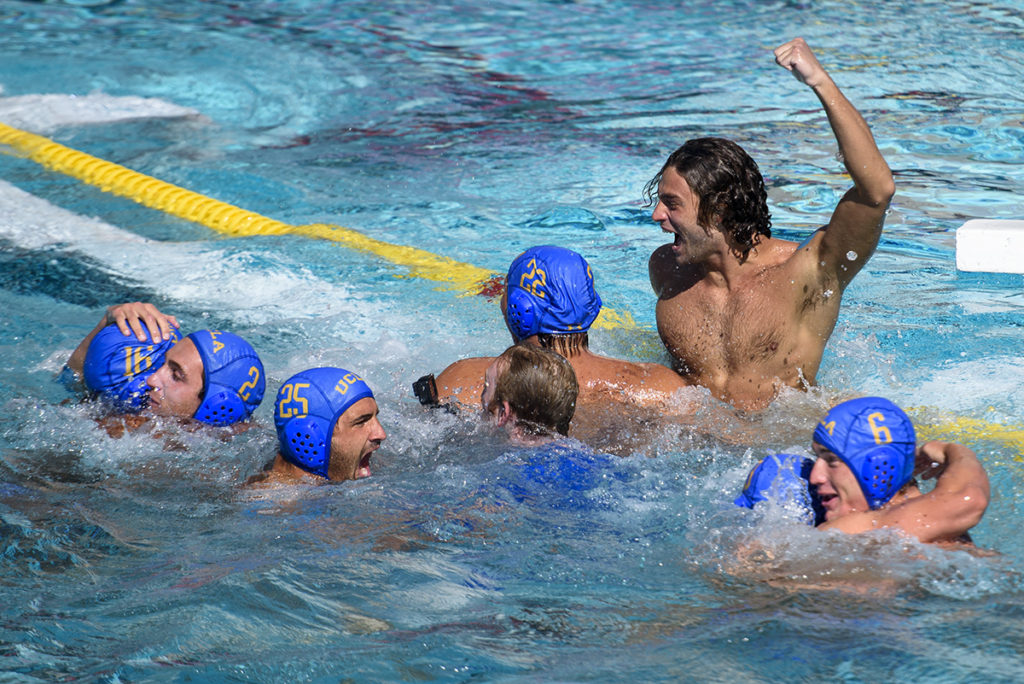 The Bruins had lost four straight, including both conference tournament games hosted at Spieker Aquatics Center.
UCLA men's water polo was given an at-large bid for the NCAA tournament. To win a national championship, the Bruins would have to win three straight at crosstown rival USC's Uytengsu Aquatic Center.
A roster of 25 underclassmen out of 30 held a 6-7 record and had completed a regular-season schedule consisting of only one nonconference opponent. The rest of the schedule was made up of round-robin tournaments with top-three teams USC, Stanford and California.
Drawing the Western Water Polo Association conference champion California Baptist in the first round, UCLA rattled off a season-high 19 goals behind second team All-American junior attacker Jake Cavano's perfect 5-of-5 shooting from the pool.
Defending national champion and top-seeded Stanford awaited the blue and gold off a bye, but the Bruins had already defeated the Cardinal twice in the regular season. National Player of the Year senior attacker Nicolas Saveljic scored 15 goals in four total games against Stanford, including tying the all-time MPSF record for most goals in one game with eight.
The Bruins finished 8-of-10 in six-on-five situations against the Cardinal and were led by honorable mention All-American sophomore attacker Tommy Gruwell, who posted a hat trick and found the back of the net for the game-winning goal to advance UCLA to the national championship.
But the Bruins had lost three of five to their crosstown rival Trojans, including the previous two matchups. Despite playing in USC's home pool, second team All-American sophomore goalkeeper Bernardo Maurizi – who led the conference in saves with 143 in 16 games – held the Trojans scoreless in the first half and stopped a game-tying attempt with a minute to play en route to the win.
The national championship marked UCLA's 119th trophy and men's water polo's fourth in the last seven years, with all four coming against USC. Coach Adam Wright would later be named National Coach of the Year and Daily Bruin Sports' Coach of the Year for his accomplishments.
Megan Faraimo's perfect game
Cassidy Hunt, Daily Bruin staff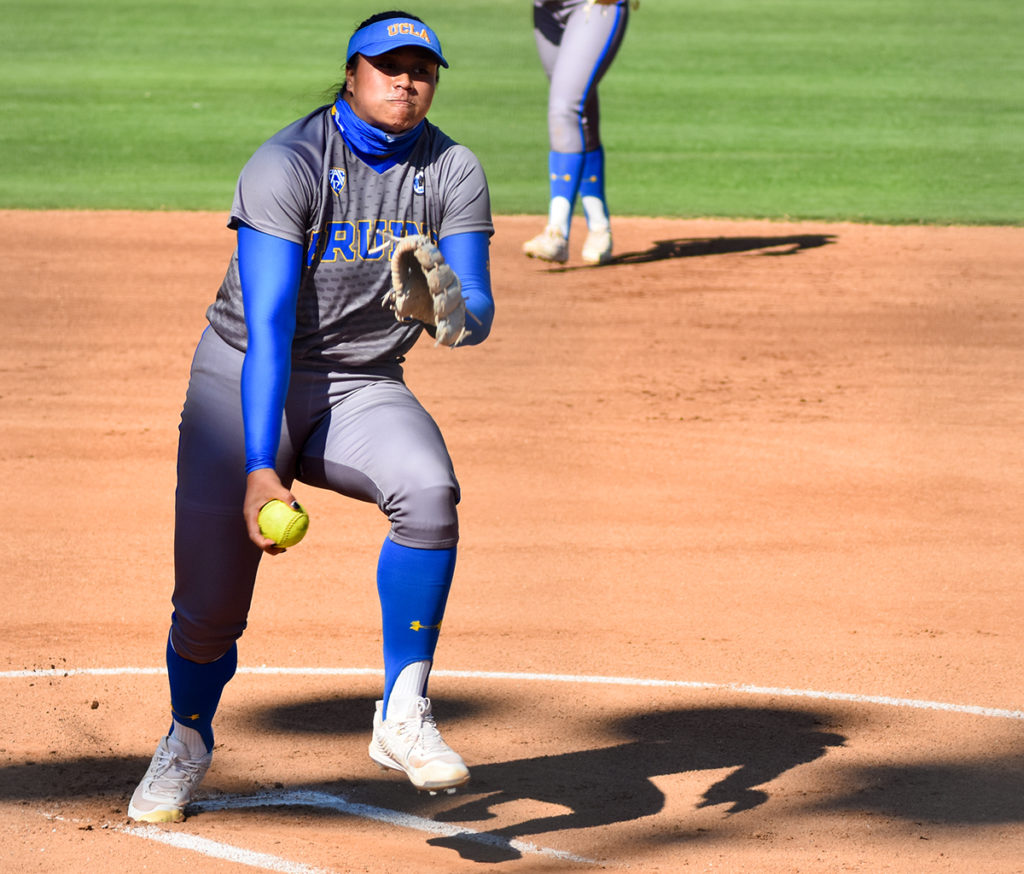 Megan Faraimo would tell you she didn't realize it was happening, but in just her fourth start of the season, the redshirt sophomore threw the 19th perfect game in Bruin softball history.
The superstitious UCLA ace insists ignorance is bliss when it comes to no-hitters like the one she threw against the San Diego State Aztecs – even after fanning the side to start the game. But, whether she knew it or not, Faraimo was making Bruin history.
The pitcher threw only 64 pitches in her five innings on the mound, averaging 4.27 pitches per batter. UCLA tallied 14 runs of its own in the shutout victory – which was one of many in the 2021 season.
Faraimo's perfect game put her among Bruin softball royalty – including three UCLA Athletic Hall of Fame members and current Bruin assistant coach Lisa Fernandez.
The pitcher set the tone for a remarkable season, going on to record a career-high 17 regular-season wins and 156 total strikeouts en route to an All-Pac-12 first team nod. And with only two full seasons under her belt, the redshirt sophomore is just getting started.
Beach volleyball beats USC twice to win Pac-12 Championship
Paul Diamantopoulos, Daily Bruin contributor
Coming into the Pac-12 championships, the Bruins had lost to their crosstown rivals on three separate occasions.
The final day of the tournament would give No. 2 seed UCLA beach volleyball two cracks at No. 1 seed USC to redeem themselves and take home the conference crown.
The Bruins seized their first chance against the Trojans in the winner's bracket final with a commanding 3-1 triumph. The victory signified a first success over their rival but more importantly, secured a spot in the Pac-12 championship final.
UCLA raced out to register straight-set victories on both courts two and four by pairs freshman Devon Newberry and junior Lea Monkhouse and graduate student Jacqueline Quade and junior Megan Muret, respectively.
USC would score their only point of the dual on court one, but the blue and gold bounced back as freshman Rileigh Powers and redshirt freshman Jaden Whitmarsh secured the win for UCLA on court five.
To claim the Pac-12 championship title, the Bruins would have to seek out a second win over the Trojans, who had advanced through the consolation bracket.
Unlike the earlier match, UCLA's pairings on court two and four got off to slow starts, with Quade and Muret surrendering the first dual point to USC and Newberry and Monkhouse dropping their first set.
With a 2-0 deficit looming for the Bruins in the third set, the court two pair fought through a blown 6-2 lead and tied the dual score at 1-1 with a drop shot by Newberry on their second match point.
UCLA would dig themselves into a 2-1 hole by dropping a dual point on court one, but sophomores Abby Van Winkle and Lindsey Sparks would push their match to a third set on court three.
Looking to keep the Bruins' title hopes alive, Van Winkle and Sparks capitalized on their 10-7 lead and tied the match score at 2-2 with a 15-11 victory in the deciding frame.
Fittingly, the outcome of the match came down to the fifth and final court. After erasing two set points for the Trojans in the second set, Powers and Whitmarsh prevailed with a game-winning block.
For UCLA, a second win over USC led to a second conference championship in program history, all in one memorable day at Mapes Beach.
Reilyn Turner's clutch NCAA tournament
Diego Farinha, Daily Bruin contributor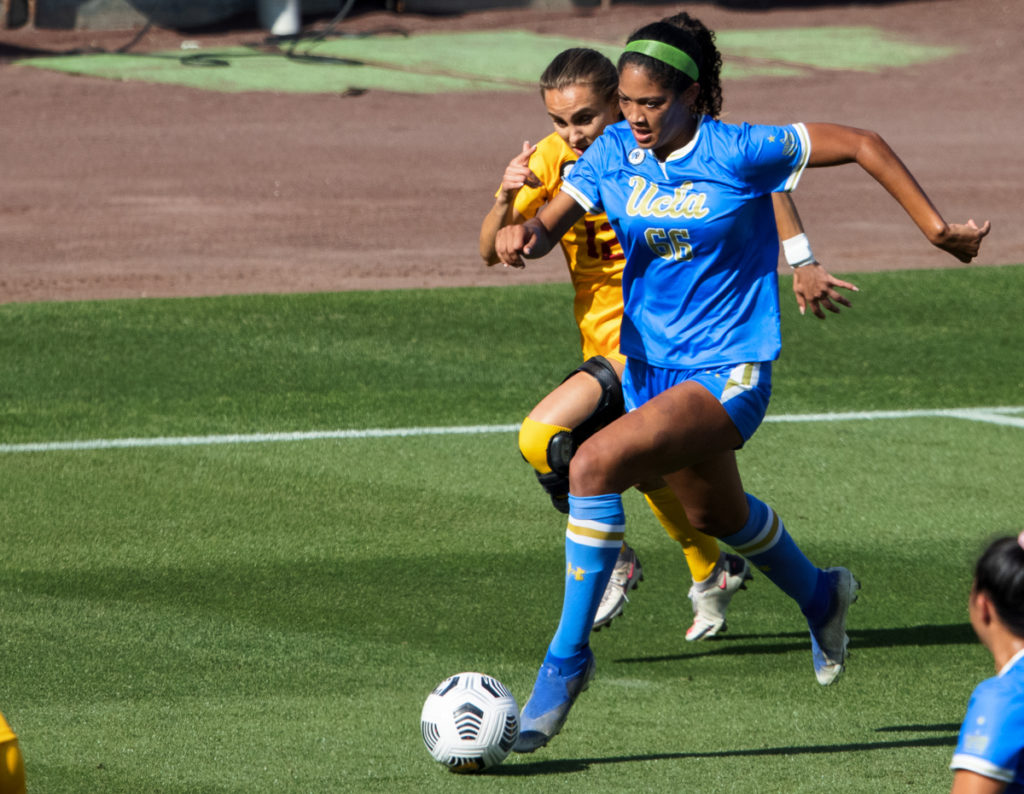 As she did all season, freshman forward Reilyn Turner displayed her late-game magic in North Carolina.
In its first game of the NCAA tournament, UCLA women's soccer trailed Iowa for nearly 80 minutes after the Hawkeyes' netted a sixth-minute goal. Searching for an equalizer, 18 Bruin shot attempts went awry – with shots going just wide of the post, others hitting the woodwork and some being saved by Hawkeye goalkeeper Macy Enneking.
UCLA had scored in every game to date, yet they were five minutes from a season-ending shutout.
But on the 19th attempt, the blue and gold finally found the back of the net. A perfectly weighted through ball over the top from freshman midfielder Aislynn Crowder reached Turner, whose shot rolled through the legs of the keeper and pierced the net. The Bruins had leveled it.
Yet with only five minutes remaining in the match, overtime seemed destined to decide the outcome, but UCLA, and Turner, did not wait for the extra period.
As redshirt senior defender Jacey Pederson made a move down the left flank with 40 seconds on the clock, her cross fell to the feet of Turner on top of the 18-foot box and the Pac-12 Freshman of the Year slotted it in the left corner, securing a 90th-minute tournament-winner.
In her first NCAA appearance, Turner recorded her third brace of the season in less than a five-minute span and put her squad through to the next round. The 10th and 11th goals of her freshman campaign saved UCLA from an early tournament departure to continue its historic season.

Women's basketball's historic senior night
Francis Moon, assistant Sports editor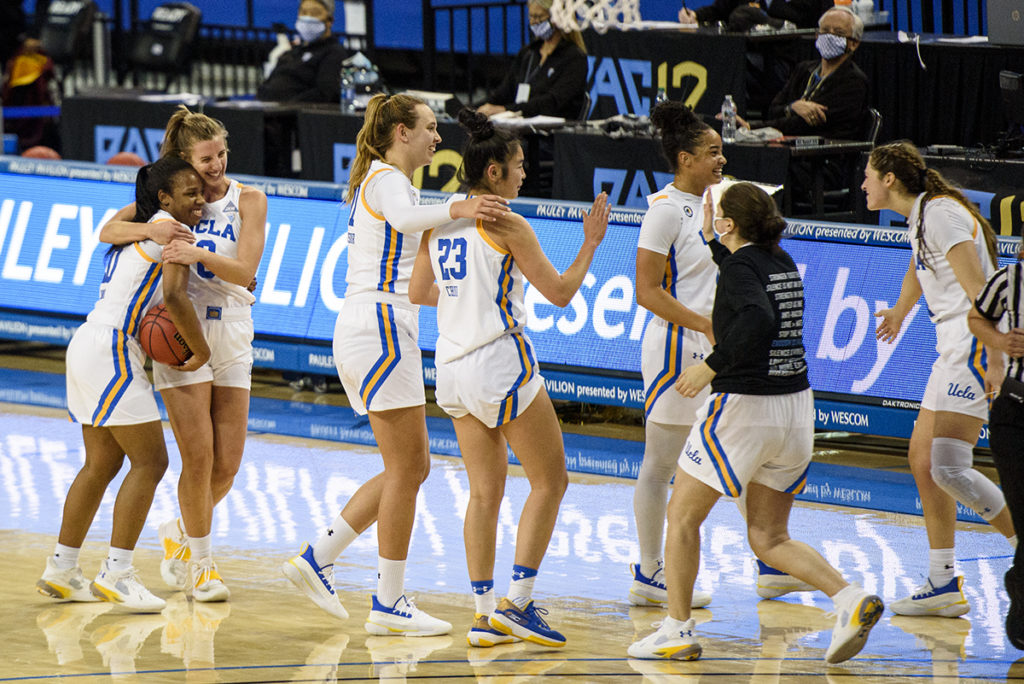 After defeating its crosstown rival by 21 points in an October matchup at the Galen Center, UCLA women's basketball hosted a revamped USC team looking to get revenge in both teams' final game of the regular season.
The Bruins would not let that happen.
After some early struggles, UCLA pulled away to sweep the season series against USC for the first time in three years with a 93-51 victory– its largest win over the Trojans in program history. The Bruins also set multiple individual and team records in the process.
Before tipoff, senior forwards Michaela Onyenwere and Lauryn Miller, as well as redshirt junior guard Lindsey Corsaro, were honored in a Senior Night ceremony. Fittingly, the trio combined for 49 points on 17-of-31 shooting, 12 rebounds and seven assists in their largest win over a Pac-12 opponent this past season.
Onyenwere in particular – along with her running mate sophomore guard Charisma Osborne – put on a show.
The pair contributed nine of the school-record 16 3-pointers, which was achieved on just 23 attempts. Onyenwere, who finished with 30 points, sank each of her six attempts from beyond the arc, with her sixth one being the record-breaker with 2:26 remaining. Osborne bounced back from arguably her worst showing of the season in a loss against Oregon State five days earlier with perhaps the best performance of her collegiate career, finishing with 18 points, 10 rebounds, 12 assists, and zero turnovers to record the ninth triple-double in program history.
What made this night truly special, though, were the all-around stellar contributions from everyone on the team, as well as the noticeable energy at Pauley Pavilion that was missed for much of the year.
While sitting in the press row, I found myself forgetting that I was one of the only few people in the audience. Each three-pointer and defensive stop led to louder and louder generated crowd noise, and the points just kept on coming.
It's always a good day when a UCLA team beats USC. But after enduring a season full of setbacks and uncertainty, the record-breaking night will be one players and fans will remember for years to come.
Women's tennis clinches Pac-12 championship with pair of sweeps
Olivia Simons, assistant Sports editor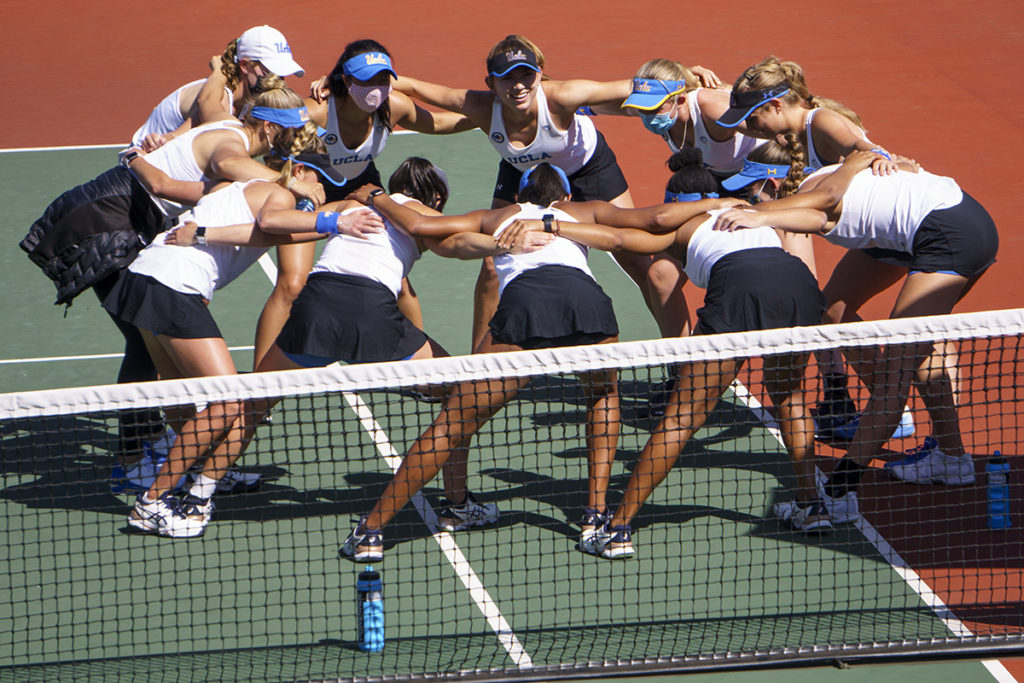 Heading into the final stretch of the regular season needing wins to clinch the Pac-12 crown, the Bruins were preparing for a battle.
That weekend, then-No.9 UCLA women's tennis would play then-No. 38 Stanford and then-No. 27 California, teams that the Bruins had yet to figure out a consistent winning strategy against.
Before the matches began, UCLA held a 7-29 record versus Stanford since 1999, a team with a well-renowned history in college tennis. The Cardinal has 20 NCAA championships under their belt as well as 28 Pac-12 championships.
Watching each match, however, it was clear that the Bruins had found their stride against their Northern California conference foes.
UCLA took the doubles point against Stanford with 6-2 wins on courts one and three, followed by four consecutive straight-set wins. Among the victorious Bruins was then-No. 11 ranked sophomore Abbey Forbes, who triumphed over then-No. 48 and 2019 Pac-12 Singles Player of the Year Michaela Gordon to give the blue and gold their third point of the match.
Junior Elysia Bolton concluded the match with a 7-5 final set win in her first singles match since Feb. 26 to sweep the Cardinal 7-0 for the first time since 1986.
The Bruins had revenge on their minds leading up to their rematch against the Golden Bears. After taking a 4-0 win against it in the ITA Kickoff Weekend at the Los Angeles Tennis Center earlier in the season, UCLA traveled north for a match on California's home turf, where it fell 3-4 after senior Abi Altick dropped her match in the third set 6-3.
While Altick did not have a chance at redemption against the Bears, her teammates delivered a sweep in commanding fashion, dropping only one doubles match and one set in singles play to sweep California 7-0.
Not only did the Bruins get even with the Bears, but they also clinched the Pac-12 regular-season title with their wins over the No. 2 and No. 3 seeds Stanford and California, respectively. The title was the blue and gold's first since 2008 when it shared the crown with the Cardinal, as well as its first outright win in program history.
Both Forbes and graduate student Jada Hart cited the win as the biggest highlight of the season, which also helped the Bruins end the regular season on a nine-match winning streak.