Female Athlete of the Year: Rachel Garcia
Coral Smith, Daily Bruin senior staff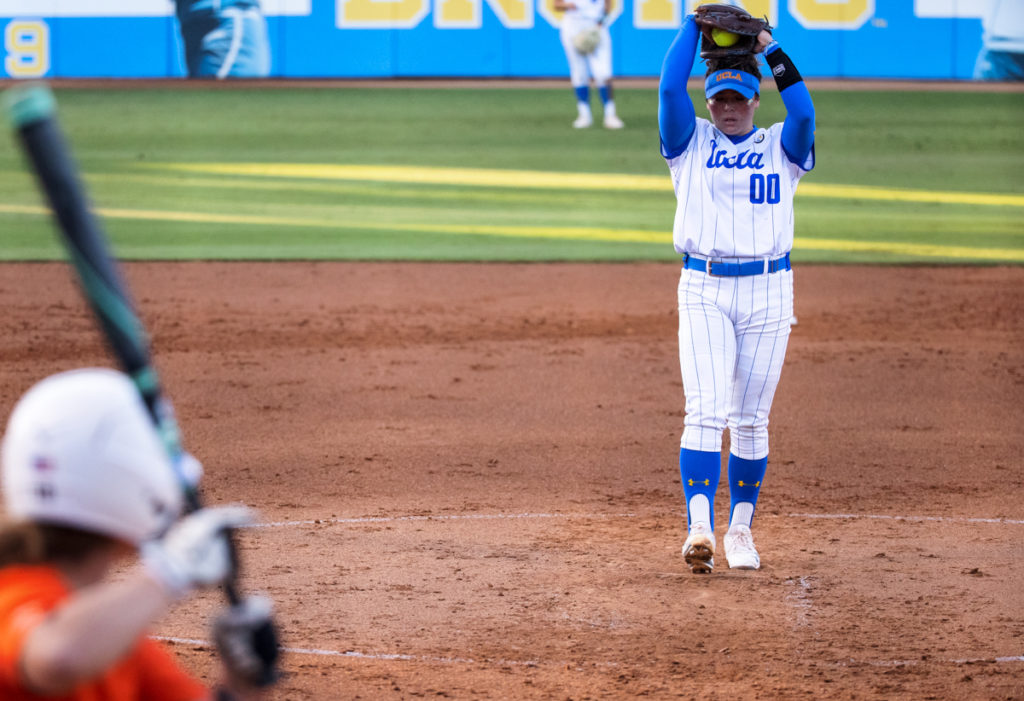 After her phenomenal 2019 season, one might have thought we had witnessed the greatest year of Rachel Garcia's UCLA career.
But in her final season as a Bruin, the redshirt senior pitcher/first baseman has not slowed down at all.
After taking the 2020 season off to train with the U.S. National Team in anticipation of this summer's Tokyo Olympics, Garcia returned to UCLA for one final season and a chance to lead the team to its second-straight NCAA Championship.
While her season ended earlier than expected, Garcia's impact was felt in all areas of the game for the Bruins, and she led UCLA to its 30th Women's College World Series in program history.
In the postseason, Garcia went 4-for-8 at the plate over the span of the NCAA Regionals to go along with her 18 strikeouts in 13.1 innings in the circle. And in the Super Regionals, Garcia bounced back from a tough game one to lead UCLA to a series-clinching victory in game three, pitching seven shutout innings with 13 strikeouts.
During the regular season, Garcia's undefeated run in the circle included 14 wins, an NCAA-leading 0.60 ERA and a dominant performance on offense, batting .362 with 11 home runs.
And she did all this despite missing three weeks early in the year with an injury.
Even off the field, Garcia leads the Bruins as one of the team's most experienced members. Teammates and coaches have also repeatedly spoken of the leadership and energy Garcia brings to the team, creating a positive impact even when she's not actively playing.
Despite her injury-shortened season, Garcia was once again good enough to be one of the three players nominated for USA Softball Collegiate Player of the Year, an award she has won twice in her career.
It says a lot about a player when fans almost expect they will win these prestigious awards many athletes can only dream about. But that is the reality of having Rachel Garcia on your team, and that is why she is the unanimous choice for Female Athlete of the Year.
Male Athlete of the Year: Johnny Juzang
Jon Christon, Sports editor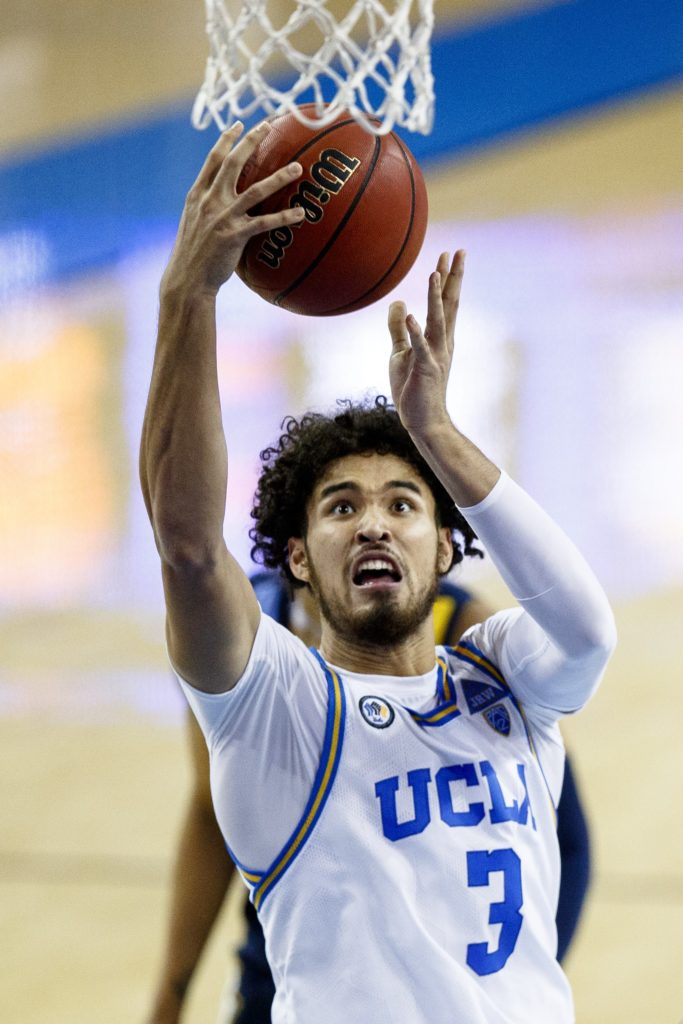 For most of the year, Johnny Juzang was good, but not great.
After starting his career at Kentucky, Juzang began his time in Westwood hovering around 10 points per game through the first half of his regular season. As the year went on, he started to take his game to the next level, averaging 17.4 points per contest in the latter half of the year while stepping in as the team's go-to scorer after the injury of senior guard Chris Smith.
Mixed in with his 20-point conference games, however, Juzang had his stinkers. He still struggled from time to time with his efficiency, and when his team faltered down the stretch, many wondered how far a Juzang-led team could even go.
Then March came around.
In UCLA men's basketball's legendary Final Four run, Juzang was the catalyst, leading the team with 22.8 points per game in six NCAA tournament games. The sophomore went toe-to-toe with some of the game's biggest stars, earning an All-Tournament team selection after helping the Bruins win five nail-biting games.
In the semifinal game against top overall seed and undefeated Gonzaga, Juzang nearly stole the show. The sophomore guard played a game-high 45 minutes and put up 29 points on an efficient 12-of-18 shooting to go along with stellar defense against a litany of Gonzaga weapons.
When Juzang grabbed his own miss and made a putback layup to tie the game with seconds left in overtime, it looked as if he hit one of the biggest shots in the history of the storied UCLA program. While Jalen Suggs outdid him with a shot of his own moments later, that shouldn't diminish what Juzang was able to accomplish in potentially his only year with the program.
It can't be overstated: Juzang was the star of one of the most-watched sporting events of the year. Millions across the country watched Juzang represent the blue and gold with the four historic letters repped across his chest.
Juzang helped make UCLA basketball cool again, and can continue that success should he choose to run it back for another year.
But if this is the only year we get of him in Westwood, he will go down as one of the greatest one-year wonders the school has ever seen.
Rookie of the Year: Chae Campbell
Sam Settleman, assistant Sports editor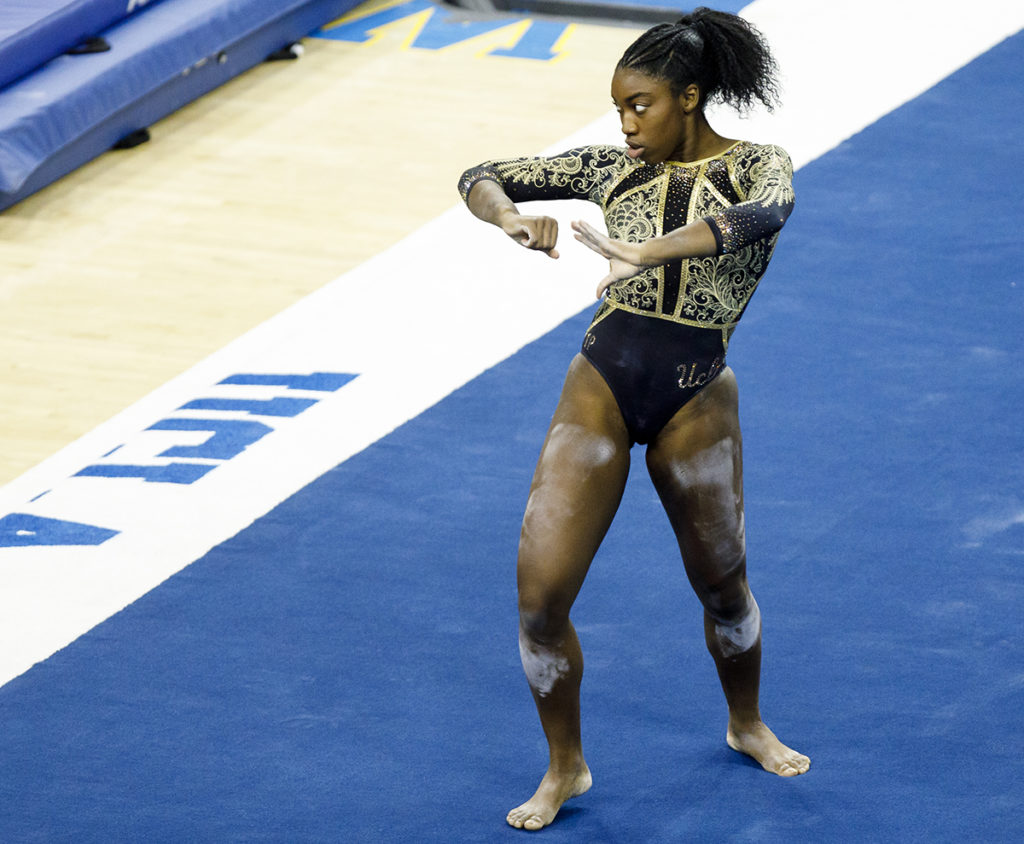 Chae Campbell was simply built for NCAA gymnastics.
For years, UCLA gymnastics has been headlined by former Olympians and elite gymnasts. Campbell – a level 10 gymnast who enjoyed a very brief career as an elite gymnast – certainly didn't tout the same resume as that of standout all-arounder and Olympic gold medalist Kyla Ross, the last Bruin to win Pac-12 Freshman of the Year.
And yet, when UCLA failed to qualify for nationals for the first time since 2006, it was the freshman Campbell who headed off to Fort Worth, Texas, to vie for an NCAA all-around title. When the Bruins' season came to a close, it was Campbell who led her team in event wins.
In a gym full of former national team members, Campbell shined brightest.
Coach Chris Waller has said since day one that Campbell has a level of maturity and poise that he has never seen before.
In her UCLA debut, she suffered a fall on bars before rebounding to post a much-needed 9.900 on floor as soon the Bruins' lead started to fade. At the NCAA championships, Campbell injured her knee on a vault warmup and then proceeded to score a career-high-tying 9.925 on beam to close out the meet with her third-highest all-around score of the season.
Campbell, who Waller deemed "one of the most coachable people that's ever been on the team," has not even scratched the surface of her full potential.
The Pac-12 Freshman of the Year stood out on floor, where she put together multiple perfect-10 worthy routines, missing the cut to be named an All-American by less than a hundredth of a point.
But Campbell's secret weapon next year will be her upgraded vault. She has already achieved perfection on her Yurchenko full, and if her Yurchenko 1.5 looks anything like it did in training, it's only a matter of time before she adds a perfect 10 to her resume, too.
With a year of experience under her belt and a full offseason on deck, Campbell will be a legitimate contender to bring the Pac-12 Gymnast of the Year award back to Westwood in 2022.
Coach of the Year: Adam Wright
Kyle Boal, Daily Bruin senior staff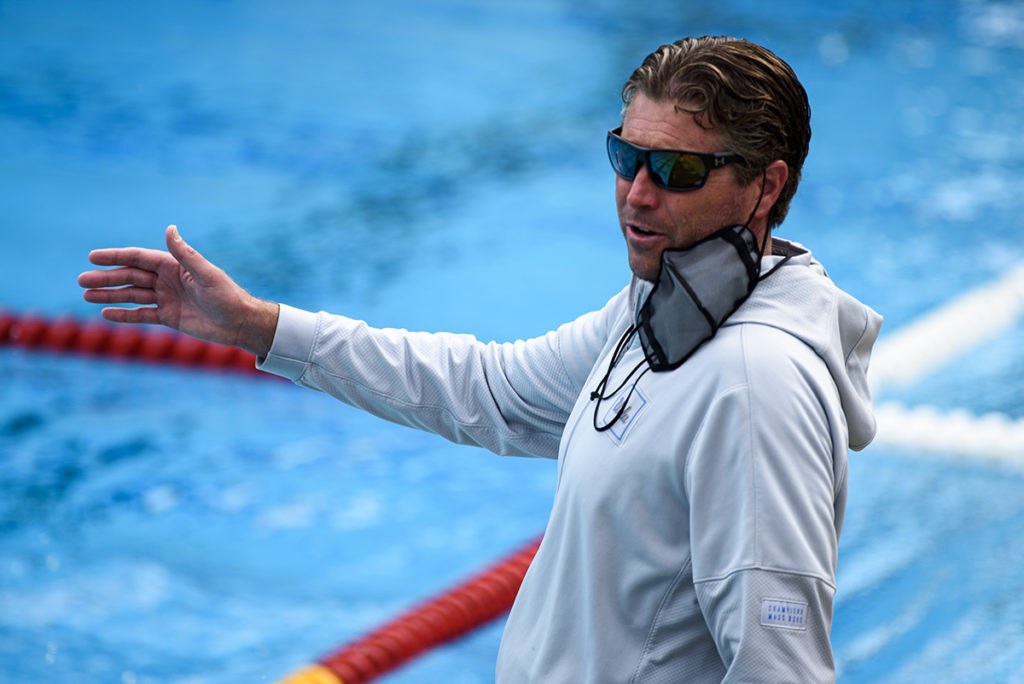 There's only one coach in Westwood responsible for leading two teams.
Adam Wright – coach of UCLA men's and women's water polo – took both to the NCAA championship game.
Responsible for the Bruins' only national championship this year, Wright navigated an unprecedented COVID-19 season requiring altered and adjusted schedules for both his men's and women's teams. During February and March, he coached both teams at the same time.
Without having the same lineup in a weekend once all season, Wright led his men's team to its fourth national championship in seven years – all wins over crosstown rival USC – and was named the Association of Collegiate Water Polo Coaches National Coach of the Year. The team was composed of only five upperclassmen, with freshmen and sophomores making up more than 80% of the roster.
On the women's side, Wright's team broke through to its first NCAA championship game appearance since he took over four seasons ago. Despite losing to the Trojans in the national championship game, the Bruins were responsible for the lone blemish on USC's record, with a 13-6 drubbing at Spieker Aquatics Center to close out the regular season.
UCLA also defeated Stanford twice, a regular-season win marking the first time since 2017 and an NCAA tournament win for the first time since 2009, to advance the Bruins to the national championship game. With the blue and gold starting to turn the corner, the program will return its top three scorers and potentially welcome Olympians Maddie Musselman and Bronte Halligan back to the team in 2022.
Proving to perform in and out of the pool, both the men's and women's teams led the conference with 17 Mountain Pacific Sports Federation All-Academic honors apiece.
Being Daily Bruin Sports' Coach of the Year could easily be the most forgettable achievement of this three-time Olympian's life – especially when inducted into both the USA Water Polo and UCLA Athletics Hall of Fame. But we're still lucky to have him.
Comeback Player of the Year: Marley Canales
Cassidy Hunt, Daily Bruin staff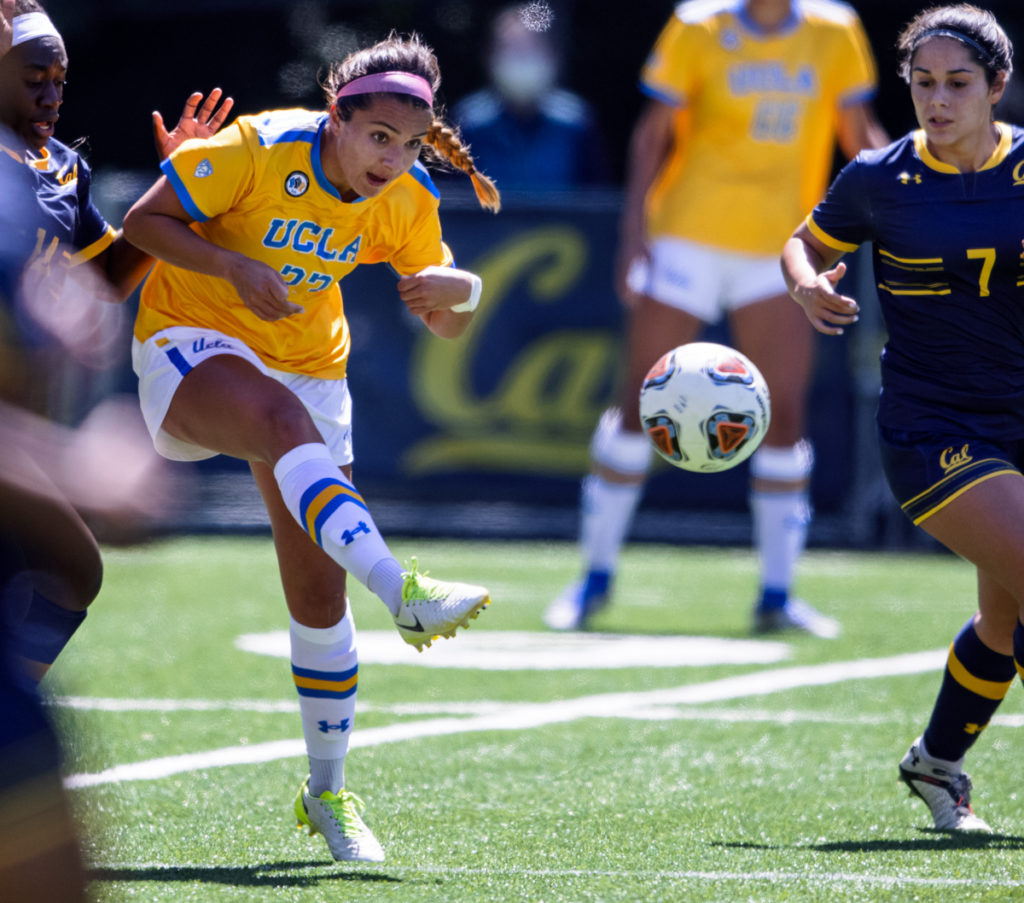 Marley Canales had to make up for lost time in 2021.
When the then-junior midfielder suffered a torn ACL that ended her 2019 season prematurely, she had three goals, four assists and 11 points under her belt.
After an extended recovery period caused by a spring start for UCLA women's soccer, Canales wasted no time making her mark on the field as a senior – assisting in all three of the Bruins' goals in their season opener against Pepperdine to set the tone for the midfielder's 14-point season.
Starting each of the Bruins' 17 games this year, Canales found the back of the net in four different competitions. In three of those matches, she represented the go-ahead goal – taking and scoring all three UCLA penalty kicks over the course of the season to extend her career 100% shooting on such attempts.
Canales' senior season featured a career-high goals scored, shots on goal, minutes played and assists – leading her team with six.
After a comeback season for the books, the midfielder will use her extra year of eligibility to return to the Bruin roster in the fall, where she will have a chance to continue the upward trend.
Most Improved: Greg Dulcich
Jack Perez, Daily Bruin senior staff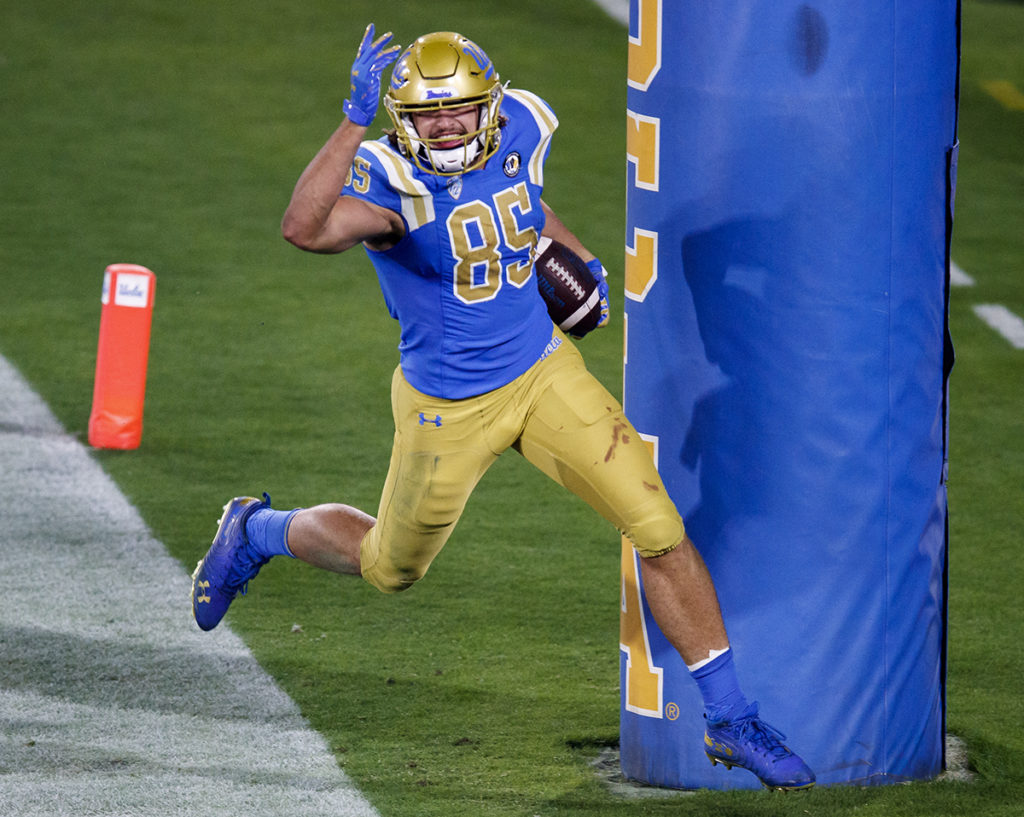 When the Bruins found themselves in need of a big play, Greg Dulcich always stepped up.
The redshirt sophomore sat behind two eventual NFL tight ends during his first two years in Westwood, catching just nine passes total in his freshman and sophomore years as a walk-on.
But he was awarded a scholarship and was handed the starting role in his third season, and finally found his groove in coach Chip Kelly's offense.
Dulcich was at or near the top in many receiving categories in 2020 for not just UCLA football, but the Pac-12. He ranked first in the conference in yards per catch with 19.9, and he was second in receiving yards and touchdown catches despite being eighth in receptions. He also finished 10th in total yards from scrimmage in the Pac-12 – the first among tight ends, as eight of the top nine played primarily running back.
The Glendale, California, product shined brightest when his team needed a comeback. Dulcich had four catches for 126 yards and a touchdown in the season opener against Colorado, and he tacked on eight catches for 167 yards in the rivalry game against USC. Despite totaling just two catches for 38 yards against Stanford, both were touchdown grabs.
Although all three of those contests ended in a loss for UCLA, Dulcich was a major reason those games were close at all.
Dulcich will return to Westwood with the starting spot locked up in 2021, and if he continues to grow his chemistry with junior quarterback Dorian Thompson-Robinson, Dulcich could join his predecessors in the NFL.
Best UCLA Talk Show: Bruin Table Talk (Women's Basketball)
Gavin Carlson, Daily Bruin reporter

After the deaths of George Floyd and Breonna Taylor shook the world last summer, the entire UCLA women's basketball program made a commitment to social justice.
Through the team's More Than a D.R.E.A.M initiative, coaches and players demonstrated their support of the Black Lives Matter movement.
Four of the Bruins' African American players went a step further to highlight the Black experience.
On September 20, the official team Instagram account posted a three-minute video featuring senior forward Michaela Onyenwere and sophomore guards Charisma Osborne and Camryn Brown – the first installment of a series they called Bruin Table Talk.
The trio shared the goals of the program's initiative, including mentoring young Black children, supporting Black businesses and educating as many people as possible about the racial awakening taking place in America.
But the future of the video series was still up in the air – how much meaningful conversation could a group of student-athletes generate in the midst of their season and a global pandemic?
Ultimately, their passion and desire to make an impact helped them overcome the unique circumstances of the time.
Over a span of seven months, the show's hosts – now including senior forward Lauryn Miller – have produced eight lengthy conversations predominantly featuring Black UCLA alumni.
The four Bruins turned conversations with students and alumni into valuable discussions about the oppression of Black people in America today.
During Black History Month, it was former UCLA men's basketball stars Earl Watson and Baron Davis. For Women's History Month, it was the four Black members of the current UCLA gymnastics team.
Bruin Table Talk was both introspective and fun, reflecting and optimistic. And at times, the conversations even foreshadowed future movements.
In January, redshirt senior guard Natalie Chou was invited to discuss her experience as a Chinese American collegiate athlete. With the conversation taking place during rising anti-Asian sentiment because of COVID-19, Natalie's stories and experiences were as eye-opening as those of the African American guests throughout the series.
The dialogue was powerful, and the hosts proved that More Than a D.R.E.A.M. is about more than just Black people.
The team's initiative is about student-athletes of all backgrounds using their voices and platforms, and the Bruin Table Talk series epitomized that goal.
During the show's rise, Davis and Watson commended the hosts' efforts, even comparing those of the Bruin Table Talk hosts to those of UCLA greats such as Jackie Robinson and Kareem Abdul-Jabbar.
Though they might not be at that level yet, Onyenwere, Miller, Osborne and Brown will be remembered by UCLA in more ways than one.
Best TikToker: Kaila Novak
Jacqueline Dzwonczyk, Daily Bruin senior staff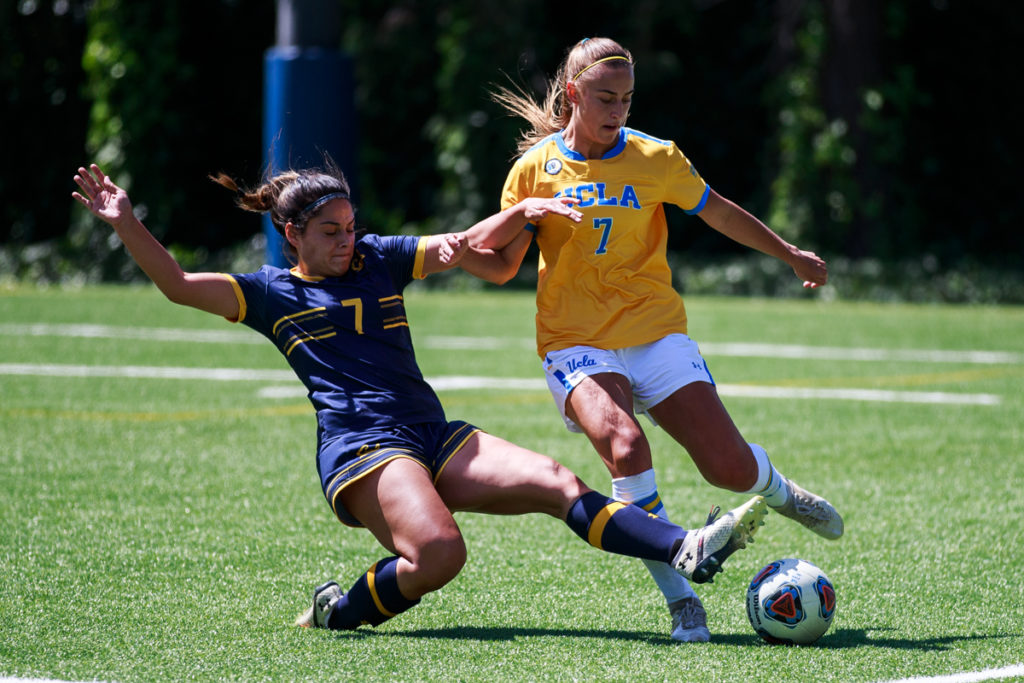 Kaila Novak has amassed just shy of one million followers on TikTok since her first post on March 1, 2020.
But the UCLA women's soccer freshman forward did it without relying primarily on her status as a Division I athlete at a top university.
Instead, Novak started by posting videos of herself in quarantine, following online trends and performing comedy skits. She began posting with some of her teammates, regularly collaborating with redshirt junior goalkeeper Lauren Brzykcy as they enjoyed free time during their extended preseason.
One of Novak's most successful ventures came in a series reviewing the food she ate in her dorm room each day, courtesy of the UCLA dining halls – something just about any Bruin freshman could have done.
The Ontario, Canada, product also used her platform to talk about issues such as her sexual orientation and women's place in sports.
All of this content was created in Novak's first season as a collegiate athlete, in which the neuroscience major also earned Pac-12 academic honors and was named to the All-Freshman Team.
Even with the Bruins' season cut short, Novak's fans will still be able to keep up with her online, as she has continued posting regularly since UCLA's elimination from the NCAA tournament.