Hundreds of protesters and armed police officers clashed March 25 following days of opposition and outcry over the scheduled shutdown of Echo Park Lake and forced removal of the individuals experiencing homelessness who remained within its borders.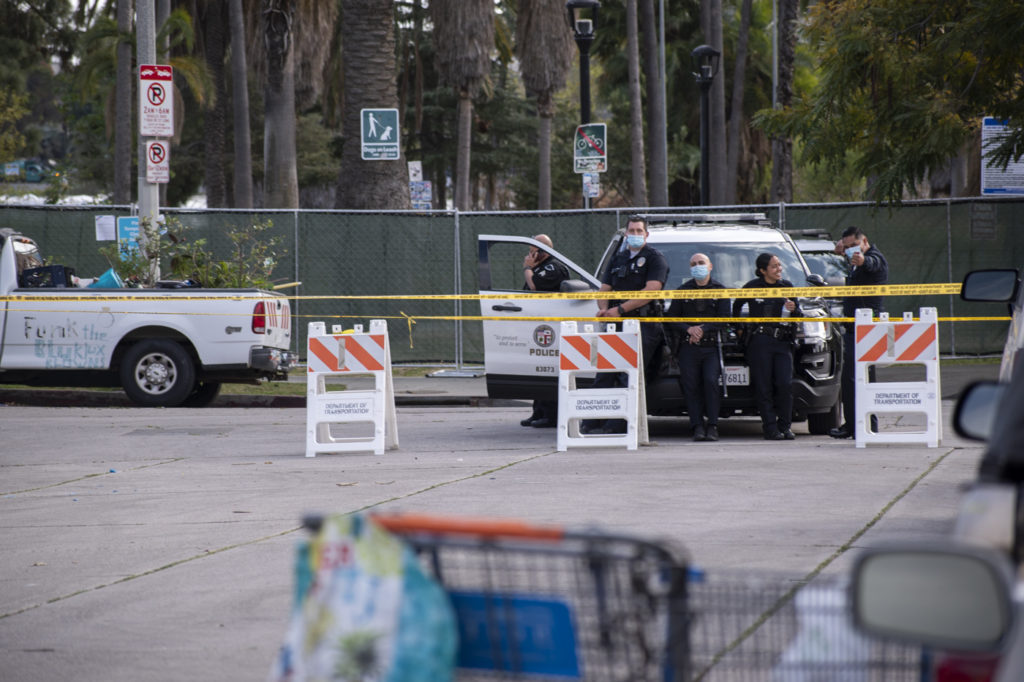 Groups of LAPD officers and police cruisers blocked off entrances to Echo Park Lake. Yellow caution tape bordered the lake off from the rest of the city.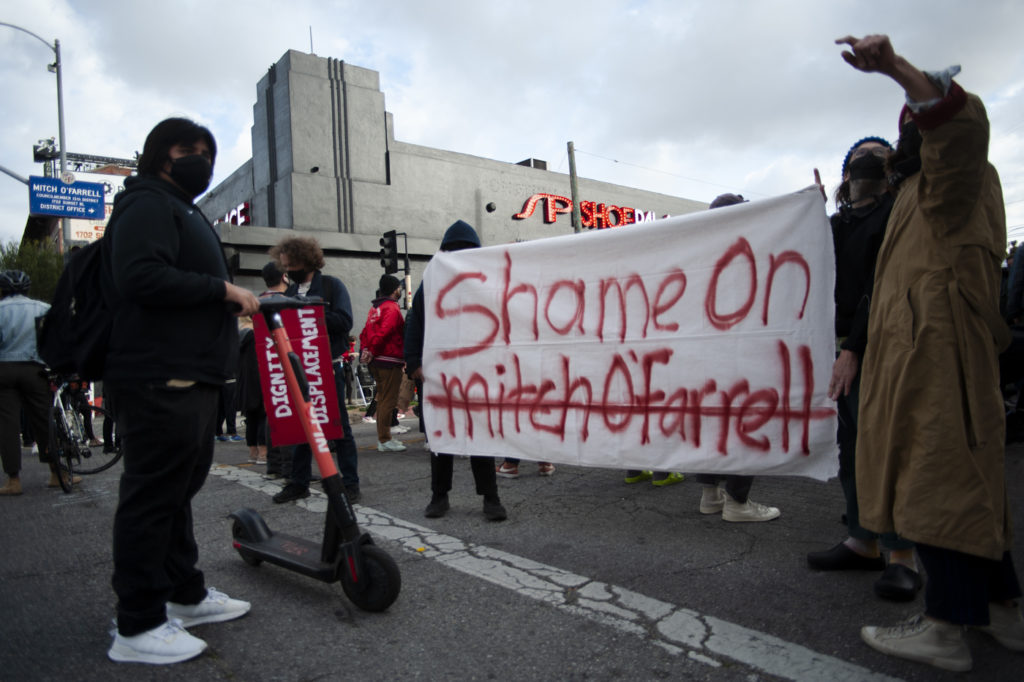 The area was empty and quiet until more than 100 protesters arrived in front of City Councilman Mitch O'Farrell's office after 5 p.m. to speak out against the displacement of people experiencing homelessness.
Activists stood in a circle and sat around the Lemoyne Street and Sunset Boulevard intersection.
Many people held up signs declaring O'Farrell's planning to be cruel and a failure to the Echo Park community. O'Farrell pushed for park renovations and planned to move the remaining individuals experiencing homelessness to downtown hotels under a state program called Project Roomkey.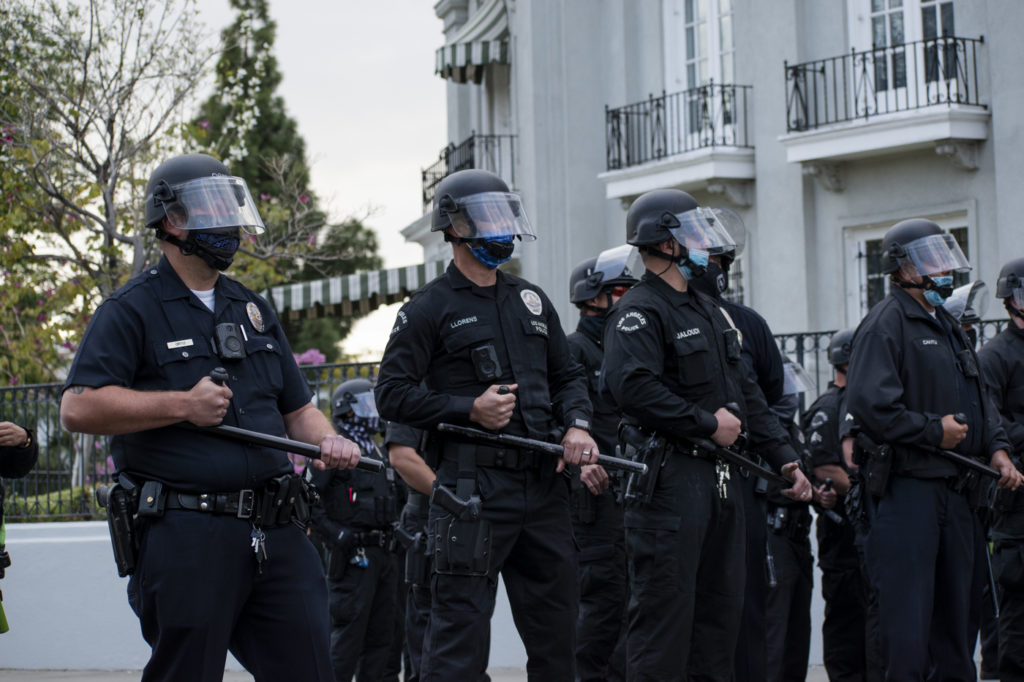 Police officers gripped their batons and tightened into defensive formation before more LAPD officers arrived.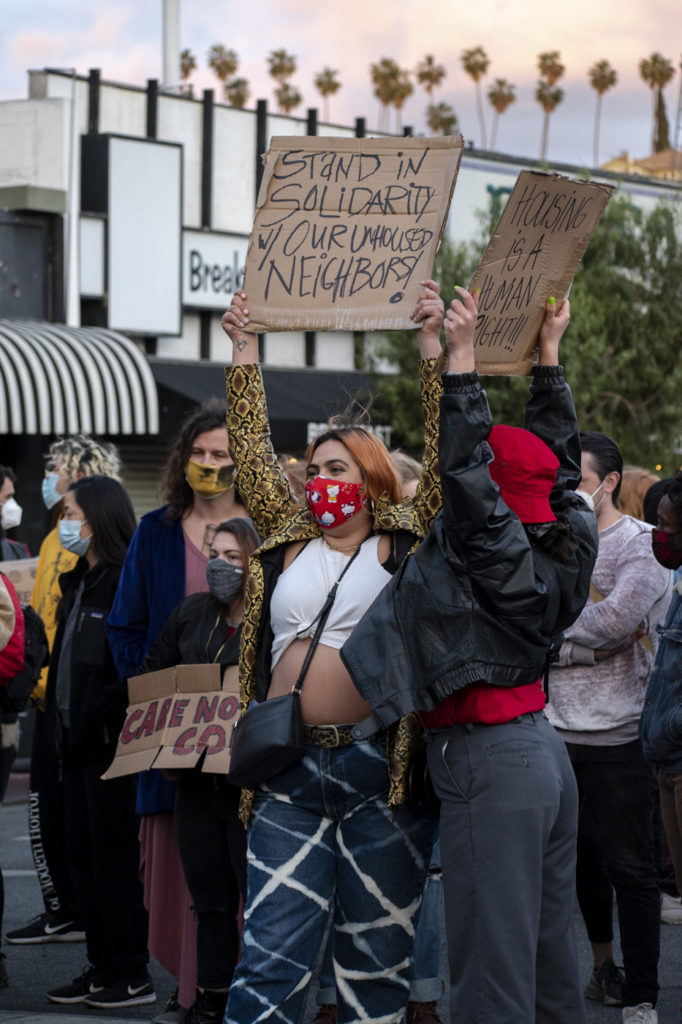 People gathered together after marching down Sunset Boulevard, holding up their signs to police cruisers and other officers blocking surrounding streets.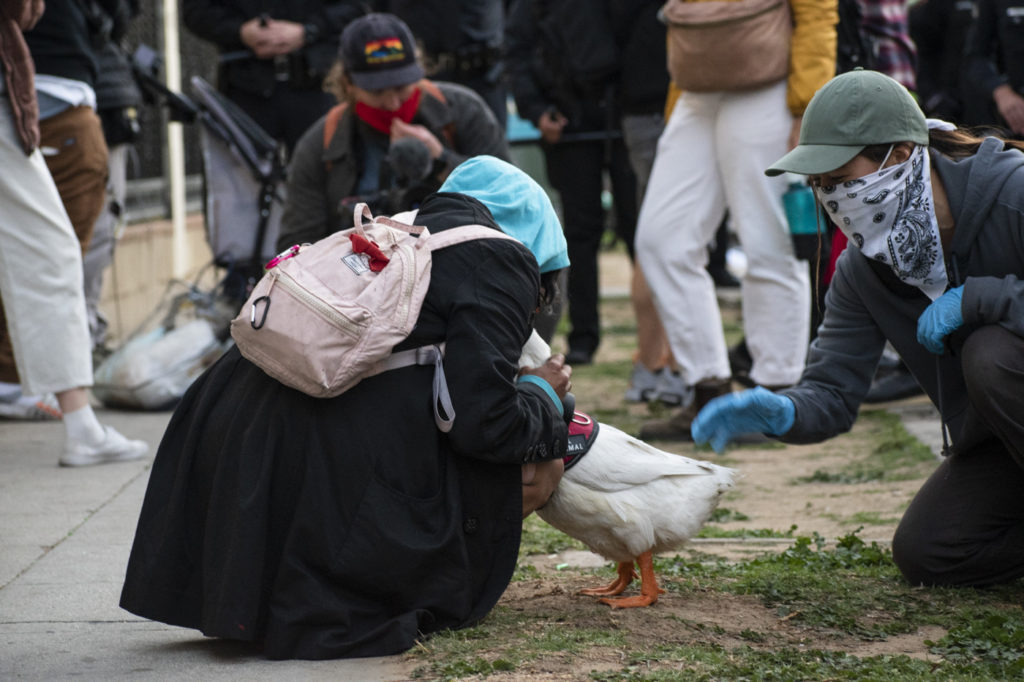 Charlie the duck, an emotional support animal, brought comfort to protesters who were a few feet away from the line of police.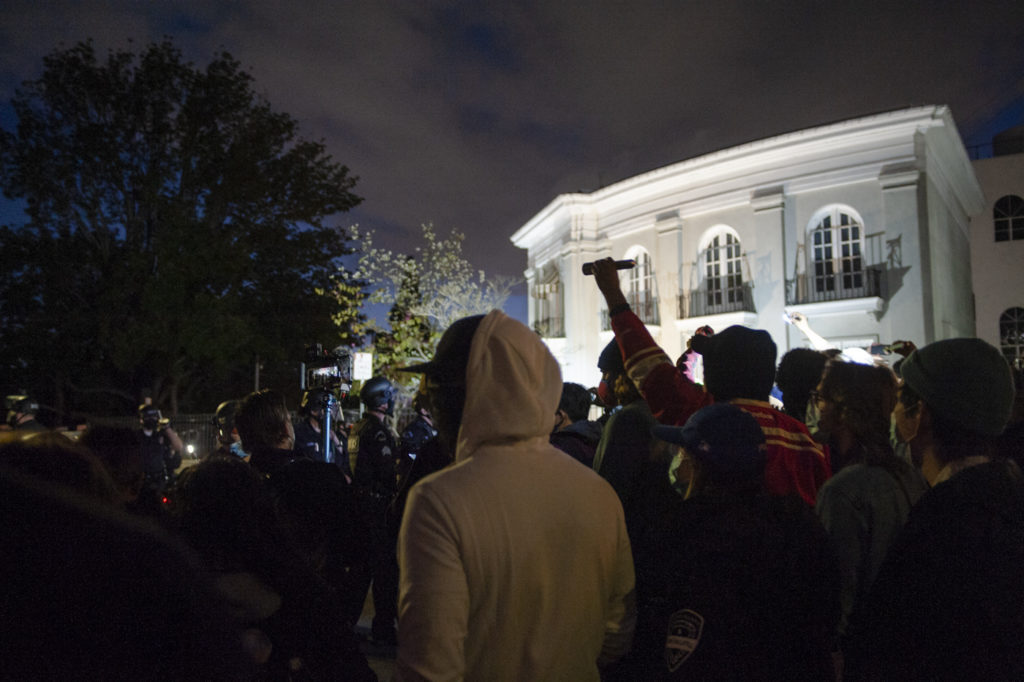 An unlawful assembly was officially declared by the LAPD after protesters pointed LED and strobe lights in the eyes of the police blocking the Echo Park Lake entrance on Lemoyne Street.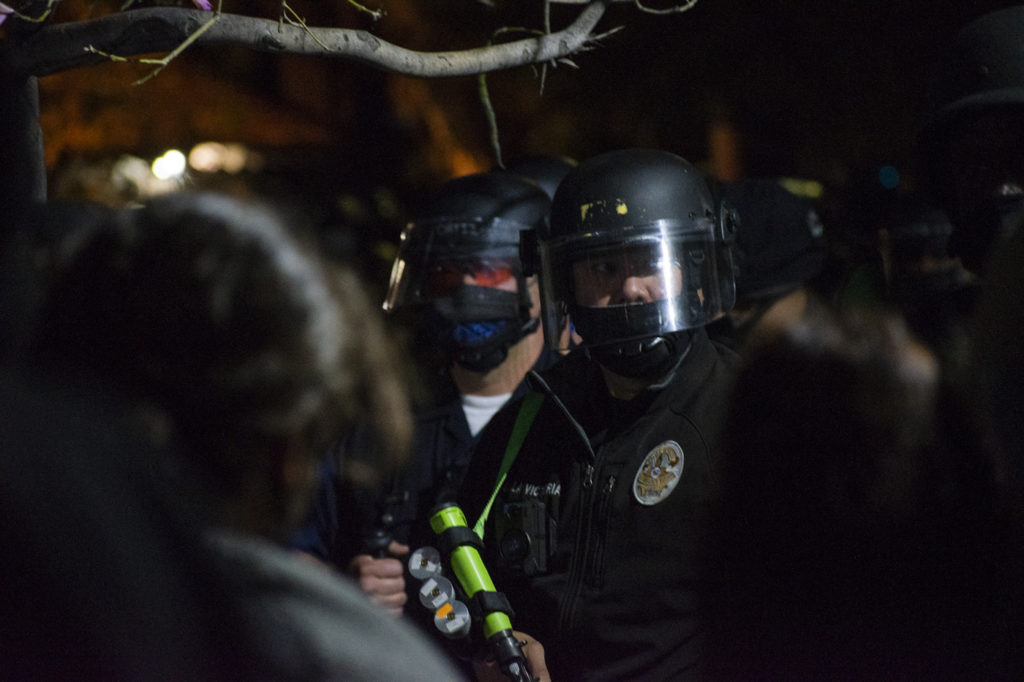 LAPD forces prepared non-lethal munitions and got in a defensive position before moving toward a front line of protesters who were ordered to leave the area.
A large circle of protesters were trapped by police who ran down an adjacent alley.
Jane Nguyen, who is involved with the UCLA Activist-in-Residence Program and witnessed the protests March 24 and 25, said the police presence was a shocking sight.
"I found out that one protester had his arm broken by a police officer's baton," Nguyen said.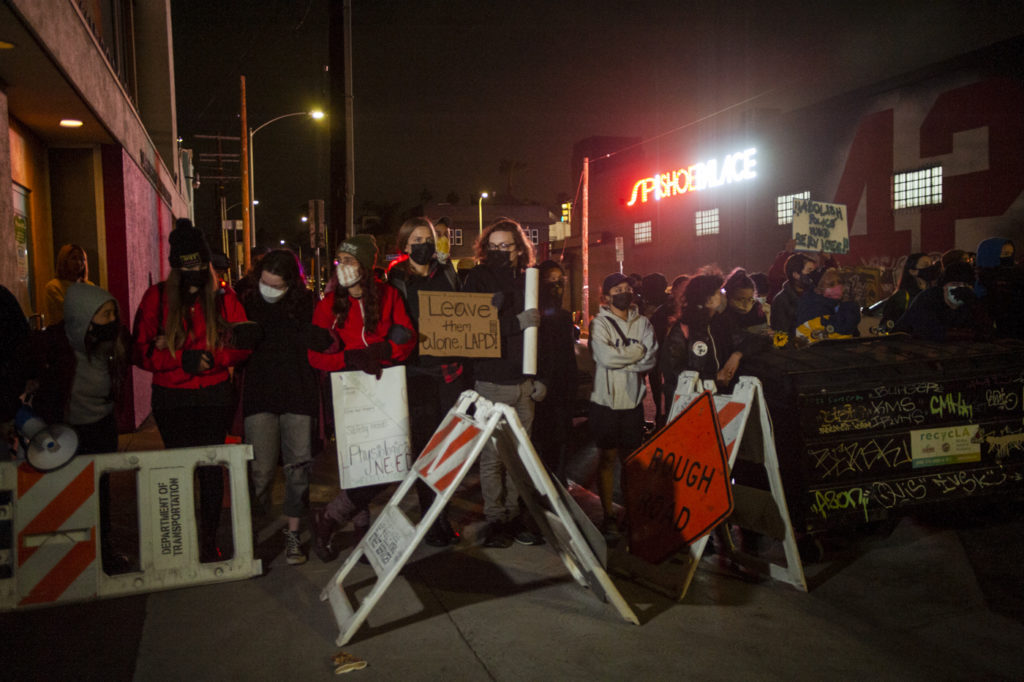 Multiple protesters held up signs and chanted behind a trash can barricading the Lemoyne Street and Sunset Boulevard intersection.
UCLA sociology graduate student Amelia Hill participated in protests at Echo Park on March 24 with her roommate and said police immediately surrounded the area when they arrived.
"Telling legal observers and telling reporters that they had to be in a certain area, … and to then also arrest and detain legal observers and reporters shows a really concerning disregard for the First Amendment," Hill said.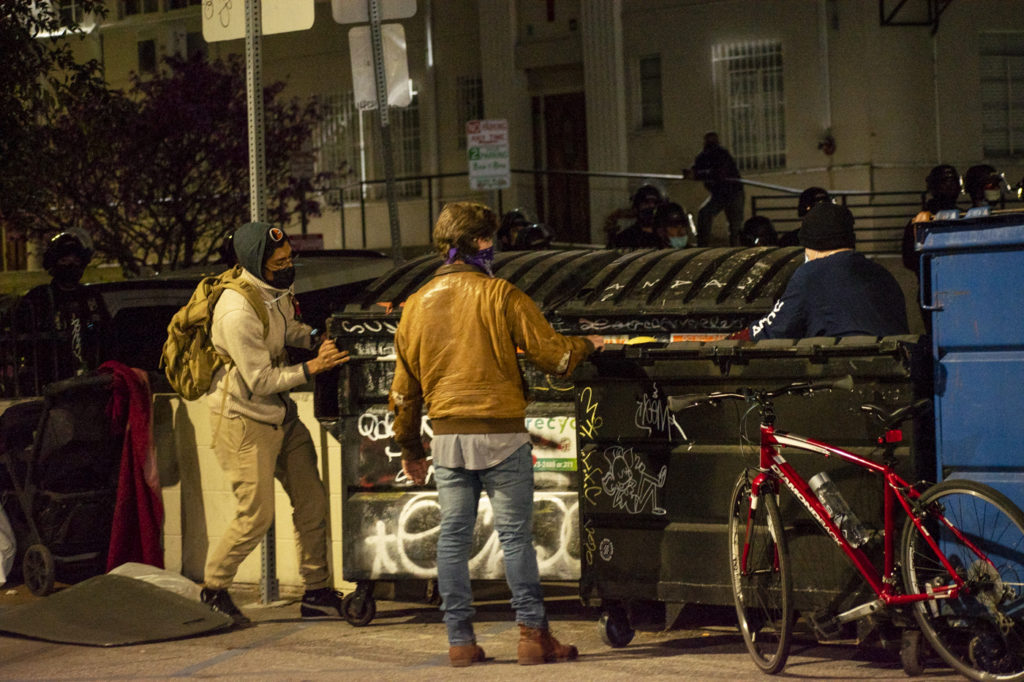 Protesters barricaded a parking lot entrance with trash cans and ran through alleys as police skirmishes and arrests continued throughout the night.
A large crowd of protesters, including at least five reporters, were surrounded and individually detained on the corner of Park Avenue and Lemoyne Street. The protesters received a misdemeanor failure to disperse charge, which carries a punishment ranging from a $1,000 fine to six months in jail.
People were shot at point-blank range with less lethal rounds and pushed down Sunset Boulevard.
After 10:30 p.m., police dispersed the leftover crowd of protesters and continued with the park cleanup efforts the following day. LAPD arrested the last two individuals living in the park Friday.