March 20 – Alhambra Vigil
The Atlanta spa shootings that took place on March 16 left eight dead. Six of the victims were women of Asian descent. In light of this tragedy, El Monte, California, resident Betty Hang called for the congregation of local residents to mourn the deaths of the victims and rally to end discrimination against Asian Americans and Pacific Islanders through the "Stop Asian Hate" vigil.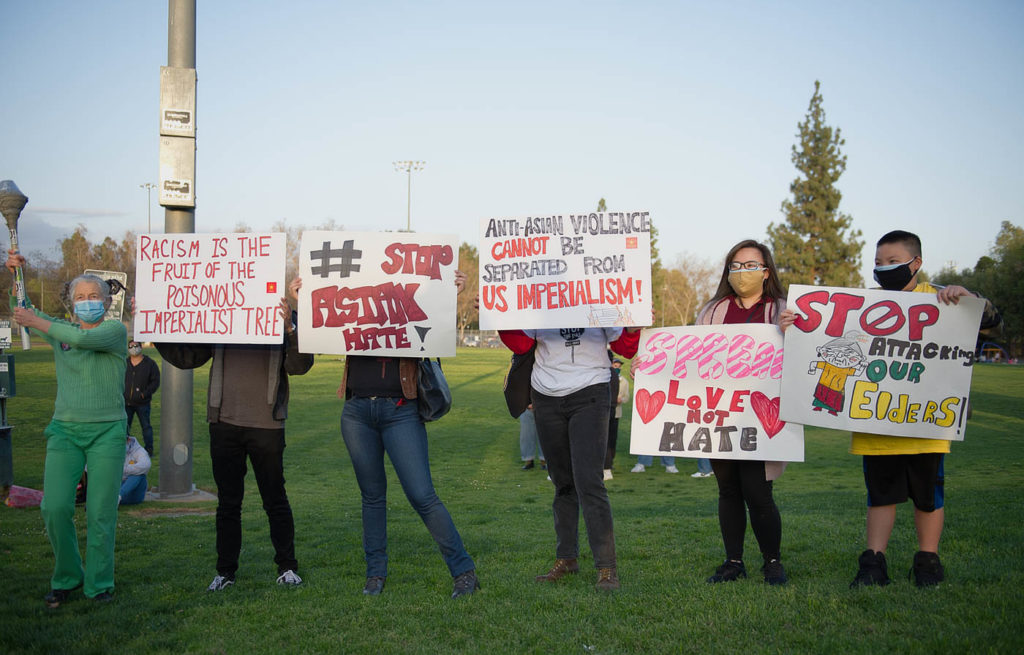 Linsa Tran (second from right) and her son, along with many others, made signs to spread the message of love and to denounce anti-Asian bigotry. Many attendees shielded their faces from the cameras, fearing they could lose their job for their protest.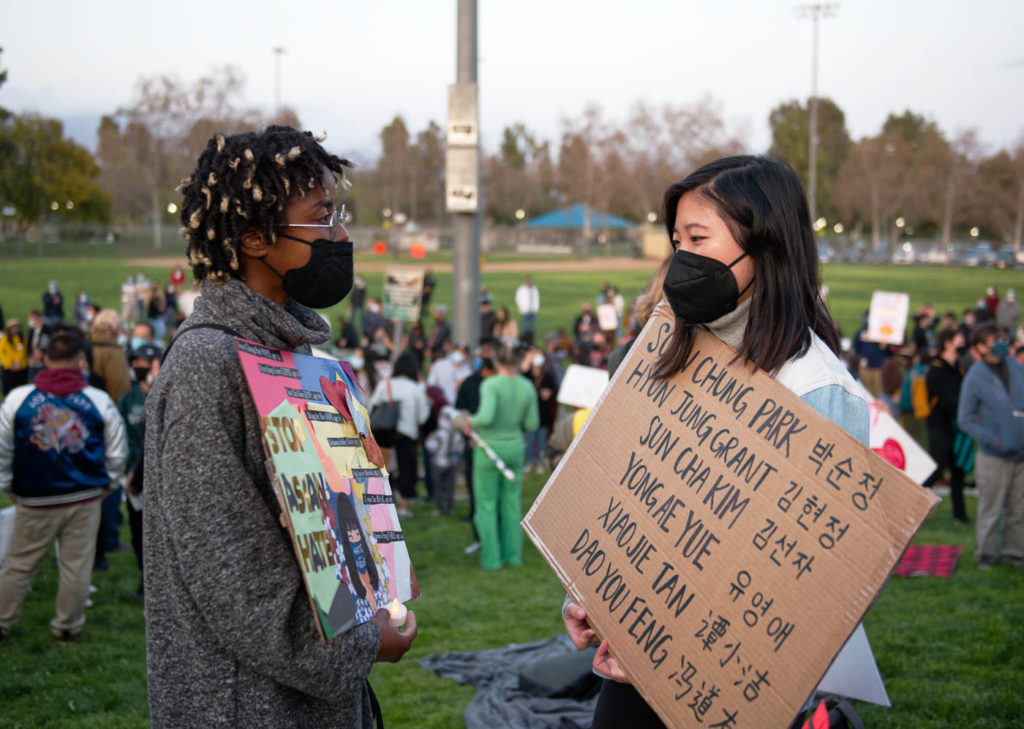 The "Stop Asian Hate" candlelight vigil attracted a couple hundred participants, who assembled in Almansor Park in the city of Alhambra, California. To commence the event, the attendees were encouraged to chat with their neighbors about what they brought to the vigil.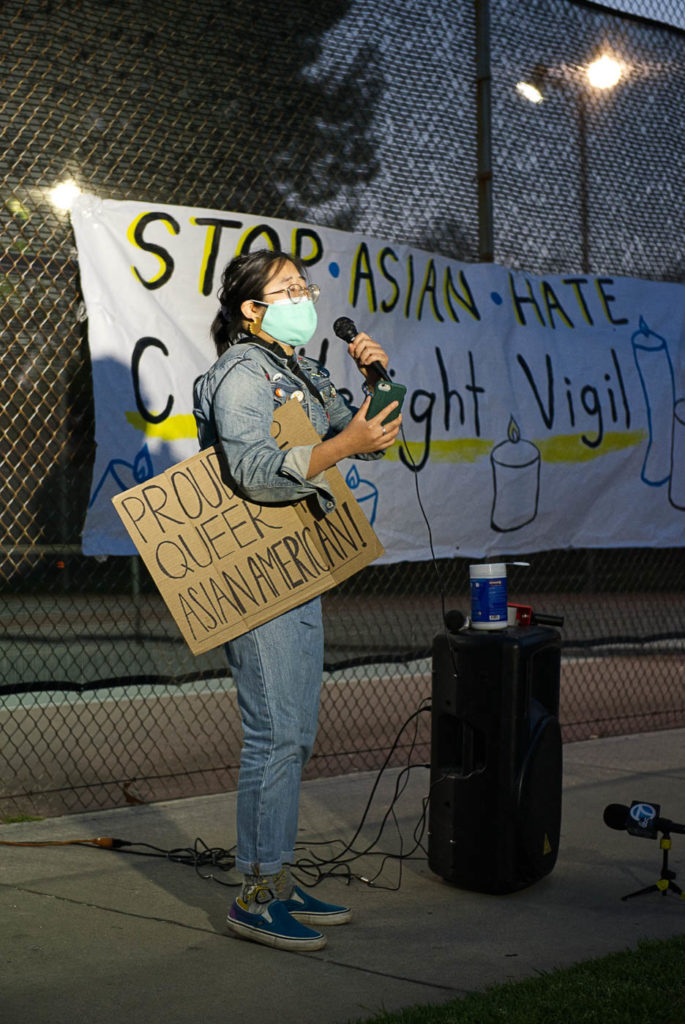 Third-year California State University Long Beach student Jireh Deng spoke on her experience living as a queer Asian American and condemned anti-Asian hate crimes.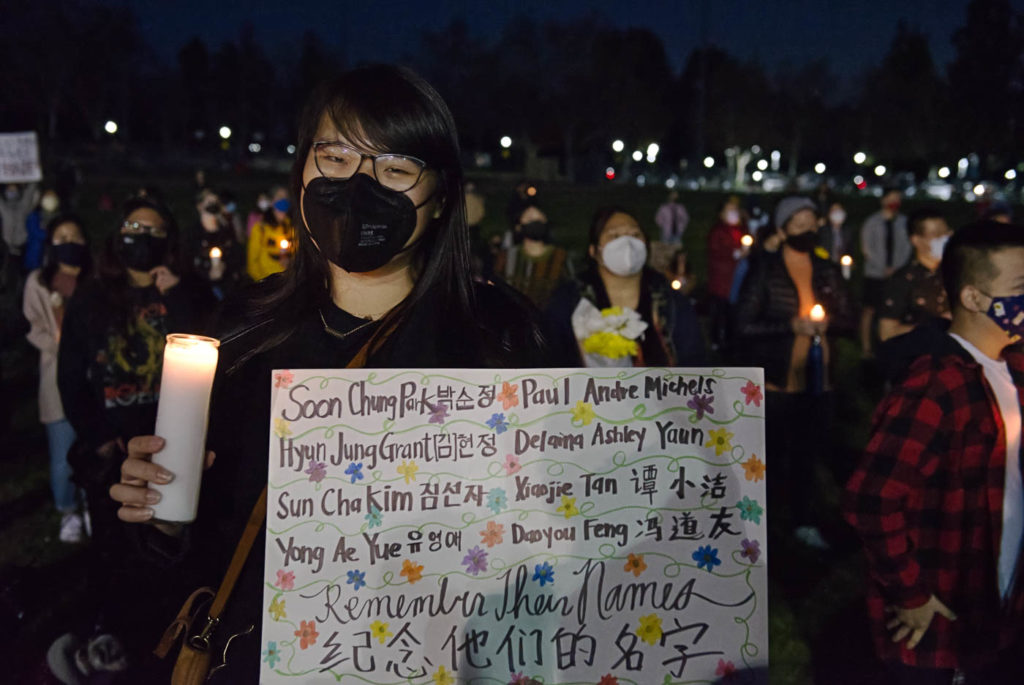 Amy She, a financial services worker, brought a sign written with the names of the victims from the Atlanta spa shootings.
"I thought it was really important to recognize and remember the humanity of the individual victims as opposed to highlighting the wrongs of the person who ended their lives," She said.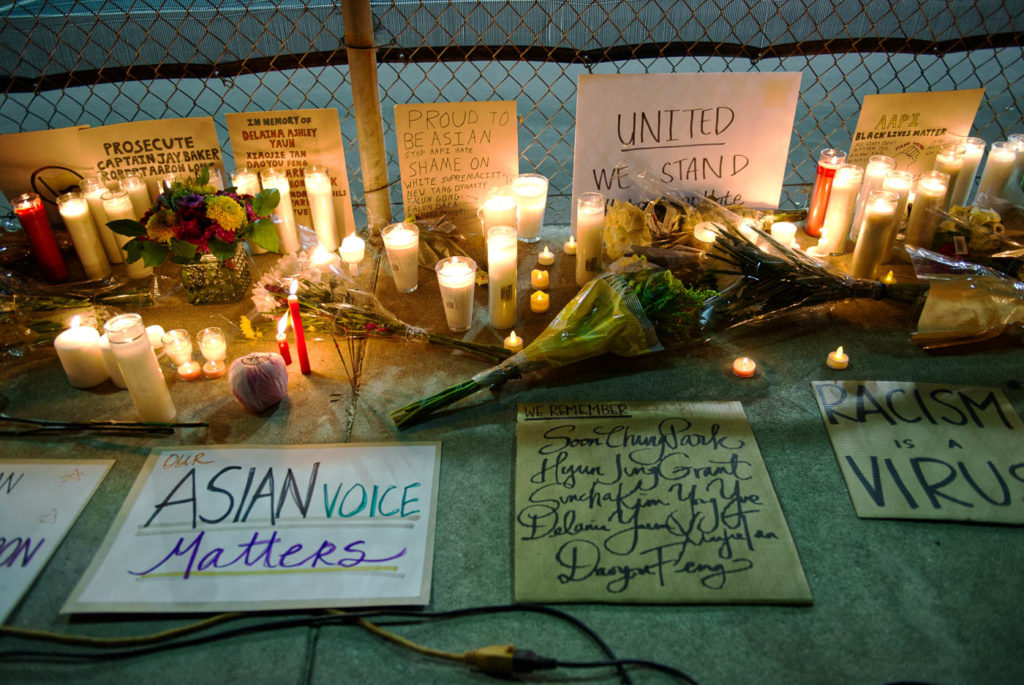 Attendees of the vigil set down flowers, candles and personal artworks by the east fence of Almansor Park Tennis Courts to commemorate those who died.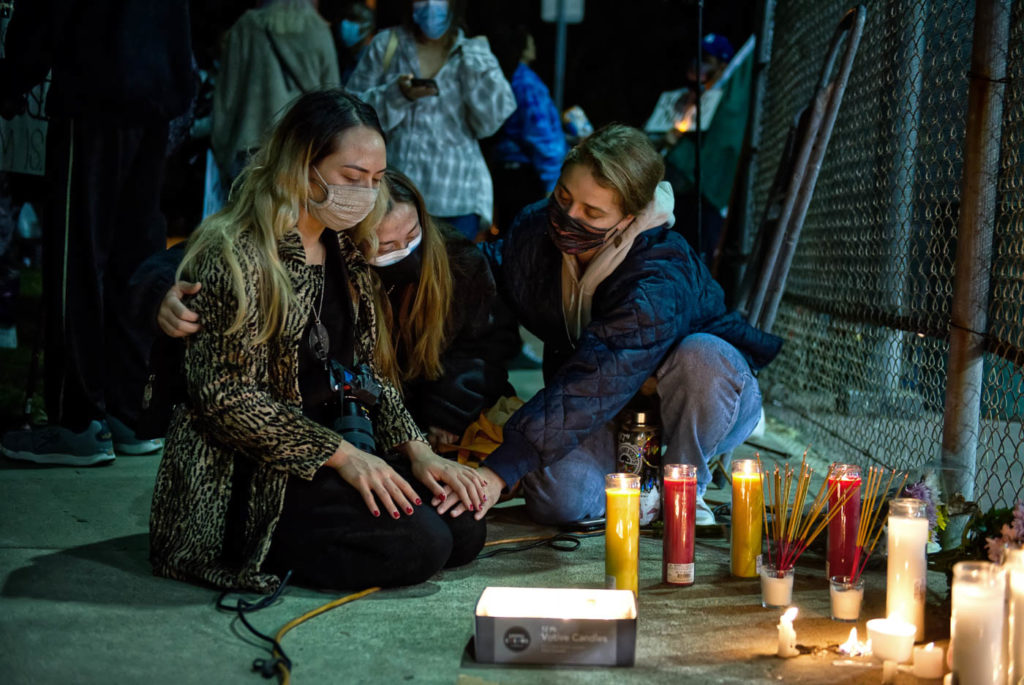 Ash Alexander, Alana Hillman, and UCLA alumna Maya Kell-Abrams comforted one another before the incense and candles.
"I will always use my privilege as a mixed white and educated person to advocate for all Asian people, especially our most vulnerable, our elders, our first-generation immigrants, our poor and working class, our women with accents, our undocumented," Alexander said during her speech criticizing the exploitation of Asians and fetishization of Asian women.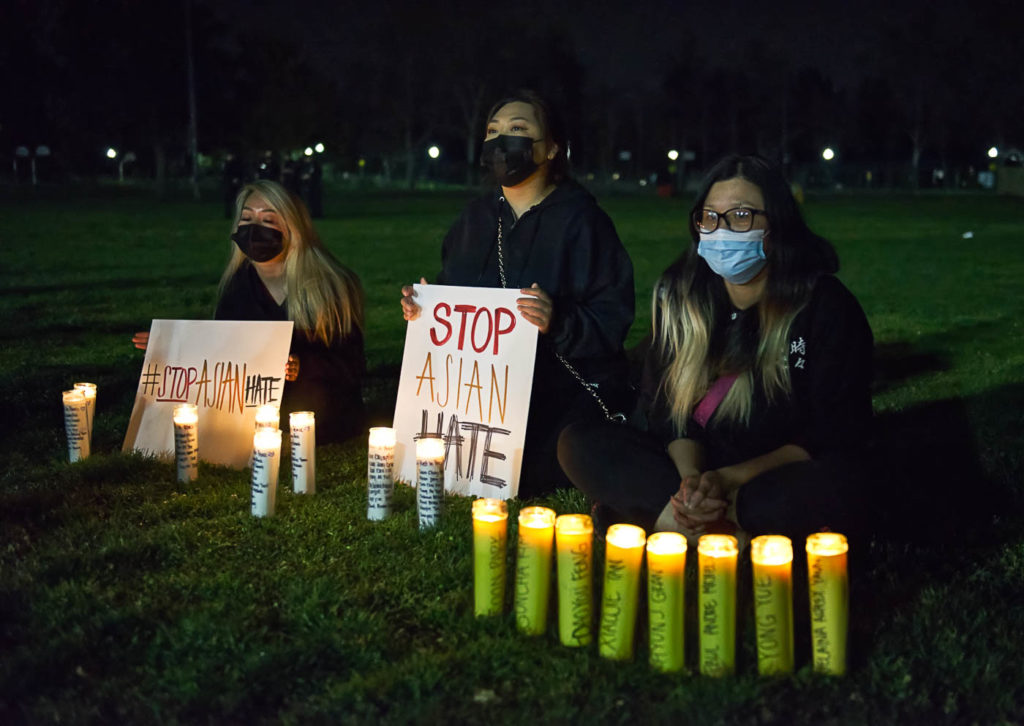 Linda Nguyen, a nursing student at Pasadena City College, Faustine Duong, a permanent make-up artist, and Angela Hoang, a food delivery driver, watched speakers from afar.
March 27 – Monterey Park Vigil
Another vigil was held by SGV Progressive Action at Barnes Park in Monterey Park, California. Monterey Park is the United States' first Asian American majority city.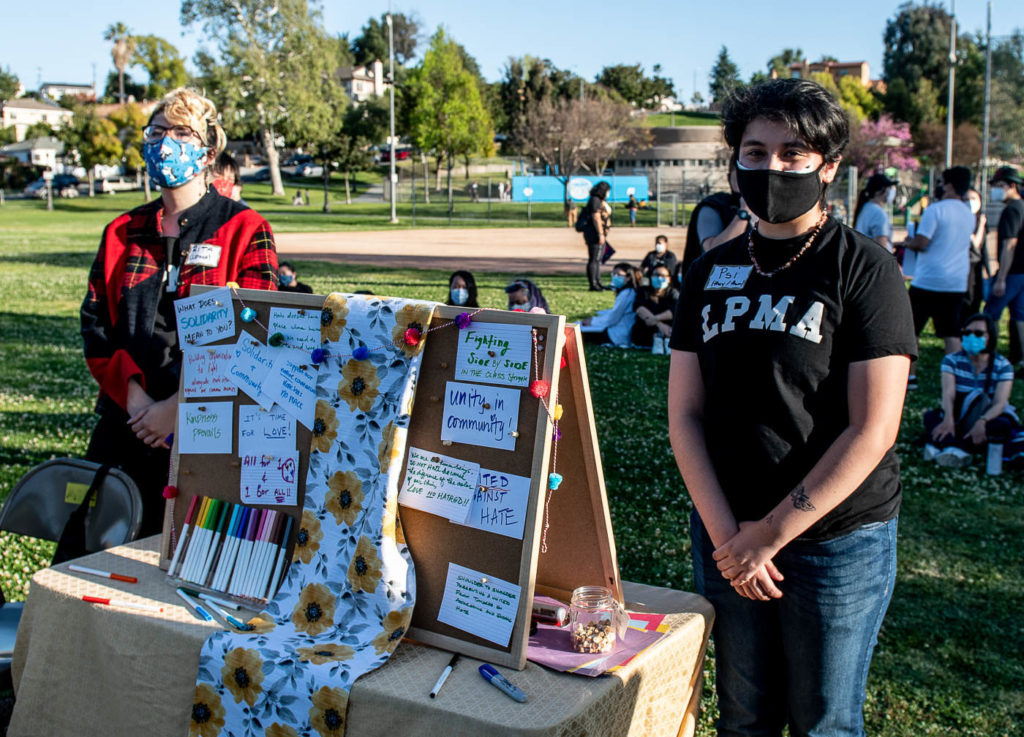 Psi Jimenez from La Puente Mutual Aid stood behind their Solidarity Wall, on which the participants of the vigil wrote or drew what solidarity meant to them.
"I decided to participate today because it feels performative to just share stuff on social media," Jimenez said. "That doesn't really do much, especially if your social network already has a like-minded ideology."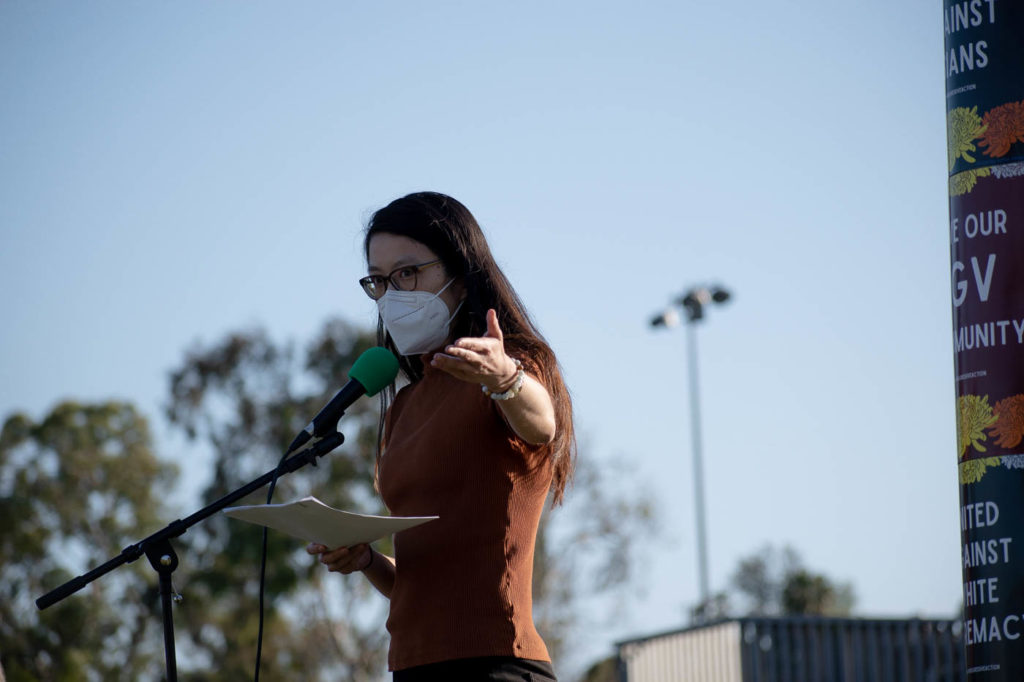 Amy Wong, a coalition coordinator with SGV Progressive Action, led the welcome ceremony and coordinated the guest speakers throughout the vigil.
The first half began with a moment of silence and guided prayer. The second half was reserved for nine guest speakers to share their personal experiences with Asian discrimination.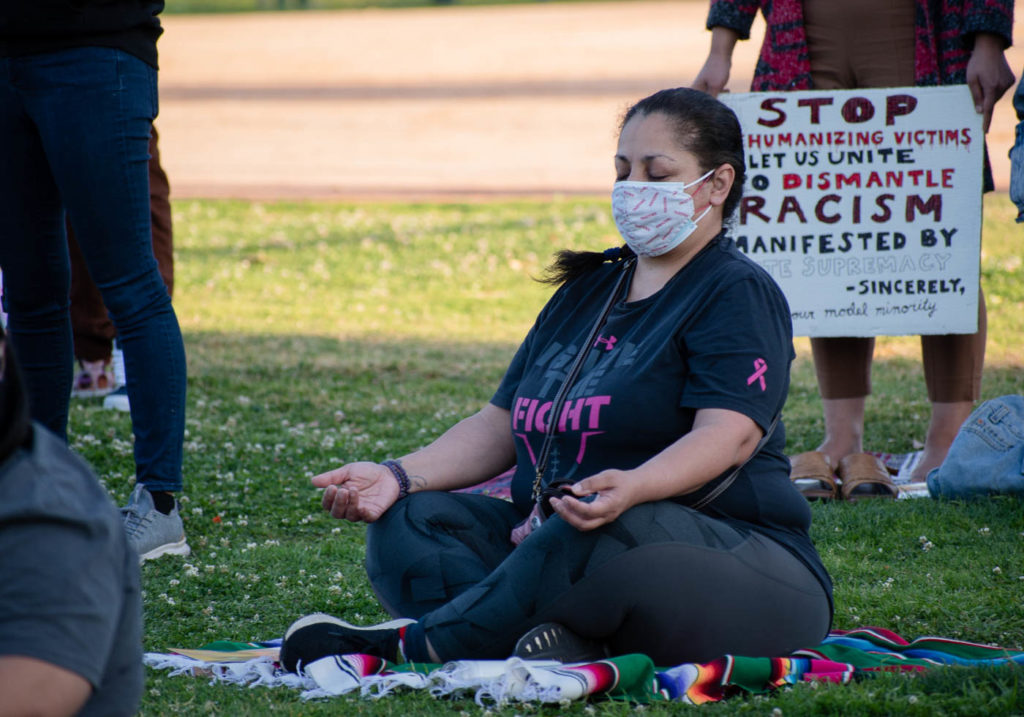 Throughout the moment of silence, eight bells sounded through the speaker in one-minute intervals, signaling each life lost on the day of the Atlanta spa shootings. People gathered together, cross-legged and eyes closed, taking deep breaths in a meditative state.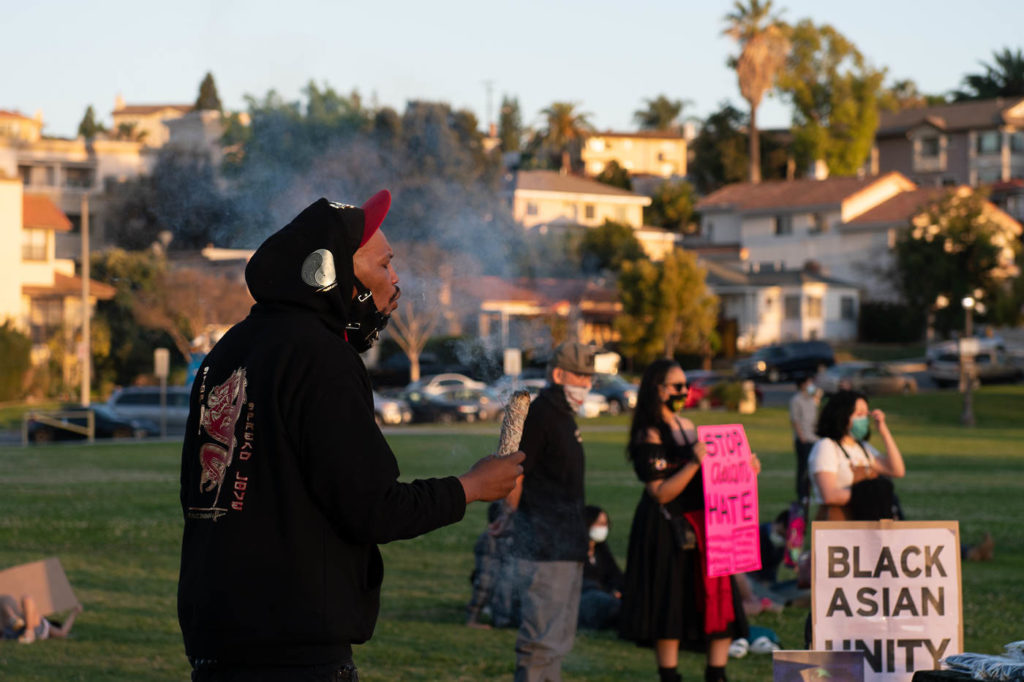 Eric Hardeman burned a bundle of white sage to cleanse the space.
He said this issue really hit home for him, as a Jamaican Chinese man with an Asian wife.
"We've been in the struggle for some time now, not only with the Black Lives Matter movement but now with the Stop Asian Hate movement."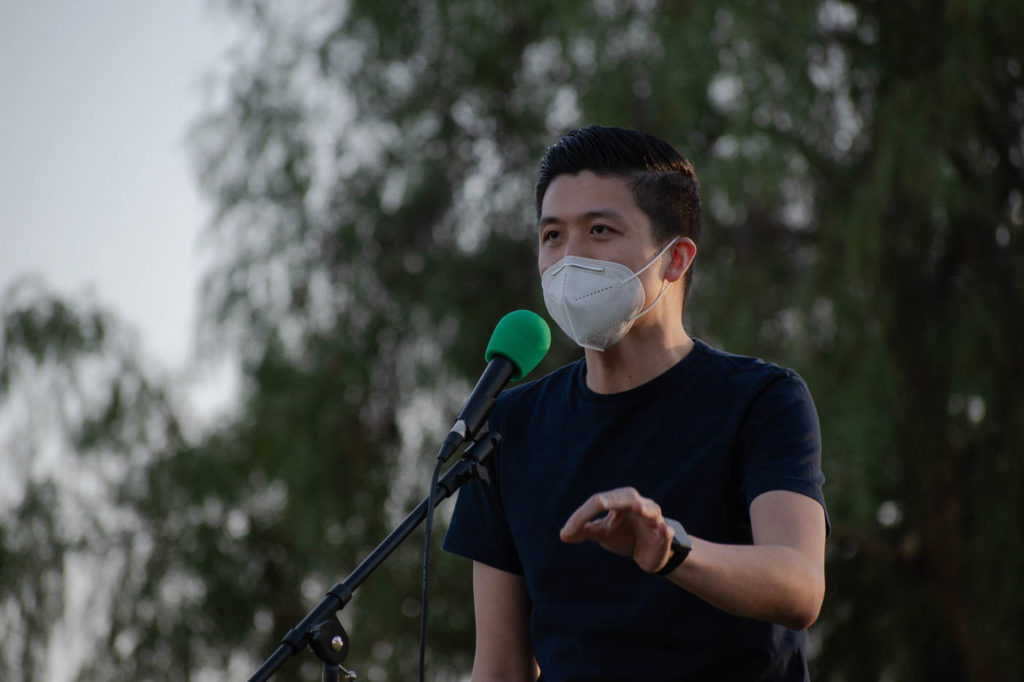 Alton Wang, a law student at UCLA, spoke to the crowd about community resistance and resisting acts of hate during the second part of the vigil. He called for multiple actions, such as teaching more Asian American history in schools and fighting against anti-Blackness.
"We are a community of power," Wang said. "Today, just like those who come before us, we challenge white supremacy that has led to nearly 4,000 acts of hate this past year. We also challenge the ways that racism and sexism specifically shape the way that Asian American women are subject to fetishization and violence."
Stephanie Serrano, a governing board member at Hacienda La Puente Unified School District, held her large pink poster calling out white supremacy and hate crimes as she stood in solidarity with the Asian community.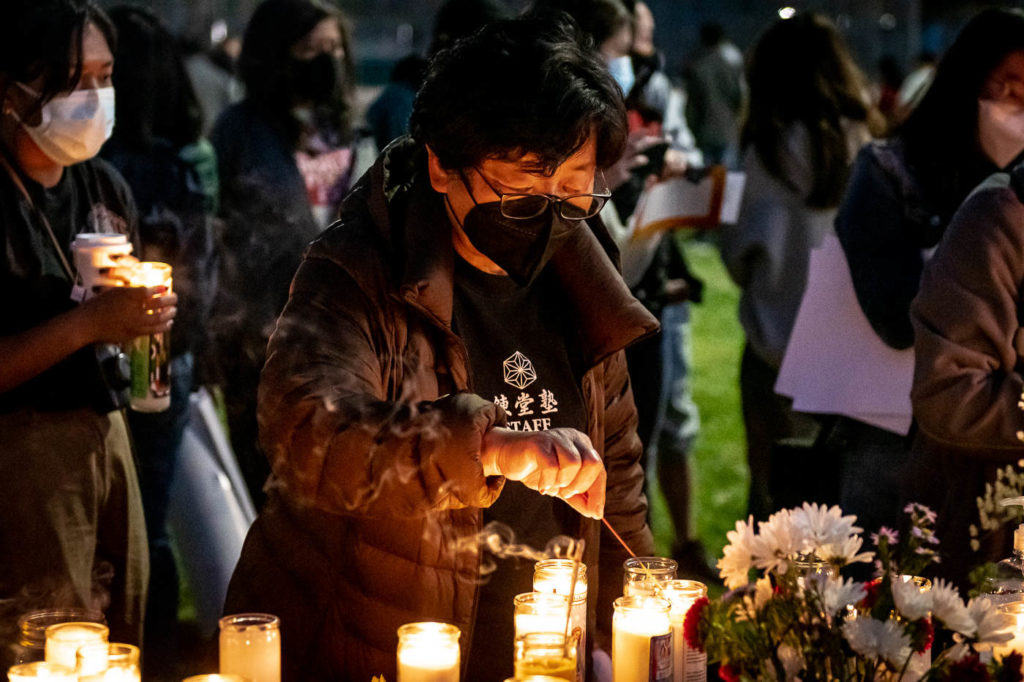 Several people gathered to pray by the altar as the sun began to fade.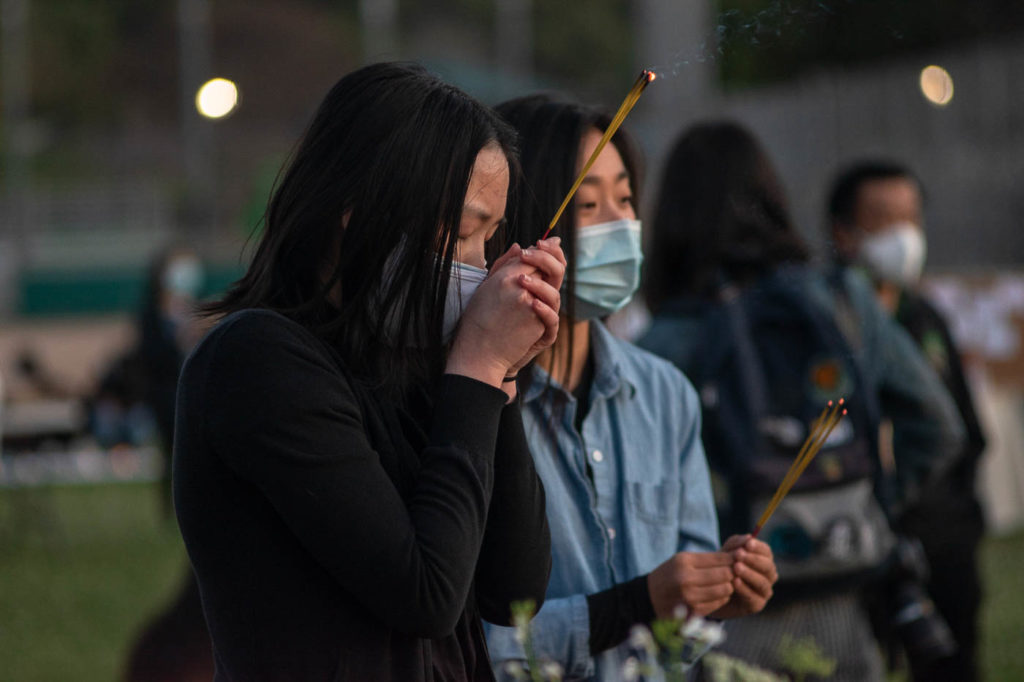 After lighting an individual incense stick, guests bowed to show respect and love.
"It reminds me of my grandma's house," said Peter Dien (not pictured), a high school student with the organization Change West Covina. "If you're Asian, you know that every time you step into an Asian household, this is how we respect our ancestors and our grandparents who have passed away."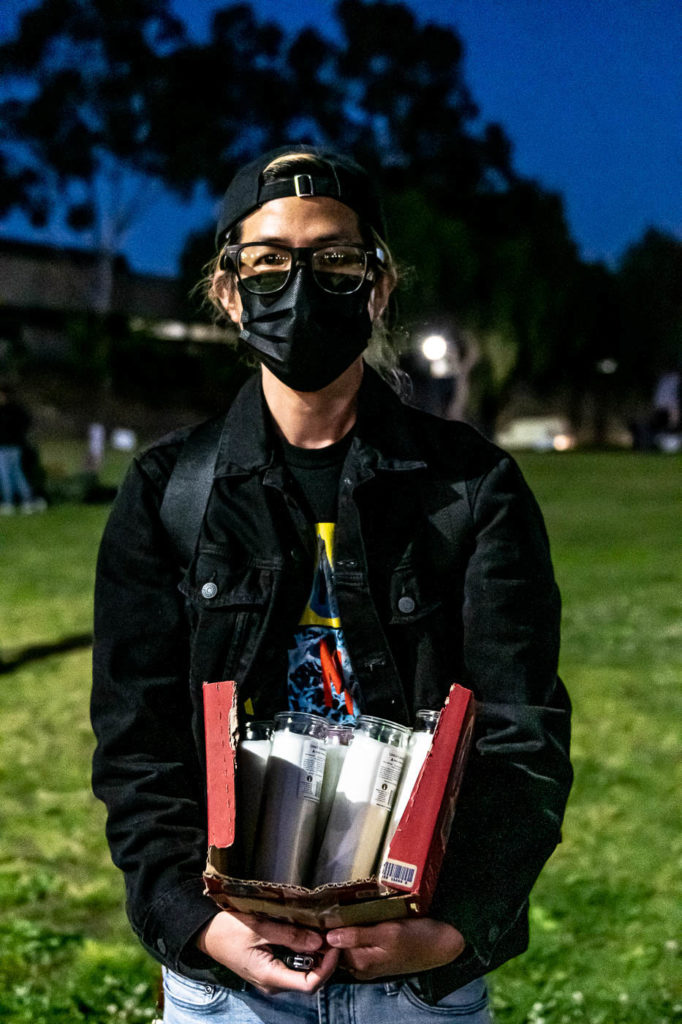 As the ceremony came to a close, Joseph Lee distributed white candles to participants.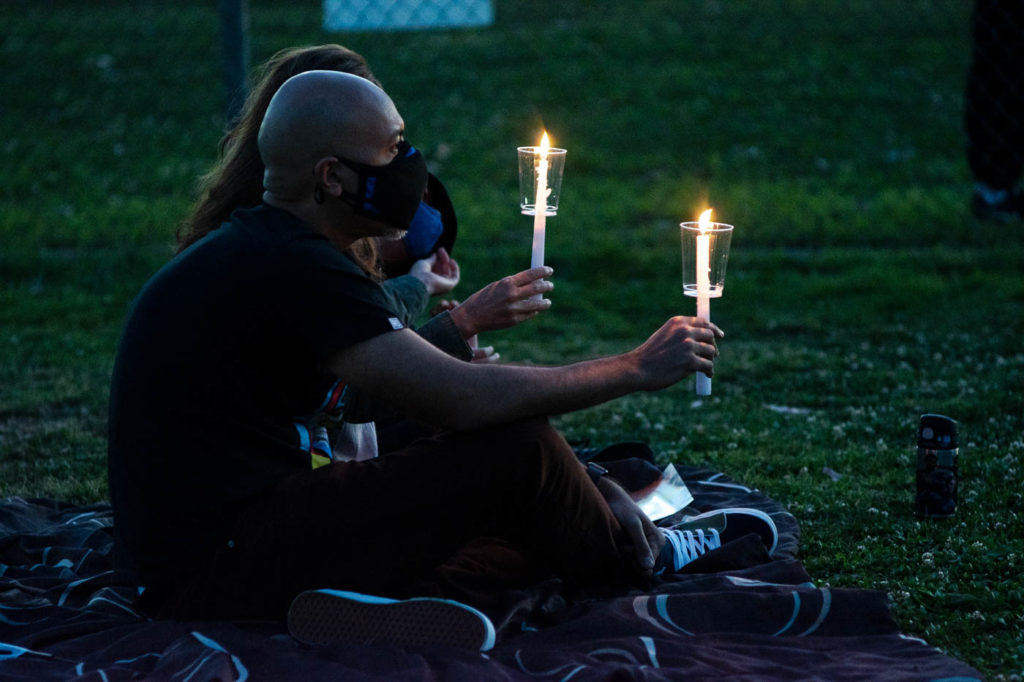 Many added their candles to the altar, and others lifted theirs up to the sky with an almost full moon in the background.