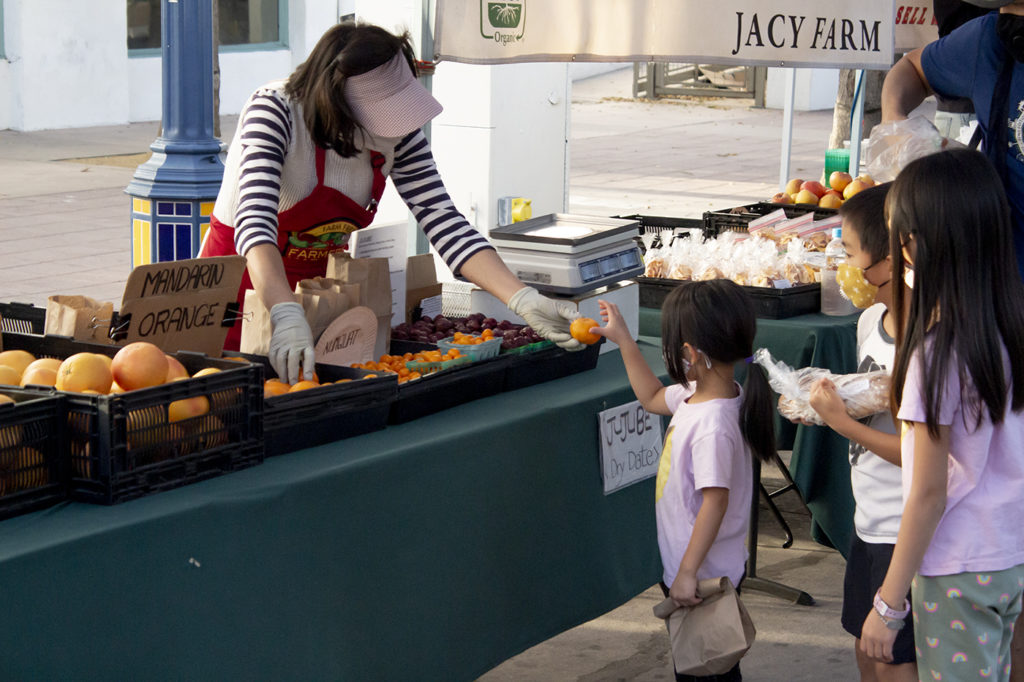 A vendor hands mandarin oranges to children at the Westwood Village Farmers' Market.
Organized by Farmer Mark, the outdoor fresh food market is held on Broxton Avenue every Thursday from noon to 5 p.m.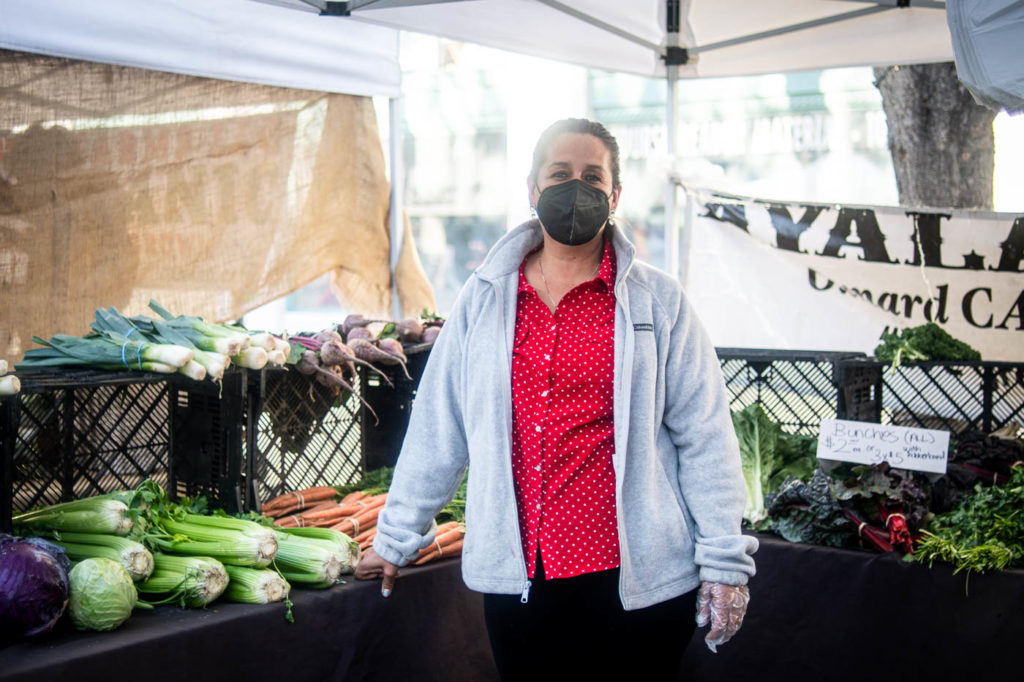 Ayala Farms, one of the produce vendors, is a woman-owned farm from Oxnard, California. For seven years now, it's been setting up a stall at the Westwood Village Farmers' Market.
According to Gelsi Ayala, who helps run the stall alongside her mother (pictured), the most rewarding part is interacting with all the people she meets.
"Just seeing everybody so happy when they see the produce. … They're like, 'Oh my god, you guys are from Oxnard,'" said Ayala. "Everybody knows that, in Oxnard, everything is so good when it comes to farming."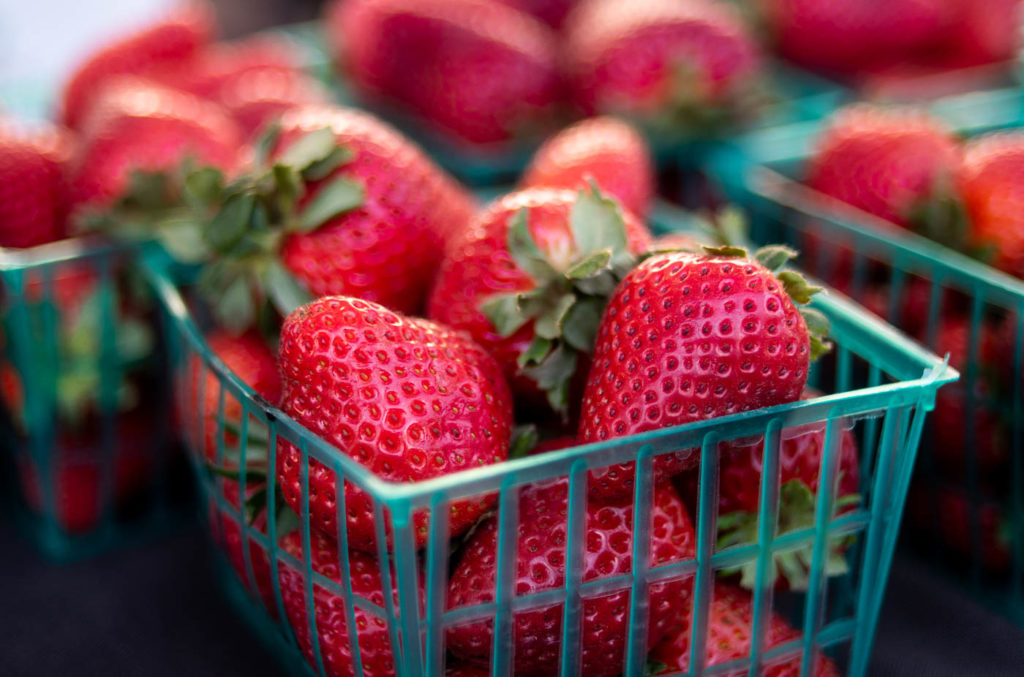 "My mom, when she came here from Mexico, she was working in the strawberry fields and now she owns them," said Ayala. "That's an example of how you can come from nothing and have everything you dreamed of."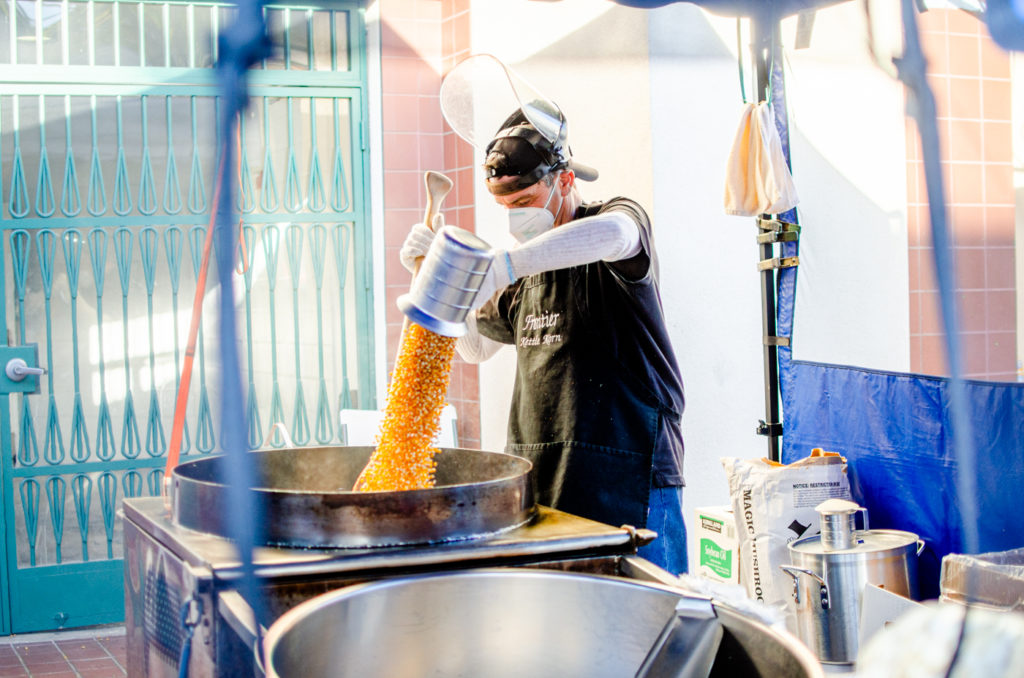 Robert Aranda, nephew of the owner of Frontier Kettle Korn, pours corn kernels into machinery to prepare fresh kettle corn for a customer.
Aranda said he's been helping run the family business for 20 years, serving kettle corn, caramel corn and, oftentimes, a mix of the two at the Westwood Village Farmers' Market.
"I like being outside. I have more freedom because I'm running it. I don't have to be behind a desk in four walls," said Aranda. "I don't have somebody looking over my shoulder because I'm trusted that way. So it's very nice to be running your own thing, doing your own thing. There's a lot of freedom in that regard."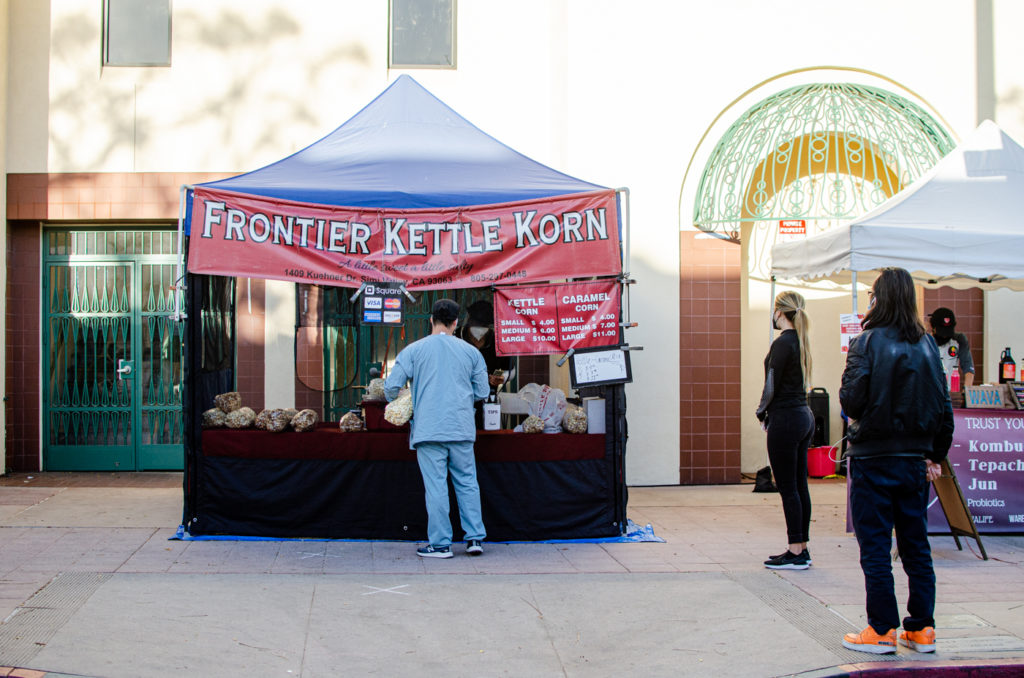 As a trucker in the 1990s, Aranda's uncle used to haul dirt for projects such as the building of the Staples Center in downtown Los Angeles.
According to Aranda, his uncle started Frontier Kettle Korn nearly 25 years ago when he heard about the industry from his brother and decided he wanted to do something different.
"When he first did it, he was going to do a rodeo in Ventura, and the first day was no good," said Aranda. "Then, the lady came from the weekly and wrote a story. … (My uncle) was discouraged. But when they came back, there was a line waiting and people were reading the article. He was busy ever since."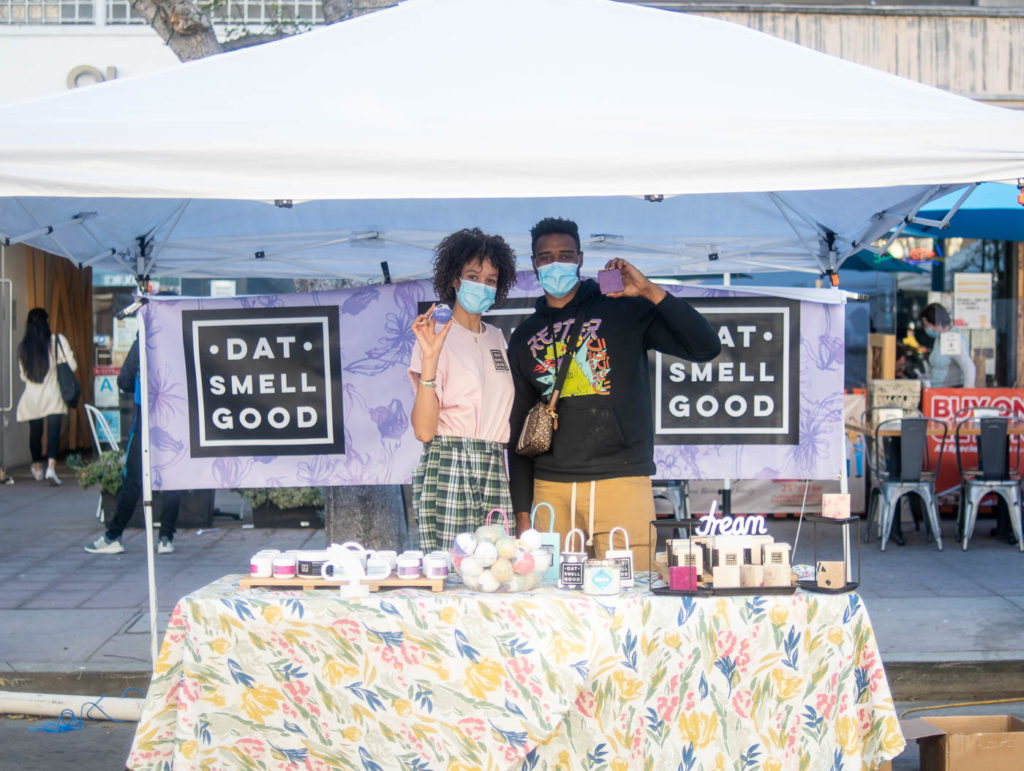 Aurelie Poncin (left) and Dexter Holman (right) started their soap, body and home goods business, Dat Smell Good after they lost their jobs before the COVID-19 pandemic.
"We've been doing soap for a long time," said Poncin. "Doing soap is like cooking. We love cooking. He loves cooking food. I love cooking soap. So we just paired it together."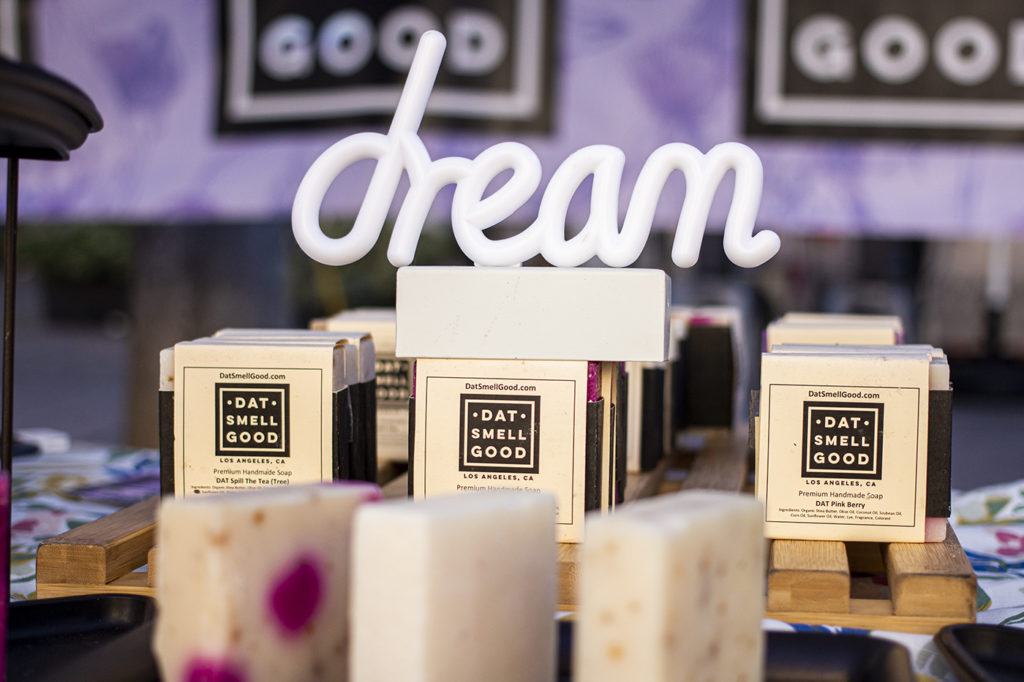 "Once the events got cut out, … there was nothing," said Holman, Poncin's boyfriend and co-founder of Dat Smell Good, about losing his ability to work in event marketing during the COVID-19 pandemic.
He said he began making the soaps after a lot of brainstorming and a hint of good fortune.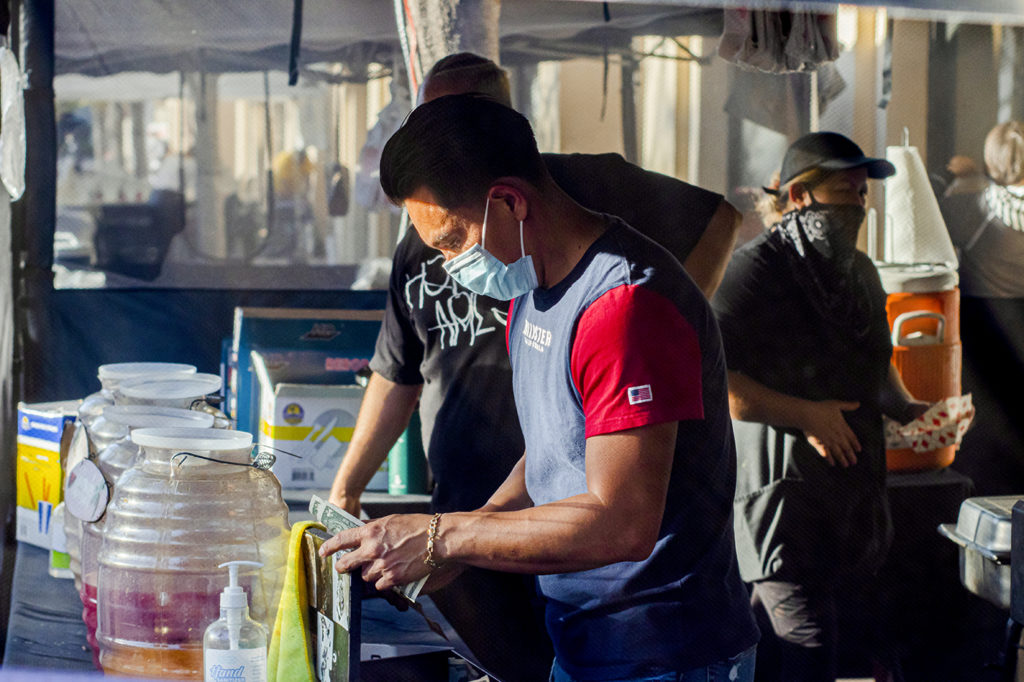 Elvis Alas, a vendor who has been coming to the farmers market for almost four years now, attends to one of his clients.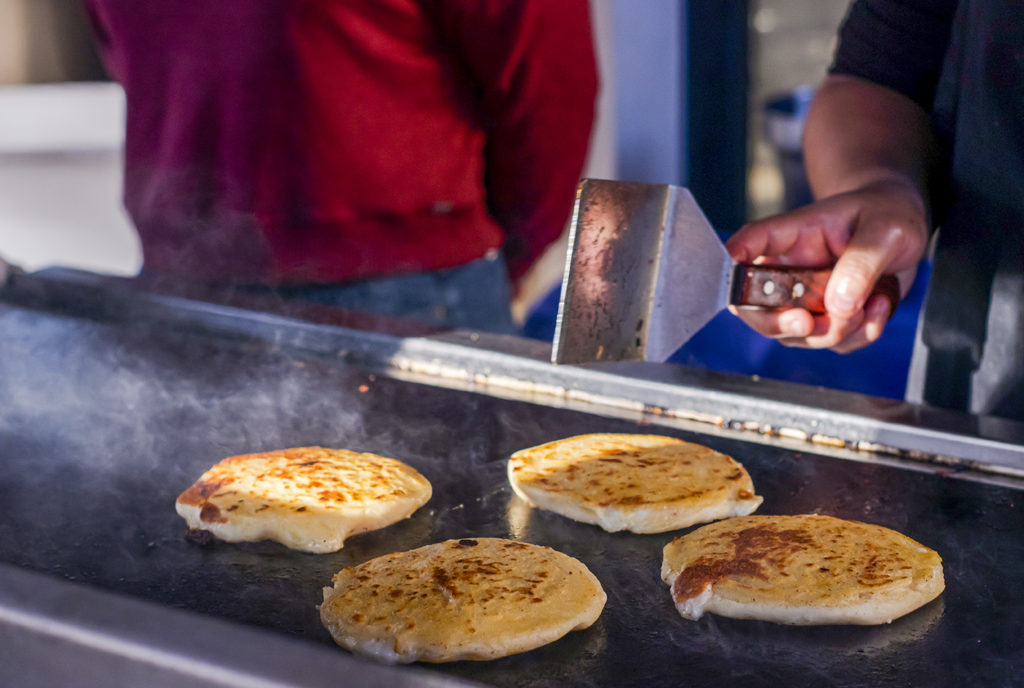 Alas' business of selling handmade Salvadoran pupusas started out as a family business back in 1997.
Because of the ongoing COVID-19 pandemic, Alas said there has been a drastic decline in business. He said he estimated that currently only about 30% to 40% of their income comes from their profit at the farmers markets in Los Angeles.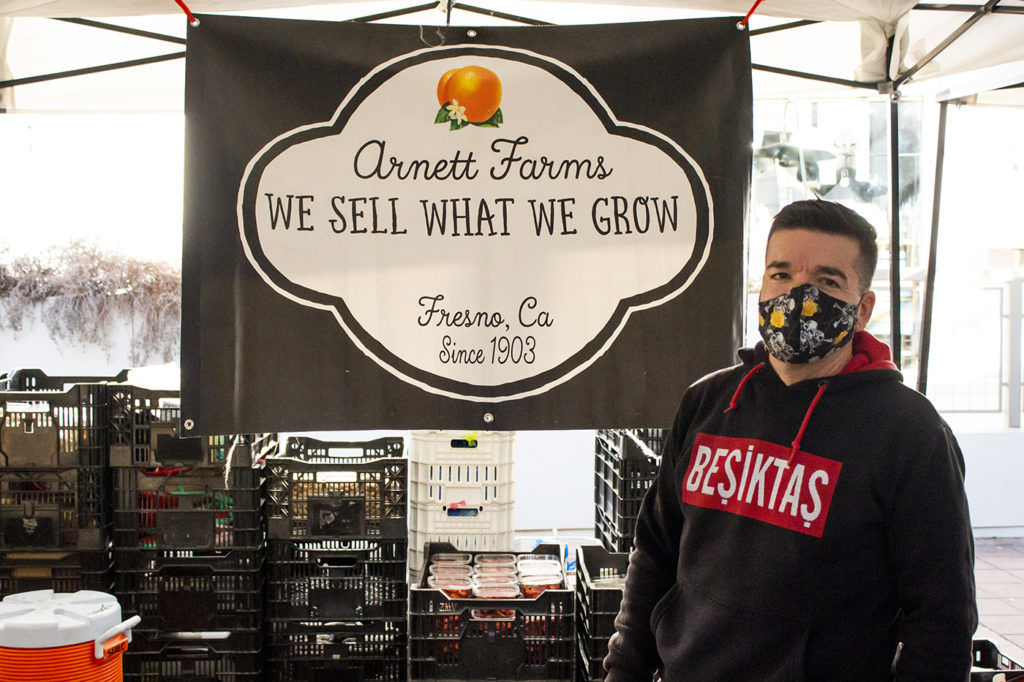 "Money," said Oscar Diaz (pictured) when asked why the Arnett Farms workers commute from Fresno to Los Angeles for farmers markets.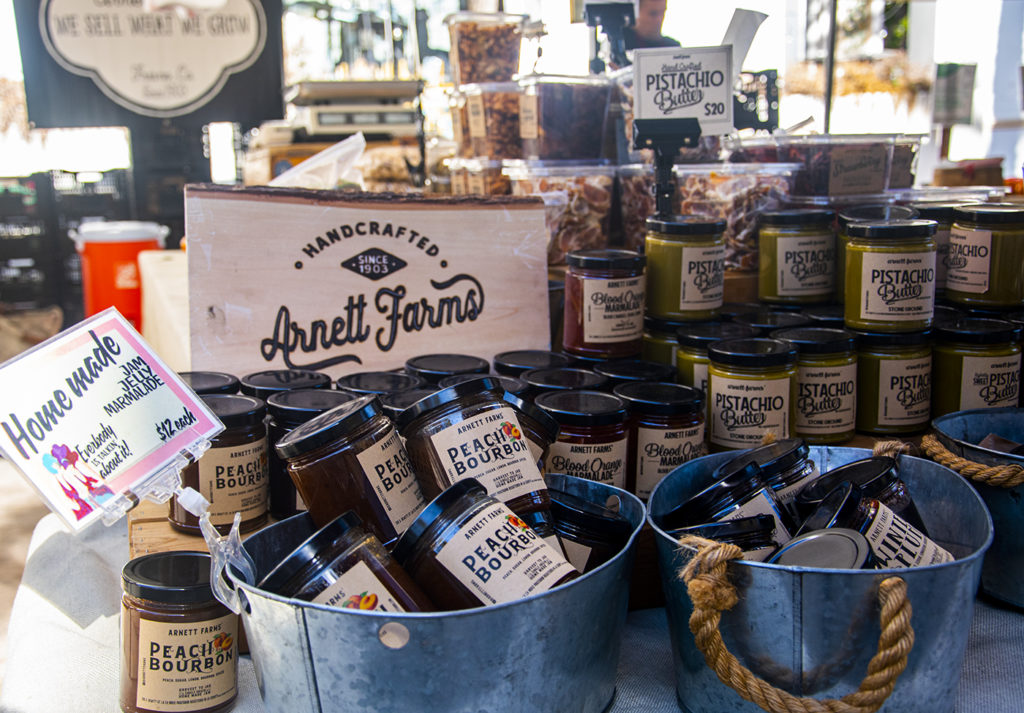 Diaz explained that by going to the farmers markets instead of using a third-party service, Arnett Farms is able to put back the profit it makes directly into the business.
This seems to be working for it, as Arnett Farms has been around for a long time, said Diaz.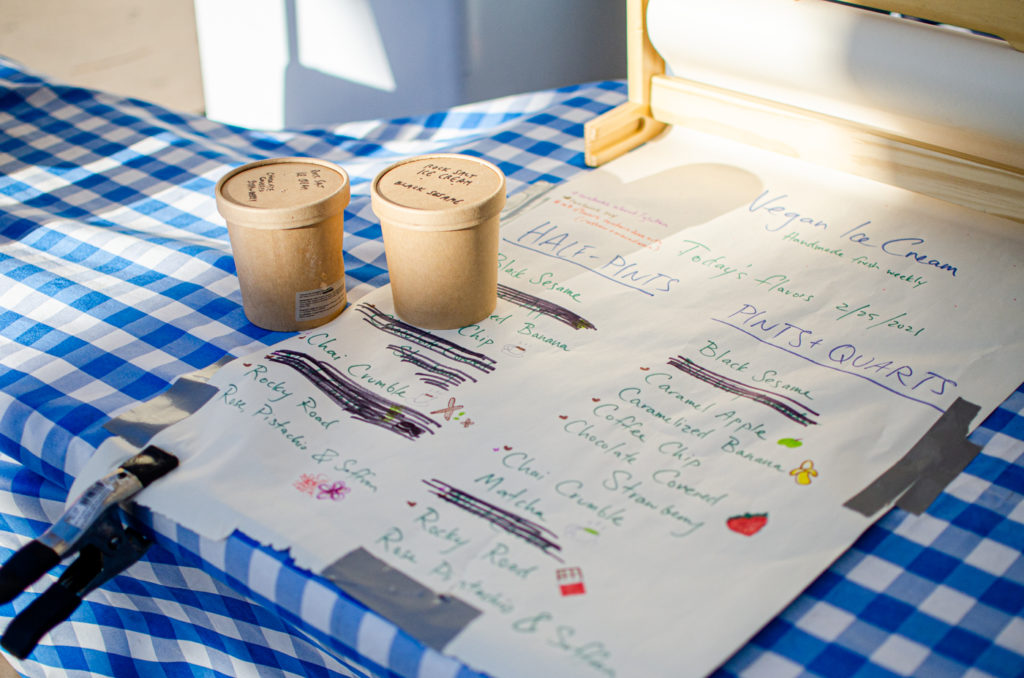 A handwritten selection of ice cream flavors is displayed on Rock Salt Ice Cream's counter at the Westwood Village Farmers' Market.
Amy Bringhurst, the owner of the business, said every job she's had has been in the food industry – the latest being vegan ice cream that uses cashew and macadamia as a base.
Bringhurst said she recommends people purchase their produce outside at farmers markets because it is safer than going to a grocery store and supporting local businesses is important right now.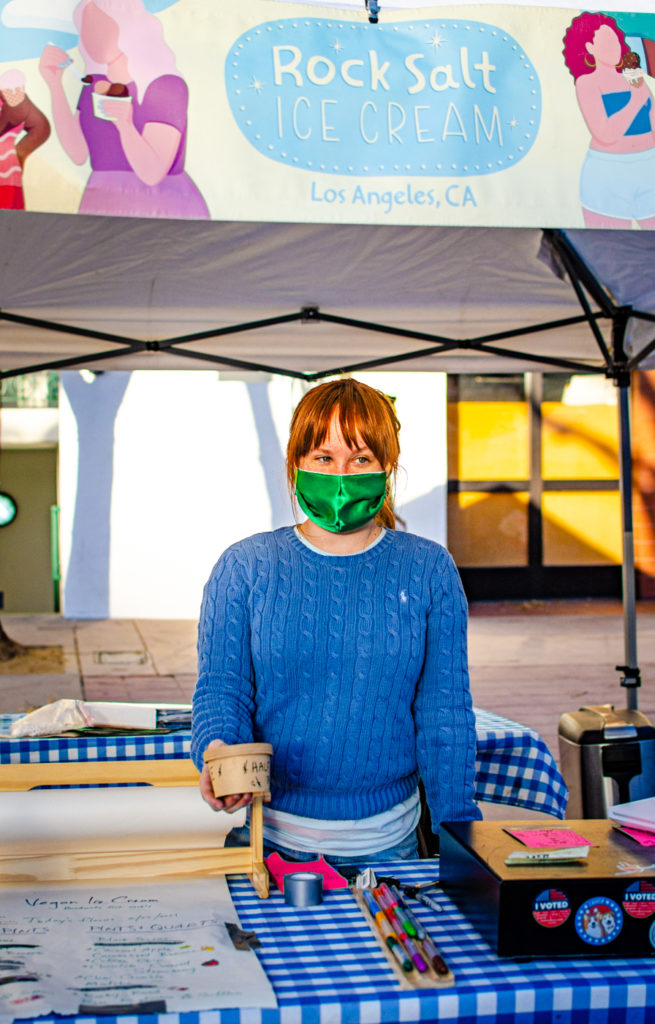 "I've been making dairy ice cream for 19 years, and I switched over to vegan ice cream when I saw a gap in the market," said Bringhurst. "I was facing having to buy a lot of dairy constantly and just didn't feel good about the decision. Switching over to plant-based has been a challenge, but it's been for the best."
Her favorite flavor? Rose, pistachio & saffron – a vegan take on Persian-style ice cream.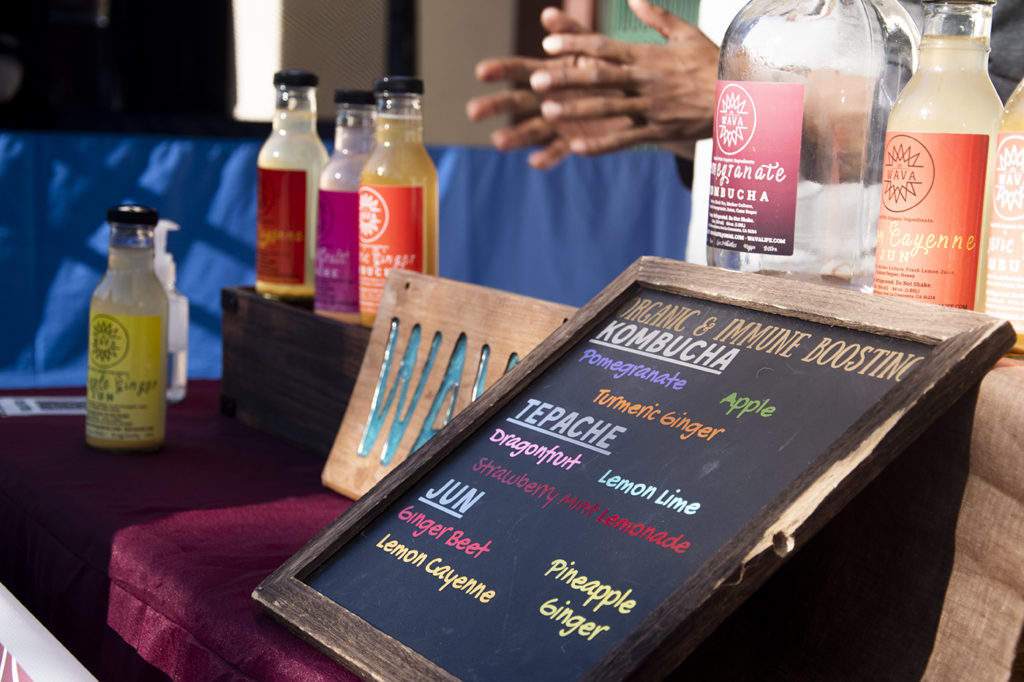 "Trust your gut + build your immunity" is WAVA's slogan.
Owner Waren Vaughn, whose name is the inspiration for the business's name, has been a vendor at the Westwood Village Farmers' Market since January this year. There, he sells products like kombucha, tepache and jun, all made with live probiotics and locally sourced ingredients.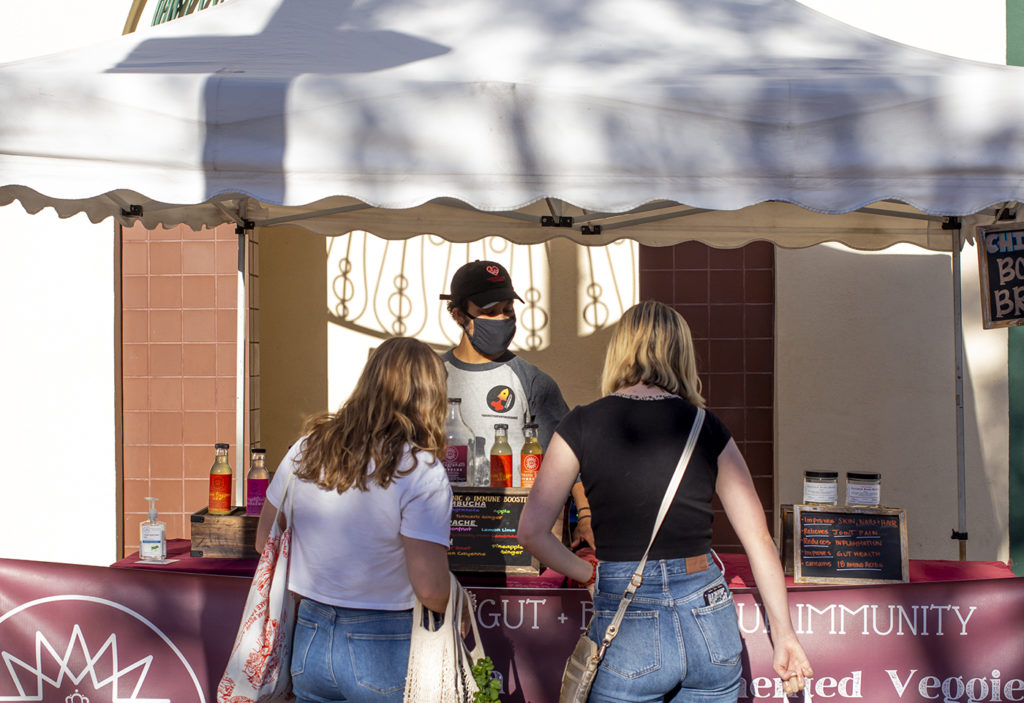 "They kicked us out of the market so I had to hustle. I was selling (WAVA) out of my trunk," said Vaughn, describing the impact of the COVID-19 pandemic on his business.
He added, however, that it went well and he saw his loyal customers buying more than normal. Now that restrictions have eased up a bit, Vaughn said he is once again allowed to sell his products at the farmers markets.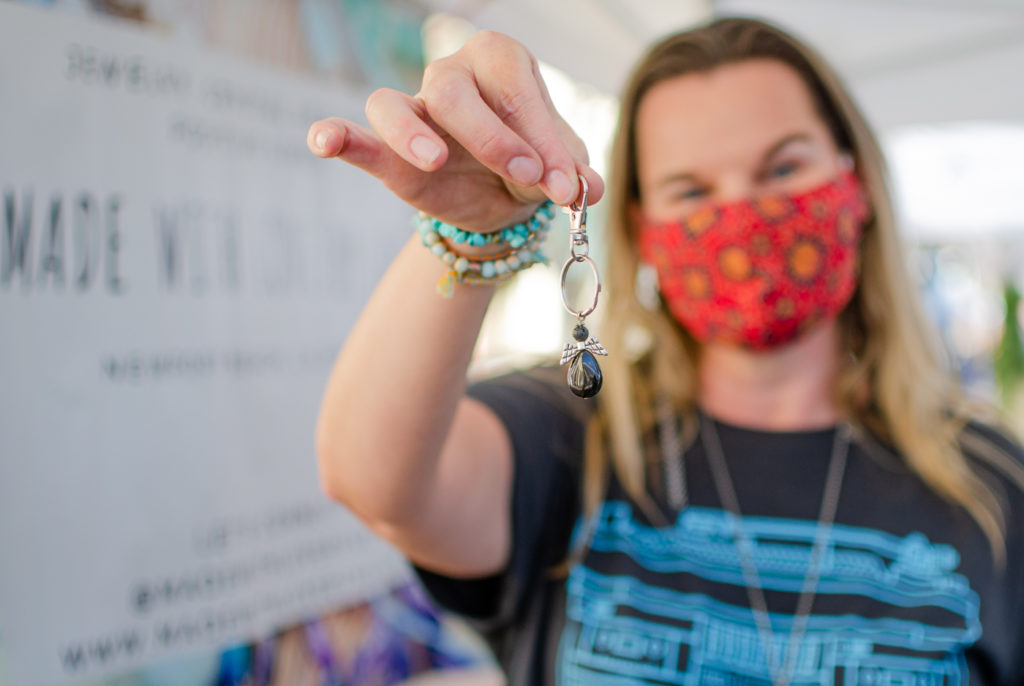 Jackie Barrera said she left her corporate job three years ago to take care of her father and start her own jewelry and crystal company: Made With Love By JAX.
"I needed something that was more flexible. That's when I decided to turn my hobby into a business," said Barrera. "I started making angels … and selling them online. Then, I started making bracelets, and … last year, I had to get into the mask business so I could have an essential product."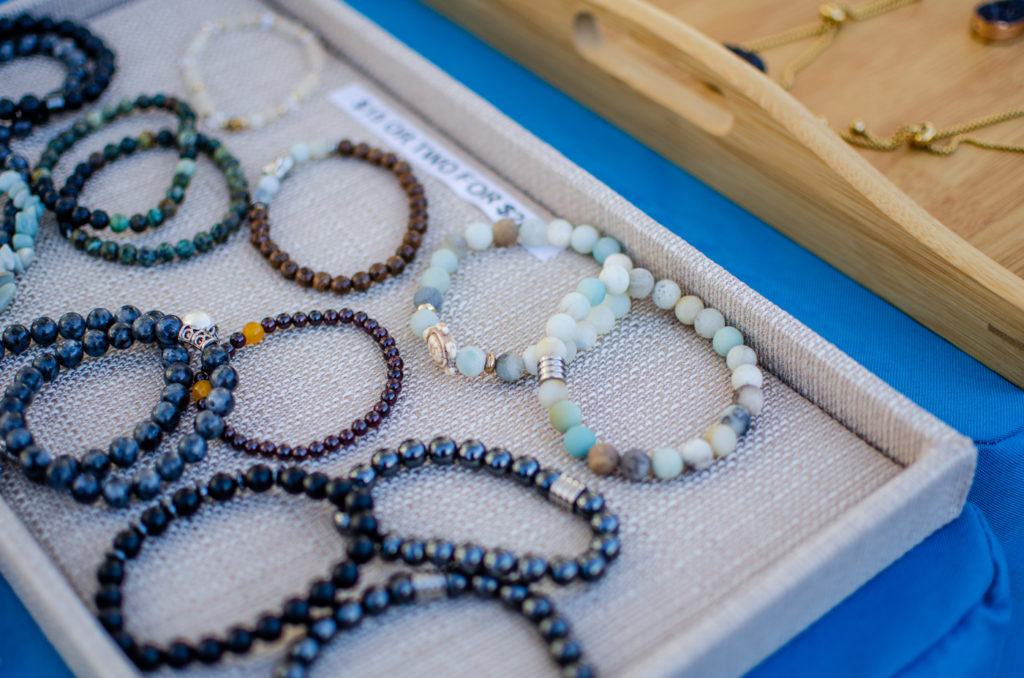 Because of COVID-19 regulations, Barrera said she was completely shut down between March and July and had to depend on her online Etsy sales for income. She added that, luckily, her business has been booming since vendors were called back to the market in July.
In addition to the Westwood market, Barrera said she frequents other markets as well, including ones in Newport Beach and Costa Mesa.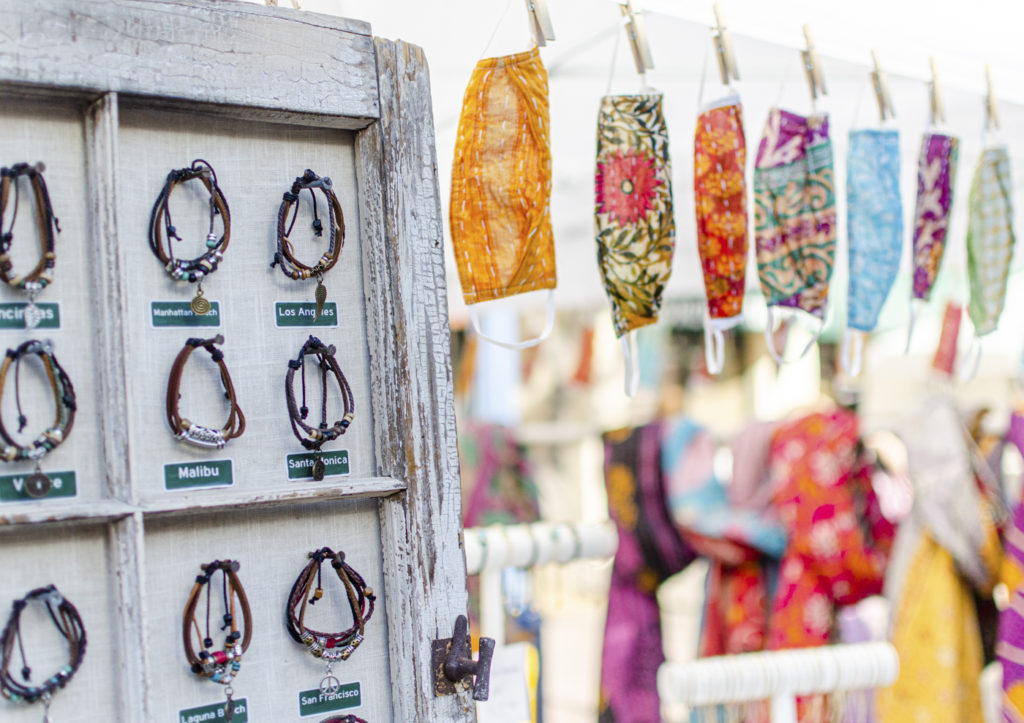 As the owner of Cali Bracelet, Kate James said the Westwood Village Farmers' Market is not a huge source of income for her, unlike some of the bigger markets that she sells at on the weekends.
She sells bracelets named after locations in California as well as blankets, and most recently, masks.
"All these blankets are handmade in India at a sewing collective, and it's just a really cool addition and a way to give back," said James. "The majority of the money goes to them. They also make the masks and all of the money from the masks goes entirely to the woman that sells them."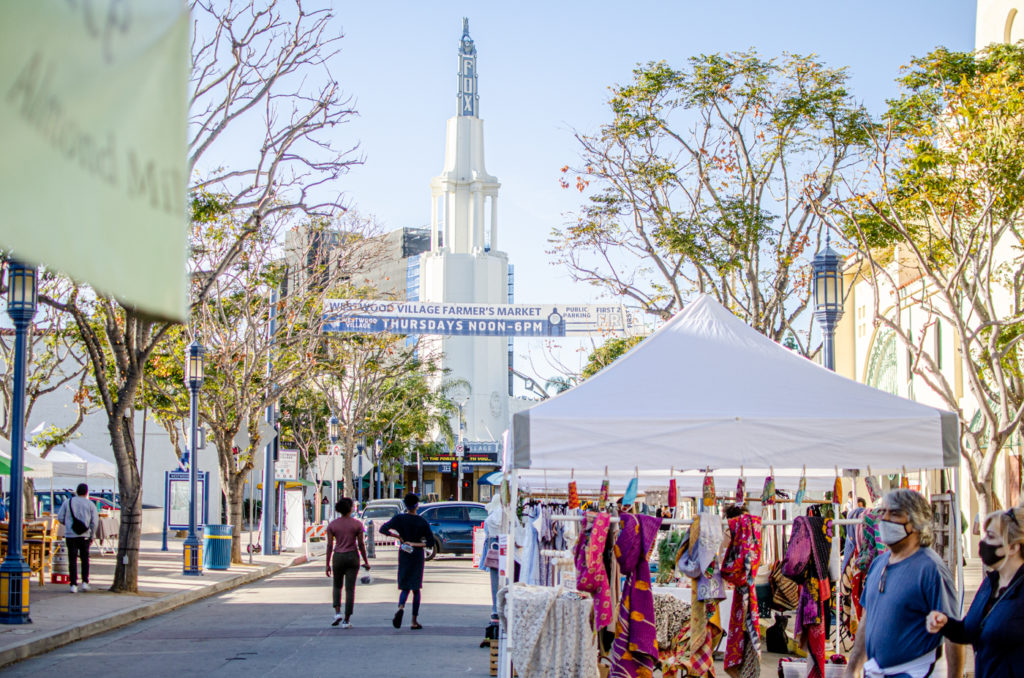 The Cali Bracelet pop-up sits in front of the Westwood Village Farmers' Market sign on Broxton Avenue.
Having sold various items at the market for nearly seven years, James said the venue was better back in the day when hot food was served, and students and locals would frequent the market more often.
"Now, business is way down because students don't come out that much, and it's a smaller market, and a lot of the businesses aren't open," said James. "But I just keep coming back, hoping it'll go back to the old days."