This post was updated Feb. 13 at 4:35 p.m. to remove a photograph that was unintentionally revealing.
The Bruins competed against the BYU Cougars in their second home meet of the season, scoring 196.600-196.325. After her floor routine at the last home meet went viral, senior Nia Dennis won first place overall, with a 39.475.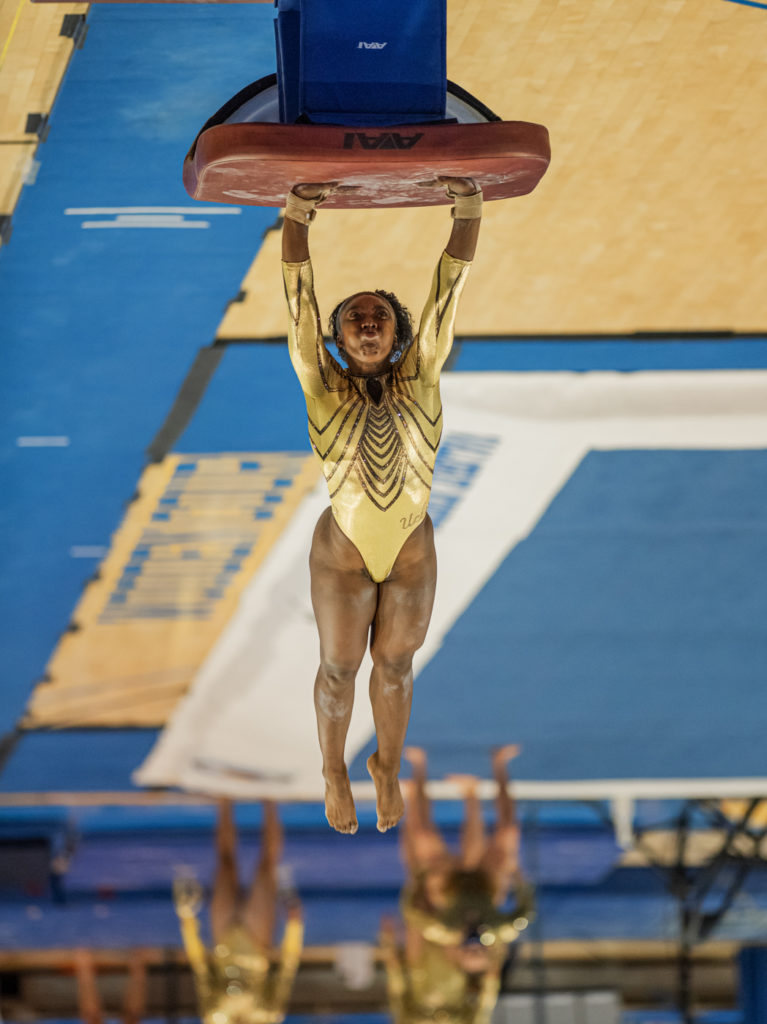 Freshman Chae Campbell flips onto the vault in UCLA's first rotation of the meet against BYU. Campbell scored a 9.85 for vault, tying for first place with Dennis and BYU's Abbey Miner Alder.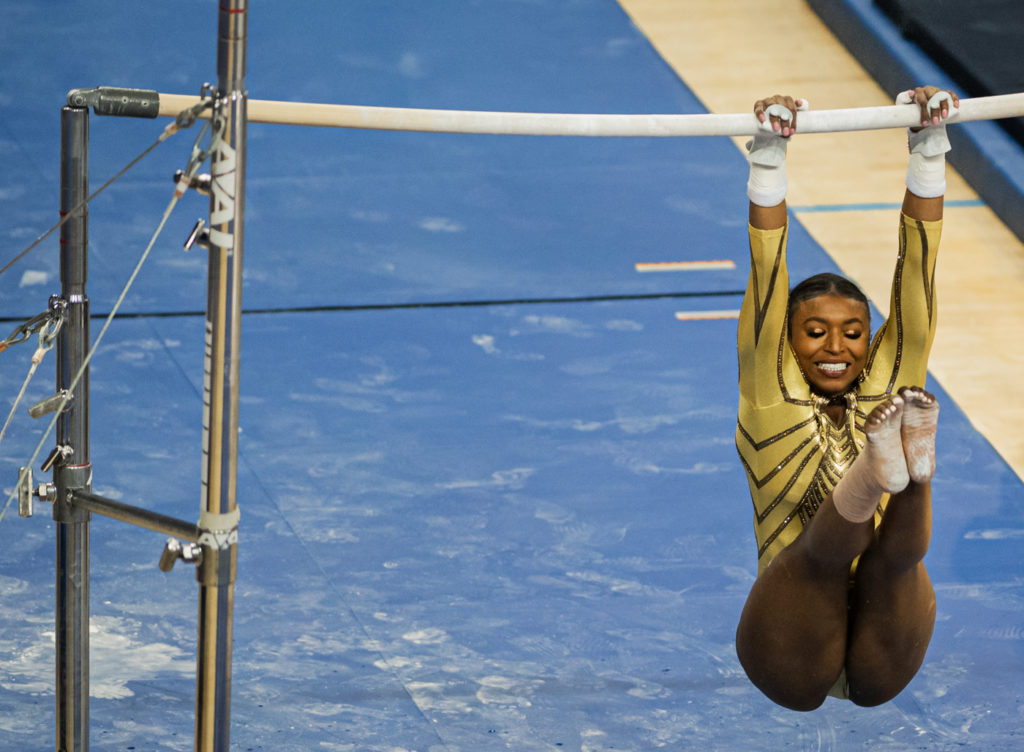 In her second event of all-around competition, Dennis smiles as she hangs from the bars.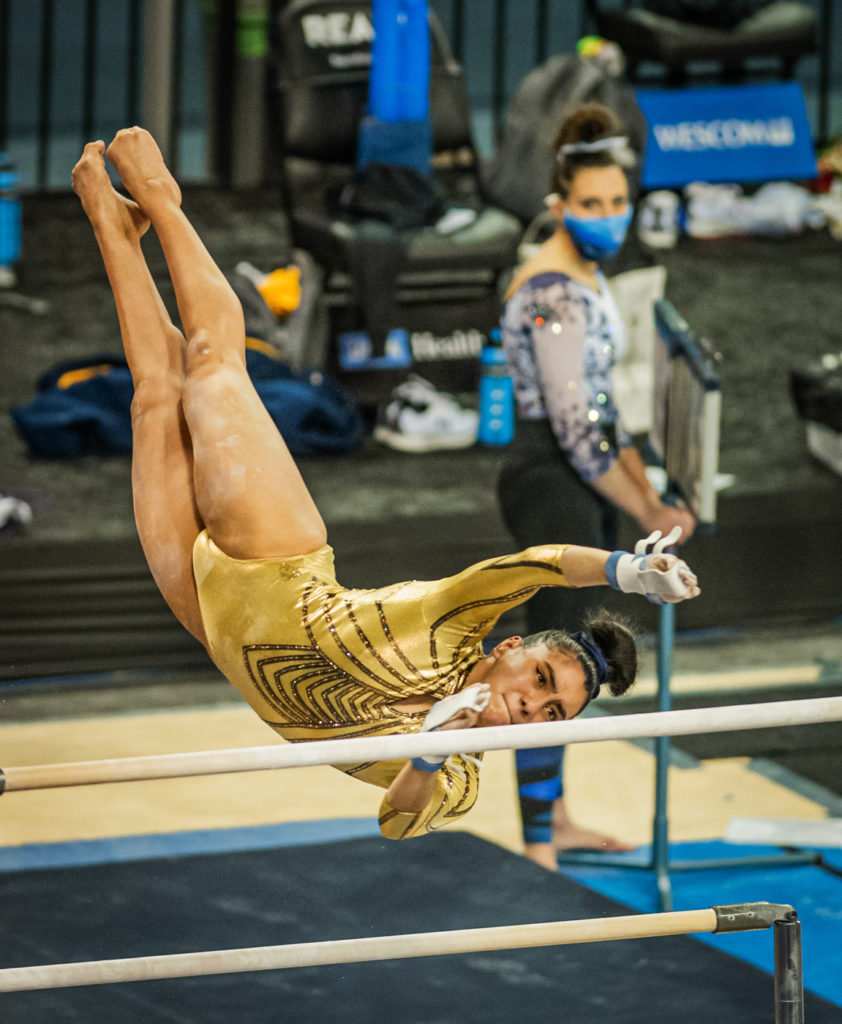 Freshman Frida Esparza twists as she propels from bar to bar. Esparza scored a 9.9, winning first place in the event.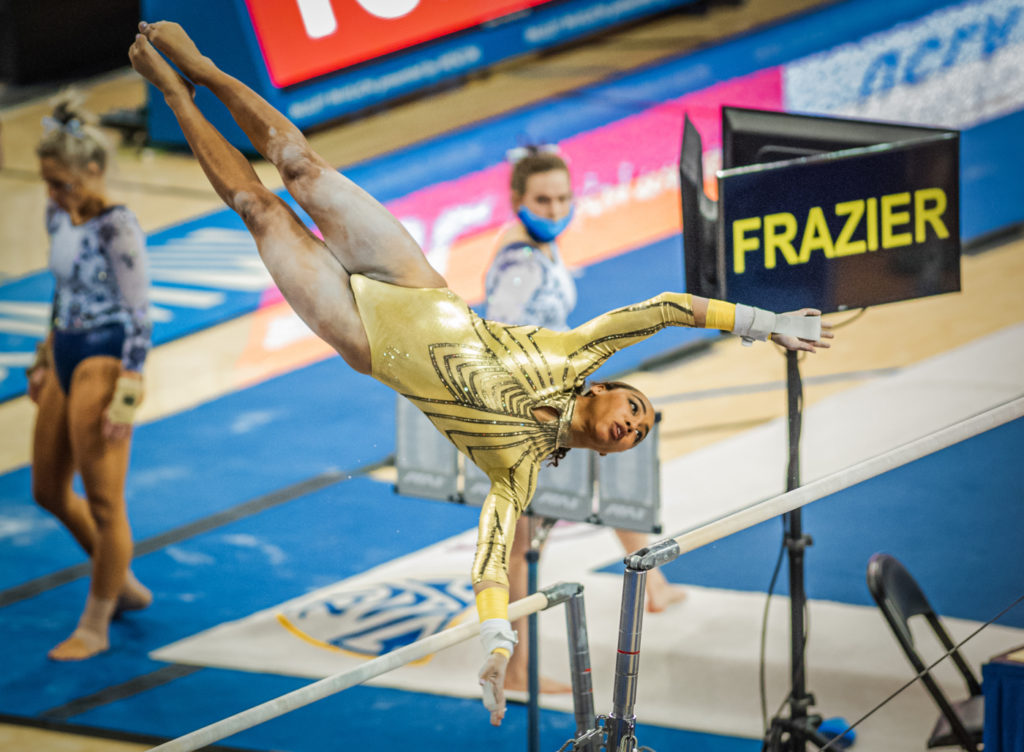 Last in the bars lineup, junior Margzetta Frazier leaps from the uneven bars in a twist.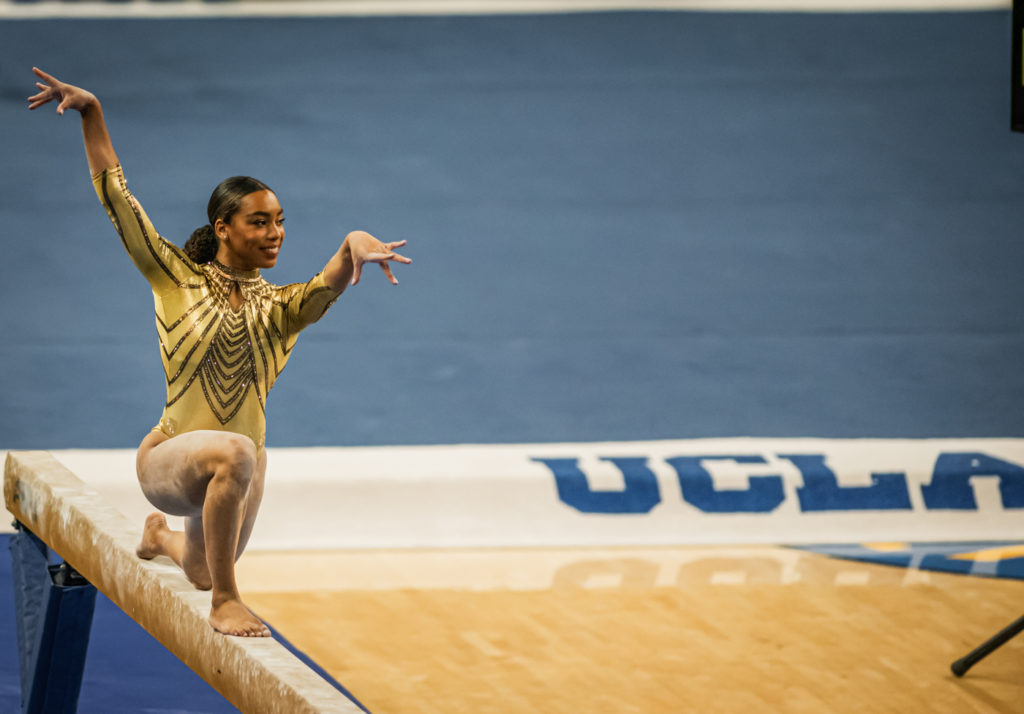 Frazier opens UCLA's third rotation on the balance beam, posing for a moment at the beginning of her set.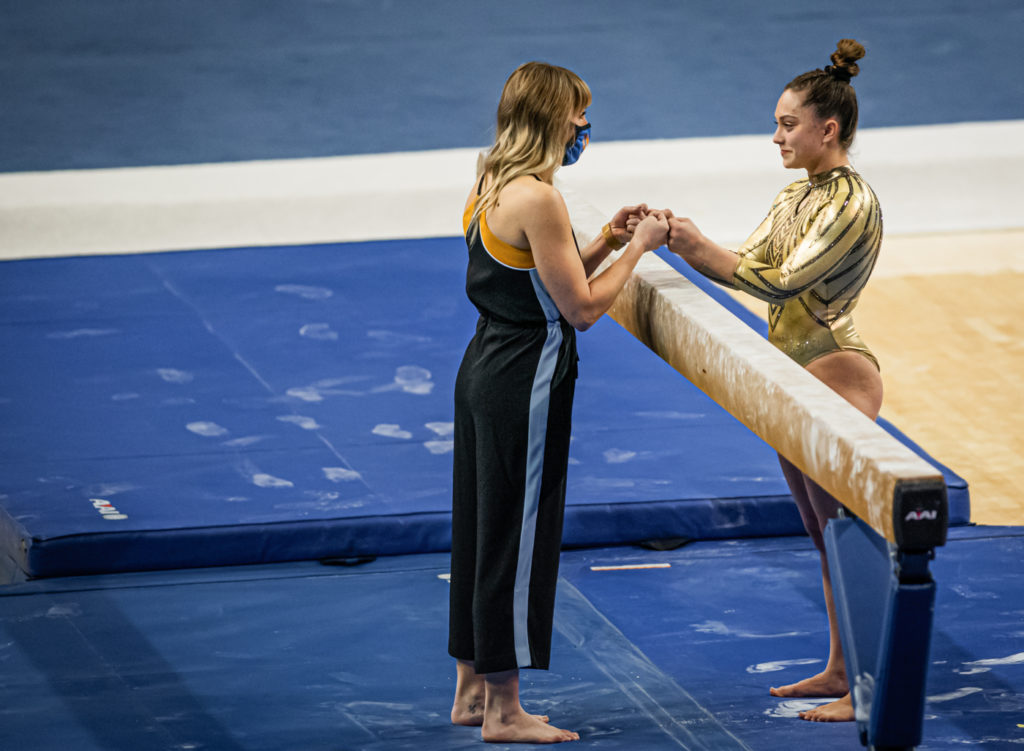 Senior Kendal Poston fist-bumps coach Kristina Comforte in a conversation before Poston's beam set.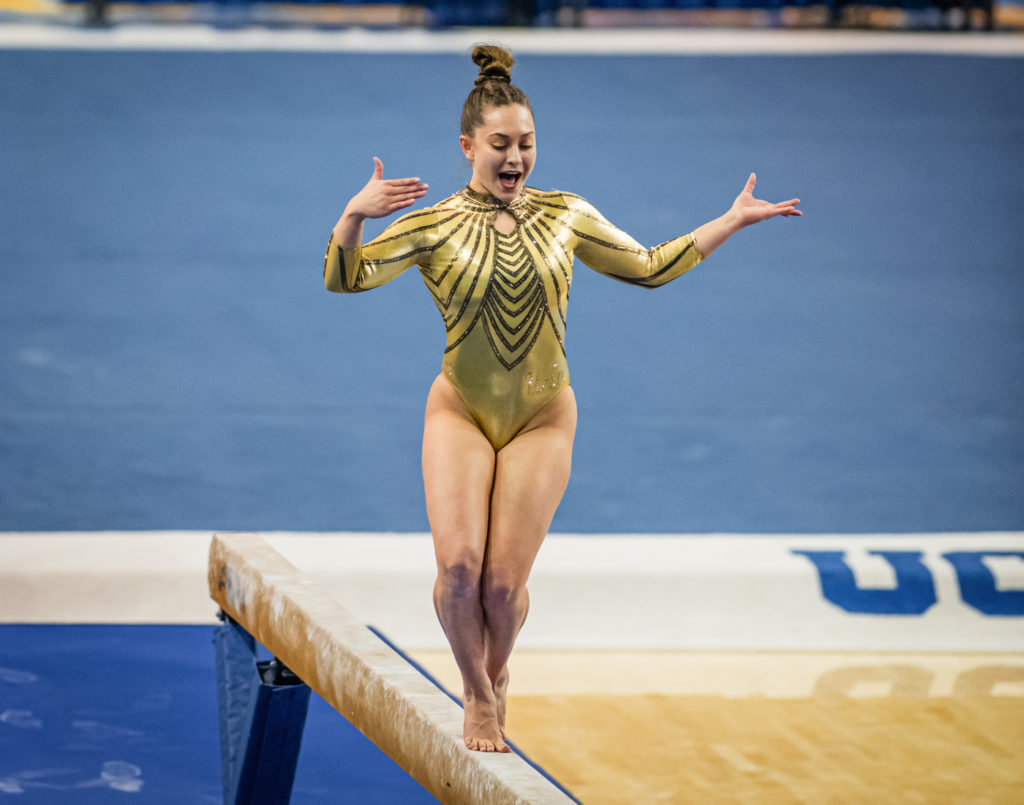 Poston gestures in the middle of her beam set.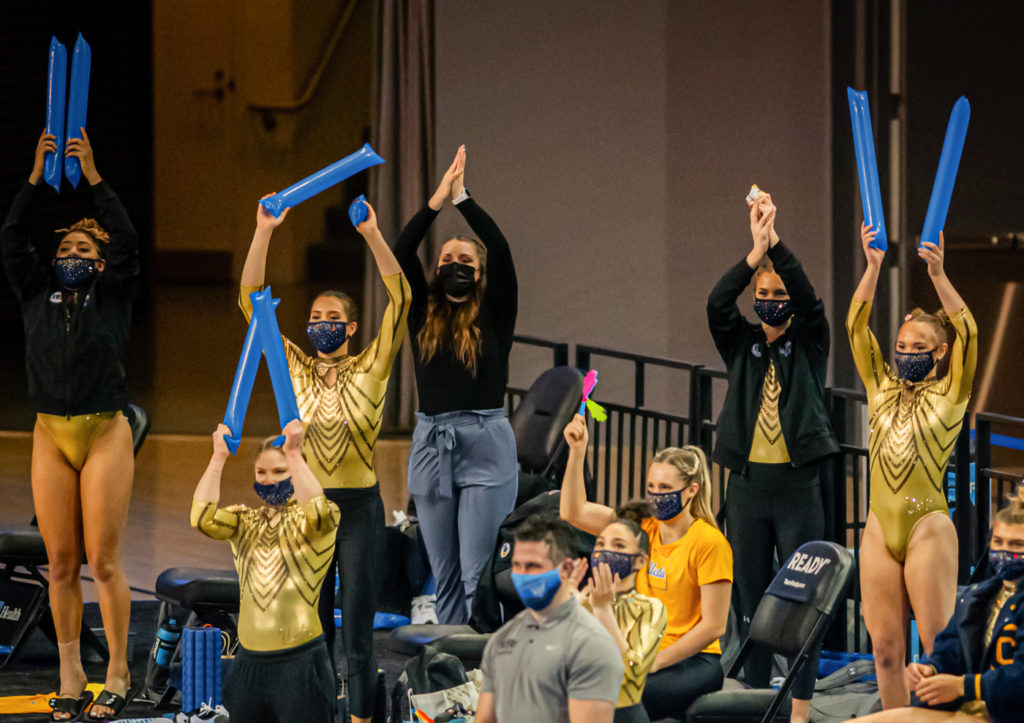 With masks on, the Bruins cheer on their teammates on the beam from across the court.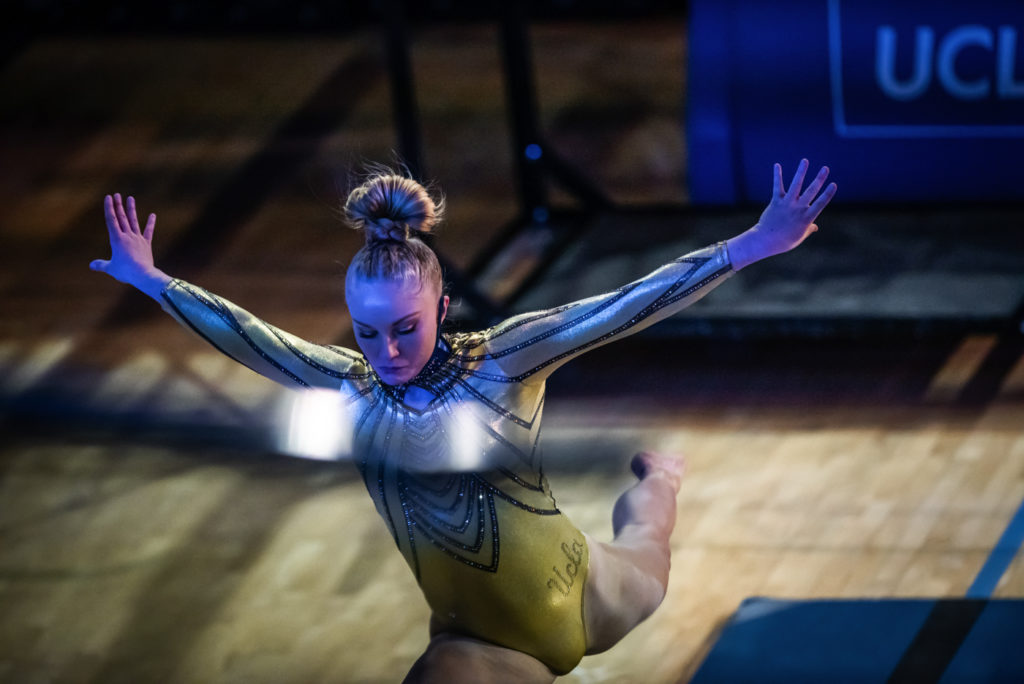 Below the stands in Pauley Pavilion, senior Savannah Kooyman rehearses a set.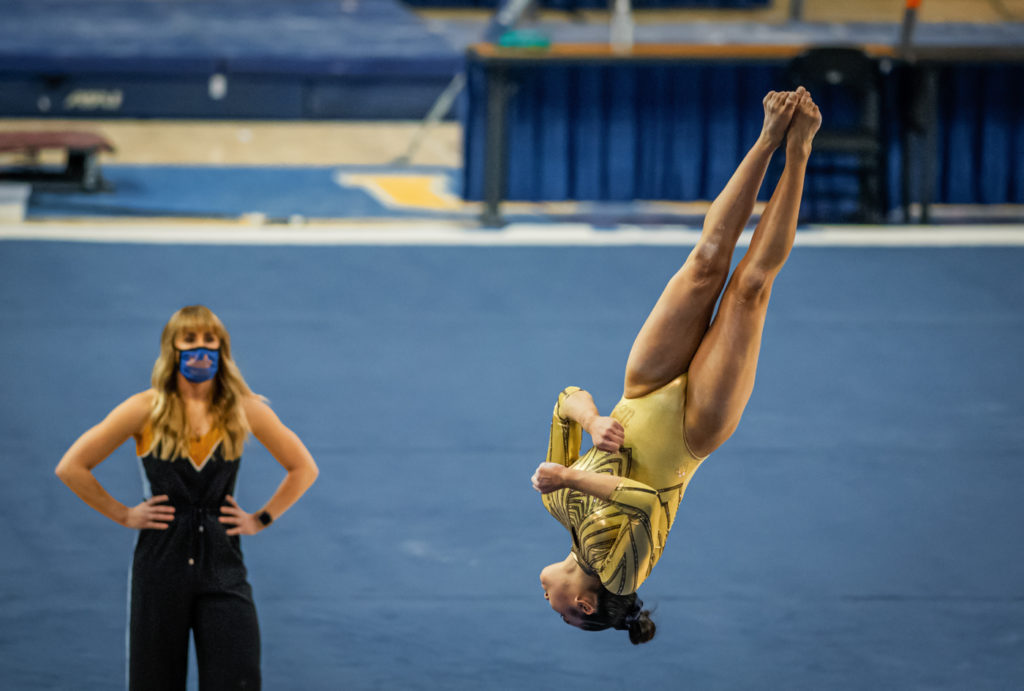 Esparza flips upside down as a part of her time on the beam.
After sticking the landing on her beam routine, Dennis celebrates by fist-bumping the coaching staff.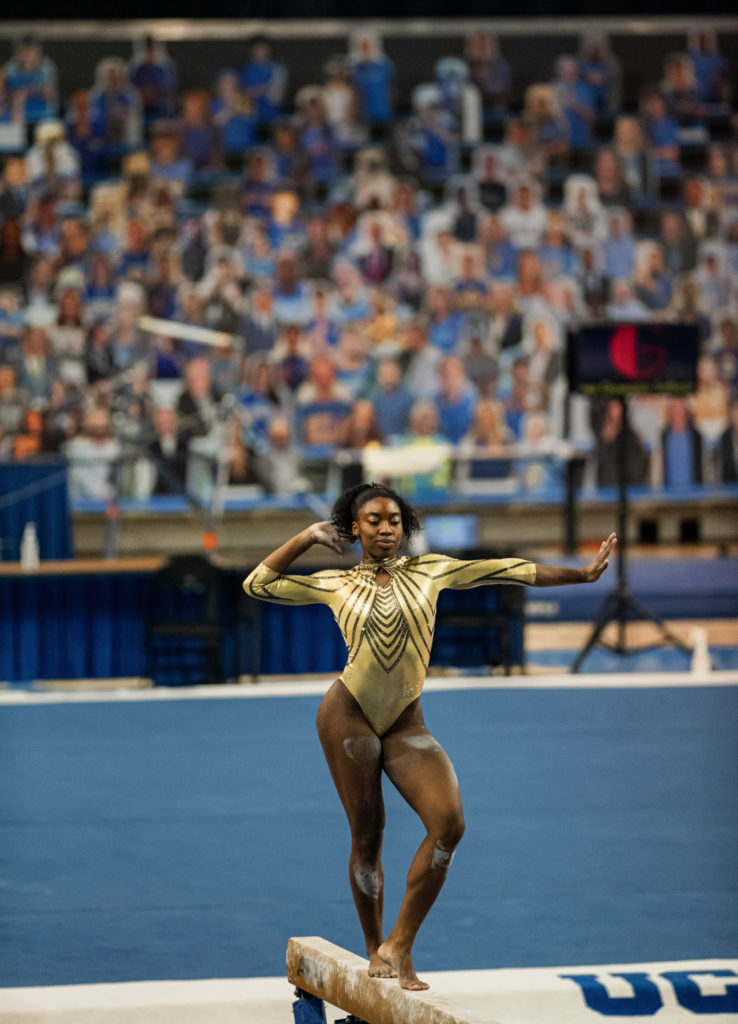 Campbell, another all-arounder in the meet against BYU, strikes a pose in UCLA's third rotation on the beam.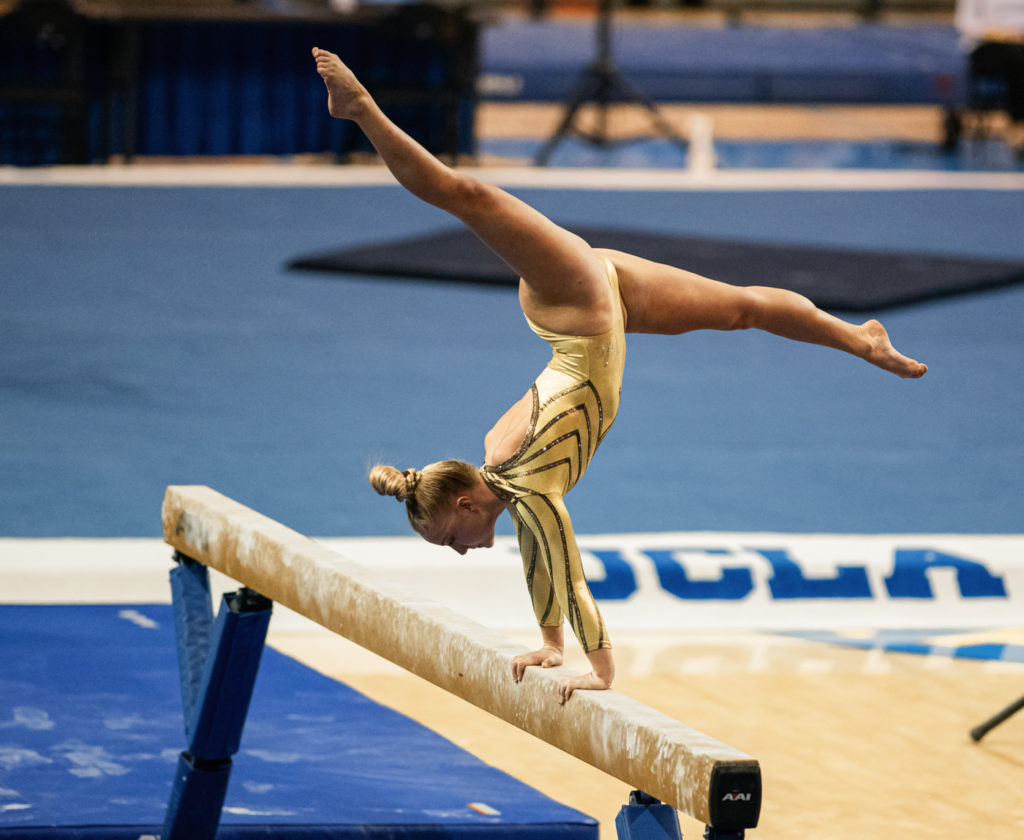 Kooyman holds a handstand on the beam as a part of her exhibition set.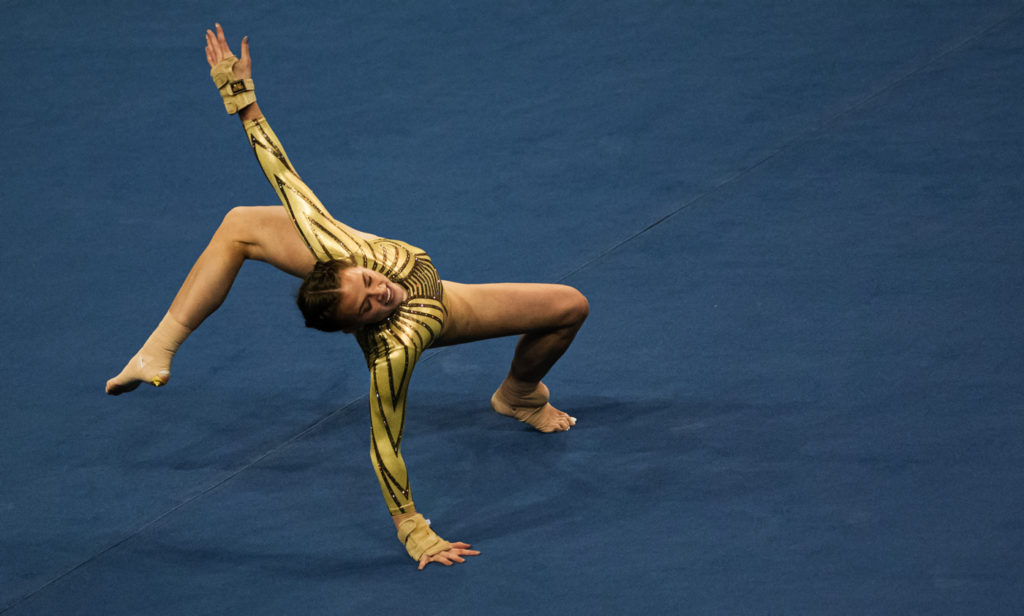 In the fourth and final rotation of UCLA's meet against BYU, sophomore Emma Andres smiles as she propels herself through her floor routine.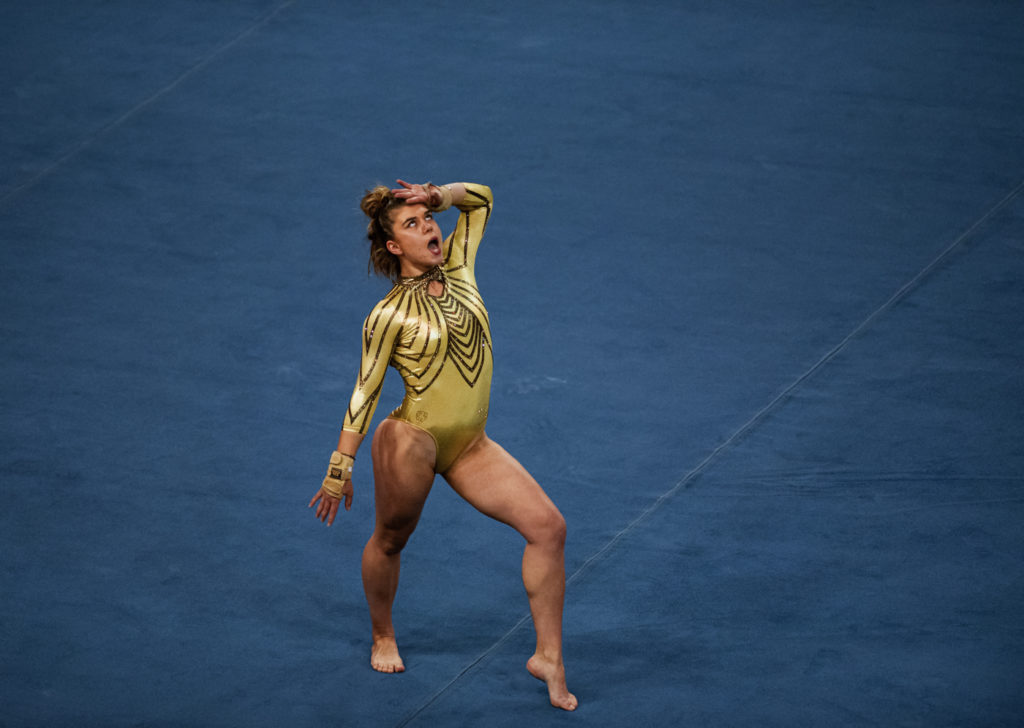 In her season-high, senior Pauline Tratz scored a 9.9 for her performance on the floor.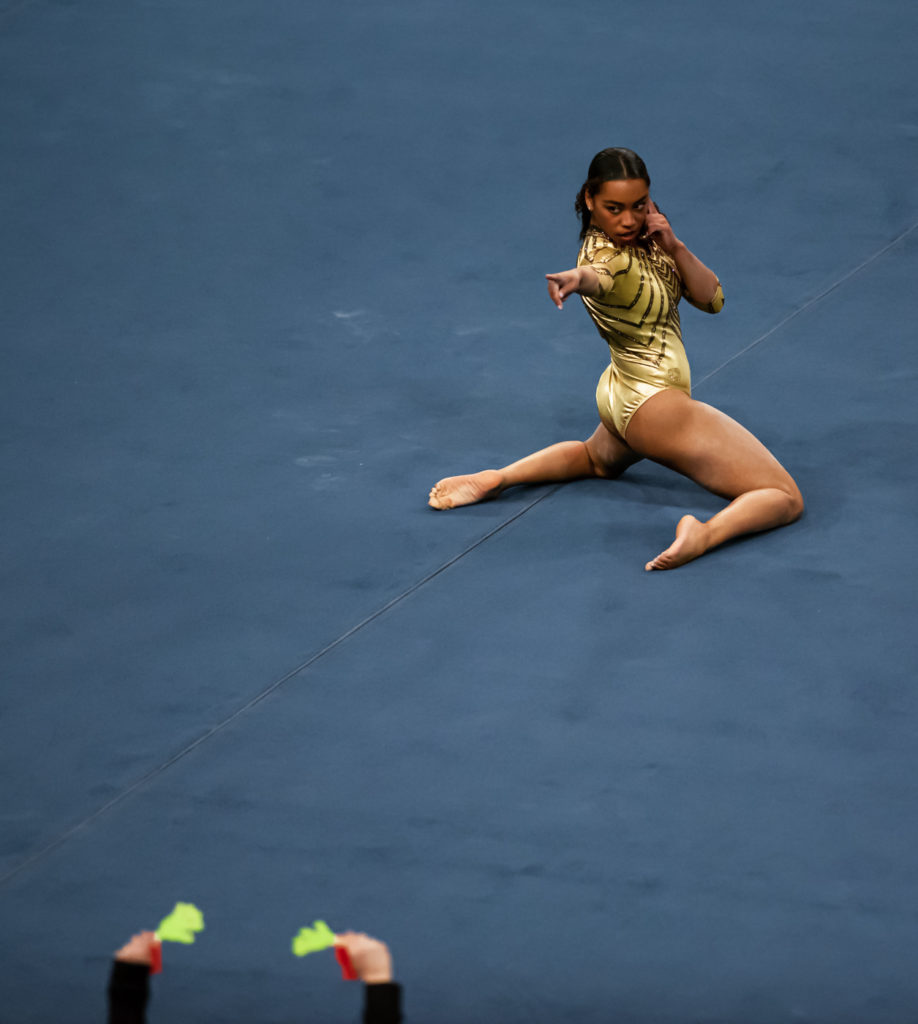 Frazier looks back and points at her teammates during her floor set, where she scored a 9.925 and tied with Dennis and Miner Alder.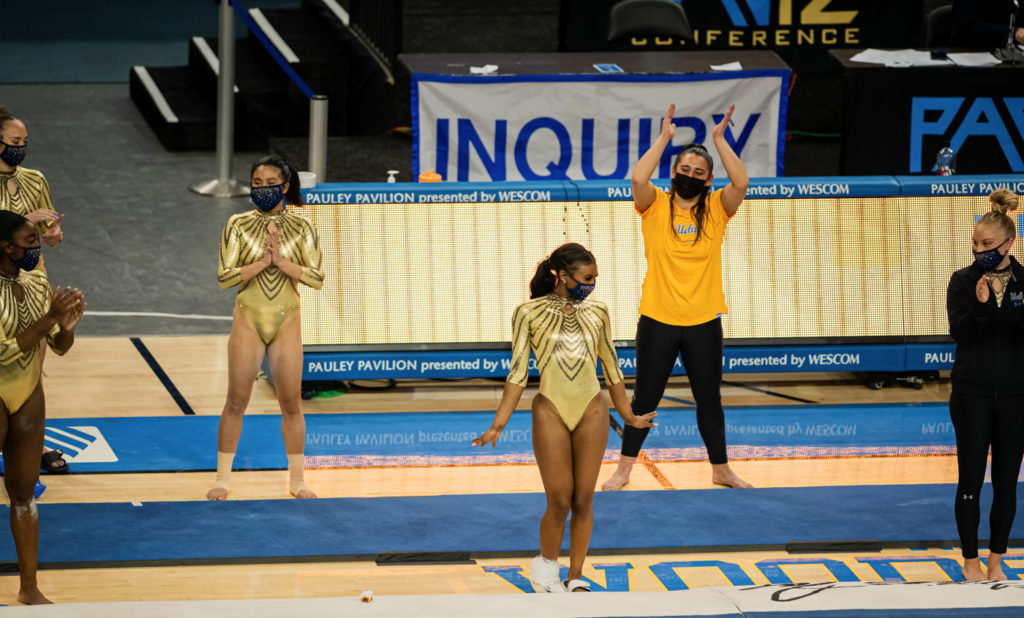 Following Dennis' floor routine, UCLA won the meet against BYU by 0.275.