A photographer's ability to cover athletics in the midst of a pandemic is a reflection of three traits: ample preparation, adaptability and awareness.
As a Photo editor this year, I have witnessed the COVID-19 pandemic throw control out the window. Any sporting event is liable to be postponed, moved to a different location or canceled. Since there is no central location to store gear, equipment worth thousands of dollars circulates between various apartments. The ability to simply enter the stadium with the correct credentials, gear and PPE illustrates an unprecedented level of flexibility from our photographers for which I am extremely grateful.
Fortunately, entering the stadium is perhaps the most difficult part. Shooting in empty stadiums limits distractions, forcing acute perception on minor details like handshakes between teammates or coaches directing plays. And these next five photographers demonstrate what still remains – the action.
– Daanish Bhatti, assistant Photo editor
Football – Tanmay Shankar, senior staff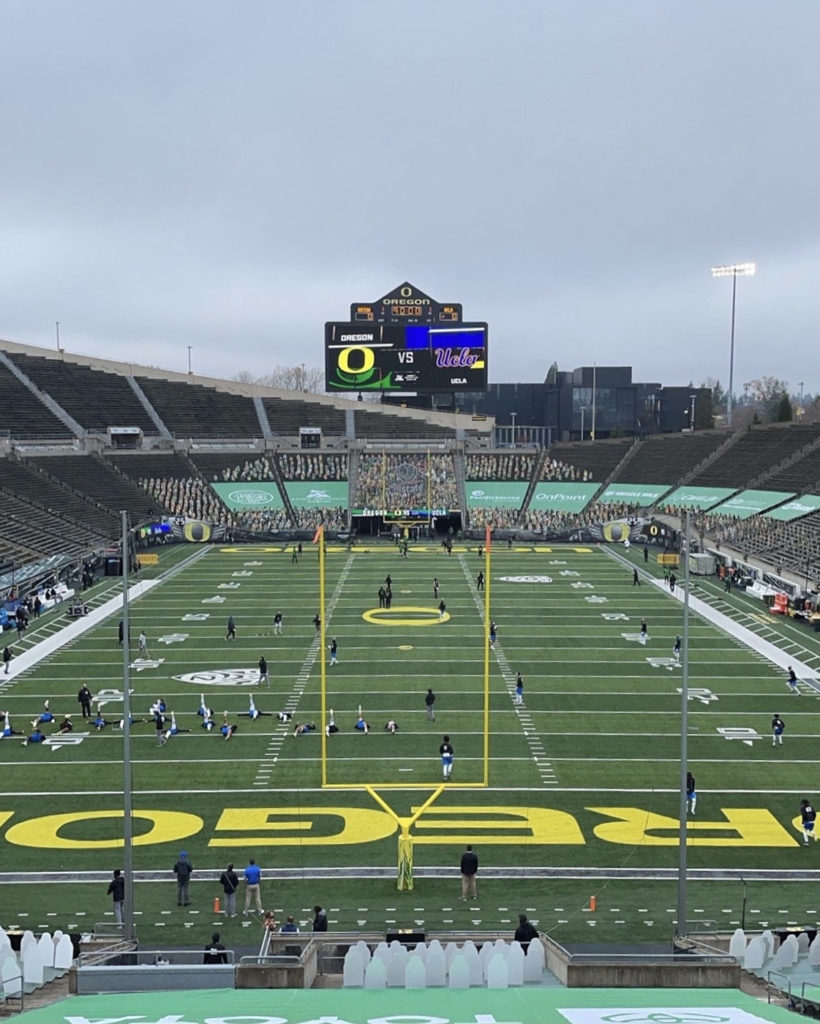 I went into this football season blind – literally.
As a bespectacled person and a photographer, wearing a mask meant fog everywhere. A layer of vapor, perpetually condensed on my glasses, drew laughter from friends. Jamming my nose up to my camera only meant another layer of fog on the viewfinder. I spent most of the football season bumbling around sightlessly, praying that whatever photos I managed to take turned out as I hoped they would.
This minor annoyance aside, football season was about as normal as one might expect during a pandemic. Gone were the tailgates and field photo passes. Three-hundred millimeter lenses that barely proved adequate from the sidelines were suddenly useless from the stands to which photographers were relegated. Climate-controlled press rooms with free food and drink gave way to haphazard outdoor setups that lacked stable Wi-Fi connections.
Perhaps the most jarring part of the games, however, was the lack of spectators. The stands were crowded not by humans but by eerie cardboard cutouts. In lieu of genuine crowd reactions, prerecorded cheers and jeers filled the stadium after every play, albeit with a split-second delay just long enough to seem unnatural.
Despite the challenges this year brought, shooting football never felt any less special. I had the chance to travel through everything from the pristine snow-covered forests of southern Oregon to the desolate cacti-filled deserts of Arizona. Back home, the familiar faces of local photographers at the Rose Bowl never failed to reassure.
When UCLA Athletics unexpectedly rewarded us with a field pass for the final game of the season against Stanford – that would finally end in a dramatic double overtime – I accepted it, gratefully.
Women's basketball – David Rimer, staff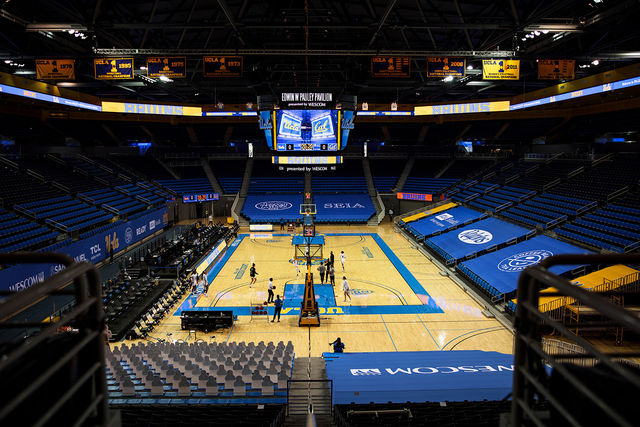 Pauley Pavilion without fans is eerie.
When silence replaces cheering crowds, it is a bit difficult not to look at a women's basketball game like it is a practice or scrimmage.
Usually, I shoot with another Daily Bruin photographer sitting on the opposite side of the court; there is peace of mind knowing someone else might capture shots you miss. But this time, I shot alone, one of a few dozen people – media and essential staff – in the stands.
When I sat on the court last year, I was juggling two camera bodies: one with a wider 70-200 mm lens and one with a fixed 200 mm lens to let in more light for less grainy photos. The action shifted quickly from right to left, and I had to swap cameras and swivel lenses quickly to barely keep up.
When shooting from the stands this year, I mostly used one camera and one longer 400 mm lens while the other camera rested at my feet. Players' passes are easier to predict and follow from farther away since the game falls into a narrower field of view.
It's funny to me how some things are clearer from a distance. I definitely see a more defined flow for basketball photography than I did before the COVID-19 pandemic. Pandemic basketball photography has reminded me all the more to appreciate little quirks of game days – the crowds and chants and vendors and energy – that faded into the background before I had experienced shooting in an empty stadium.
Men's basketball – Jeremy Chen, contributor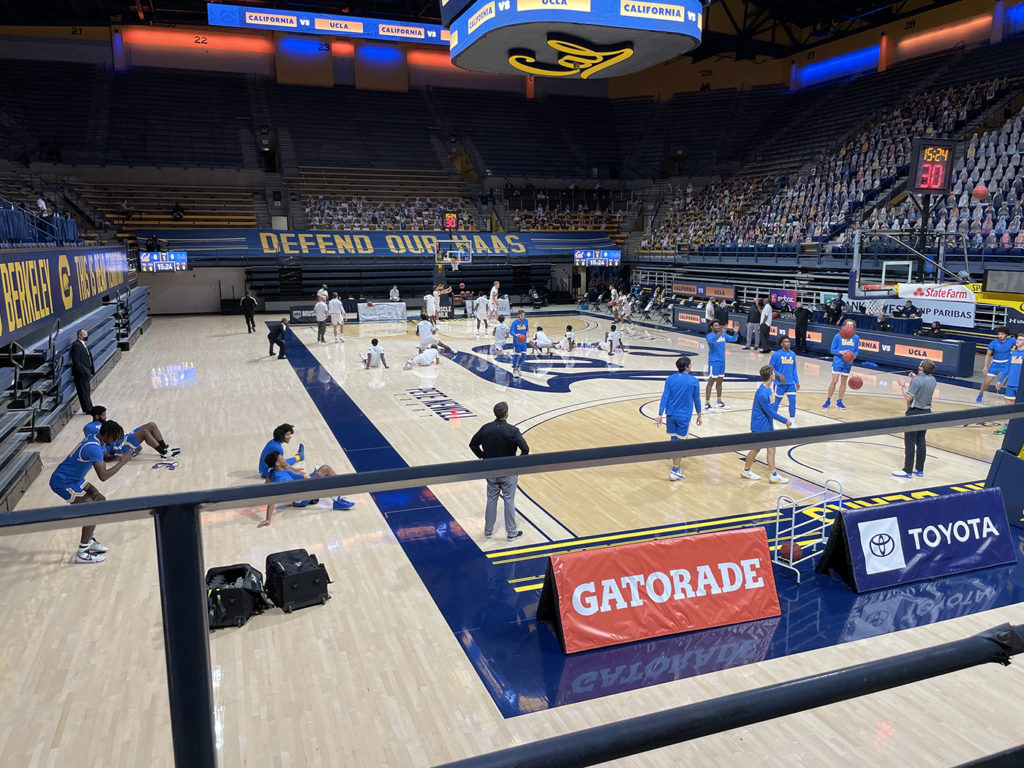 I had been itching to take a picture all quarter. And I do not mean taking screenshots during a Zoom call – however exhilarating it may be.
As a photo intern living at home in Berkeley this year, in-person shoots are scarcer than toilet paper was in March, so when I saw that our men's basketball team was playing at Cal, I jumped at the opportunity. I was nervous since it was my first time shooting sports, and instead of having an experienced photographer by my side for me to shadow and ask advice from, all I had was a Slack channel with one of our assistant Photo editors.
After arriving at Haas Pavilion, the attendant handed me my press pass from behind the plexiglass barrier, and I headed over to the press row. While taking practice shots during warmups, one of the TV cameramen asked me which player Tyger Campbell was, and being the UCLA noob that I was and still am, I had to frantically search through the Daily Bruin basketball posts on Instagram before being able to point him out.
After tipoff, I realized just how different this game was since I could hear every sound and cheer from the court – but nothing from the rest of the cardboard-cutout lined stands. Not wanting to miss any of the action, I had my face glued to the camera, which was difficult on my arms since I was not used to the weight of the 300 mm lens. It was also a bit stressful uploading the halftime and postgame social media photos over Cal-Guest Wi-Fi, but overall I was grateful to be taking pictures with a real camera again and experiencing some semblance of college life.
Swim and dive – Alex Driscoll, staff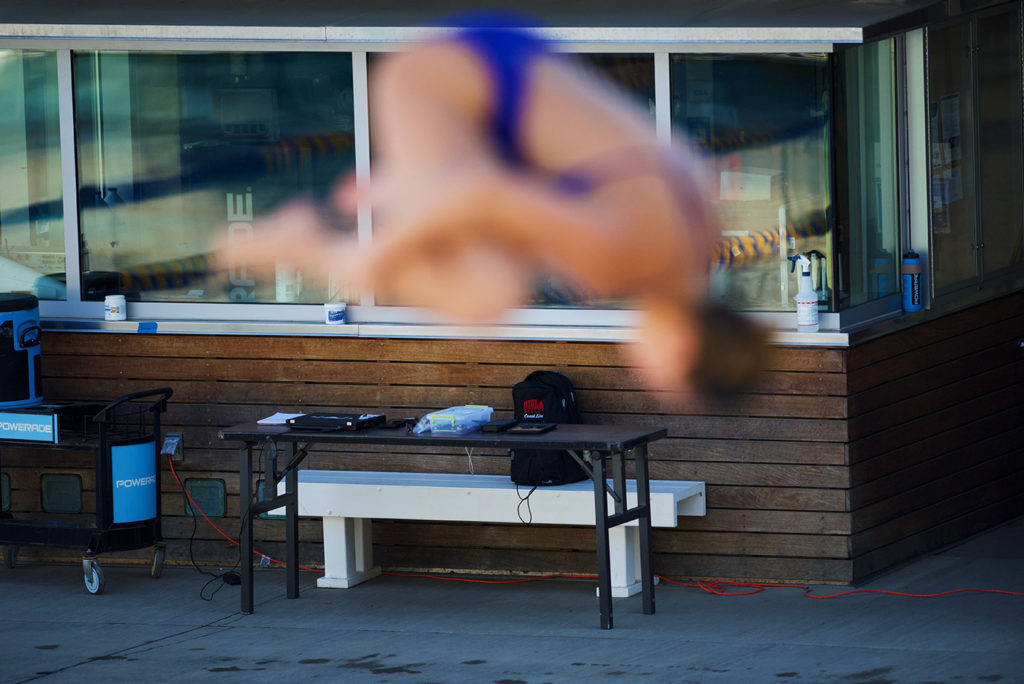 When it comes to shooting swim and dive, timing is everything. Realistically, out of every lap a swimmer makes down the lane, you have about five seconds to capture their heads emerging from the water. Blink once (or a couple times if you are a normal human) and you will miss half your shots.
The first time I shot swim and dive, I nearly fell into the practice pool sectioned off behind me while attempting to get the last good shot of a 400-meter IM event. My camera might have been saved, but my professionalism faded with every retreating step I took away from my potential mishap.
A year later, pandemic procedures would require me to settle in the stands of the Spieker Aquatics Center, at least 30 feet away. I had zero qualms with this rule. Frankly, the safety of solid ground kept my memories of my first swim and dive shoot at bay. However, the issue of timing became more crucial than ever.
I struggled to follow even the basic movements of divers jumping off the 5-meter platform. As for the swimming portion of the meet, the longer distance meant very few identifiable solo shots of swimmers coming down the lane. Eventually, I discarded the monopod attached to my 300 mm lens altogether. I picked up my colossal amount of gear and mustered all the strength in my wrists – which is not a lot – to shoot without blinking for the next hour. By the end of the meet, it was hard to say whether my tears were due to exhaustion, sweat or the relief that I had made it out that day 100% dry.
Men's and women's tennis – Andy Bao, contributor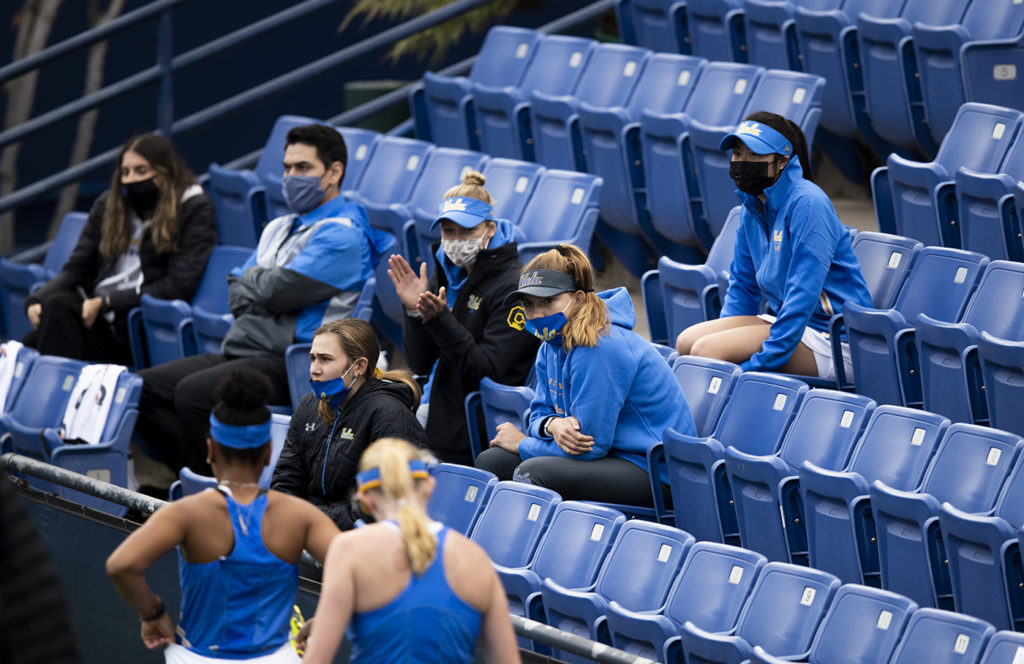 With the start of winter quarter came a wealth of renewed sports, giving some students a welcomed sense of normalcy. While gymnastics routines went viral and basketball was already in full swing, other sports like tennis have adapted to COVID-19 restrictions.
Though men's and women's tennis do not usually draw a crowd, COVID-19 safety protocols are still in place for everyone involved. In pre-pandemic times, students passing by the Los Angeles Tennis Center could hang out for a while and watch the matches. However, the gates are now closed and no onlookers are allowed. Everyone working the matches is required to fill out a symptom survey before entering, have their temperature checked, social distance from each other and wear masks. On-court positions for photographers have disappeared – though with mostly empty bleachers, we can still move around a decent amount.
With these positions gone, photographers are stuck photographing from farther away. A 70-200 mm or 300 mm lens was great on the court, but from the bleachers or the walkway up top, only longer lenses like a 400 mm lens will give us the reach we need.
While COVID-19 has made it tougher for photographers, fans and athletes alike, I am grateful the players are able to still play in a safe manner.