UCLA women volleyball kicked off the 2020-2021 season with two victories over the Golden Bears. The Bruins won 3 out of 4 sets in their season opener Jan. 22 at Pauley Pavilion.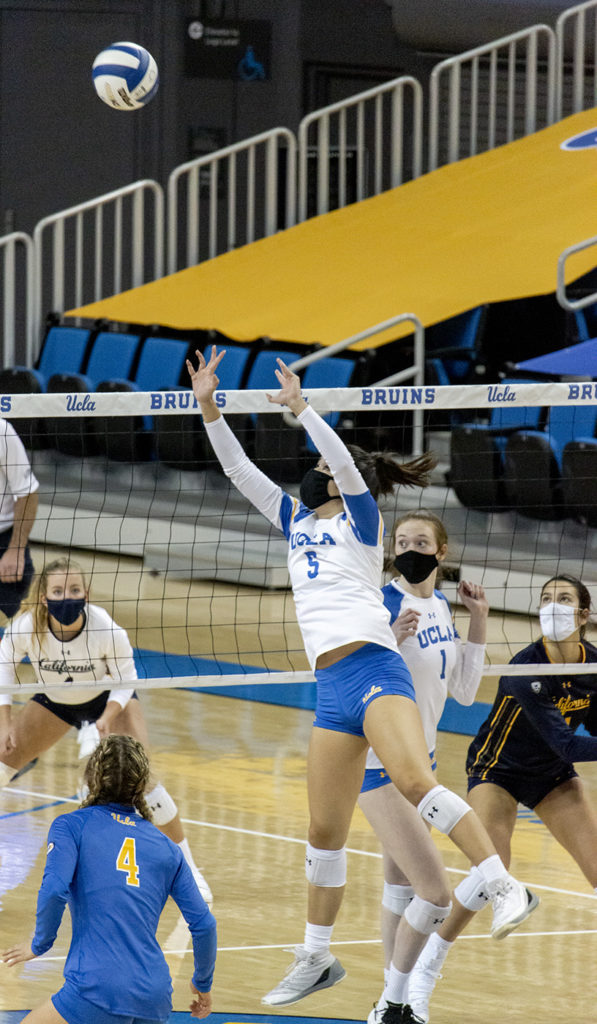 Junior setter Devon Chang reaches her arms out to set the ball Friday, the first day of the two matches against California.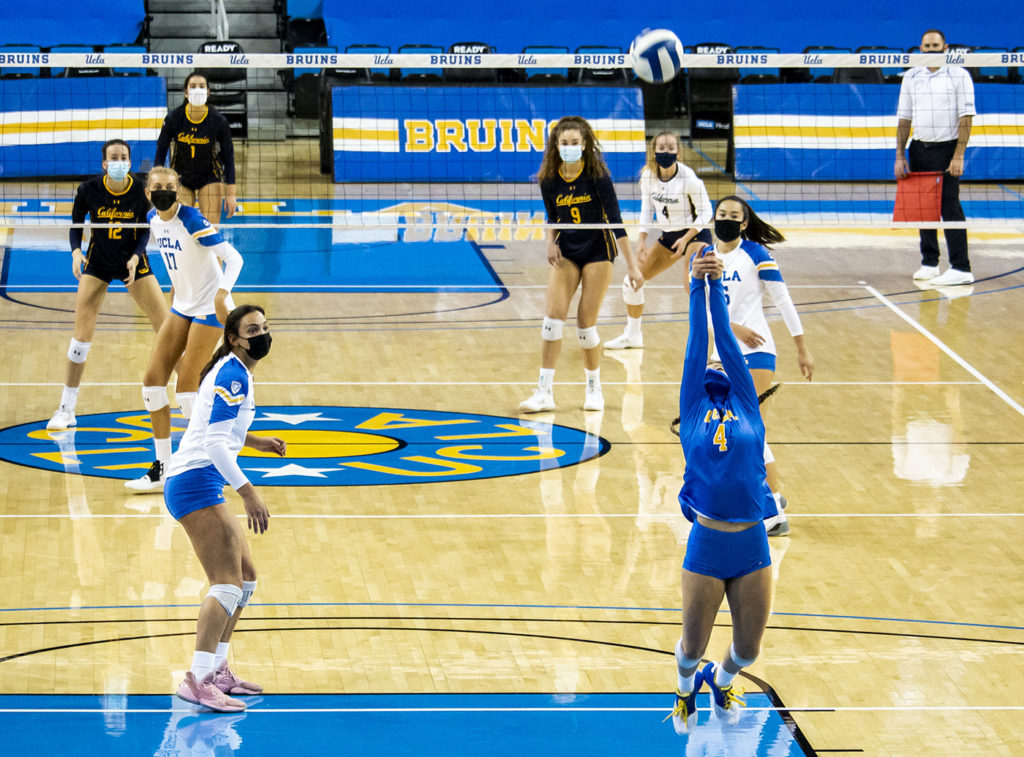 Junior defensive specialist and libero Zoe Fleck rushes to save a ball in the air as teammates follow closely, ready to receive.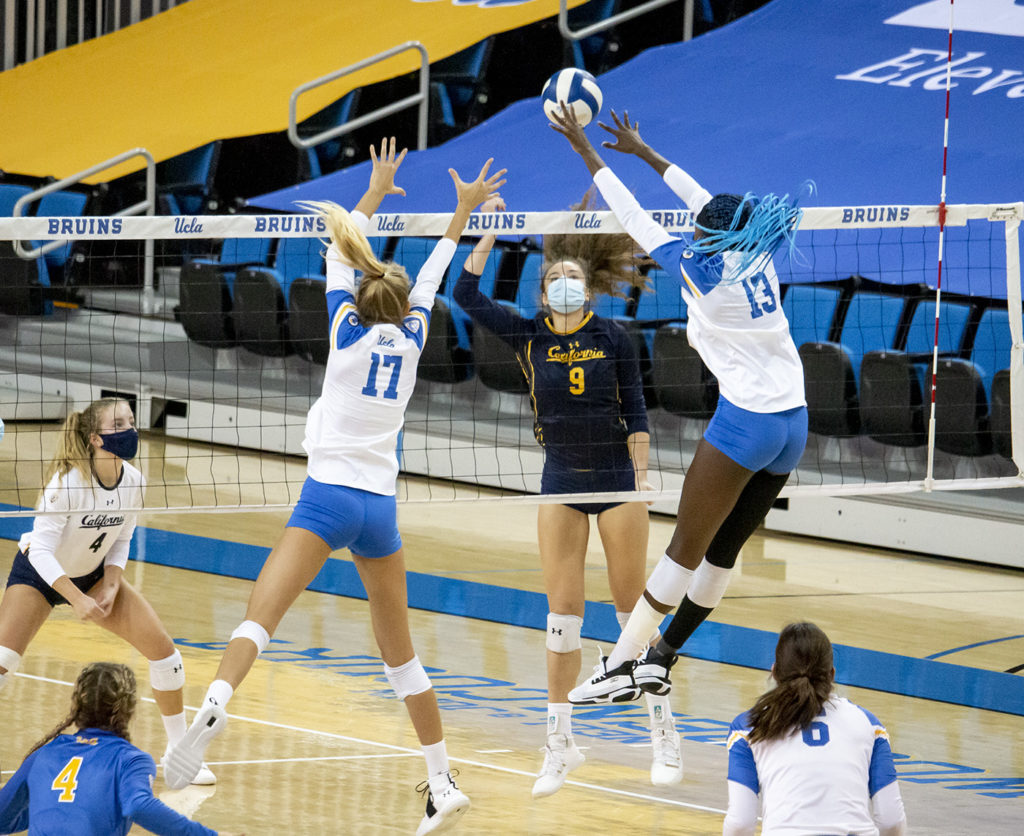 Senior middle blocker Sabrina Smith and freshman outside and opposite hitter Iman Ndiaye double up to block an attempted attack by California's opposite hitter Sam Taumoepeau.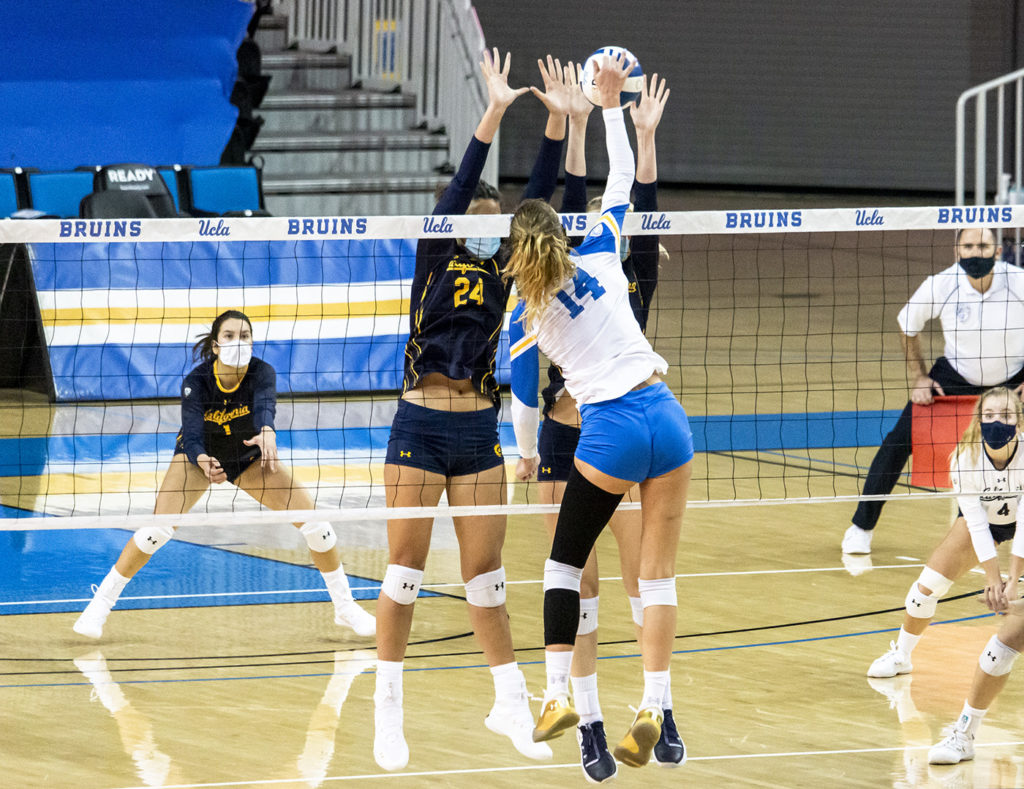 Senior outside and opposite hitter Mac May lobs the ball against a double block by California opposite hitter Sydney Lilomaiava and middle blocker Bella Bergmark.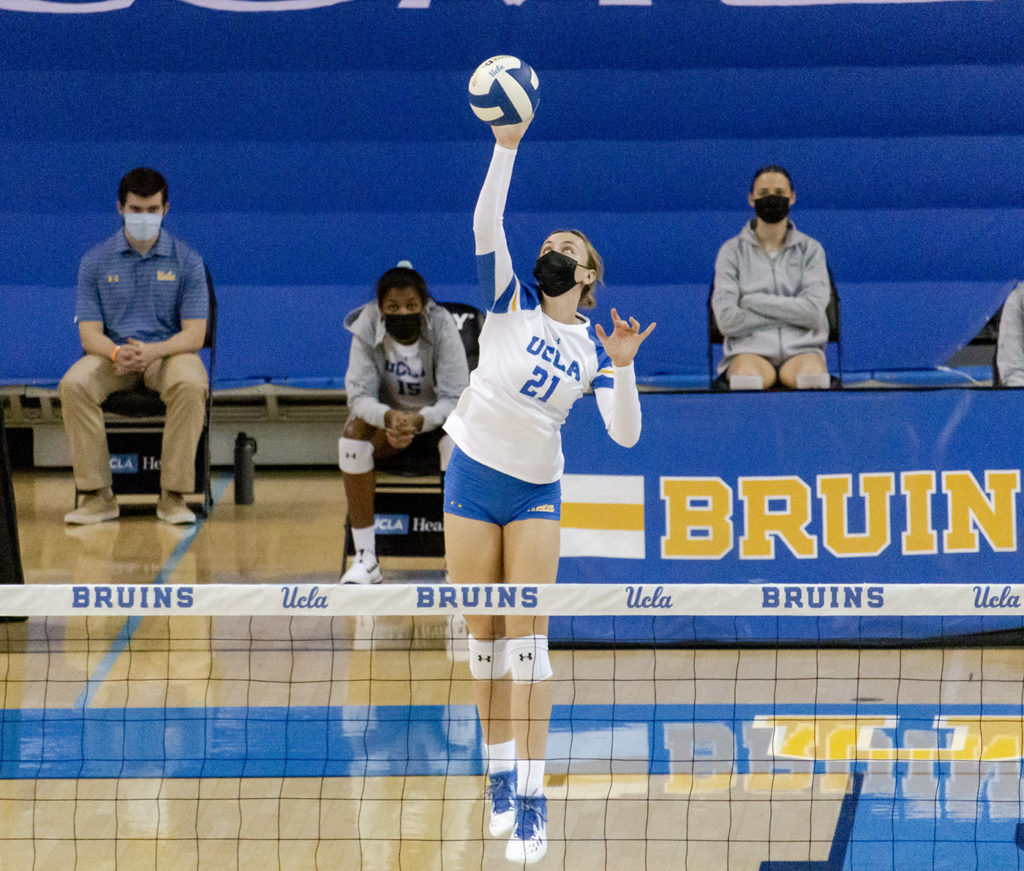 Freshman setter and opposite hitter Kate Lane executes an overhand serve in the fourth and final set of the game.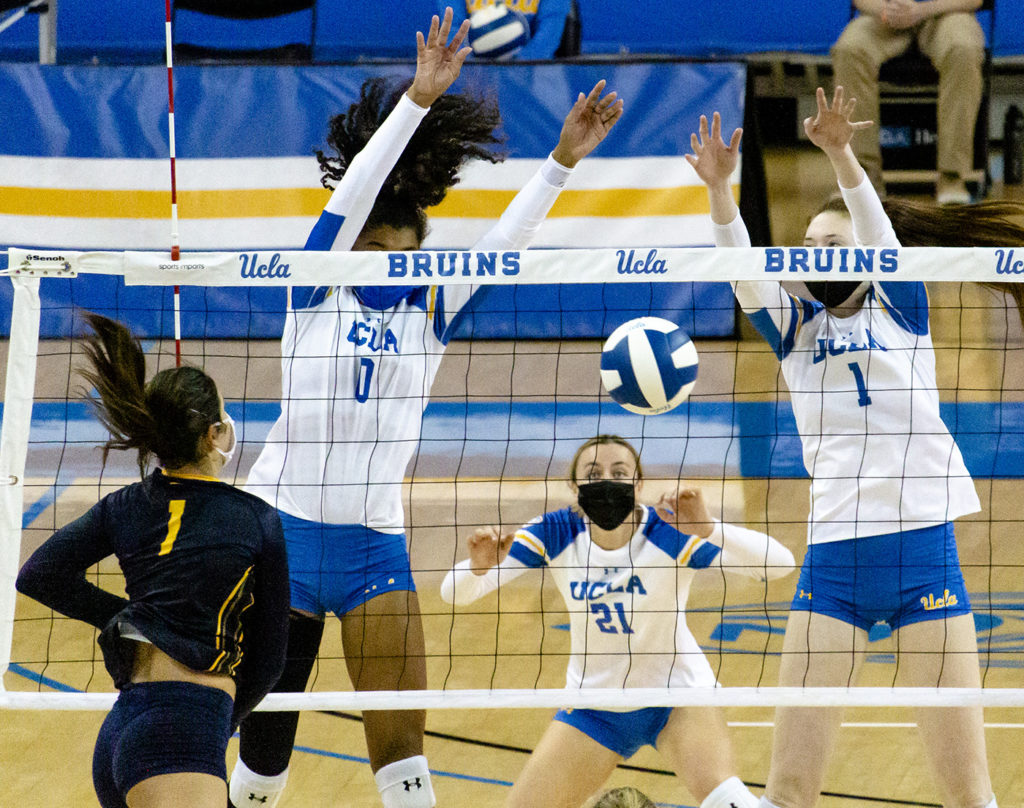 Junior outside and opposite hitter Élan McCall teams up with redshirt junior middle blocker Emily Ryan to block the ball over the net. McCall played for Texas Christian University for two seasons before transferring to UCLA.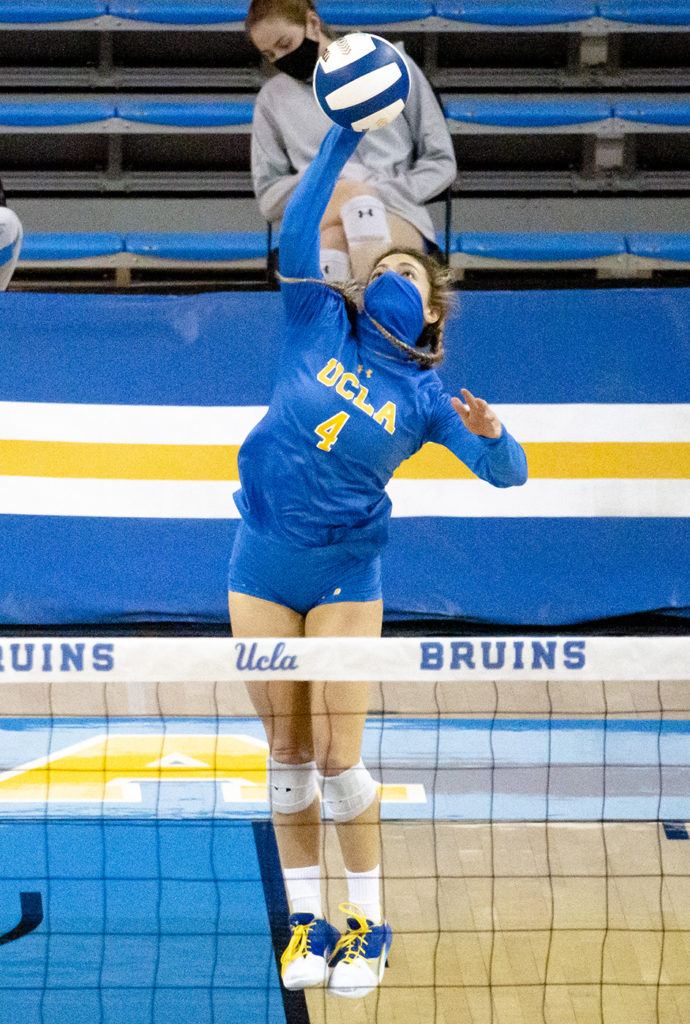 Fleck leaps up for a serve toward the end of the game. She records 7 assists and 16 digs in this game.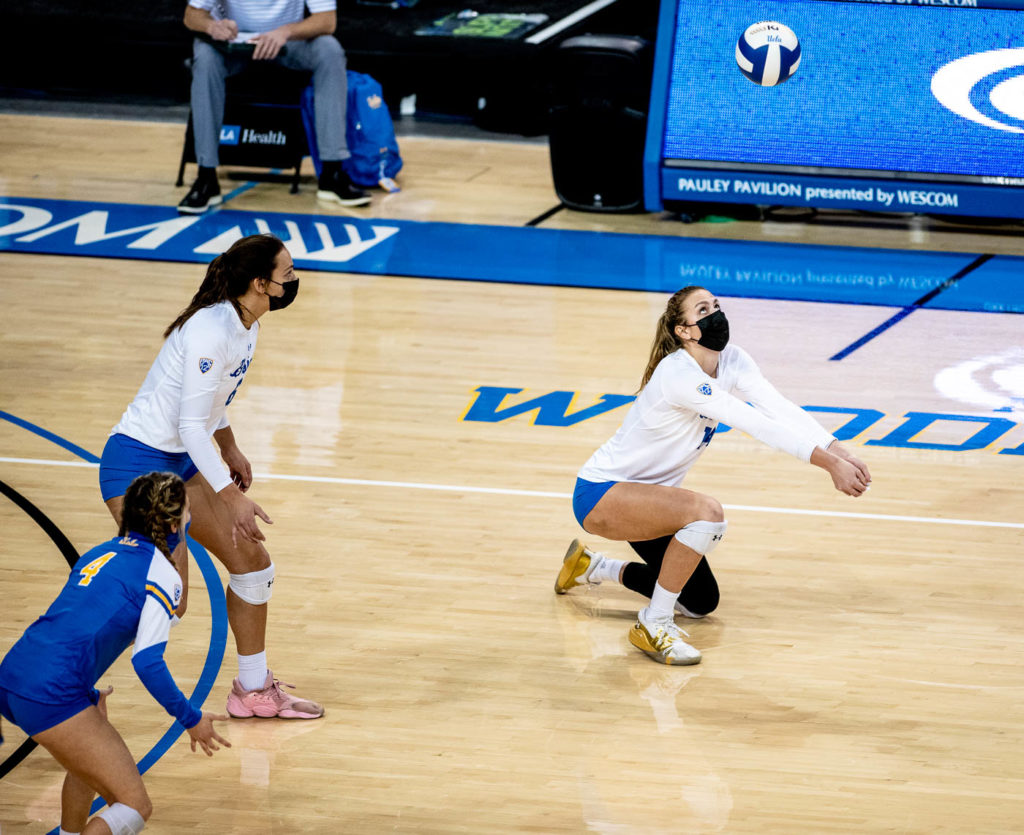 May digs a ball from the back line during UCLA's first set against California. UCLA won the first set 25-17, foreshadowing their win in three sets Sunday.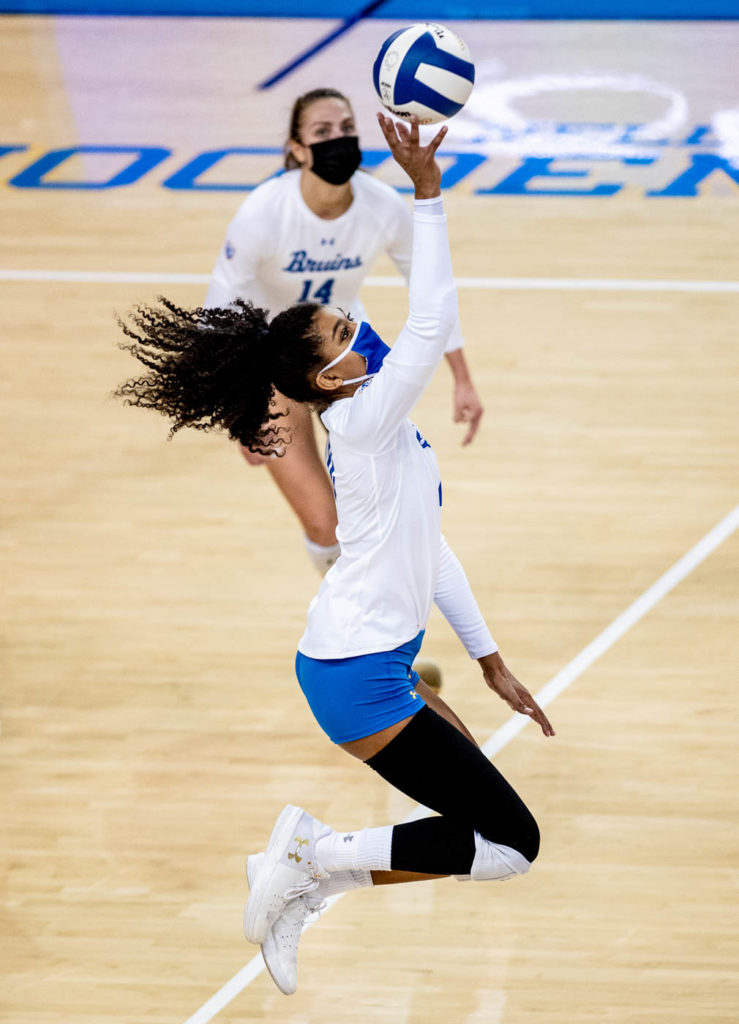 McCall goes up for a tip over the net during UCLA's match against California on Sunday, Jan. 24. UCLA racked up 41 kills over the course of the game, including 4 from McCall.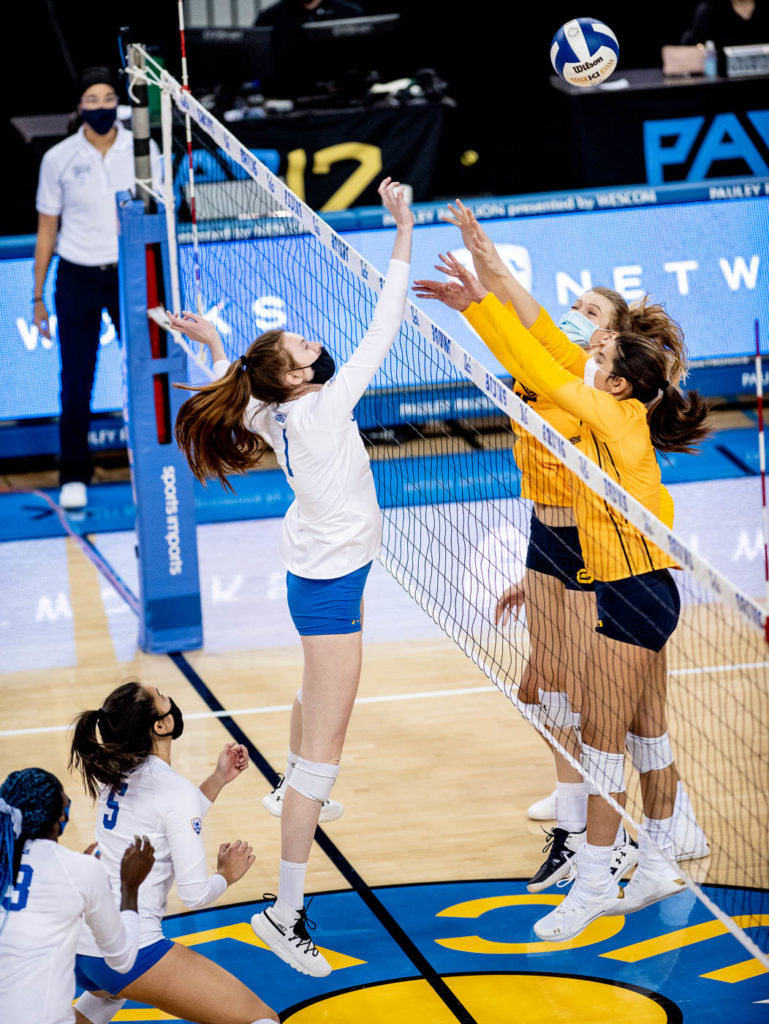 Up against a double block by California, Ryan tips the ball over the net to secure another point for UCLA during the second set of the game.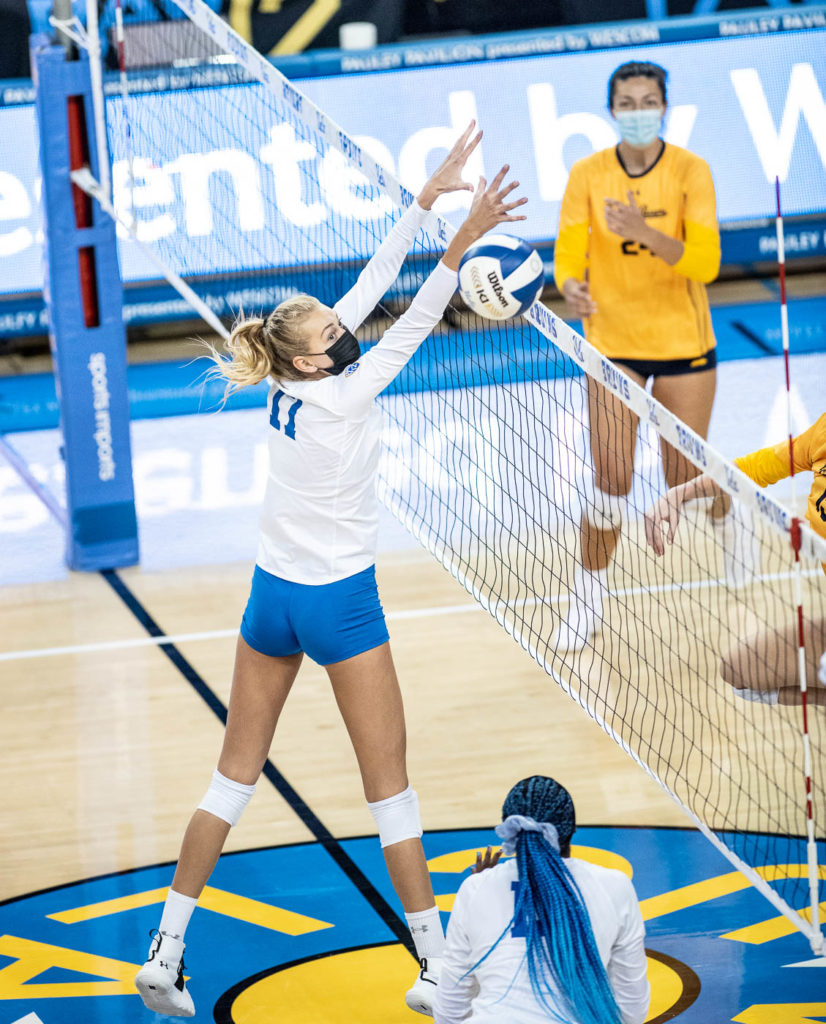 Smith watches the ball slip past her solo block attempt during the second set against California on Sunday, Jan. 24. Smith had four kills and zero errors across all three sets of the match.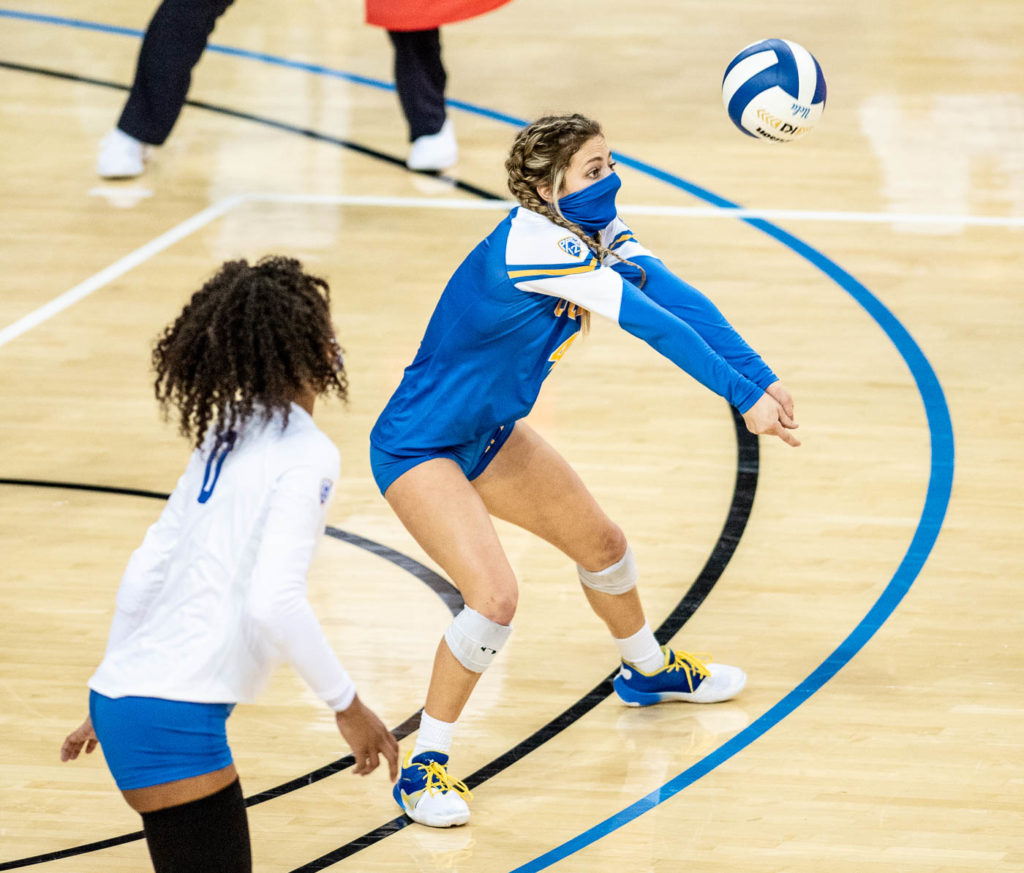 Fleck receives a serve during the third set of the match against California on Sunday.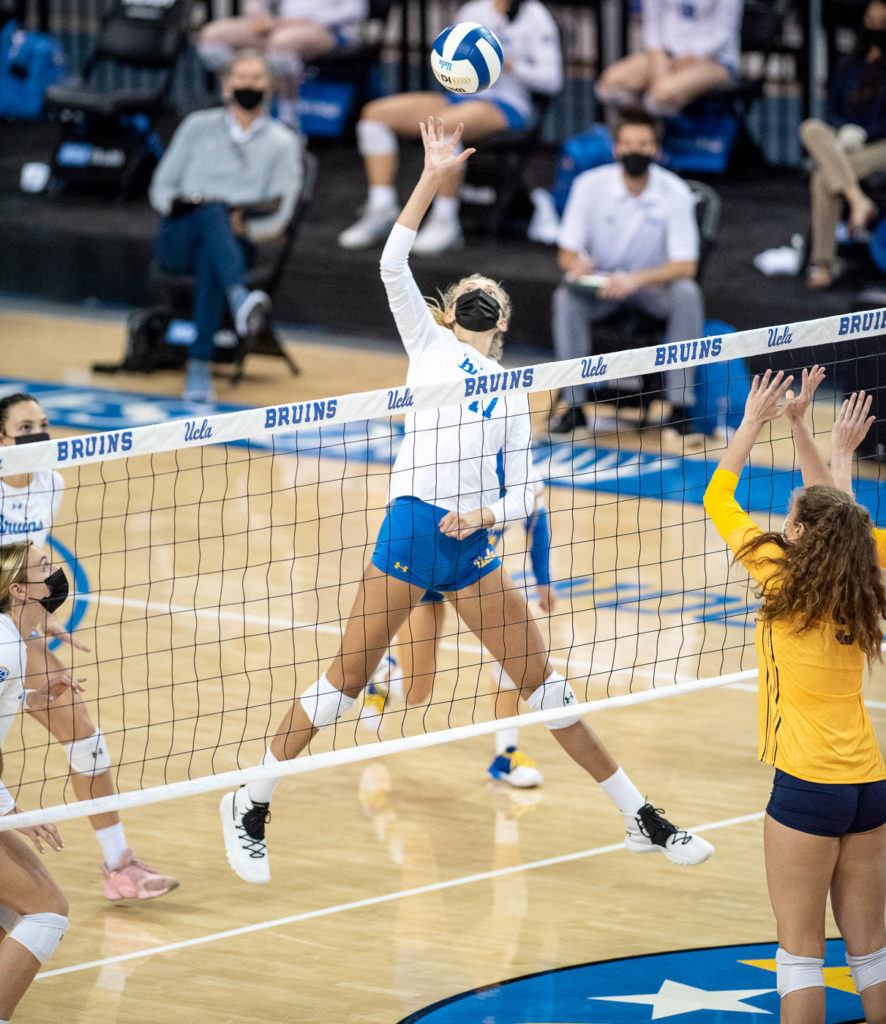 Smith goes up for the ball against a double block by California in the third and final set of their win against California.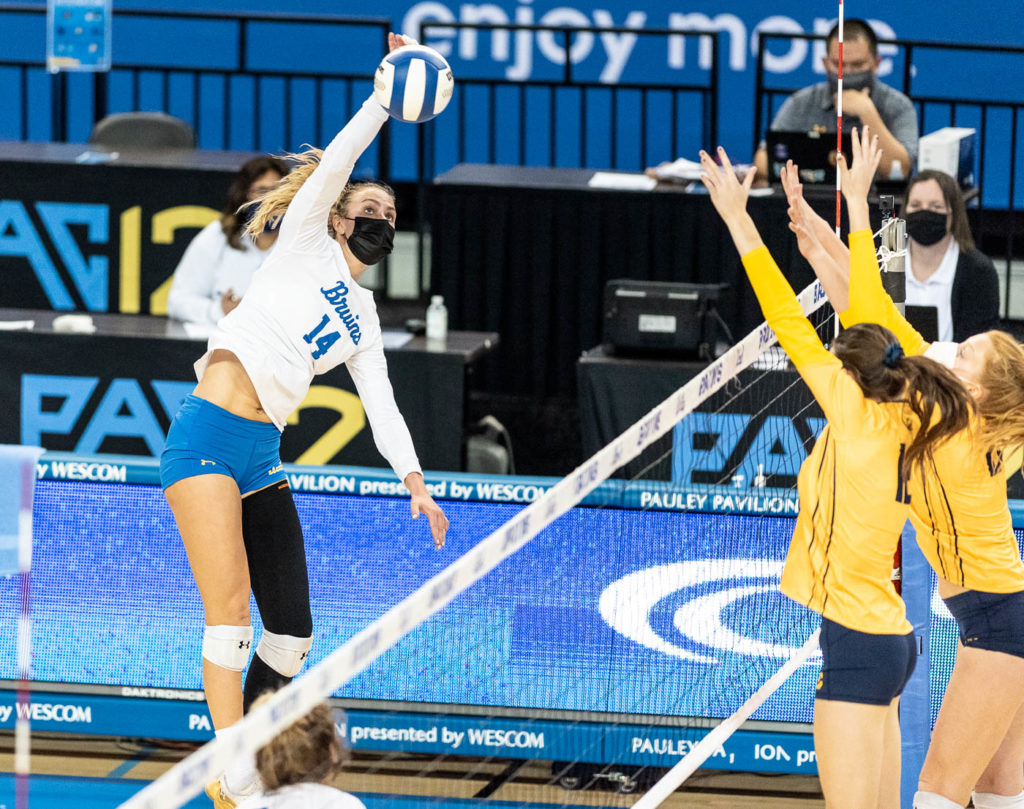 Angling her swing away from California's defensive block, May hits the ball for another kill in the final set against California on Sunday.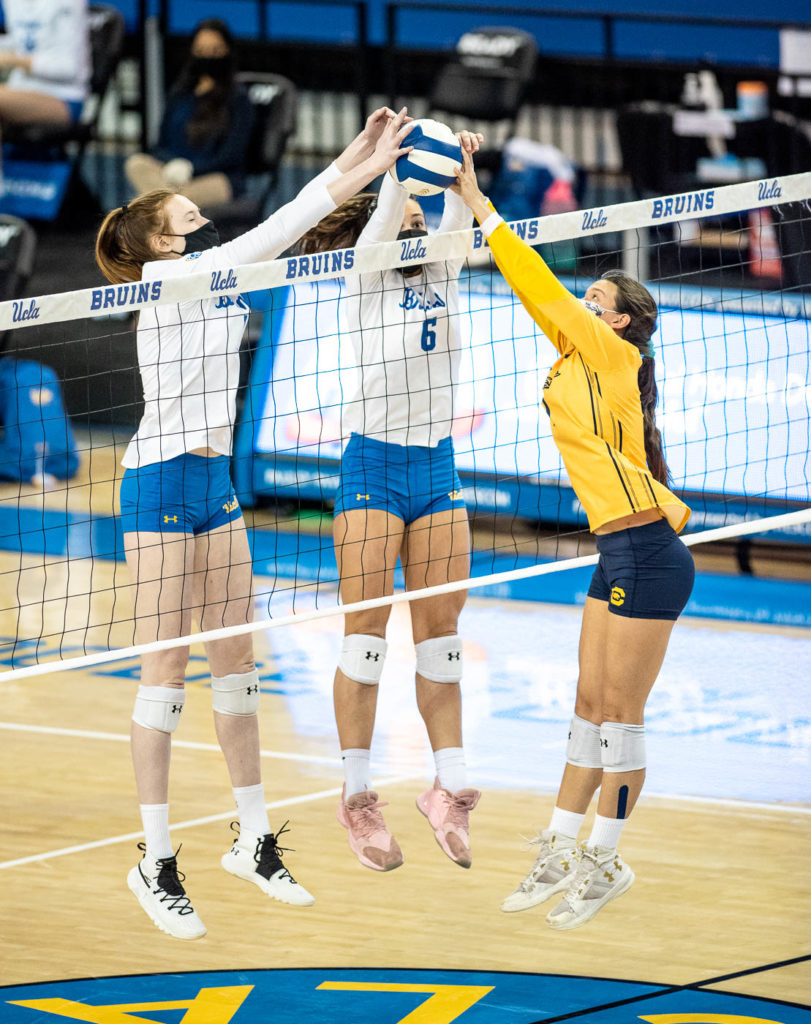 Ryan and outside hitter Allison Jacobs reach for the tip by California setter Isabel Potter during the final set of the match. UCLA went on to win the third set with a score of 25-19.