People have gone to great lengths to replicate sports during COVID-19.
Marble races have taken the world by storm, re-airings of classic games have populated sports networks and several documentary films and series have attempted to reel in desperate audiences. Barstool Sports' Dan "Big Cat" Katz has built an audience of hundreds of thousands of fans who watch him livestream NCAA Football 14 every other day, and Rivals' AuburnSports.com used the game to simulate the entire 2020 SEC season.
NCAA Football 14 has built up somewhat of a cult following since its release in 2013, not due to its gameplay or graphics, but because it is the final rendition of Electronic Arts Sports' NCAA franchise to date.
Elijah Wade – a former UCLA football defensive end and the newly inaugurated Undergraduate Students Association Council's general representative 3 – played the game regularly growing up, and he continued to do so while hosting recruits on official visits.
"That's one of the games they have there at the Rose Bowl, is NCAA (Football 14)," Wade said. "I actually played as myself, they actually do updates where they still put the student-athletes on there."
For the first time in seven years, however, the game might not need homemade roster updates anymore.
The NCAA Board of Governors released an official proposal for future name, image and likeness policies April 29. In that proposal, the board suggested student-athletes be allowed to sign endorsement deals and representation as long as their school is not involved in the payments and their athletic department has access to the official contracts.
The decision to release that proposal came just months after California lawmakers wrote, passed and signed into law Senate Bill 206, also known as the Fair Pay to Play Act. The legislation, which will go into effect January 2023, will make it illegal for California schools to bar student-athletes from profiting off of their NIL rights. Florida passed a similar bill in early June, with North Carolina and others not far behind.
[Related: NCAA likely to fight the Fair Pay to Play Act, California schools voice concerns]
Change is in the air, but the question of those changes' impact on video games remains unanswered. Group licensing, antitrust violations and union negotiations are just some of the potential roadblocks standing in the way of a return.
Hagens Berman partner Leonard Aragon has specialized in sports litigation for over a decade, and he said the holes in the proposal seem purposeful and pointed.
"I could go through there and tell you 50 things that are wrong with (the proposal)," Aragon said. "It wasn't concrete, that's the worst part. The only concrete thing (the NCAA) had in there was (that it wants) an exemption from state and federal regulations."
These issues are not new, and the NIL discussion didn't start this spring.
But for NCAA football and basketball video games to hit the shelves again, there is a lot of work to be done.
A decadeslong battle
Despite the potential restrictions from the NCAA, it is a long ways away from where student-athletes stood a decade ago.
Former UCLA men's basketball forward Ed O'Bannon was at his friend's house in 2008 when he started watching his friend's son play NCAA Basketball. O'Bannon realized there was a virtual version of himself in the game – which cost $60 for consumers – but he didn't get a penny of the profits.
So O'Bannon sued the NCAA in an antitrust class action lawsuit, challenging its use of student-athletes' names, images and likenesses for commercial purposes and arguing for postgraduate financial compensation.
"I'm not some mad, angry former player who wanted to take a video game away," O'Bannon said to The Undefeated in 2018. "That wasn't my goal, but that happened, unfortunately."
The NCAA Basketball franchise ended in 2009, and the NCAA Football franchise was canceled in 2013.
While EA was a co-defendant in O'Bannon v. NCAA, it was the primary target of former Arizona State and Nebraska quarterback Sam Keller's suit fighting for a similar goal in 2009.
Aragon represented Keller in his case against EA, which Keller won in 2013 after a four-year battle. The attorney said that case and ones that continue to pop up in its wake stand in opposition to the NCAA's dated definition of amateurism and the hypocritical nature of the collegiate sports money machine the players get left out of entirely.
"Graduating is not the paramount goal for a student-athlete at a university – if anybody tells you otherwise, they're just lying to you," Aragon said. "The ultimate goal is to be the best athlete you can be, and if that's to the detriment of the schooling, your education, so be it."
Aragon is in the midst of another battle against the NCAA, this time as part of an antitrust lawsuit filed June 15. The suit – which is backed by Oregon women's basketball forward Sedona Prince and Arizona State men's swimmer Grant House – claims the NCAA and its member conferences are illegally restricting athletes from profiting off of their NIL rights and seeks to retroactively award damages to impacted students. Although those restrictions will be eased heading into 2021, Aragon sees NCAA meddling getting in the way of a true free market for student-athletes.
"I am almost positive that there will be lawsuits arising from the licensing of student-athletes," Aragon said. "Schools, conferences and the NCAA will try to interfere with that in a way that doesn't make it happen in the way that people are hoping."
That interference has already taken the form of a federal bill written by Florida senator Marco Rubio on June 18 that would protect the NCAA from antitrust regulation, prevent student-athletes from employee designations and supersede all state legislation.
Show me the money
Student-athletes looking to appear in local television advertisements or see their face on a billboard are likely to have a relatively clear path towards doing so starting in 2021.
However, many more revenue streams are firmly in a gray area at the moment – one of which is video games.
The same day the Board of Governors released its proposal for future NIL regulations, working group co-chair and Big East commissioner Val Ackerman claimed the group licensing required to restart EA's NCAA series is virtually impossible due to the lack of a union or bargaining unit for student-athletes. NFL Players Inc. negotiates a flat annual rate for its players to get paid for their likenesses in EA Sports' Madden NFL franchise, but NCAA student-athletes don't currently have that luxury and would have to negotiate on an individual basis.
According to Aragon and others, that might not be as large of an issue as it seems.
"I think someone like (former Duke men's basketball forward Zion Williamson) might be an outlier who would be able to command more money and may be able to receive it," Aragon said. "I think the overwhelming majority of other athletes – and I'm talking like 99.9% – would just take whatever the deal is."
Former UCLA football linebacker Ramogi Huma founded the National College Players Association in 2001. The NCPA – a nonprofit which has over 20,000 members – may not be a union, but it nearly helped Northwestern football players establish their own back in 2014.
Huma said the NCAA's claim that group licensing is not possible without a nationwide union is intentionally false, and that a subsidiary of NFL Players Inc. called REP Worldwide will soon be able to lead group licensing negotiations for athletes around the globe.
"It's the most powerful, robust athlete group licensing entity around and the NCAA knows this," Huma said. "They were disingenuous when they reported that to Congress, so group licensing does not stand in the way of the return of college video games – it is actually there to facilitate the return of college video games. The NCAA wants an excuse not to do it."
Fighting on campus
Wade hung up his cleats for good this past offseason, and he is now firmly set in the world of student politics.
That doesn't mean he's totally torn up his roots as an athlete.
Part of his winning platform in USAC's May election was fighting for student-athlete rights, as shown by his motion in May to give UCLA athletes positions on any task forces and internal discussions regarding the athletes' return to Westwood amid the COVID-19 pandemic.
Wade's personal experience with injuries and medical mismanagement has given him an informed perspective to fight for such rights, but he said he doesn't want student-athlete protection to stop there.
"There's a lot of conversations we have about things we would like to see happen in the future with college athletics, and name, image and likeness is most definitely one," Wade said. "I think those conversations have been happening in locker rooms possibly since they started."
Once Wade medically retired following the 2019 season, he said he began digging deeper into the realities behind student-athlete rights – a project which drew him to Huma. The two developed a close relationship, and Wade said Huma helped him fully realize his goals on and off campus moving forward.
"(Huma) helped me the best way he could," Wade said. "He's just constantly been a support figure in my fight for advocating for myself and then taking on the journey to become a voice for other student-athletes."
While the NCPA is legally barred from acting as a union due to its designation as a federally recognized nonprofit organization, Huma said he continues to push student-athletes in the direction of unionizing so they can protect both their financial and medical rights on campus.
"One purpose of a union is to make sure the workers have real representation and are systematically informed and have a voice," Huma said. "College athletes don't have that."
Going to bed hungry, a lack of scholarship flexibility and poor mental health have been issues for student-athlete activists for decades, and Wade said the fate of a video game doesn't quite measure up to the literal life-or-death issue of COVID-19.
However, Wade said student-athletes have to gain a more holistic perspective of what their rights are, and not just accept the rules they are told to follow.
"(The NCAA) gives you the runaround of 'Hey, don't sell your shoes' and all of this and that," Wade said. "But you don't really have an understanding of 'Hey, what are my rights?'"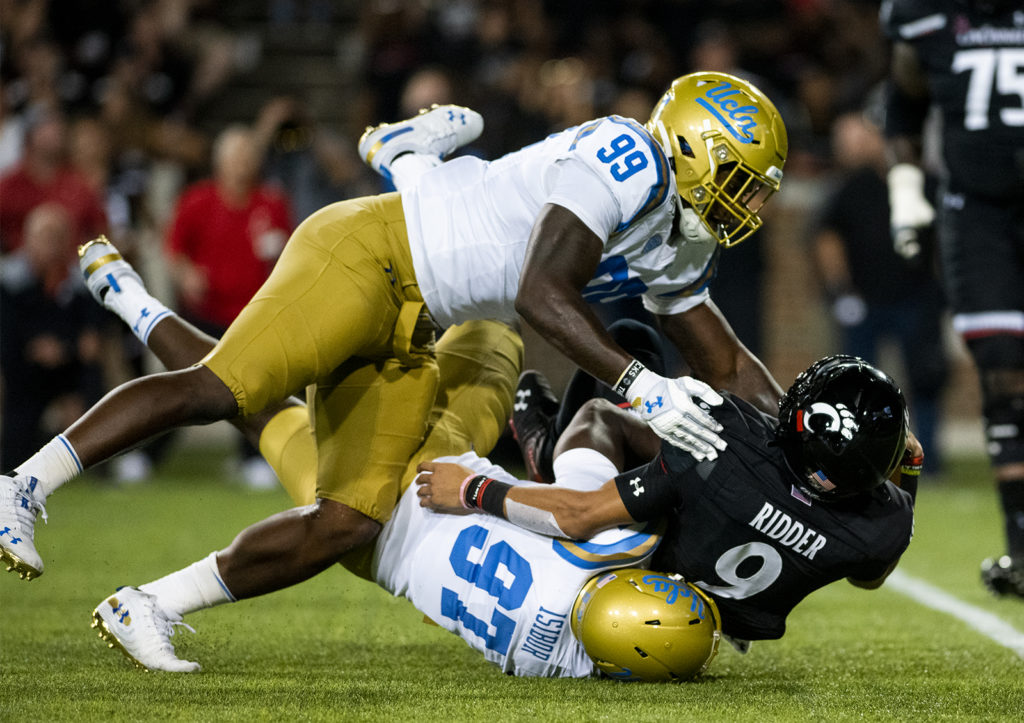 It's in the game
With student-athlete activists rampant on campus, group licensing companies gaining steam and state legislation racing ahead of NCAA rules, things are starting to fall into place for a return of EA Sports' NCAA Football and Basketball.
Travis Varner, the senior manager of global communications at EA, denied the Daily Bruin's interview request for this story in early June. EA CEO Andrew Wilson, however, told Bloomberg Technology his company is in regular dialogue with the NCAA, its member schools and student-athletes about the possible return of the series.
"I think (the NCAA Board of Governors' proposal) is a great step, I believe it's a first step," Wilson said in April. "Our hope is that, over time, we can (make the games) again, but we're just not sure when that would be."
[Related: Battle of the Editors: Best Bruins in the bubble to feature on the cover of future NCAA video games]
Aragon said EA always wanted to make the games, but the NCAA was a constant impediment to that mission – even when the developer was in the thick of churning out two titles a year. Huma agreed and said the NCAA is actively standing in the way of the series' return up to this day.
The NCAA did not respond to the Bruin's interview request for this story.
Huma has been fighting this battle since his UCLA teammate and mentor Donnie Edwards was suspended by the NCAA after unknowingly accepting groceries from an agent in October 1995. Twenty-five years later, there's a lot more at stake than $150 worth of food, and Huma said victory is in his sights.
"I think players are going to win," Huma said. "But I think it's still going to be a fight."
O'Bannon's victory in 2014 meant the end of the NCAA Football and Basketball franchises.
Huma's could mean the return. Wade and thousands of others are fighting alongside him.
If their dream comes to fruition, Road to Glory and Dynasty mode might not be things of the past anymore.