COVID-19 hospital protocols prevented Jazmine Gallardo from giving her uncle a final goodbye before his death in September.
The loss of her uncle was especially hard because he unexpectedly passed away the day he was supposed to be released from the hospital, said Gallardo, a first-year sociology student. Her uncle, Fernando Richkarday, passed away because of complications from a car accident in 2019.
"It would have given me a sense of peace, knowing that I could have seen him before he left," she said.
Throughout the COVID-19 pandemic, students faced the challenge of losing their loved ones and dealing with their grief in the midst of social distancing protocols and online classes.
Gina Kornfeind, a pediatric pain and palliative care social worker and bereavement coordinator at UCLA Mattel Children's Hospital, said COVID-19 prevented families from holding the rituals and memorials often used to grieve the loss of loved ones. COVID-19 hospital policies preventing family members from saying goodbye to their loved ones have been devastating, she added.
Devina Ortega lost her grandfather, Henry Dorame, in September because of complications from COVID-19.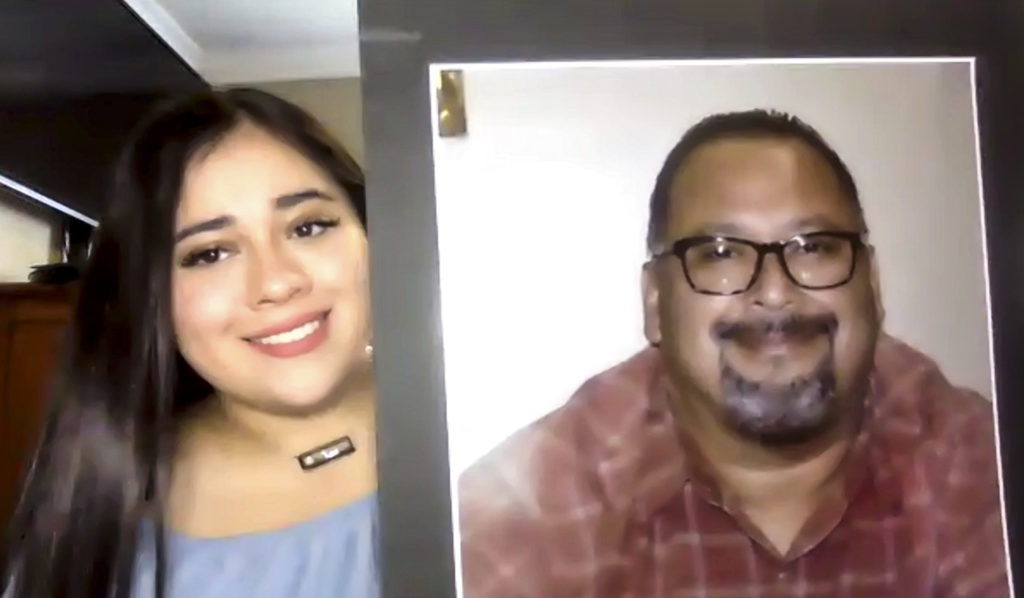 For the three months her grandfather was in the hospital, Ortega said she woke up with fear and pain in her chest as she rushed to receive morning updates from her mother. Ortega's feelings of urgency continued even after her grandfather passed away.
"When he was gone, I would wake up, and I would want to go to my mom and say, 'How's he doing?'" said Ortega, who is a third-year public affairs student. "But he's obviously gone."
Ortega said the loss of her grandfather was traumatic because her family believed he was not receiving proper care and attention from the hospital doctors and nurses.
Ortega said her mother, who is a nurse, consistently called for updates on her grandfather, but the hospital was often reluctant to provide her answers.
To show their support for her grandfather, Ortega said she and her family would spend every day outside of his hospital room and even stayed in the hospital parking lot overnight on one occasion. Ortega and her family were unable to enter her grandfather's room until the day he passed away.
"We had a really, really harsh summer," Ortega said. "It was hard because he was my favorite man on earth. … Because we lost him in such an ugly way in such a horrible time, it hurts so much to continue to go through school and continue to live life."
The pandemic limited students' abilities to grieve in traditional ways, from holding a funeral to leaning on their loved ones.
Gallardo and her family were unable to hold a service for her uncle because of the surge in COVID-19 cases in Southern California in late September. Gallardo was also unable to see several of her family members during this time, including her brother. Although Gallardo's brother only lives 20 minutes away from her, he would have had to quarantine for a full two weeks following her uncle's death before visiting her safely.
Gallardo couldn't communicate with her family over Zoom as well, since many of her family members are unfamiliar with technology.
"It was really difficult, just going through the motions, knowing that we couldn't lean on these other individuals who were going through the same thing at the same time," Gallardo said.
On the other hand, Ortega and her family were able to hold a funeral service. But, she and her family were especially wary about catching COVID-19 after her grandfather's death and did not hug one another, Ortega said.
Even the experience of crying during the funeral service was different during COVID-19, Ortega said.
On top of their grief, students faced the challenges of beginning the new school year.
Gallardo found it difficult to navigate her first week of online college classes while dealing with her uncle's death. As a new student, Gallardo felt nervous to contact her professors and let them know of her challenges. She said all her professors were accommodating and provided her the option of skipping the first week of classes.
However, when three more of Gallardo's family members passed away in Mexico in October, she did not update her professors about her situation. Gallardo was afraid her professors would not believe her situation and did not want to take advantage of the kindness they had shown her earlier in the quarter.
Ortega felt unsure if she could finish her final year at UCLA after the death of her grandfather.
"One of the biggest reasons why people drop out is because of grief," Ortega said. "If you lose someone, it shakes up your whole world."
However, Ortega said her father, grandmother and cousin made her promise that would complete her goal of graduating a year early. When she began online classes in the fall, Ortega said she was honest with her professors about her grief.
"I have no choice but to be real and be authentic, and tell the people like professors and TAs what I'm going through," Ortega said. "I could literally fake a smile, and I can tell them, 'My summer was great.' But that wouldn't be the truth, and that wouldn't be doing my papa justice."
Kornfeind said it is important for students to communicate with their professors about their losses, especially because their grief may arise suddenly and unexpectedly at times. Individuals experiencing the death of a close family member may take around three years to fully accept their loss and adjust to a new way of life without their loved one, she added.
Although Ortega and Gallardo continue to experience grief, they have found new ways to honor their loved ones and cope with their loss.
Gallardo and her family decided to keep her uncle's three dogs after his death. She said his dogs seemed to know when her uncle passed away, and she felt she could rely on them when she was grieving.
Gallardo added social distancing protocols encouraged her family to stay home together and confront the loss of her uncle and family members in Mexico, rather than pushing the grief away.
Ortega also relied on her family members when remembering her grandfather. Ortega said her grandfather started a tradition of celebrating family members by giving heartfelt testimonies on their birthdays. Her family has continued the tradition, though she feels it is now bittersweet.
"We say the testimonies with tears because we know why we're still doing it," Ortega said. "No matter how hard it is, we still do it, because we believe that it's important to tell someone why you love them while they're still alive."
Ortega said the loss of her grandfather still hits her every day. However, she said she will continue to pursue her goals, regardless of her pain.
"Grief is going to be a forever thing," Ortega said. "But I'm going to reach my goals in life, and do it in honor of my grandpa now."