UCLA women's basketball loses to Oregon State as defense falters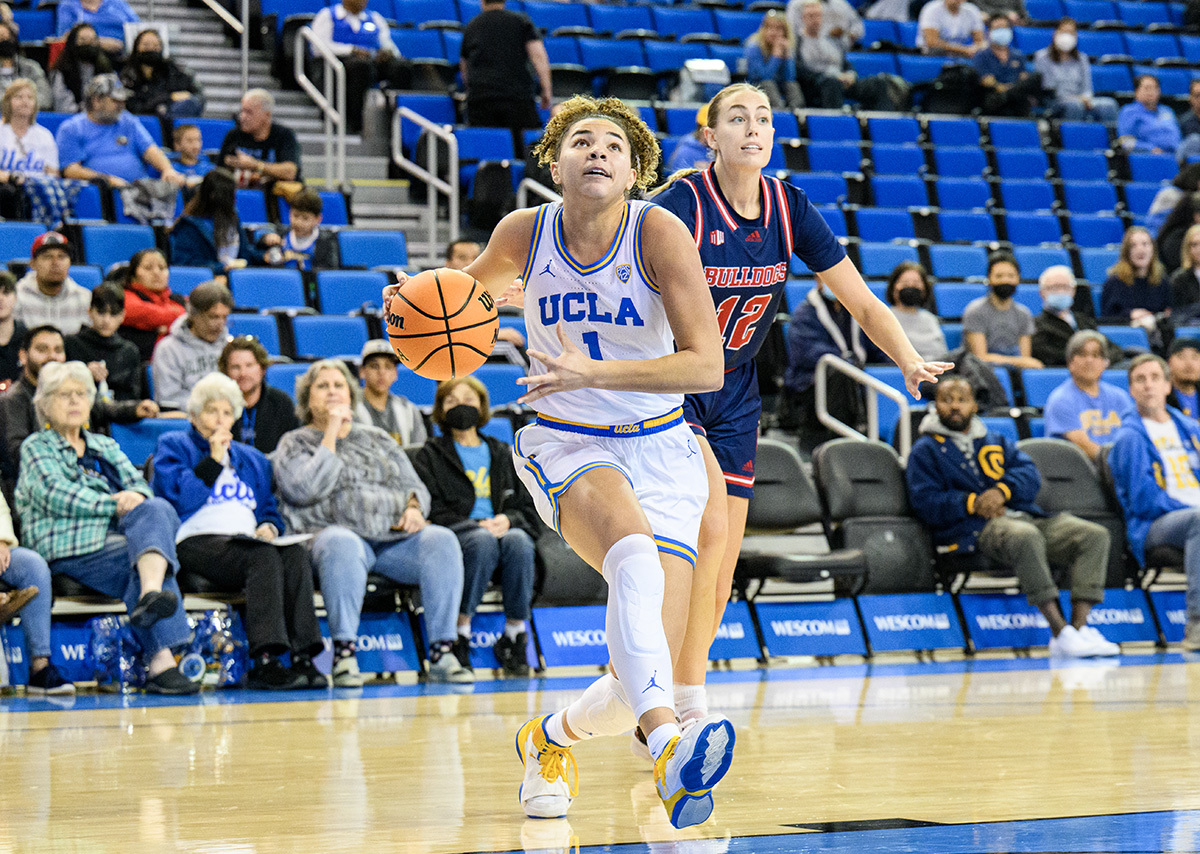 Freshman guard Kiki Rice drives toward the basket. Rice led the Bruins in scoring Friday with 20 points, her second highest scoring performance this season. (Kaiya Pomeroy-Tso/Daily Bruin senior staff)
Women's Basketball
---
| | |
| --- | --- |
| No. 10 UCLA | 72 |
| Oregon State | 77 |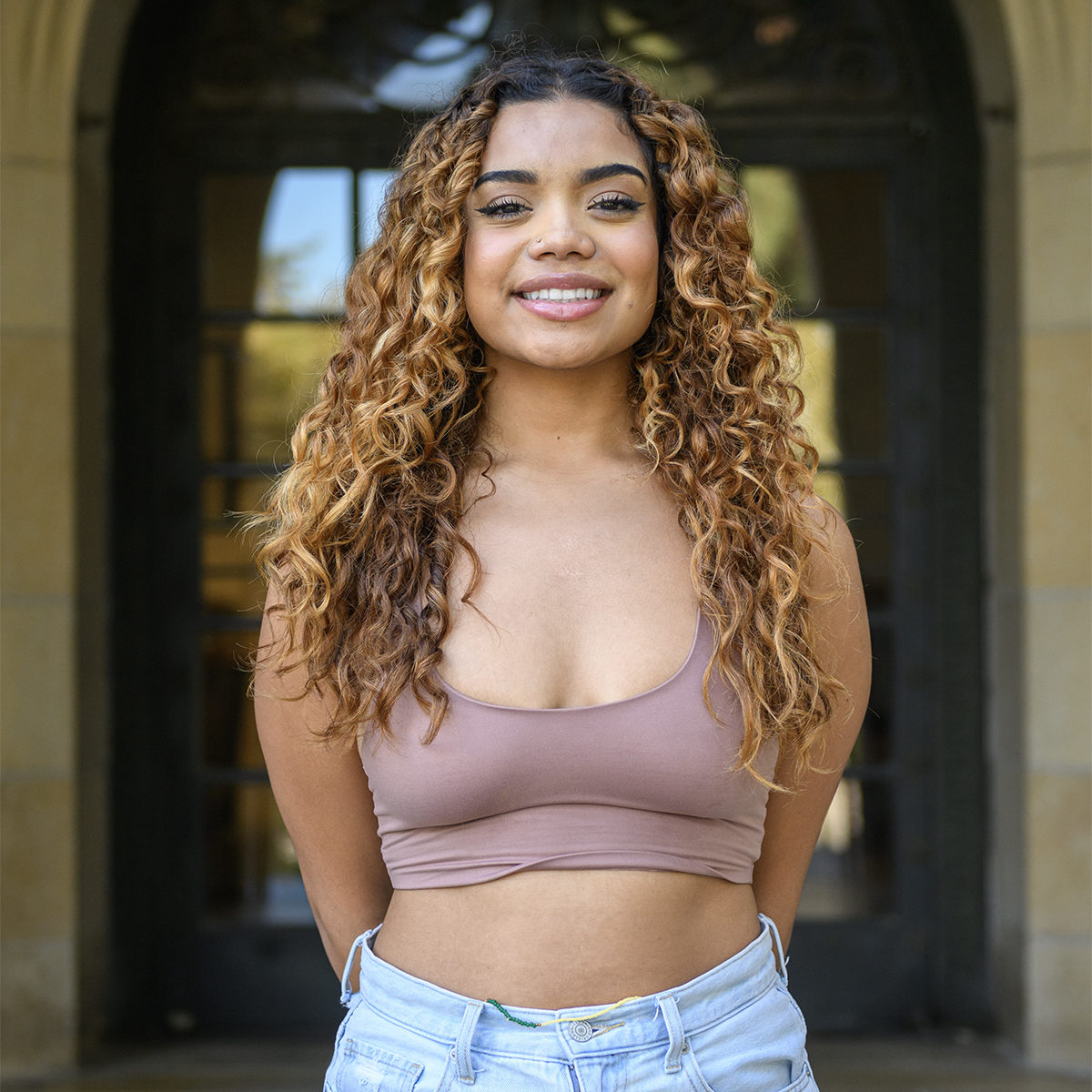 This post was updated Jan. 1 at 4:00 p.m.
After missing their senior leader, the Bruins were handed their second loss of the season.
No. 10 UCLA (13-2, 2-1 Pac-12) was defeated by Oregon State (9-5, 1-2) by a score of 77-72 in the absence of senior guard Charisma Osborne, who sat out Monday due to a left shoulder injury that occurred during the Bruins' Friday victory over Oregon.
"Charisma is a warrior for us," graduate student guard Gina Conti said. "Anybody who watches our games or watches women's basketball – college women's basketball – you know she's a warrior."
UCLA struggled to find a rhythm on the offensive end, missing their first five field goal attempts and allowing Oregon State to go on a 10-0 run. The four-minute scoring drought was ended by a layup from freshman forward Lina Sontag to put the Bruins on the scoreboard.
Without Osborne – who averages six boards a game – to aid the Bruins in their man-to-man defensive look, the Bruins were unable to protect the basket on the defensive end as the Beavers scored 14 of their 18 first-quarter points in the paint.
UCLA was able to finish the quarter trailing by an eight point deficit behind a 3-point shot and two free throws from freshman guard Kiki Rice.
Coach Cori Close emphasized that the team was really missing Osborne's defensive strength.
"She's our leading scorer," Close said. "But I thought we missed her defense more. She – I believe she is one of the most elite defenders in the entire country, she guards multiple positions."
The Beavers opened the second quarter with a shot from behind the arc, but Rice answered with a 3-point shot of her own, bringing her total to ten points. Rice continued to lead UCLA in scoring with a fast break layup to add to her collection, but UCLA could not find an answer for Oregon State's offense, which closed the half with an 11-point lead after scoring on half of their possessions throughout the second frame.
The Bruins opened the second half with a quick shot from graduate student guard Gina Conti, her sixth point of the contest. After shooting 6-28 from the field in the first half, the Bruins opened the third quarter shooting 3-of-4 from the field. Rice cut Oregon State's lead to 5 points, forcing a Beaver turnover and finishing with the inside layup followed by a three-point play.
"I would say when we came into halftime, we knew something had to be different," said Conti. "As opposed to the first half, we were kind of forcing shots, playing more one-on-one and not together."

Freshman guard Londynn Jones picked up six points in the third quarter to aid Rice in scoring. A layup from Rice following a 3-point shot from Jones gave UCLA its closest look of the game up to that point, with a two-point deficit.
"We have really good leaders on this team," Jones said. "So, shots I was hitting today, it has everything to do with my team. My team, you know, gets me open, gives me those looks."
The Bruins picked up two early steals in the fourth quarter after a season-high 15 steals in their previous match-up. Despite the late defensive effort the Bruins struggled to convert the plays to points.
Rice entered the game once again after sitting out a short period due to her four fouls. She quickly picked up an assist off a 3-point shot from Lina Sontag. Jones continued the shooting campaign by hitting a pair of crucial 3-point shots to give UCLA its first lead of the game and making a career-high five threes in the game.
Rice picked up her fifth foul with less than a minute left in play and the Bruins down five points. The Beavers regained possession of the ball, forcing the Bruins to foul and bringing their deficit to six. Two 3-point shots from Conti within the last minute were not enough to overcome the Beavers.
UCLA fell short against Oregon State on the road despite their second half comeback attempt.
Bivins is currently a Sports contributor on the men's volleyball beat.
Bivins is currently a Sports contributor on the men's volleyball beat.