Christian Secor to appear in court, argue for release from federal custody Wednesday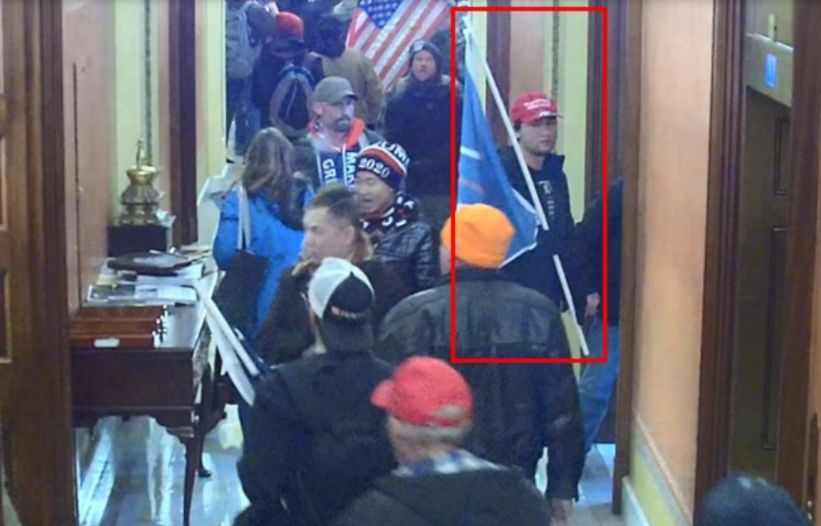 Christian Secor, a political science undergraduate, is scheduled to appear in federal court next Wednesday to argue for his release from pretrial detention. Secor is facing 10 federal charges, including obstruction of an official proceeding and disorderly conduct in a Capitol building. (Courtesy of the U.S. District Court for the District of Columbia)
A UCLA student facing charges for his role in the U.S. Capitol riots had access to weapons and unregistered guns in his California home before his arrest in February, according to court documents released Friday.
Christian Secor, a political science undergraduate who is facing up to 20 years in prison after storming the Capitol building in January, was also planning an "ultra-secret" operation and may have had access to thousands of dollars in cash reserves, a court filing from the prosecution revealed Friday.
Secor is scheduled to appear in court next Wednesday to ask for a release from federal custody. Secor's defense attorney requested to end Secor's detention in a motion filed Sunday so he could complete final exams, arguing that he would not pose a risk of leaving if put under GPS tracking and 24-hour home confinement.
Prosecutors, however, argued against Secor's release in the court filing, claiming Secor would pose a threat to the community and would be a flight risk if released.
Prosecutors said in the filing that the government has "grave concerns" that Secor could have access to a number of unregistered guns. When federal officers arrested Secor at his mother's residence in February, they recovered a privately manufactured "ghost gun" – which was unregistered and had no serial numbers. Secor also had a .22 caliber rifle registered in his name, mace and body armor plates in his room and three knives and a baton in his car, according to the filing.
[Related link: UCLA student arrested for alleged participation in US Capitol riots]
Secor also discussed an "ultra-secret" operation in phone messages obtained by prosecutors and met with one person to discuss the operation the night before his arrest, according to the filing. Police also found a destroyed phone in Secor's car.
Prosecutors found that Secor had thousands of dollars in cash reserves, which they said could have been used to evade law enforcement, and that he had discussed leaving California to evade federal officers before his arrest.
Brandi Harden, a Washington, D.C.-area lawyer who is representing Secor, filed the request for Secor's release last Sunday in an attempt to allow Secor to take winter quarter final exams; winter quarter final exams have since ended. Secor is scheduled to graduate this academic year, according to the court documents filed by Harden.
Harden, who is also representing one other person charged in relation to the Capitol riots, did not immediately respond to a request for comment.
UCLA has declined to provide details about Secor's enrollment, citing the Family Educational Rights and Privacy Act, which prevents the university from disclosing a student's personal information.
Secor was one of hundreds of people who broke into the U.S. Capitol building on Jan. 6 in an attempt to overturn the 2020 presidential election in favor of former President Donald Trump. According to footage posted on social media and obtained by prosecutors, Secor stood on the Senate floor and sat on the central chair in the Senate chamber, which was occupied by former Vice President Mike Pence minutes before protesters entered the Senate chamber.
[Related link: UCLA students share their reactions to riots, violence at US Capitol]
After Secor's arrest, an Orange County judge ordered that Secor remain in federal custody because of his potential to escape if released.
Secor is facing 10 federal charges, including obstruction of an official proceeding and disorderly conduct in a Capitol building. Hundreds of other people have also been charged or indicted for their role in the riots, according to the U.S. Department of Justice.
It is not clear if UCLA is pursuing disciplinary action against Secor. UCLA spokesperson Bill Kisliuk said in February that students' conduct is governed by the Student Code of Conduct, but declined to specifically comment on Secor.
The Student Code of Conduct allows UCLA to discipline students if they are convicted of a federal offense and the conviction could threaten the safety of people on campus. The penalties range from a warning to expulsion.
While at UCLA, Secor formed America First Bruins, a far-right conservative student group that no longer operates at UCLA. Secor also had ties to the Bruin Republicans. As early as February 2020, Secor argued in favor of gun rights as a Bruin Republicans representative at a campus debate. Secor was later expelled from the Bruin Republicans for "inappropriate behavior," the campus political organization said in a statement.
Mendez was the 2020-2021 News editor. He was previously a staff news reporter for the Science & Health beat and a developer for The Stack. He is also a third-year math student at UCLA.
Mendez was the 2020-2021 News editor. He was previously a staff news reporter for the Science & Health beat and a developer for The Stack. He is also a third-year math student at UCLA.