Editorial: Those able should donate blood to prevent further blood shortage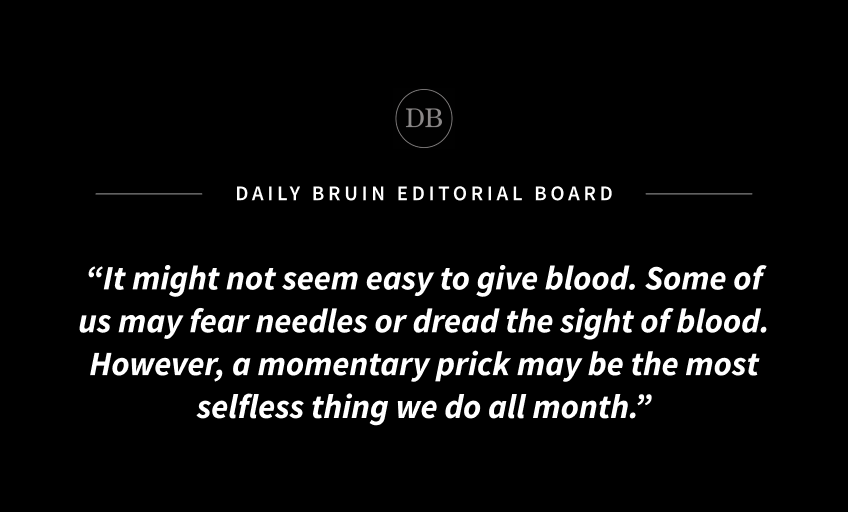 Editor's note: Editorials are intended to serve as the jumping-off point, not the conclusion, to discussion. As part of the Daily Bruin's commitment to its readers, the board hopes to present a responsible and clear analysis of relevant events and news items affecting the lives of those we serve, but our editorials are not representative of the Daily Bruin's views on issues as a whole. We encourage all readers to reach out to our board members and to respond to our editorials.
One donation, three lives.
Giving blood is one of the most impactful things we can do. And now is the perfect time for it.
The UCLA Blood and Platelet Center is experiencing a severe shortage in blood donations. According to the center's campus liaison, the center has collected just 30% of necessary blood donations during the COVID-19 pandemic – less than half of the normal percentage of donations collected.
The shortage has serious consequences for many who rely on the nation's largest hospital-based blood donation center. These patients include those who have sickle cell disease – a disease that may require regular transfusions of blood. Without healthy red blood cells, patients with sickle cell disease can face anemia, blocked vessels or decreased oxygen levels.
It might not seem easy to give blood. Some of us may fear needles or dread the sight of blood. However, a momentary prick may be the most selfless thing we can do.
All of us who are willing and able should donate blood. Even if you may not have had a need for it, there's someone else who does. The least we can do is support our fellow Bruins as we navigate this tumultuous time together.
We can't forget that we are members of a community whose well-being relies on ensuring the health of all.
Granted, there are requirements to keep in mind before donating blood. Eligible donors must be at least 110 pounds, cannot have visited a country with high risk of malaria within the last three months for more than a day and must not have lived with or had sexual relations with someone who has hepatitis in the past year. Gay men also cannot donate blood if they had intercourse with another man within the last three months.
These provisions can be limiting. According to the American Red Cross, less than 38% of people meet the eligibility criteria to give blood or platelets – cell fragments in blood that regulate bleeding.
Knowing you might get turned down upon arrival at a donation center is an understandable deterrent, but it doesn't have to be. For Bruins looking to donate, the UCLA Blood and Platelet Center has you covered, with a self-screening document you can check to ensure your eligibility before considering an appointment.
If you do find yourself able to give blood, booking a reservation at one of the blood center's two permanent locations, one of which is conveniently located in the Ackerman Union, takes only a few minutes with its online portal.
The actual process also isn't something to fret over. The whole process of donating blood typically takes 30 minutes to an hour, from signing in to getting a free snack on your way out the door. Donating platelets takes a little longer.
Bring a pair of earbuds, watch an episode of your favorite TV show and make a difference in someone's life. There isn't a better way to spend your downtime between classes.
If its ease and altruism aren't convincing enough, donating blood also has direct benefits for the person doing it.
In addition to a smattering of studies demonstrating potential health benefits for some people, such as an increased protection from heart disease and treatment for hemochromatosis – an excess of iron in the blood – donors also get a free checkup on some basic metrics, like their blood pressure, temperature and hemoglobin levels.
Getting that information can help identify problems you may not know you have.
Not everyone can donate blood, which is understandable. But for those of you who can, make an appointment to donate. We should do our part to help end this blood shortage.
We're in this together.