No. 8 UCLA baseball wins against Cal State Fullerton by season-high margin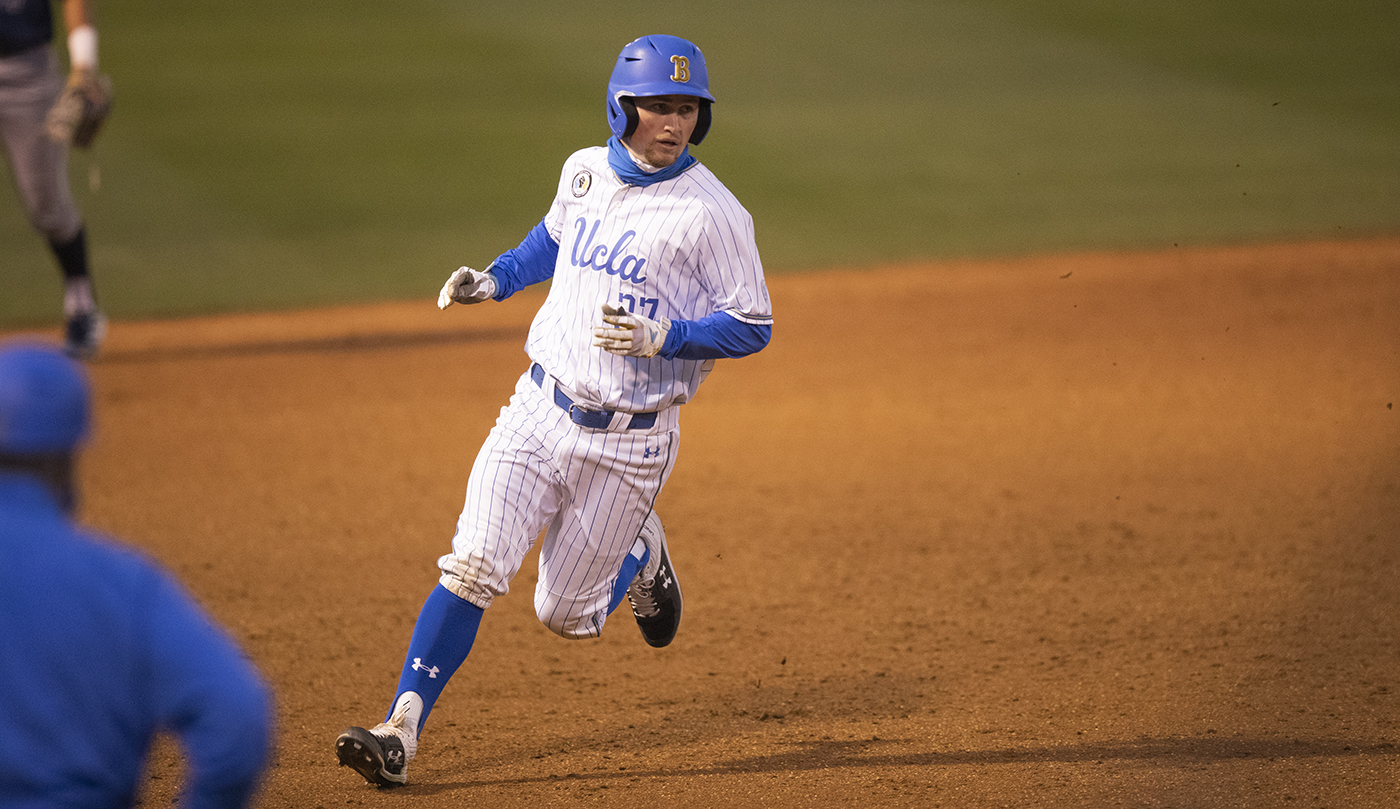 Junior first baseman Jack Filby's first collegiate home run in the bottom of the first inning scored the first two of No. 8 UCLA baseball's 14 runs Tuesday night. (Andy Bao/Daily Bruin staff)
Baseball
---
| | |
| --- | --- |
| Cal State Fullerton | 1 |
| No. 8 UCLA | 14 |
Correction: The original version of this article incorrectly attributed a quote from Jack Filby to Josh Hahn.
This post was updated March 4 at 7:35 p.m.
A five-inning-long rally lifted the Bruins to a season-record win.
No. 8 UCLA baseball (5-3) defeated Cal State Fullerton (3-4) on Tuesday 14-1, scoring its highest number of runs and consequently securing its largest margin of victory this season. The Bruins scored in the first five innings and tallied a season-high six extra-base hits. On the mound, this was the second game in a row UCLA pitchers allowed three hits or fewer, as they allowed only two.
The Bruins' offense was sparked by junior first baseman Jack Filby, who hit the first home run of his collegiate career in the first inning. His long ball scored redshirt junior center fielder Kevin Kendall, who led off the frame with a triple.
"I just think that Kendall and Filby really set the tone," said coach John Savage. "Kendall goes triple and Filby goes home run – we just had a lot of good at-bats. (Fullerton) threw multiple pitchers, and it just seemed like we had a good approach versus all of them."
Four Bruins came to the plate before the Titans could record an out. However, they scored only two runs in the opening frame.
Offensive efforts continued in the second inning with a leadoff single from junior catcher Noah Cardenas, who advanced to third via a sac bunt and a fly out, and later scored on a wild pitch. A dropped fly ball by Fullerton left fielder Deylan Pigford allowed junior shortstop Matt McLain to reach second base and score both Filby and Kendall, extending UCLA's lead to five. McLain later crossed home plate on an RBI single by sophomore right fielder Michael Curialle, capping off the four-run rally.
After they plated two more in the third, the Bruins got their second home run of the night thanks to sophomore designated hitter/left-hander Josh Hahn, his first collegiate homer. The leadoff blast in the home half of the fourth was the lone run in the frame but kept the run-scoring streak alive.
Junior second baseman Mikey Perez scored UCLA's ninth run via wild pitch in the bottom of the fifth, which also saw runs from Kendall, McLain, Hahn and Curialle. Eight Bruins recorded runs throughout the game, and five recorded at least one RBI.
"A lot of guys had really good at-bats," Filby said. "(We were) working counts, getting good balls to hit, and with runners in scoring position, which changes your at-bat a little bit in a more positive direction. We just kept passing the baton today from Bruin to Bruin. Our hitting is contagious, and I feel like from the start of the game to the end of the game we all had great at-bats and all contributed to this team win today."
Backing UCLA's offensive efforts was junior right-hander Sean Mullen, who over his five innings of work did not allow an earned run and only gave up two hits and one walk.
His ERA is now 0.63 for the season, and he owns a 2-0 record over his two starts.
"(Mullen) seemed very confident," Savage said. "He's throwing multiple pitches for strikes: fastball, cutter, slider, change. He threw a couple more changes tonight. He's 92, 93 with the cutter. That cutter has really changed his whole profile. He can throw that in any count. He believes in his fastball. He just looks like a different guy, really."
Three of Mullen's five innings saw the Titans go three-up, three-down, while the Bruins had runners on base every inning between Mullen's time on the mound. Mullen said that despite having a considerable amount of time between each inning he pitched, it was a good issue to have.
"Staying on top of it in between innings was a challenge for me, which was awesome," Mullen said. "That's the best problem you can possibly have as a pitcher. It was awesome seeing a lot of good at-bats."
The sole run for the Titans came from a throwing error by freshman third baseman Kyle Karros that allowed shortstop Zach Lew to advance to third and then score on an RBI ground out by catcher Omar Veloz. Fullerton's only two hits were both singles in the third inning.
UCLA's next game is 5 p.m. on Friday against Pepperdine, which will feature senior right-hander Zach Pettway's first start of 2021.
Simons is currently a contributor on the baseball and women's tennis beats.
Simons is currently a contributor on the baseball and women's tennis beats.