First-gen professionals find community, education and support through Instagram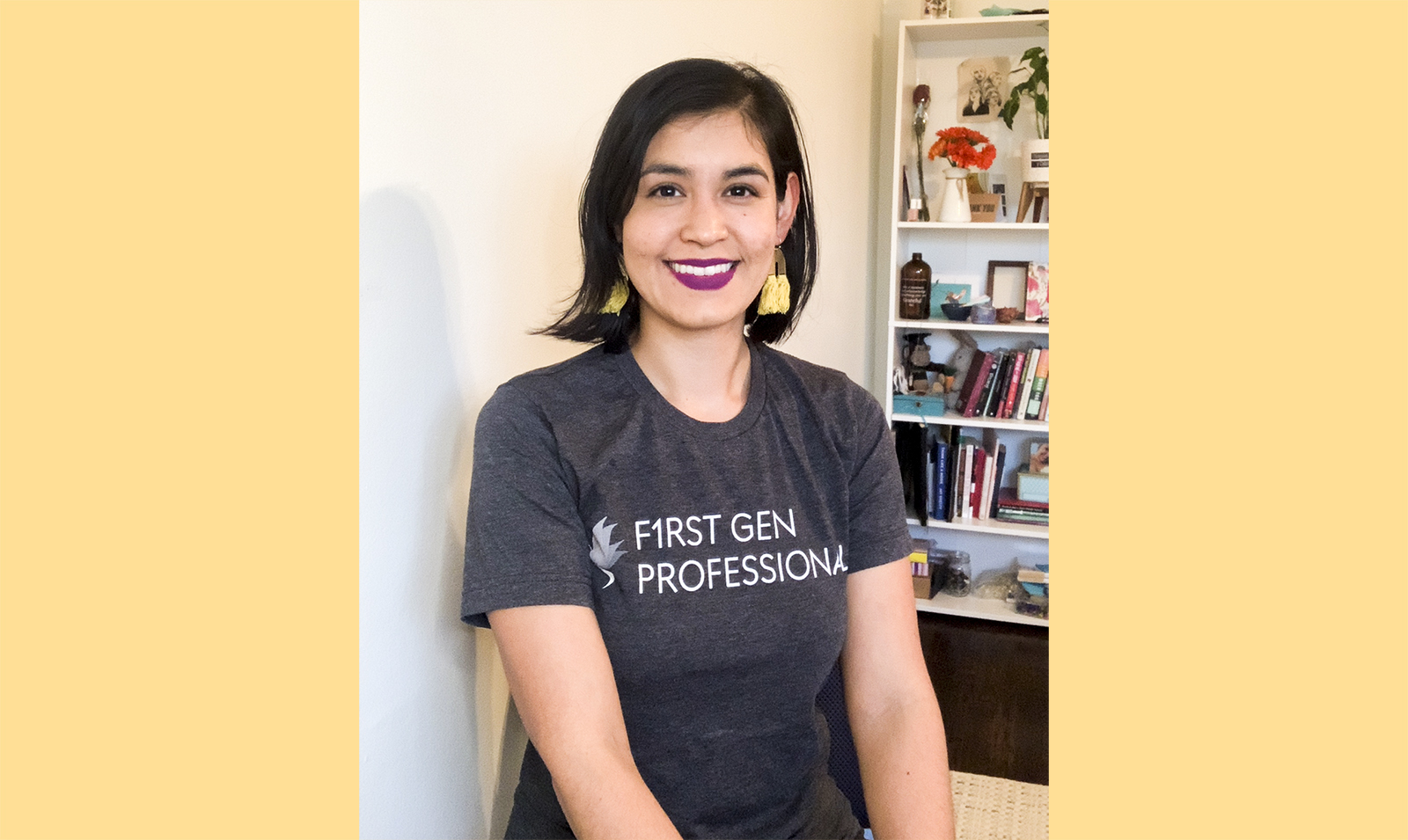 Valeria Garcia provides resources and encouragement for first-generation professionals on her Instagram community @firstgenprofessional. Through workshops on topics such as imposter syndrome and weekly professional spotlights, the assistant director at the Bruin Resource Center offers her followers support post by post. (Sakshi Joglekar/Daily Bruin staff)
This post was updated Feb. 28 at 5:12 p.m.
Valeria Garcia overcame the barriers of stepping into the professional world as a first-generation student, and now she is paving the way for others from her phone.
The assistant director at the Bruin Resource Center said she launched the First-Gen Professional Network two years ago on Instagram to spotlight first-generation professionals who can offer advice on transitioning into the workforce after graduating. With more than 3,700 followers, @firstgenprofessional also offers workshops covering topics she said are left out of normal discourse like imposter syndrome, homeownership and budgeting. Every week, Garcia's page highlights first-generation professionals sharing their experiences within a well-standing career.
"I wanted to create a platform to bring that community together," Garcia said. "I realized we weren't having more broader conversations to really talk about what it's like for folks once they have earned a degree."
[Related: Alumnae start podcast rooted in conversations about navigating post-grad life]
During her undergraduate years, Garcia said she originally noticed the gap between first-generation students and the workforce when she experienced feelings of imposter syndrome at California State University, Long Beach, and uncertainty during the graduate school application period. After communicating with many of her colleagues, Garcia said she realized this gap stemmed from a lack of transitional curriculums for first-generation students.
Garcia features first-generation professionals and hosts virtual workshops on her page that she said she arranges by reaching out to people with expertise in specific fields like budgeting, writing resumes and cover letters and paying off debts. Not only does she give room for these anecdotes and workshops, but Garcia said she also posts handwritten weekly quotes titled "Wisdom Wednesday" to give her followers the affirmation they may need. With each post, Garcia recalls being inspired by the diverse stories of individuals who have worked in fields that on the surface appear unattainable to first-generation students, such as student affairs, aerospace and forestry.
Launching the account has also brought in concept design challenges, as Garcia said this was her first time creating an Instagram community. She said running the page is like a second job, and she initially found it difficult to consistently post five times per week and has since shifted to posting less frequently.
When the account was first founded, Garcia said it was also difficult to bring people together to share their experiences and create a secure place for their stories to be told. However, over the years, she slowly built up her following, with a majority of it being UCLA students, furthering the account's recognition in the community.
"It's a beautiful thing that the folks trust me and the page enough to be able to share their journeys, their successes and their challenges," Garcia said, "I like to say it's a page by first-gen professionals for first-gen professionals."
Garcia said she was also able to acquire more professionals for her account through her colleagues at UCLA, institutions she has worked at and general networking.
Housing and environmental justice coordinator at Nuestra Casa Adriana Fernandez said she struggled in finding her place as a first-generation student when facing job applications, negotiating a salary and homeownership. She said she met Garcia during Garcia's graduate years at UC Davis and continues to seek guidance and motivation from Garcia and her page. Fernandez loves and is inspired by the work Garcia has put into the account, such as the motivational quotes and affirmations, and especially the workshops put on by some of the first-generation professionals. She attended the imposter syndrome workshop hosted by the First-Gen Professional Network and said she came out with a greater ability to overcome the feeling of not belonging.
"The biggest (workshop) for me is the (one for) imposter syndrome," Fernandez said. "I had no idea that existed, but after that (workshop), I learned it's the imposter phenomenon."
[Related: Alum's Instagram serves to uplift Black community, destigmatize darker skin tones]
Another of Garcia's followers, Isalia Zumaya – a first-generation professional working as a social media and communications manager for the nonprofit organization Visión y Compromiso – said she met Garcia through training for an external workshop. Zumaya said she faced financial hardship while in college and experienced imposter syndrome as she felt uneasy around professionals in her area of expertise. Attending the imposter syndrome workshop and reading the stories on First-Gen Professional Network has allowed her to feel more connected and less alone on her journey, Zumaya said.
"Reading the stories and connecting with other people just made me feel like I wasn't the only one going through a lot of stuff or facing the same challenges," Zumaya said. "But, when you are in the workshops, I feel directly supported by the people."
With high hopes for the professionals and her network, Garcia said she continues to keep in contact with the numerous individuals who were featured on her page and plans on growing her account with more frequent workshops. Aside from introducing more training, Garcia said she hopes her community can continue adding more members to help narrow the gap in support between graduates and working professionals. Since she enjoys helping people build their futures, Garcia said she aims to pursue a career in professional development to continue to support first-generation students.
"Never forget how much you've overcome in those moments of uncertainty and entering new spaces," Garcia said. "That should be the feel that continues to push you to enter new spaces."