Editorial: UCLA Athletics' deficiencies affect future of athletes, reputation of university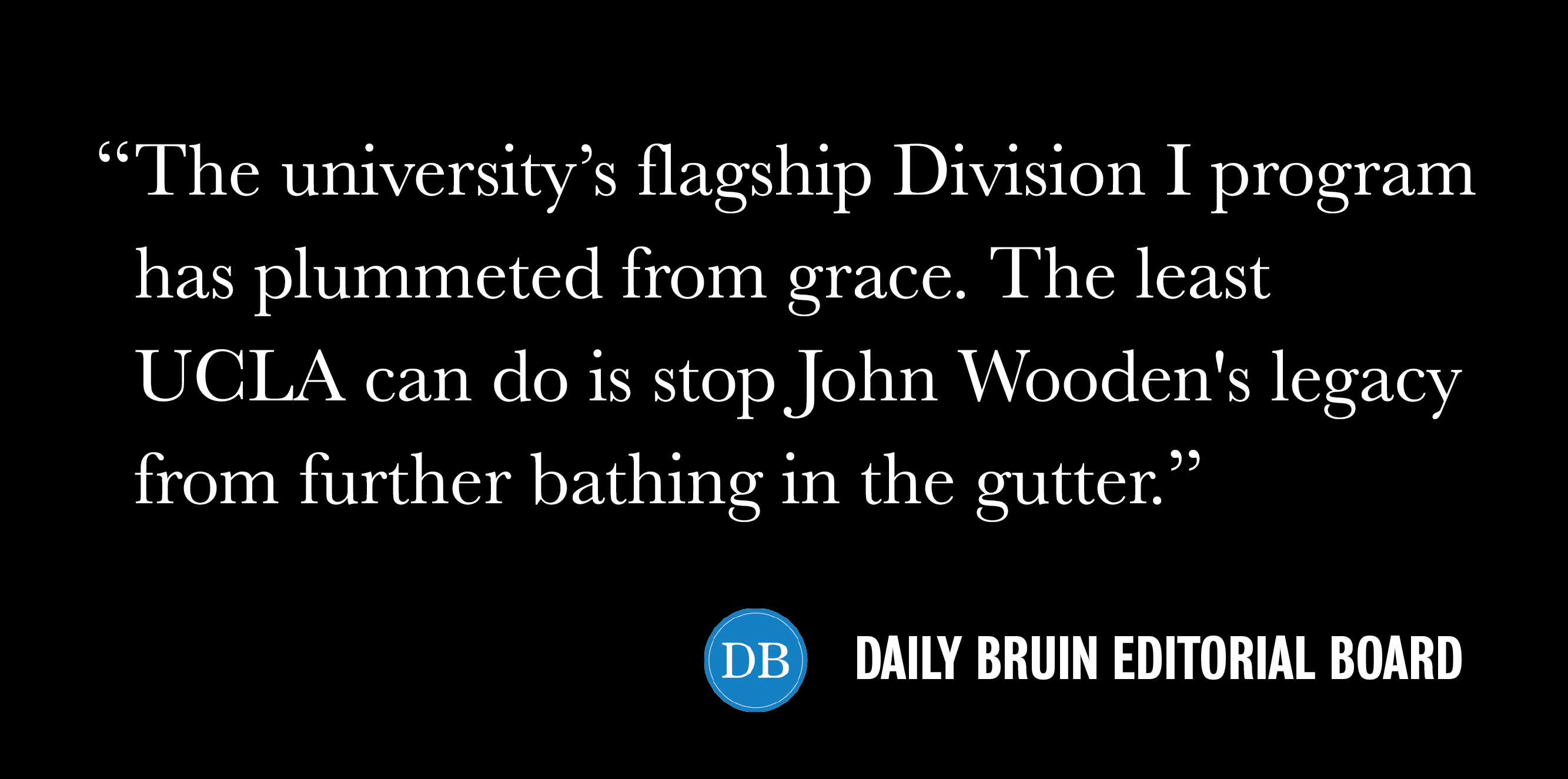 2019 has not been kind to UCLA Athletics.
The department has been surrounded by federal investigations and fallout from the Varsity Blues college admissions scandal, a hectic search for a new men's basketball head coach, backlash from students for the announcement of a new athlete-only academic center and revelations that it admitted subpar players if parents gave fat donations to the university.
It's gotten so bad that Bruins barely celebrated for a week about UCLA winning its 117th NCAA title before they got another reminder of UCLA Athletics' deficiencies.
The NCAA released a report Wednesday measuring the Academic Progress Rates of Division I schools for the 2017-2018 school year. The findings were worse than you would expect: UCLA's football team boasted the lowest APR score in the Pac-12 and the men's basketball team's score was just three points above the limit to avoid a postseason ban.
Some champions we make here.
The report only backs up a long-held belief that collegiate sports and academics are incompatible – a truth former UCLA athletes like Josh Rosen, now a Miami Dolphins quarterback, revealed while they were students.
But the NCAA's findings also shed light on something that's been on the back of Bruins' minds since the college admissions scandal: how far UCLA Athletics has fallen.
Students and alumni have become increasingly numb to constant sports scandals plaguing UCLA. The institution that once boasted one of the best college athletics teams in the country, now sees its big-name teams falling from the rankings, its athletics administrators permitting bribery via donations and its coaches illegally being bribed. Reform is a gargantuan effort at this point – one that might entail heads rolling.
These pitiful APR scores are no fluke – the men's basketball team's 933 score is only the latest data point on what's been a steady decline of its APR scores over the past five years. These scores reveal a disappointing truth of how little UCLA actually values the education of its most popular athletes.
The irony is the NCAA report comes after UCLA Athletics announced it would create a student-athlete center to help its players. The promises of a shiny new building ring hollow when it's clear the administrators never really prioritized the academic success of students in the first place. These students have spoken chapter and verse about how the rigorous athletics regimen means they have to skip classes, make up exams and bank on tutoring services to pass their courses – hardly the makings of a successful academic career.
But no one's surprised at this point. UCLA Athletics Director Dan Guerrero's track record speaks for itself.
Administrative oversight allowed parents to bribe their kids' ways into the school through covert payments as a part of the Varsity Blues scandal or even long before the scandal. A pitifully conducted search for a men's basketball coach saw UCLA fail to pay the buyout for TCU coach Jamie Dixon's contract, its initial choice for a coaching candidate. And Guerrero's tenure has seen a steady decline of some of UCLA's highest revenue-earning and once-great sports programs like men's basketball and football.
An academic center won't help student-athletes be better students. Building up a larger donor base won't stop rich parents from cashing out to UCLA and the university admitting their kids in return. And slapping the wrists of current administrators won't make UCLA Athletics the ranking athletics program it once was.
The university's flagship Division I program has plummeted from grace. The least UCLA can do is stop John Wooden's legacy from further bathing in the gutter.