Gymnastics earns two more perfect 10s in Seattle, sets sights on earning more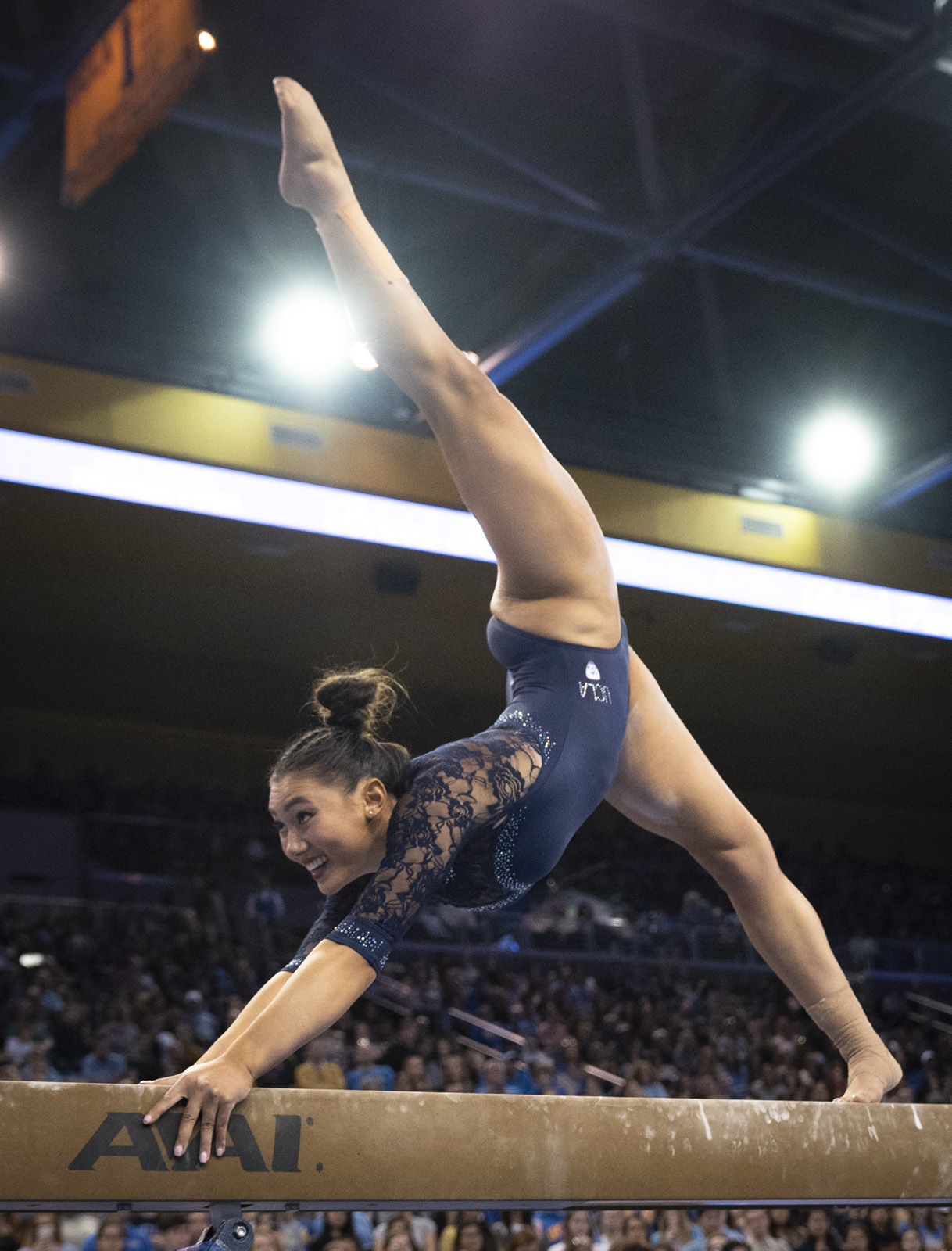 Junior Kyla Ross recorded her first perfect 10 on vault in the Bruins' win over Washington on Sunday. Ross also won the all-around with a career-high 39.775, the highest all-around total in the nation this year. (Liz Ketcham/Assistant Photo editor)
The Bruins added two perfect 10s to their list of accolades.
No. 3 UCLA gymnastics (5-0, 4-0 Pac-12) defeated No. 18 Washington (2-3, 2-2) 197.600-196.000 on Sunday in senior Katelyn Ohashi's hometown of Seattle. Despite heavy snow in Washington, a record 7,228 spectators packed Alaska Airlines Arena to witness junior Kyla Ross score a perfect 10 on vault and Ohashi post a 10 on floor exercise for the second time this season.
"It is so encouraging to see all of them become mature athletes," said coach Valorie Kondos Field. "You are always going to make small mistakes, but you just have to adjust. The great athletes are the ones that know how to adjust. That growth in them is what excites me most."
Ross has previously posted two perfect scores on uneven bars. The junior was the first Bruin to receive a 10 on vault since 2013. With three 10s, she has the highest number of perfect scores in the NCAA this year.
Ross scored a 39.775 in the all-around competition, setting her new career high. It is the highest all-around score in the NCAA this season and the best by a UCLA gymnast since Vanessa Zamarripa in 2012.
"I've been working hard to improve on vault and floor from last year and I feel like vault and floor have become my best events this year," Ross said. "It's exciting to know that all that work has paid off. To be able to contribute that much to my team is great. I'm hoping for a 10 on floor next, so we'll see. "
Apart from a perfect 10 on vault, the junior posted a 9.875 on uneven bars, a 9.925 on floor and a 9.975 on beam.
"(Ross) has the perfect combination of aggressive but in control," Kondos Field said. "She came to me after her beam and just said, 'Finally. I finally felt my rhythm and I wasn't getting ahead of myself.' She could be at this level in any sport she chooses to play."
Ohashi − who is ranked first nationally on floor − scored her second 10 on floor this season after reincorporating a split double layout into her routine. Ohashi has not attempted a split double lay in competition since her first perfect 10 routine that went viral at the Collegiate Challenge on Jan. 12.
"I was glad I put on a show for my home crowd and really glad that I clapped on beat," Ohashi said. "I wasn't expecting much from the score, because I don't have control over that. I just wanted to do good in front of (my) whole family because they don't get to see me live very often, so I knew I had to give them a little performance."
Ohashi was also one of two Bruins to score a 9.975 on beam − her second event of the night.
The only other Bruin to score a perfect 10 this year is junior Madison Kocian, who recorded a 10 on uneven bars at home Jan. 21. Kocian scored a 9.925 on uneven bars Sunday. Junior Felicia Hano scored 9.850 or above on all three of her events − vault, bars and floor.
The only other NCAA team to receive any perfect scores this season is No. 1 Oklahoma. The Sooners have posted one 10 on vault and another on uneven bars.
UCLA is next returning home to face No. 25 Arizona (1-4, 1-3) on Saturday.
"We still haven't put four great events together in one meet," Kondos Field said. "Our goal is still to get a 10 on every event, and we got two events taken care of tonight. The team knows how to score a 197 and we've proven that's our default. We need to keep making improvements so we can crack that 198 and make that our new default."
Hunt is currently a Sports staff writer on the softball and women's soccer beats. She was previously a reporter on the gymnastics, women's water polo and swim & dive beats.
Hunt is currently a Sports staff writer on the softball and women's soccer beats. She was previously a reporter on the gymnastics, women's water polo and swim & dive beats.