Editorial: Village must prove commitment to cyclists by improving infrastructure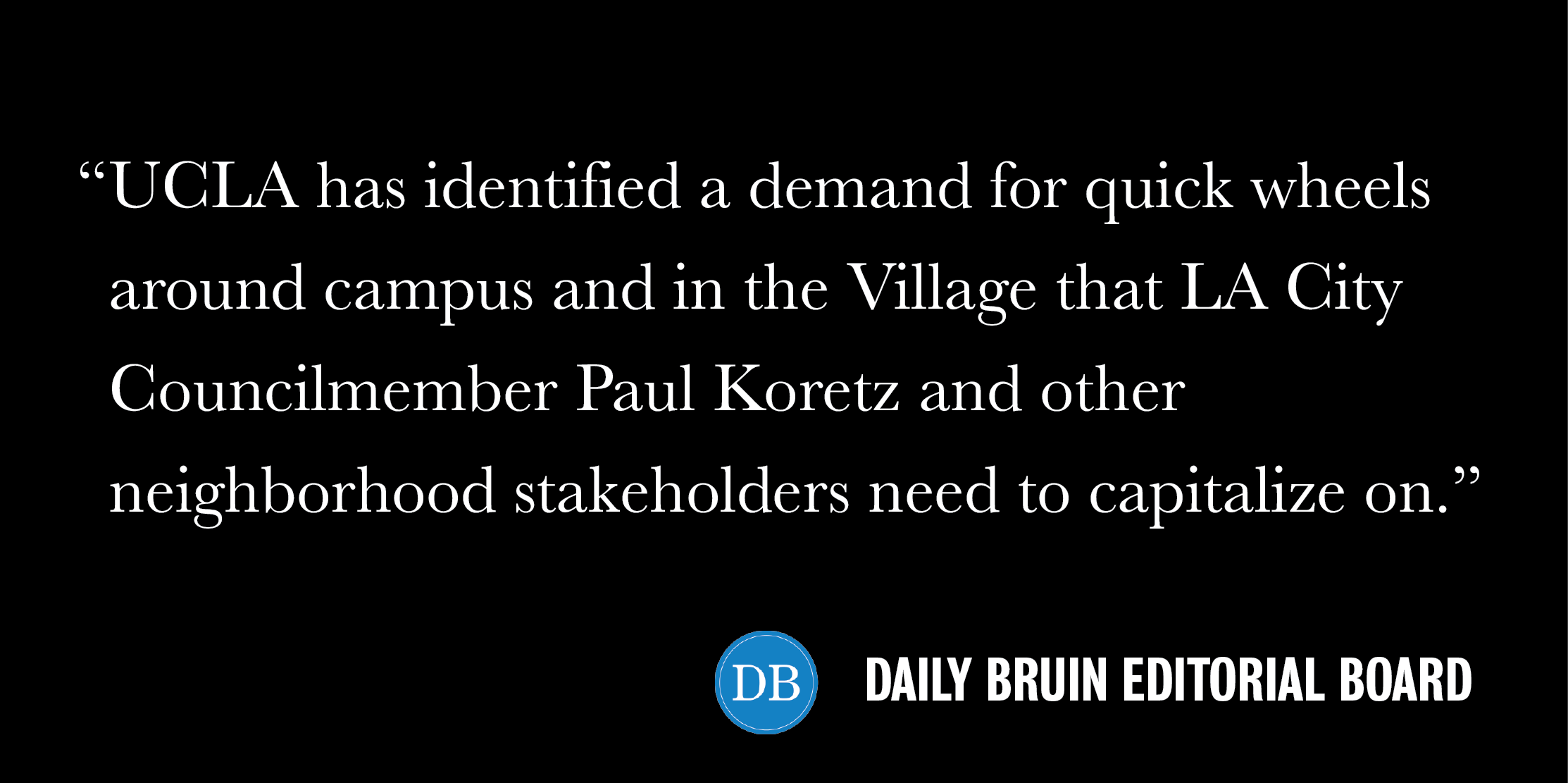 Westwood Village has a lot of new cyclists in town. Too bad there are few bike lanes for them to use.
For years, residents and commuters have expressed concerns about the safety and convenience – or lack thereof – of cycling around Westwood. UCLA Transportation aimed to tackle the latter problem with the launch of the Bruin Bike Share program in October, which has attracted nearly 500 members as of early last week. With a network of bike lanes and related resources such as do-it-yourself repair stations around campus, it is safe to say UCLA has done its part to be bike-friendly – if you don't mind the hills, that is.
The same, however, cannot be said of Westwood Village, where some of the bike share's stations are located. The Village has no bike lanes on its major roadways – except a proposed one on Gayley Avenue that might come several decades down the road – and few facilities to accommodate cyclists.
The Bruin Bike Share program is just the start of better and more diverse bike infrastructure in Westwood. UCLA has identified a demand for quick wheels around campus and in the Village that Los Angeles City Councilmember Paul Koretz, who represents Westwood and surrounding neighborhoods, and other neighborhood stakeholders need to capitalize on.
That means renewing discussion about expanding bike lanes in the Village and installing bike utilities, such as do-it-yourself maintenance stations. Incentivizing cycling can both stimulate local business and reduce the number of cars on the road.
The problem, however, is that the Village can be a dangerous place for those traveling without airbags. From 2002 to 2013, there were 52 bike-related crashes reported on Westwood Boulevard, which is the main artery for bus routes going to UCLA, not to mention heavy car traffic as well. And streets such as Weyburn and Tiverton avenues are part of a number of Los Angeles streets that had a high concentration of severe traffic accidents between 2009 and 2013.
These routes are still frequented by bicyclists because other thruways don't easily lend themselves to traveling on two wheels. Westwood Boulevard, for example, is the most direct route to campus and therefore the one cyclists tend to utilize, despite the risk.
Of course, the city has recognized that cyclists need safer streets in the LA Mobility Plan 2035 and originally specified Westwood Boulevard as a prospective bike thruway. But through some combination of sincere concern for cyclists' safety and pressure from residents disgruntled by the prospect of less parking or narrower traffic lanes, Koretz lobbied against it, eventually advocating for a Gayley Avenue bike lane instead – a thruway that's on the north edge, not the center, of the Village.
Sure, Westwood Boulevard and other major roadways to campus may be too trafficked with cars and buses alike to also accommodate cyclist traffic. But Koretz and Village leaders need to prove their commitment to improving cyclist safety. They can do this by pursuing an environmental impact report for Gayley Avenue and other potential bike-friendly streets, and constructing repair stations throughout Westwood.
Westwood should be accessible to all, regardless of the number of wheels you're traveling on.