Bruins collaborate on James Franco movie 'High School Lover'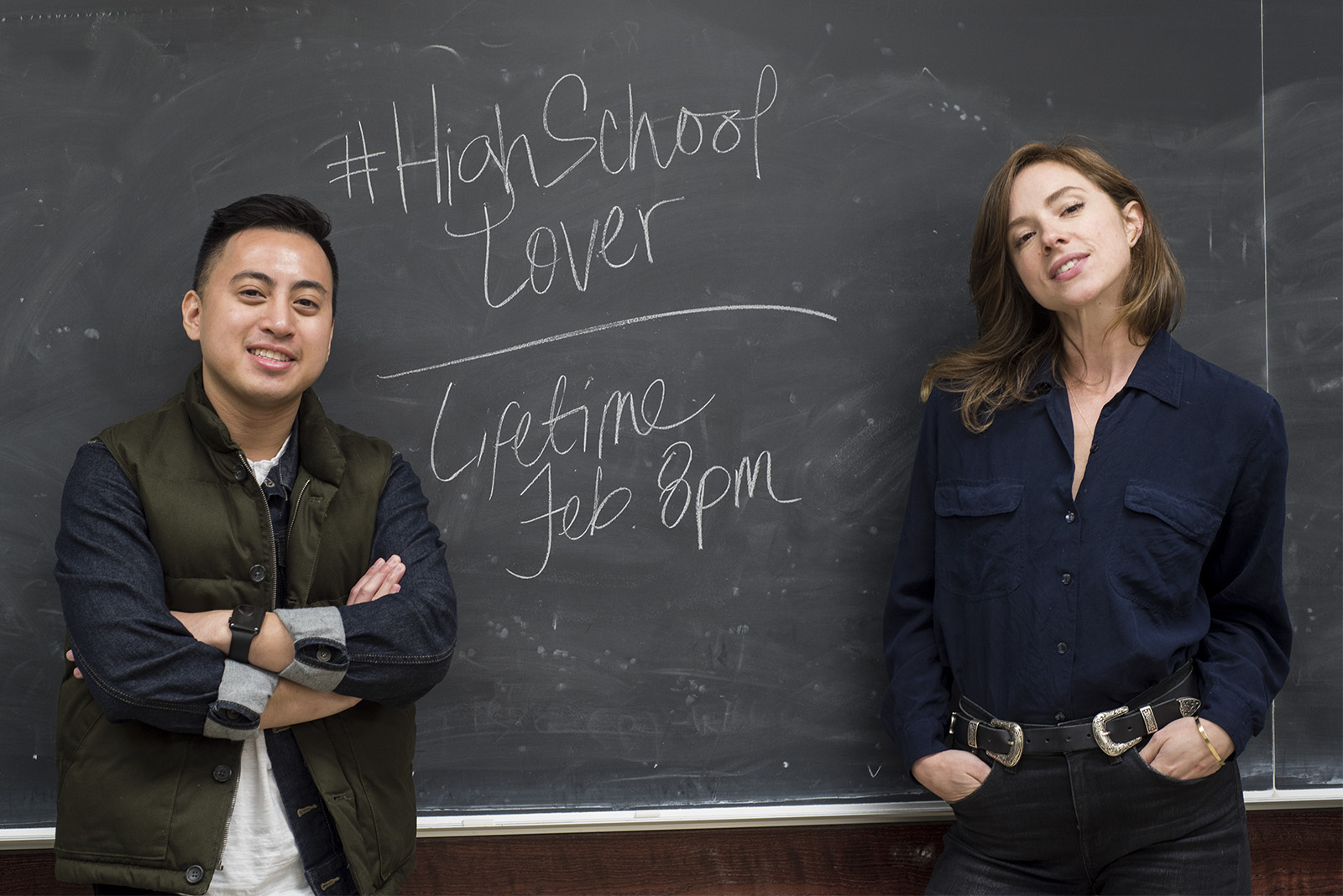 UCLA lecturer James Franco is the excutive producer for the Lifetime film "High School Lover." He brought on a UCLA student and alumna, Jerell Rosales and Jessica Dube (left to right), to help direct and write the script. (Esmeralda Lopez/Daily Bruin)
Jerell Rosales didn't think twice when his friend and former teacher James Franco emailed to ask if he wanted to direct Franco's new movie.
UCLA alumnus and lecturer Franco brought on both Rosales, a directing graduate student, and Jessica Dube, a UCLA screenwriting alumna, to work on the Lifetime film "High School Lover."
Debuting Saturday, "High School Lover" is a romantic thriller about a teen girl swept off her feet by an older celebrity, who soon becomes obsessive.
Franco was an executive producer of the film and co-stars as the protagonist's father. Dube worked on the script and Rosales made his directorial debut in feature films.
Scripting
While developing the script, Dube wanted to make "High School Lover" sexy, fun, fast-paced and campy, drawing inspiration from '90s thrillers like "Basic Instinct," "Fear" and "Natural Born Killers," she said.
"It was very serious and intense when I got the script, and I wanted to basically write a love letter to '90s thrillers – but a really campy one," Dube said. "I think it will make people who experienced the '90s really nostalgic, and I think it will make people who did not pretty psyched."
Dube cut down the original script from 125 to 106 pages and rewrote it all within four days because the shooting schedule got pushed up, she said. In that limited time, she made a more solid scaffolding for the story, with clearer structural plot points that made the script flow better, she said.
"It was definitely a record for me," Dube said. "Never before – and frankly, never again."
Regardless, Dube gained confidence through working on "High School Lover" and came into her own as a writer, she said. She added the hardest part of the process was not the tight deadline, but having to scale down some of the more graphic aspects of her writing for television.
"I write pretty explicit stuff. I deal with subject matter that's pretty raw – I just naturally kind of gravitate towards that," Dube said.
Dube used the f-word 14 times throughout her original draft and ended up having to redact all of them, Dube said. She also wrote a couple of scenes involving oral sex, but had to rewrite them so fellatio was only implied, she said.
Additionally, Dube had to cut some of the scenes she envisioned for logistical budget reasons.
As a screenwriter for prior personal projects, Dube could write anything she wanted, but as a paid screenwriter on a budgeted film, she had to learn to write for what the producers deemed practical, she said. In doing so, Dube found alternate methods to more pragmatically convey what she had originally intended, she said.
Dube had to cut out some more extreme parts of her scenes, like crazy fights, fires and smashed windows, in order to meet budget restrictions, she said.
Nonetheless, Dube was gratified to write for her first publicly-airing feature film, she said. Rising to the occasion of a high-pressure deadline, while earning a salary and her first official credit, gave her a sense of pride, she said. She added the adrenaline of writing a thriller is especially fun for her.
"I like writing something that makes my heart race while I write," Dube said.
Shooting
The crew of "High School Lover" shot the film in New York for 15 days in August and September, so the turnaround from script to screen was fast, Rosales said.
Still, the environment on set was playful and collaborative – in part due to Franco, Rosales said. Though Rosales was directing his former lecturer, he felt he learned a lot from Franco, like how to make the story and dialogue flow better, he said.
"I hesitate to say it was a mentor-mentee thing, because it's not exactly that," Rosales said. "(Franco is) good about making it feel equal, but he's also very good about sharing his knowledge."
The cast and crew worked together enthusiastically, and everyone felt comfortable giving their input, Rosales said. The open atmosphere was partially a result of Rosales' easygoing personality; the cast and crew joked that Rosales loved surprises, because he would plan the filming day but then be completely open to change, he said.
Cast and crew would surprise Rosales with little flourishes of their own, he said. For example, the production designer added a chocolate fondue fountain to one of the scenes even though that addition was never discussed, and Rosales felt it made the scene even better, he said.
Tyler Alvarez, the actor who plays the protagonist's best friend Larry in "High School Lover," said Rosales is open as a director and encourages collaboration on set.
"It wasn't his way or the highway, it was all of our ways," Alvarez said. "This was really a passion project, so everyone wanted to be there."
Working on "High School Lover" was the first time Alvarez felt uninhibited when contributing ideas on set – the actors had freedom to improvise, Alvarez said. Alvarez's performance was especially malleable because his character Larry provides comic relief in between moments of romance and fear, Rosales said.
"There was one line that comes to mind that I said – 'Ya nasty!' – that wasn't in the script at all, and that was really fun," Alvarez said.
Rosales liked to see what the actors wanted to bring to the table first, and then molded them in a way that incorporated both of their ideas, Alvarez said.
As a screenwriter, Dube also found Rosales accessible, she said. She added she enjoyed collaborating with him since their partnership on a William Faulkner-inspired short film for Franco's class last year.
"(Rosales) is very good at getting what he wants while making it feel like it was your idea," Dube said. "(Rosales) lets me do whatever I want and supports whatever I want, and then is really good about having a conversation about massaging it into a different direction."
Although the "High School Lover" shoot was quick, Dube went to New York to visit set for two days. The experience of seeing the script come to life was surreal for Dube, she said.
"It was awesome to see the choices the actors made that were different from how I saw it, because they had the freedom to do so – and they made it better," Dube said.
Dube collaborated with François Arnaud, who plays the older celebrity love interest, to change some of his lines on the spot in order to better fit them to the intensity of the character he had created, Dube said.
Also contributing to the heart-racing aspect of the film was the cinematography, some of Rosales' best work thus far, he said.
"Some of the shots that we do are a little ballsy for Lifetime; there are a lot of great long takes," Rosales said. "It's not your average Lifetime movie."