Daily Bruin wins awards for nation's best online, daily college newspaper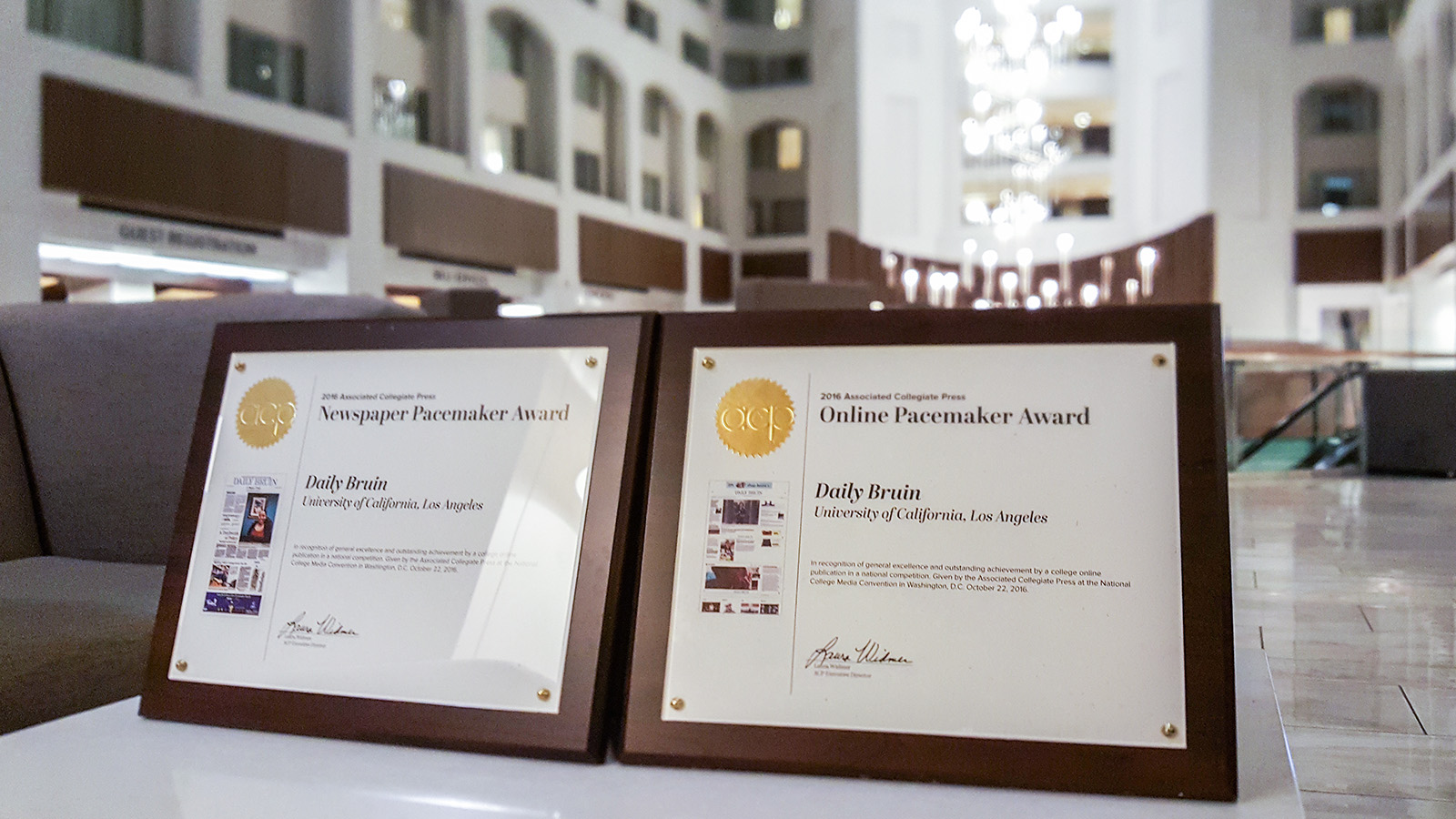 The Daily Bruin won its fifth Newspaper Pacemaker and its second Online Pacemaker awards at the Associated Collegiate Press Convention. (Sam Hoff/Daily Bruin senior staff)
Correction: The original version of this article incorrectly stated prime magazine received its first nomination this year. In fact, the magazine won the Pacemaker award in 2012 and 2013.
DISTRICT OF COLUMBIA — The Daily Bruin won two National Pacemaker Awards on Saturday for the nation's best college newspaper and best college online news outlet for the 2015-2016 year.
The National Pacemaker Awards, considered the most prestigious honors in college journalism, are awarded by the Associated Collegiate Press to the nation's top college media outlets. Pacemaker awards are given in four categories: newspaper, online, magazine and yearbook.
The Daily Bruin has now won five Newspaper Pacemaker Awards in its history, the most recent previously coming in 2014. This marks the second Online Pacemaker Award for The Bruin and its first since 2005.
At Saturday's awards ceremony, the Daily Bruin was also inducted to the Associated Collegiate Press Hall of Fame, the organization's highest honor, which recognizes college media outlets that have won or been a finalist for at least 15 Pacemaker awards since 1970.
Prime, the Daily Bruin's quarterly lifestyle, arts and culture magazine, was named a finalist for the Magazine Pacemaker Award at Saturday's ceremony. The magazine previously won in 2012 and 2013.
Several Daily Bruin staffers also won individual prizes Saturday. Former Graphics editors Alice Lin and Rosalind Chang won first place for infographic of the year with a breakdown comparing UCLA and USC, and former contributors Jonaki Mehta and Sonja Bartlett won first place for multimedia feature story of the year with a package reported from the village of Vadamanappakkam, India.
Photo contributor Kathy Chen took third place for photo slideshow of the year for covering UCLA students in the Reserve Officer Training Corps program. Illustrator Courtney Tran took fourth place for illustration of the year with an illustration included in a piece about mental health in UC medical schools. Illustrator Rachel Tat took fourth place for comic strip of the year with a comic about midterms and Valentine's Day.
Illustrator Michael Tran took sixth place for cartoon of the year with an editorial cartoon about Dance Marathon. Former editors Natalie Delgadillo, Angie Wang, Ryan Nelson and Neil Bedi took eighth place for multimedia news story of the year with a package about undocumented student access to higher education. Sports senior staffer Claire Fahy and developer Nikhil Gupta took eighth place for multimedia sports story of the year with a feature on junior men's basketball guard Bryce Alford.
The Pacemaker awards mark the second national recognition given to the Daily Bruin this year. In May, The Bruin was named among the top three college newspapers in the nation by the Society of Professional Journalists.
The paper was also named the top daily college newspaper in California by the California College Media Association in February, and in April the California Newspaper Publishers Association awarded The Bruin first place among California four-year university newspapers.