Kerckhoff Art Gallery showcases work of LGBTQ and disabled community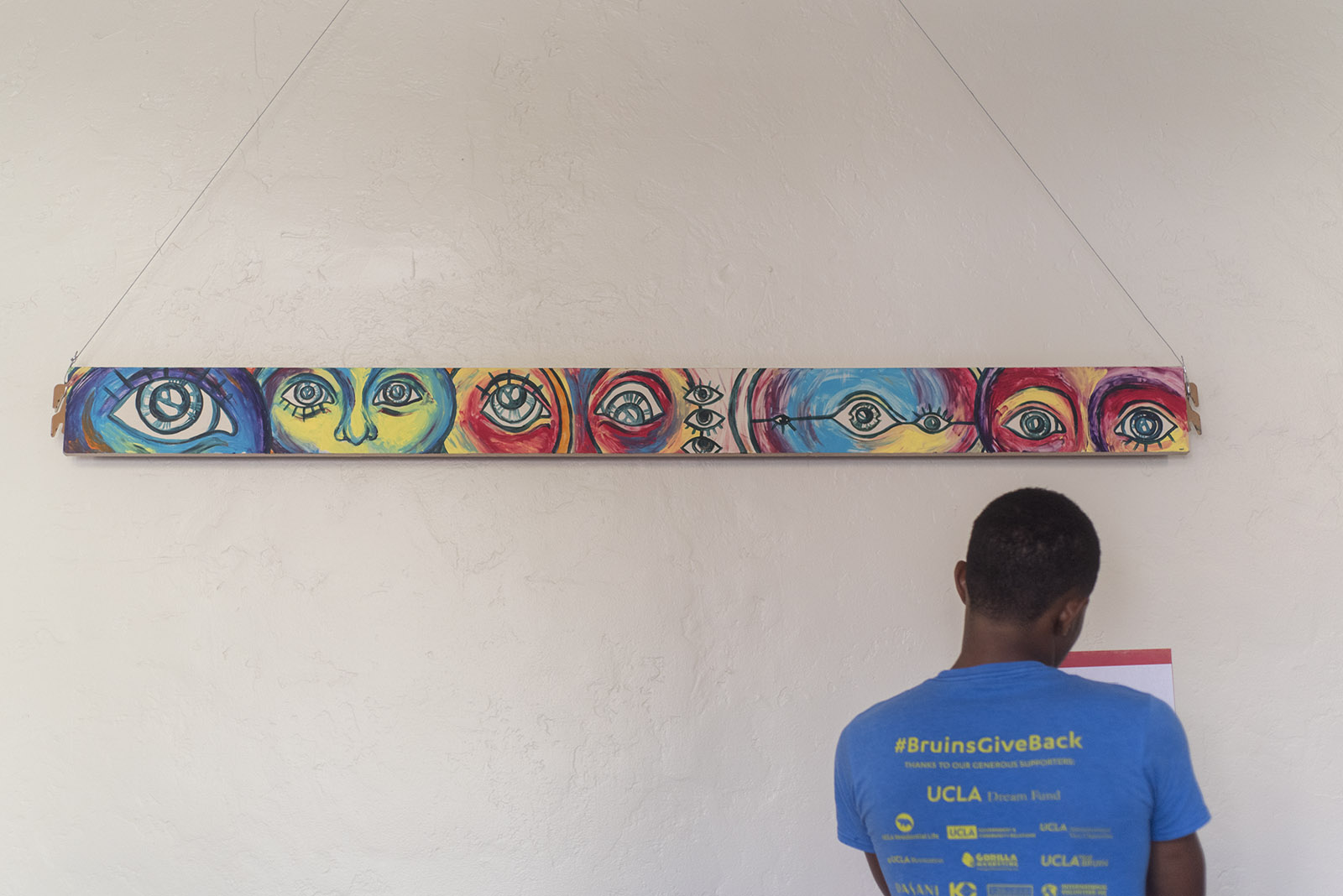 Third-year political science student and art series director for the Cultural Affairs Commission Weiwen Balter (not pictured) helped organize Kerckhoff Art Gallery's "This Body is a Rebellion," to celebrate National Coming Out Week and Disabilities Awareness week. (Miriam Bribiesca/Photo editor)
"This Body is a Rebellion" Kerckhoff Art Gallery Through Sunday FREE
Correction: The caption of the photo accompanying the original version of this article misspelled Weiwen Balter's name.
Weiwen Balter said the very act of existence can be a form of rebellion.
Balter was suspended for openly identifying as queer as a high school student in Ann Arbor, Michigan. The public school did not allow students to talk about being queer, forcing Balter to grapple with the fact that their own school did not accept them, they said. Balter did not know any other openly queer students in their graduating class of 400.
Now a third-year political science student and art series director for the Cultural Affairs Commission, Balter helped organize the exhibit "This Body is a Rebellion" at Kerckhoff Art Gallery. The weeklong exhibit took students' submissions from across and outside of campus to display art about similar experiences with marginalization, Balter said.
[Throwback: Expressions of identity at Kerkhoff Art Gallery]
The gallery features the work of seven student artists who identify as queer, disabled or both. It's part of a joint celebration with National Coming Out Week and Disabilities Awareness Week.
One submission consists of two planners the artist painted and placed side-by-side. One neatly color-coded planner depicts the artist's ideal schedule, while its cluttered partner represents the harsher reality of someone dealing with unpredictable bouts of depression, Liz Manzanero, the co-director of the Queer Alliance and one of the event organizers, said.
"This Body is a Rebellion" aims to demonstrate the intersectionality between two communities – LGBTQ students and those with disabilities – who face similar feelings of exclusion due to the way they look or choose to present themselves to the world, Balter said.
"Even though everyone has a body, they're the site for a lot of controversy," Balter said. "A lot of society's expectations are placed on people's bodies."
Disability can also exist invisibly in the mind of someone with anxiety rather than presenting itself physically, and all forms of disabilities are valid and recognized in the gallery, said Manzanero.
Manzanero said they think LGBTQ individuals get disproportionately affected by traumatic events in their lives that impact their mental health. "This Body is a Rebellion" seeks to allow members of both the LGBTQ communities and disabled communities to have their work displayed and voices heard, Manzanero said.
[Related: LGBT center to kick off National Coming Out Week with resource fair]
"However people choose to define themselves is very nuanced," Manzanero said. "That ties into how art can express so much without saying any words. It's able to capture how complicated it can be to be queer and disabled."
The Queer Alliance, UCLA Committee on Disability and Cultural Affairs Commission put out a call for submissions via a Facebook event to gather pieces to be displayed in the exhibit, Manzanero said. Students were invited to submit their own work in response to the prompt, "How do you express yourself against society's oppressive standards?"
[Related: Disability Awareness Week aims to spark discussion]
"This Body is a Rebellion" also drew works from individuals outside of UCLA who identify as queer and as having disabilities, Manzanero said.
Sav Thomas saw the Facebook call for submissions, and the second-year sociology student at Washtenaw Community College in Michigan submitted a painted self-portrait to the gallery.
As a black, queer individual open about living with anxiety and depression, Thomas did not feel there were inclusive spaces to display the portrait locally, but trusted friends at UCLA to showcase the piece in an appropriate forum, they said.
Thomas' painting, a watercolor image of themself decorated with pressed flowers that depict their afro-style haircut, demonstrates the artist's identity as inherently natural and connected with nature, they said. Thomas hopes the celebratory message of self-empowerment within the work will resonate with students who also identify as queer and disabled across the country, Thomas said.
"I want them to see themselves in a way that is authentic and doesn't misrepresent us," Thomas said.
Climbing the ladder in society often depends on identifying as able-bodied and being free of anxiety, said Devin Nicole Johnson, a fourth-year Design | Media Arts student who volunteered to help plan and curate the exhibit. However, the narrow categories do not leave room for those who identify outside the mold. "This Body is a Rebellion" allows those with both physical and invisible disabilities to be seen and their experiences validated, Johnson said.
"You have to fit a certain normative model of a person, which includes being able-bodied and having a neurotypical mind," Johnson said. "A lot of misconceptions of disabled people – whether it be visible or invisible – is that these people are inherently not fit to perform."
Ultimately, "This Body is a Rebellion" is about giving students of all backgrounds, personal experiences and identities the opportunity to be seen, Balter said.
"There are people coming out here and displaying deeply personal stories about themselves," Balter said. "I hope that really catches on like wildfire and spreads throughout campus."
McCormick was the 2017-2018 Digital Managing Editor for the Daily Bruin. She was previously an assistant editor of the A&E section, overseeing the Music | Arts beat.
McCormick was the 2017-2018 Digital Managing Editor for the Daily Bruin. She was previously an assistant editor of the A&E section, overseeing the Music | Arts beat.