Movie review: 'Sausage Party'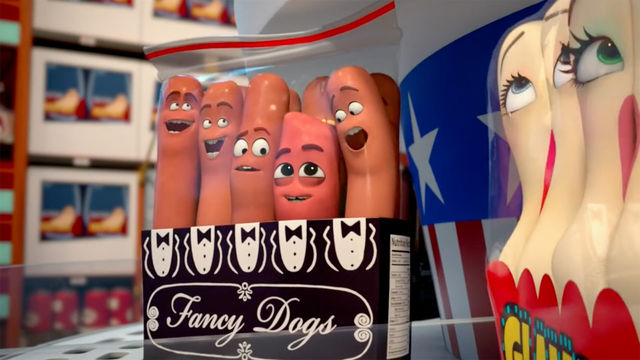 "Sausage Party" pushes boundaries with its graphic and insensitive script following the lives of anthropomorphic supermarket foods.
(Columbia Pictures)
It takes a certain kind of twisted psyche to create an animated movie deserving of an R-rating. But leave it to Seth Rogen and his team of writers to produce a computer-generated story so unapologetically offensive that rated R is hardly an adequate warning.
"Sausage Party" does not belong next to animated Disney flicks on store shelves. A parody of every Pixar film ever made, "Sausage Party" does not explore the adventurous secret lives of toys or cars, but rather food, which is portrayed as a smorgasbord of walking, edible stereotypes in a constant state of sexual frustration.
While the humor in "Sausage Party" is often cheap, relying primarily on racist or sexual food puns, including sausages bragging about filling buns with their meat, and excessive expletives, it does elicit the occasional guilty chuckle, or even a few snort-worthy cackles. However, when not paired with clever wordplay, much of the movie's graphic content proves to be unnecessarily distasteful.
For an hour and a half, the film alternates between two narratives. The first follows the lives of grocery store products who long to escape from their packages and into the great beyond outside the supermarket's sliding glass doors. But in order to get to the great beyond, they must first be plucked from the shelf by human "gods."
The second narrative follows the "chosen ones" who have crossed into the great beyond via shopping cart, soon to be exposed to the horrifying reality that the "gods" plan to eat them alive. After witnessing the brutal deaths of his friends, deformed sausage Carl (Jonah Hill) plots an escape plan to save himself and warn his friends back home.
Meanwhile, back at the grocery store, Frank (Seth Rogen) learns the truth Carl witnessed firsthand from the nonperishables, who have inhabited the store long enough to understand their fate at the mouths of the humans. The nonperishables have fabricated the entire concept of the "gods" and the great beyond so that the other foods would not live their lives in fear. After Frank uncovers the hoax, he sets out on a mission to inform the edible community of its impending demise.
The plot is reminiscent of other animated movies that ingeniously put their audiences in the shoes of inanimate, everyday objects — and adds a dose of horror that comes with watching a block of cheese get shredded alive by a grater. The raunchiness kicks in whenever the main characters, Frank and his bun girlfriend, Brenda (Kristen Wiig), give into their urges or travel to other aisles where they meet various new characters, one of which is a lesbian taco shell (Salma Hayek).
Hayek's taco shell is just one of several racially and culturally inappropriate characters introduced throughout the film. Some, like the Nazi German sauerkraut intent on exterminating "the juice," force laughs with undeniably clever wordplay. Regardless, the tacos, the sauerkraut and the Native American Firewater whiskey (Bill Hader) shamelessly reinforce damaging stereotypes and cannot be justified by any amount of shallow laughter they evoke.
In addition to the blatant racism, much of the film's graphic sexual content was as unwarranted as it was scarring. To call the metaphor of a sausage entering a bun a euphemism would be an extreme understatement after witnessing scenes that only narrowly evade the porn category.
But amid all the racism and food porn are a few innocent puns and cameos that earn guiltless guffaws. Several grocery store items are comically summoned by name accidentally, such as singer Meat Loaf's appearance as an actual meatloaf or a beet who replies he is actually feeling alright after another character shouts, "This beat is sick!"
"Sausage Party" never should have been approved for theaters in light of its grossly offensive content that puts other similarly graphic Rogen creations, such as "This is the End," to shame. But for those who enjoy crude humor and vulgar language like a middle schooler just starting to experiment with expletives, it's definitely worth a screening.
Carras is an A&E senior staff writer. She was previously the assistant editor for the Theater Film and Television beat of A&E.
Carras is an A&E senior staff writer. She was previously the assistant editor for the Theater Film and Television beat of A&E.