Opera drawn from autobiography explores experience of schizophrenia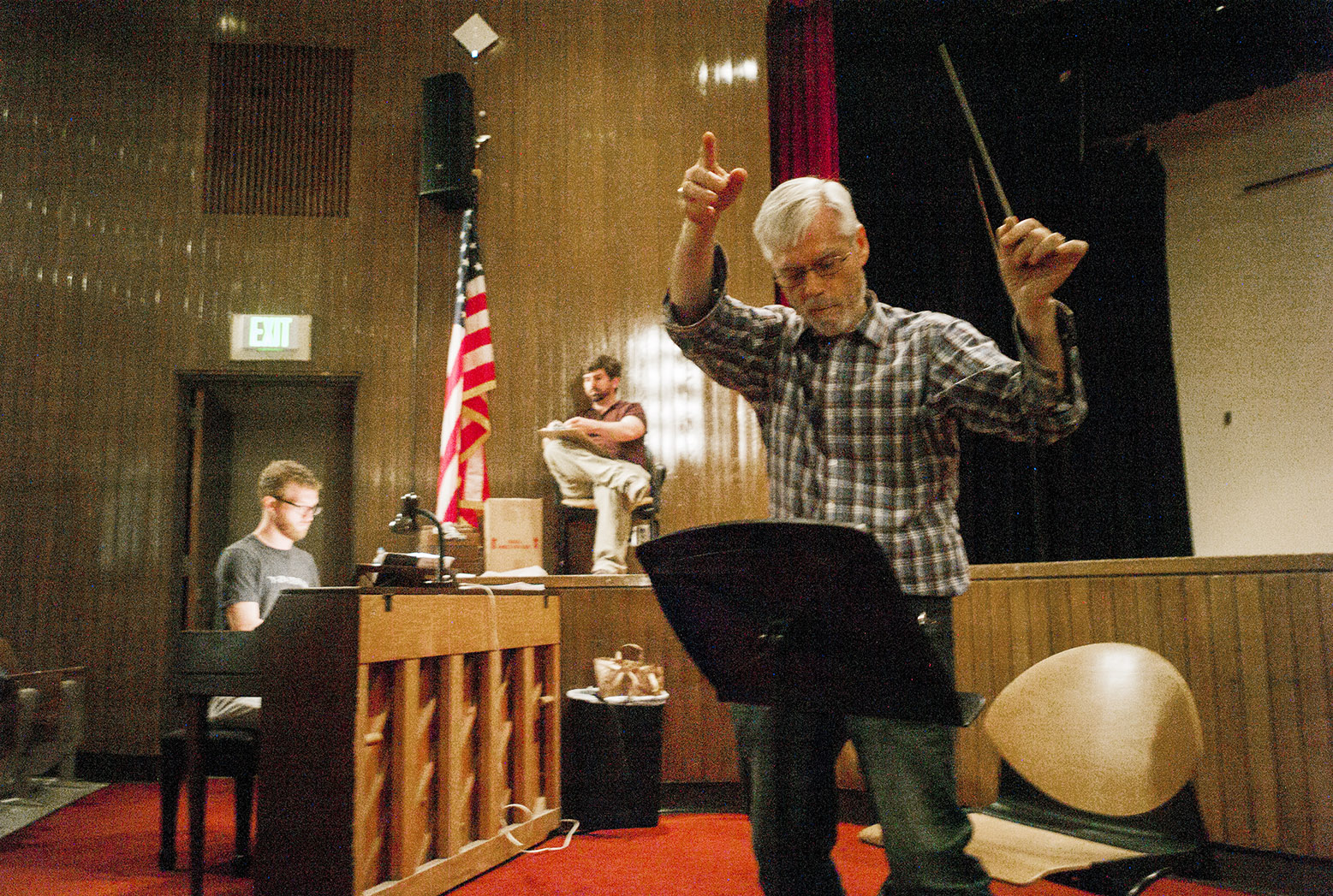 UCLA alumnus Stephen Karr will conduct the opera "The Center Cannot Hold" beginning Friday. It was composed by Professor Kenneth Wells based on the memoir of Elyn Saks, a professor at USC, who was previously diagnosed with paranoid schizophrenia. (Ken Shin/Daily Bruin)
"The Center Cannot Hold" Music by Kenneth Wells Louis Jolyon West Auditorium Monday through July 16, times vary FREE
Elyn Saks felt suffocated, trapped in a room filled with doctors. She lay restrained with leather bounds, her hands and feet tied, she said.
It was her first year at Yale Law School; she was diagnosed with paranoid schizophrenia, a psychosis defined by paranoid delusions, hallucinations, dysfunctional ways of thinking and agitated body movements, according to the National Institute of Mental Health.
Since then, Saks has spent hundreds of days in hospitals, but she has also finished law school and become a professor of law, psychiatry and behavioral sciences at USC. Her autobiography, "The Center Cannot Hold: My Journey Through Madness," which describes how she lives with paranoid schizophrenia, captured the attention of UCLA psychiatry and biobehavioral sciences professor Kenneth Wells.
On Friday, Wells will debut an opera of the same name that he composed based on Saks' life. "The Center Cannot Hold" is directed by Brendan Hartnett, who recently graduated with a Directing Master of Fine Arts from UCLA's School of Theater, Film and Television, and is conducted by UCLA alumnus Stephen Karr.
Wells and Saks first spoke of collaborating in 2010. He invited her and a panel of what he called "resilient women" to tell their personal stories regarding women's leadership issues before each performance of his opera, "The First Lady," which centered around Eleanor Roosevelt's resiliency in grief and loss. Saks suggested that they should have an academic collaboration after watching "The First Lady," but Wells had a different idea in mind. He brainstormed a sequel to "The First Lady."
"We did a research project about the use of restraints, but (the research) actually didn't get funded," Wells said. "So I said (to Saks), 'How about we write an opera about your life?'"
Although there have been books about famous people with health problems, few of these stories talk about schizophrenia, Wells said. He believes Saks' book is one of the leading literary works of its genre because it destigmatizes and gives readers a window into the mind of someone with a mental illness.
Saks considered originally publishing her book under a pseudonym because she feared it would affect her reputation, she said.
"A friend basically told me, 'You should do this under a pseudonym, because essentially you would be known as the schizophrenic with a job,'" Saks said. "But it would send the message that (a mental illness) is too awful to say out loud if I did it under a pseudonym, so I used my real name."
Wells said Saks' story is more personal because she used her real name, and he wishes to portray the strength she had to publicly display her recovery.
"She has the courage to share her story about an illness everyone is afraid of. She was able through a series of therapy and friends … to keep going on and reaching the next level, and making a big difference on mental health law, policy and advocacy," Wells said.
The opera takes place in Saks's first year at Yale Law School, Wells said, and begins with her studying at the Yale University Library for her first law memorandum. She has a psychotic break and is forcefully hospitalized and restrained, often for 24 to 30 hours at a time.
Rebecca Sjöwal, a UCLA alumna and the actress portraying Saks, said Saks told her she believed she was killing people with her mind when she had psychotic breaks. In order to overcome some of those demons in her mind, Saks screamed Beethoven's Fifth Symphony at the top of her lungs, Sjöwall said.
"(Saks) went to music during her darkest times, and I feel like it's appropriate that Ken (Wells) is now telling her story through music," Sjöwall said.
Jamie Chamberlin, a UCLA alumna and the actress portraying Saks during her law school years, also believes opera is a fitting medium for addressing mental illnesses, such as in "Lucia di Lammermoor" and Ophelia in "Hamlet."
Wells said the message of his opera is hope. He wishes to convey that with support and proper treatment, those with severe mental illnesses and can live and function productively.
Those around Saks initially thought she should quit school and work at a cashier, she said. But she believed her intellectually stimulating work environment in alignment with psychopharmacology and family support helped her to the place she is at today.
Saks said hearing her life sung out to beautiful music with beautiful voices was an indescribable experience. She believes Wells' background as a musician and a psychiatrist gives him insight into depicting her story both artistically and professionally, she said.
"(Wells) describes the experience, he gets inside my head, my own feelings, thoughts, anxieties and traumas," Saks said. "The opera is just one more piece in effort to destigmatize the illness to make it more public, more understandable."