UCLA alum co-creates latest Disney Channel series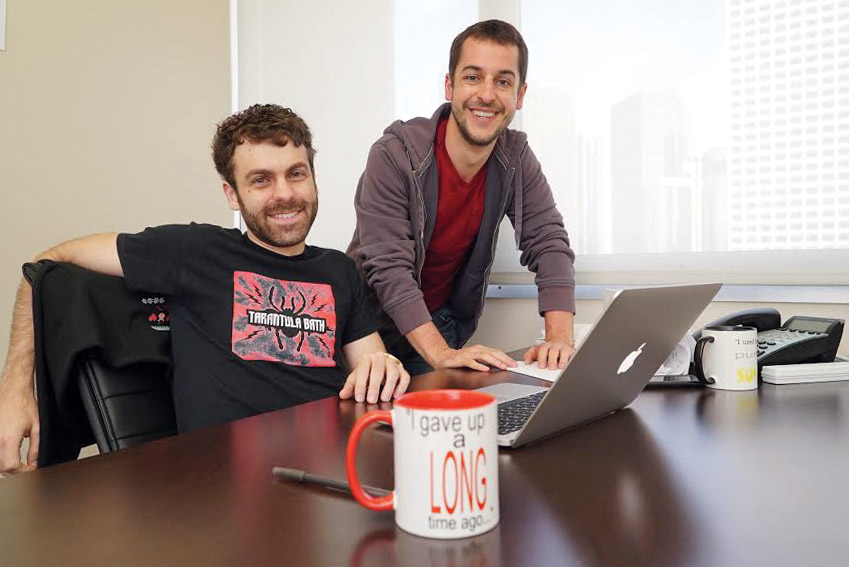 "Bizaardvark" executive producer Eric Friedman said UCLA alumnus Josh Lehrman and partner Kyle Stegina were the "success story" of the Disney Channel Storytellers Program's first year. Through the program, the pair co-created Disney Channel's newest show. (Eric McCandless via Disney Channel)
Josh Lehrman and Kyle Stegina spent hundreds of hours in the glow of their computer screens watching countless viral YouTube videos. The pair had postponed their typical Friday night plans in order to research cyber-world trends and lingo for their upcoming project – Disney Channel's new TV series.
After about two years of video surfing, writing comedic songs and scripts, casting and filming, the co-creators' "Bizaardvark" premiered on Disney Channel on Friday.
UCLA alumnus Lehrman partnered with Stegina to write the show as part of the Disney Channel Storytellers Program, a 20-week workshop that provides up-and-coming writers an opportunity to develop a TV show concept with The Walt Disney Company, Lehrman said.
After graduating from the UCLA School of Theater, Film and Television in 2008, Lehrman began working at The Gersh Agency where he met Stegina. Though they were not accepted in the Storytellers program until 2014 after their managers submitted their applications, the pair had worked on projects together after interning at The Gersh Agency.
"It's so much easier to (write) with a partner," Stegina said. "It's like when you were in school, and (the teacher) would be like, 'Well, you can take the test alone, or you could do the project with a partner.'"
Despite having written together since 2010, the pair experienced writer's block at the outset of the Storytellers program, Lehrman said. While other writing teams in the program generated ideas on the first day, he and Stegina struggled to come up with light, kid-friendly show topics.
"We were like the problem children," Stegina said.
However, they eventually spotted a hole in kids TV programs. Though Disney had produced several musical shows and movies, Stegina and Lehrman said they noticed shows and films didn't center around songs in the comedy genre.
With the comedic musical theme in mind, the pair began to develop a show then-titled "Paige and Frankie," a family comedy about two girls with a dream to perform and share their humor and original songs.
"We knew Disney was looking for a music show, and this felt like a fresh take for Disney," Lehrman said. "They latched onto that, and so we developed it with that in mind."
Lehrman said writing came more naturally after they had developed a concept because the partners' working parallels with that of the main characters.
"We have a pretty good sense of how to write these characters because we know how two comedians who are in a partnership act," Lehrman said.
By the end of the 20-week program, Disney Channel approved Lehrman and Stegina's script. In January, about 10 weeks after the Storytellers Program wrapped, the first pilot episode of "Paige and Frankie" was shot.
Disney Channel reached out to Eric Friedman, who previously worked as the executive producer on another of the channel's programs, "Austin & Ally." Friedman said he knew he wanted to produce "Paige and Frankie" minutes into viewing the original pilot.
"('Paige and Frankie') just had such incredible chemistry right off the bat," Friedman said. "They didn't feel like any girls I'd seen on any Disney show before."
With Friedman at the helm, Lehrman, Stegina and a team of about 10 writers redeveloped "Paige and Frankie" into a workplace comedy about two best friends determined to become online musical comedy sensations.
Though the main characters kept their original names, the "Paige and Frankie" team retitled the show "Bizaardvark." It's named after Paige and Frankie's Vuuugle channel, which is similar to YouTube, Friedman and Lehrman said. The current version of the show follows Paige and Frankie's lives as they climb the Vuuugle ladder and solidify their status as online stars.
Because modern audiences are increasingly literate in social media, Stegina said their main priority was maintaining authenticity. In the process of creating the show, Lehrman and Stegina toured the YouTube Space in Los Angeles and modeled the Vuuugle headquarters and procedures after YouTube's.
Many episodes of the show center around current YouTube trends, Stegina said. The second episode in the series, "Draw My Life," mirrors a trend in which YouTube personalities narrate their daily lives while drawing scenes on a whiteboard.
The creators also embedded online culture into the characters. Liam, the manager of Vuuugle, is based on a mobile robot at YouTube studios that communicates through a screen. Dirk, a video blogger and regular character on the show, is played by real life Vine star Jake Paul.
The pair said much of the script's authenticity came from members of the "Bizaardvark" writing team that have worked at the YouTube studios.
"They've been our gateway into this world," Stegina said.
Lehrman and Stegina said they hope "Bizaardvark" will be an unusual addition to the channel and encourage audiences to take pride in their individuality.
"In the initial pilot and in our pilot now, there's a real emphasis on embracing your weirdness. … I feel like that's something I haven't seen on the Disney Channel before," Lehrman said.
Carras is an A&E senior staff writer. She was previously the assistant editor for the Theater Film and Television beat of A&E.
Carras is an A&E senior staff writer. She was previously the assistant editor for the Theater Film and Television beat of A&E.