Volunteers travel to Mexico to establish long-term ties with residents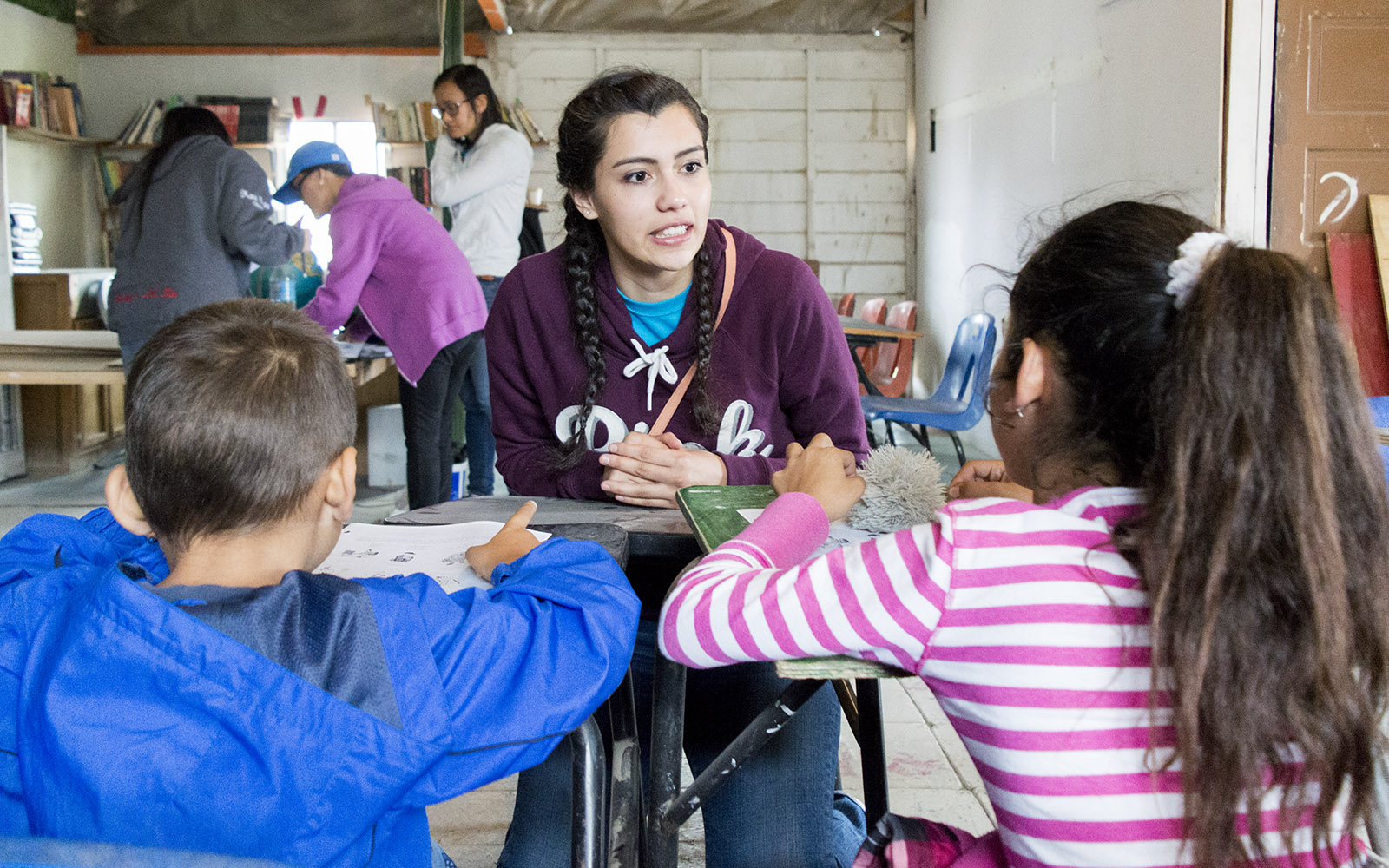 Liliana Madrigal, a second-year psychobiology student, volunteers at a clinic in Maclovio Rojas, Mexico. (Shelby Scoggins/Daily Bruin)
Students with tired faces piled into a large, white van at 4:30 a.m. Some students held jackets and others clutched onto pillows — but all were distinguishable by their bright blue shirts decorated with a clown fish logo.
Every other Saturday throughout the academic year, the students make a three-hour trip from Los Angeles to Mexico as part of the Fellowship for International Service and Health, or FISH. The 75-member volunteer organization holds free health clinics for residents in Maclovio Rojas, a town about 10 miles outside of Tijuana, Mexico, with unpaved roads and homes made from scrap materials.
FISH, which was founded in 2005, provides residents of the small town with services such as blood pressure tests and health consultations with native Spanish speakers, said Brandon Pham, the chief executive officer of FISH and a third-year microbiology, immunology and molecular genetics student. But this year, the organization began working toward providing long-term resources.
Pham said the organization wanted to create a more sustainable solution to the residents' lack of health benefits. FISH will continue to provide blood pressure tests, but will also connect patients with local doctors, provide them with health education services and give them English lessons, he added.
"We wanted to make sure everything we were doing in Maclovio Rojas was ethically right," Pham said. "We see ourselves as community partners to Maclovio Rojas instead of (just going there to) help out once and leave. We don't want to work in a vacuum."
FISH also aims to establish referral systems between clients and local medical facilities with the help of a doctor from UC San Diego.
Patricia Gonzàlez-Zuniga, who grew up in Tijuana, is a postdoctoral fellow in public health at UC San Diego. She also researches the effects of drug use in underprivileged communities at a local clinic in Tijuana.
Gonzàlez-Zuniga said she agreed to help the students when they approached her at a UC San Diego health conference, because she wanted to provide direct assistance to the community and inspire young volunteers to continue working in social justice.
"I have a theory that, like mercury, good people will always group together to do good things," Gonzàlez-Zuniga said.
Gonzàlez-Zuniga connected the organization with local medical students at the Universidad Autónoma de Baja California, or UABC, in Mexico, where she also teaches. The UABC medical students can help run the clinic and perform examinations that FISH undergraduates cannot provide, such as blood glucose screenings, she said.
During clinic hours, FISH also holds English lessons for the children in Maclovio Rojas.
Audrey Nguyen, the marketing director for FISH and a second-year psychobiology student, said she chose to join FISH because the organization allows students to build relationships with the people they serve.
Nguyen said her most memorable experience as a FISH volunteer was teaching children how to count in English.
"They were really knowledgeable and learned quickly," Nguyen said. "I think those personal interactions you get with the kids and the members of the community are unique."
This year, the organization also opened a computer lab in the town's community center to help residents learn English, future job skills and how to send emails, Pham said.
Francia Lopez, a third-year microbiology, immunology and molecular genetics student who has been on six volunteer trips, said her most memorable experience as a volunteer was working with a young mother.
Lopez said she warned the mother of the dangers of high blood pressure, but the woman was more focused on her children than on her own health.
The woman's youngest son was recently sent to the U.S. to receive medical attention that was unavailable in Maclovio Rojas, Lopez said. She had no way of knowing if her sons were healthy, or even alive.
"(The woman) said, 'You don't know how hard it is to not know how your kids are,'" Lopez said. "For me, it was clear she didn't open up a lot about this."
Lopez said she told the woman she would not be able to care for her sons if she herself was not healthy.
After listening to the mother's emotional struggle, Lopez said she realized she joined FISH because she wants help residents in similar situations.
Pham said his most memorable volunteer experience with FISH was receiving a thank you gift from one of the patients he treated.
"This (gift) was coming from a guy who didn't have much to give," Pham said. "We have it in our locker (as) a reminder that the services we provide are making a tangible impact in the lives of others."
Now, a stuffed animal in the shape of a clown fish sits in a locker in the community center of Maclovio Rojas – identical to the image that adorns their bright blue shirts.
Henthorn was the Enterprise Content editor from 2017-2018. She was previously a News reporter.
Henthorn was the Enterprise Content editor from 2017-2018. She was previously a News reporter.