U.S. official calls for focus on gender equality as means to end AIDS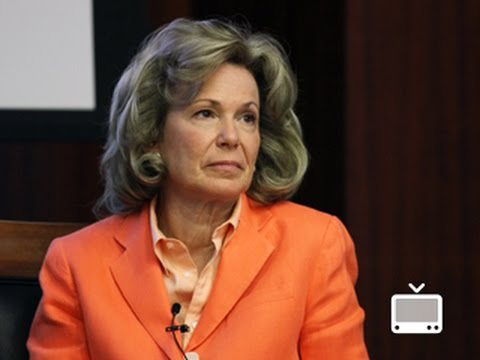 Dr. Deborah Birx, coordinator for U.S. Global AIDS, said at an event at UCLA on Wednesday that creating partnerships and improving education can help end the AIDS epidemic. (Creative Commons photo by Center for Strategic and International Studies via Youtube)
The U.S. Global AIDS Coordinator called for an end to the AIDS epidemic by 2030 in a speech at UCLA Wednesday afternoon.
Around 70 professors, students and international delegates attended a speech by Dr. Deborah Birx, a retired army colonel who began her term as U.S. Global AIDS Coordinator and U.S. Special Representative for Global Health Diplomacy in 2014.
Birx said she thinks creating partnerships with local communities around the world and combating socioeconomic issues such as gender discrimination and lack of education for young women, can end the AIDS epidemic.
About 78 million people have contracted HIV and about 39 million have died from AIDS-related causes worldwide since around 1980, according to data from the American Foundation for AIDS Research. During the speech, Birx said the pandemic had at one point reduced life expectancy of people in sub-Saharan African countries by 20 years.
In response to the pandemic, the U.S. government funded the President's Emergency Plan for AIDS Relief, or PEPFAR, in 2008. The $48 billion marked the largest monetary commitment by a single nation to fighting a disease in history.
Birx said young women contract about 71 percent of new AIDS infections in the sub-Saharan Africa. She added PEPFAR aims to address the problem by filling societal and educational gaps for women living in those areas and establishing local partnerships in the countries.
"We want a different future for young women," said Birx. "They are the key to ending the AIDS epidemic."
Birx said PEPFAR, which has bipartisan congressional support, has cut pediatric HIV infection rates by 50 percent in several African countries. Birx added President Barack Obama hopes the program will treat 12.9 million people, up from the current 7.7 million, by 2017.
She added she thinks college students play a critical role in fighting the AIDS epidemic by influencing local and federal politics through social media and public discussion, and the LA community should pay more attention to the epidemic.
Birx said it is difficult for PEPFAR workers to collect up-to-date statistics on the spread and prevalence of HIV/AIDS in Los Angeles and many other areas of the U.S.
"Imagine if we had quarterly data from emergency rooms," she said. "We could find out so much about what is specifically ailing each community."
Birx said she is hopeful that younger generations can help combat HIV/AIDS and other major ailments.
"I believe in young people today because they think differently than we do," she said.
Compiled by Aaron Julian, Bruin contributor.