Professor studies impact of Khmer Rouge regime in Cambodia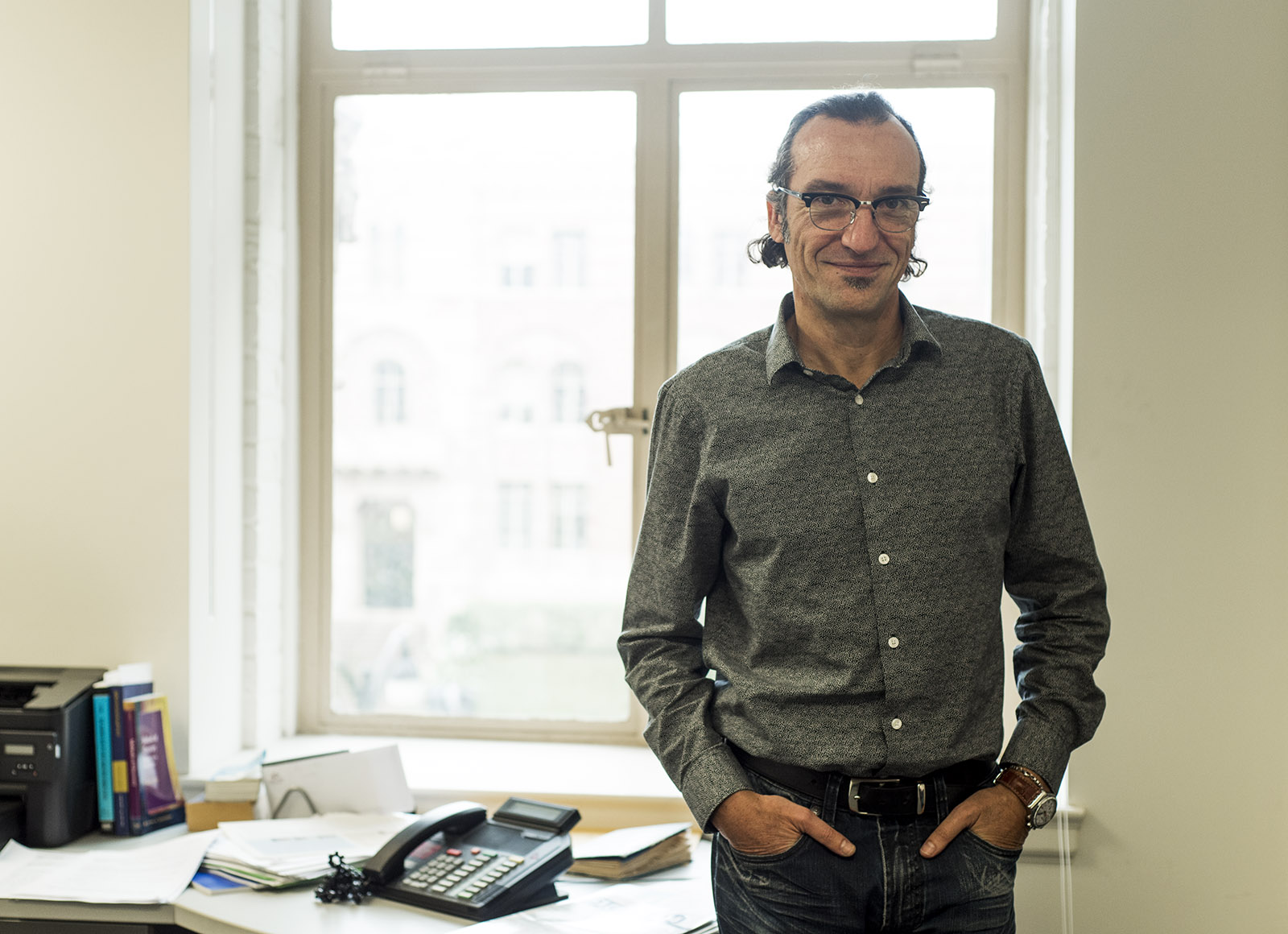 Sociology profesor Patrick Heuveline has spent about 15 years studying the effects of the Khmer Rouge regime's mass murder during the late 1970s in Cambodia. When he was 29, Heuveline adopted his daughter from an orphanage in Phnom Penh, where he worked at the time. (Miriam Bribiesca/Daily Bruin senior staff)
By
Daily Bruin Staff
Jan. 22, 2016 12:34 a.m.
The original version of this article incorrectly stated that Sothy Eng was a former UCLA graduate student. In fact, Eng worked as a postdoctoral fellow.
Patrick Heuveline sat among villagers in Cambodia, showing them photos of his daughter to establish common ground with a group of people whose culture he had yet to fully understand.
Heuveline, a UCLA sociology professor since 2007, has now spent about 15 years studying the effects of the Khmer Rouge regime's mass murder during the late 1970s in Cambodia. Heuveline also works with undergraduate and graduate students and encourages them to pursue their own research projects.
Heuveline lived in Cambodia for about two years when he first visited the country in 1992 for a United Nations peacekeeping mission. When he was 29, Heuveline adopted his daughter from an orphanage in Phnom Penh, where he was working at the time.
When he returned to the U.S., Heuveline finished his doctoral degree in sociology and demography at the University of Pennsylvania. During his last year as a graduate student, a fellow researcher invited him to work on a project in Zambia that focused on the displacement of the Zambian people in the 1960s.
He said he was surprised the scientists had collected more than 30 years of data for their project.
"I was fascinated," Heuveline said. "I thought there was something remarkable on this long-term perspective on change and how it focused on a population that had been impacted by relocation."
Heuveline said his colleague's research inspired him to conduct his own long-term study in Cambodia. In 2000, he began to collect data that showed the effects of mass murder on human behavior and health.
Heuveline's research focuses on the psychological effects of the Khmer Rouge mass murder in the 1970s. He studies the physical and mental wellness of the populations in the affected areas.
"We were interested in seeing how people reconstruct their family and their lives after a genocide," he said.
Heuveline conducts annual surveys on household demographics, such as number of occupants per household and surveys the population for its social relationships every five years.
"We are trying to see the impact of such a traumatic event," he said.
Heuveline said he now studies the health issues of malnourished children who were raised by stressed parents. He added he has partnered with the National Institute of Public Health in Cambodia, where he performs standard health examinations.
"Since the project started, we have registered the birth of about 40 percent of the people who now live in the villages," he said.
Judith A. Seltzer, director of the California Center for Population Research and Heuveline's colleague of several years, said she thinks Heuveline's research is essential in understanding the impact of the regime.
"He has produced the best, most rigorous estimates of the deaths caused by the Khmer Rouge genocide," Seltzer said. "The estimates are important because they tell us how big the losses were and how certain we can be about their magnitude."
Heuveline now works remotely on the project by delegating the process and development of the research, but still returns to Cambodia at least once every year.
Heuveline said he continues to pursue the research to better understand his daughter's home country and the disruption of a nation so distinct from the U.S.
"What keeps me going is the ability to talk to people from a totally different part of the world," he said. "Although we have many differences, what really matters to people is the same thing: Will their children have a better life than they do?"
Seltzer said she admired Heuveline's work long before he became a professor at UCLA.
"He thinks about the whole story and tries to understand things like who raised orphans and the kinds of lives the orphans live compared to children whose parents survived," Seltzer added.
Sothy Eng, a former UCLA postdoctoral fellow who worked with Heuveline in 2010, said their work together inspired him to pursue his own project in Cambodia. Eng added he thinks Heuveline work in estimating the number of deaths during the Khmer Rouge regime is important to understanding the demography of Cambodia.
"He is not doing only one-time data collection," Eng said. "His research has been going on for years, and he really cares about it."
Eng teaches in the comparative and international education department at Lehigh University, where he leads a Cambodian research project.
"Without his professional support, I would not be where I am today," Eng said.
Heuveline said he loves finding common ground with people from a completely different background.
"The more you know, the more you realize you don't know about things," he said.