Debates over academic freedom affect students, staff, locals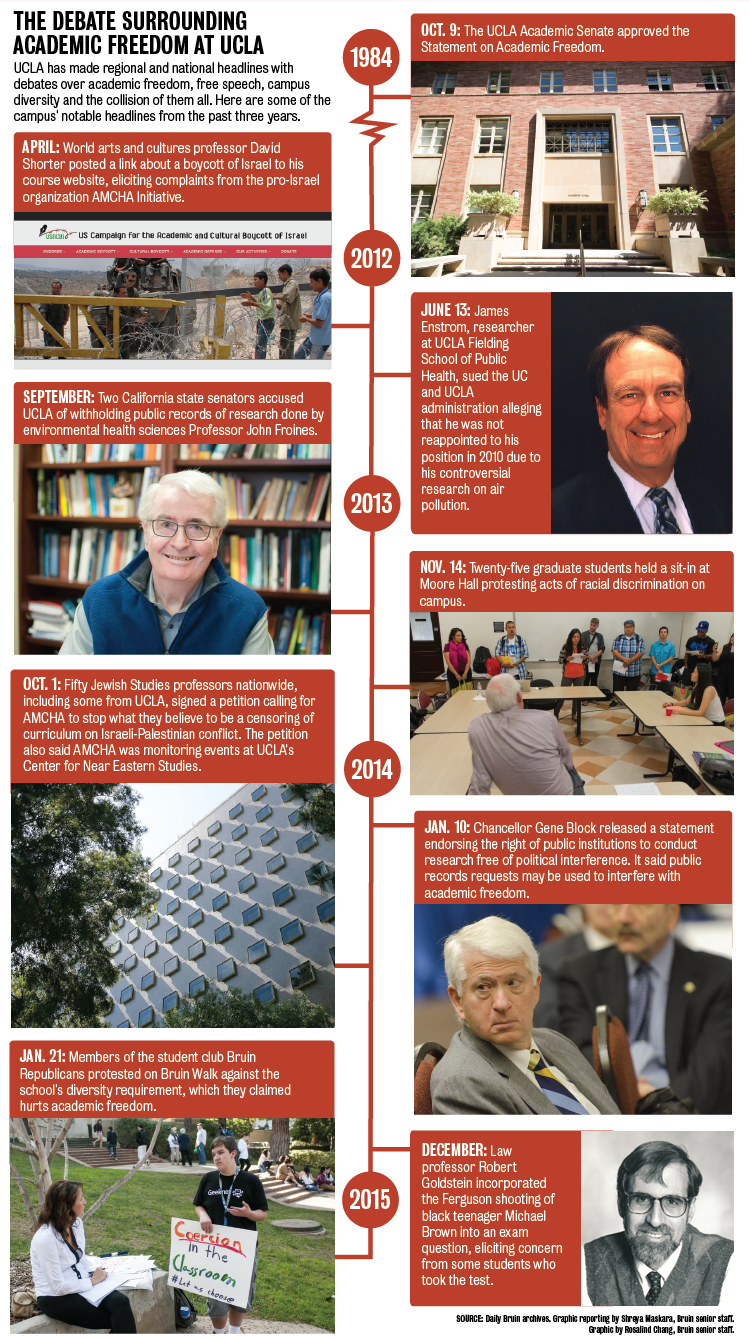 September 18, 2015 9:11 pm
The UCLA Academic Senate defines academic freedom as intellectual independence, free investigation and open communication within the university community.

Over the past four years, UCLA saw professors defending their research and students protesting against the diversity requirement, alleging that their academic freedom was at stake.
But recent history also saw opposition to free speech, with students complaining about controversial exam topics and school officials receiving training on ways to reduce language and actions the University of California believes can offend students. The dialogue on academic freedom has introduced a multitude of perspectives on what freedom means and how it should be applied.
Freedom to teach
In November 2013, 25 students filed into a classroom of Val Rust, professor emeritus of education, at the UCLA Graduate School of Education and Information Studies to protest against what they perceived as an unsafe climate for colored students. Rust declined to comment for the article.
Education Professor Tyrone Howard didn't witness the incident, but some students told him they protested because professors weren't equally recognizing student research about race and gender compared to research on other topics.
Howard said he thinks the incidents are microaggressions, which the UC defines as verbal or nonverbal actions targeting people negatively based on group membership, such as race or socioeconomic status.
The UC includes examples of microaggression such as complimenting people of color on their English-speaking skills or clutching one's purse when walking by a person of color. An article written by UCLA administration and faculty claimed that microaggressions create hostile learning environments.
Eugene Volokh, a professor at the UCLA School of Law, who writes for a Washington Post blog on law, voiced his opinion that the UC's broad definition of microaggression suppresses ideas in the classroom.
"When people are being rude, others – whether faculty, administrators or classmates – should speak out to disapprove of that," Volokh said in an email. "(But) I'm quite sure the UC (definition), with its attempt to brand a vast range of important and legitimate ideological positions as racist or sexist, is not sound."
Students also expressed concern with school proceedings when Robert Goldstein, a professor at the UCLA School of Law, wrote an exam question about the police shooting of black teenager Michael Brown in Ferguson, Mo. Several called the question emotionally insensitive toward black students; Goldstein later issued an email apology. Clyde Spillenger, outgoing chairman of UCLA's Committee on Academic Freedom, said faculty must recognize that certain topics could traumatize students but also keep learning in mind.
"Consideration also has to be given to the fact that what we do is challenge students and enable them to meet all sorts of challenging academic questions," he said.
Freedom to think
In 2012, environmental health sciences faculty researcher James Enstrom sued the UC Board of Regents, alleging he was removed from the UCLA Fielding School of Public Health after publishing controversial studies about California air toxins.
Enstrom's research concluded some California environmental regulations are unnecessary because the air is clean enough and fine air particles, especially from diesel oil, are not proven to kill. His layoff notice said the research did not meet funding requirements, nor did it align with the department mission.
"The school wants to push its agendas regardless of whether an honest assessment of the evidence supports the agendas," Enstrom said. "My position has been badly damaged. I don't have the regular, full-time position that I had in 2010."
He received $140,000 plus some access to university resources when UCLA settled the case this year. A UCLA spokesperson continued to deny Enstrom's allegations and said the school settled to avoid a costly trial.
UCLA scholars were also questioned in 2014 when the AMCHA Initiative, a nonprofit that investigates anti-Semitism at American colleges, alleged that UCLA's Center for Near Eastern Studies displayed anti-Israel bias in its event programming.
James Gelvin, the center's interim co-director, said AMCHA's allegations were complete and deliberate fabrications that have not affected the center's activities.
"When (Middle East) governments fail or do something wrong, our job is to critique them," Gelvin said. "We tend not to make governments happy. We also tend not to censor ourselves when it comes to that."
AMCHA co-director Leila Beckwith said the center's events expressed anti-Semitic discourse that was demonizing, meaning it implied Jews are inherently evil.
She said she supports criticism and scholarship on the topic of Israel, but only when speakers discuss both sides of an argument.
Government bodies also pressured academic opinion. After two state senators accused UCLA of withholding certain research records, Chancellor Gene Block issued a statement supporting the protection of faculty from public records requests.
Block referenced a statement from UCLA's Administration-Senate Academic Freedom Task Force, which said that outside groups can use requests to further political goals or intimidate faculty.
"The statement is a compelling affirmation of … the right of faculty to conduct research and scholarship on controversial topics free from political interference," Block said in his statement. "I wholeheartedly endorse it."
Freedom to learn
In January, members of the student group Bruin Republicans protested against the campus-wide diversity requirement, which they believed constituted an infringement upon students' academic freedom.
Under the requirement, incoming freshmen undergraduate students must each take a course addressing issues such as racial or religious diversity.
Jacob Kohlhepp, president of Bruin Republicans and a fourth-year economics and political science student, said he thinks the designated classes will promote ideologies instead of enabling students to analyze issues themselves.
"From my experience as a North Campus major, I found that these designated classes won't just tell you the facts – they tell you what to think about the facts," Kohlhepp said.
Two months later, undergraduate student government offices hosted a rally that brought 40 students to Bruin Walk to lobby for the requirement's passage.
Some students supported the requirement because they felt marginalized on campus, owing to the belief that others didn't understand their backgrounds.
"(The requirement) is necessary so I don't have to tell you that the Armenian genocide happened, I can actually talk about how that makes me feel," said Morris Sarafian, now a fourth-year political science student, when he rallied for the requirement in April.
Freedom in the future
In the past few years, external organizations such as AMCHA and the state government have questioned the university's academic curriculum.
Spillenger said he thinks academic freedom is violated when the university bends to the pressure of groups who want to limit or alter programs and events at UCLA.
He also said public records requests can sometimes be used by outside groups as instruments of intimidation or political gain. In the future, he said UCLA should stay alert for financial donors whose agendas might limit faculty's ability to research or publish findings.
UCLA also witnessed recent incidents where students opposed school decisions or opinions they disagreed with, including the controversial law exam question and the allegations of discrimination at the graduate school.
Academic freedom issues can change from generation to generation, Spillenger said. The modern complexity of communication and social media, for example, raise issues when students and faculty publicly express opinions that could offend others.
Earlier this month, President Barack Obama addressed the topic of college sensitivity at a town hall meeting in Iowa. College, he said, is a space where people can argue, test each other's theories and broaden life skills, not a place where speakers should be boycotted.
"I don't agree that … when you become students at colleges, (you) have to be coddled and protected from different points of views," he said in his speech.
Others have supported the creation of safe spaces and trigger warnings, which faculty issues to alert students that subject material could elicit emotional response. Sara Ahmed, a writer for The New Inquiry, said safe spaces in classrooms do not deflect attention from controversial issues; rather, they have the opposite effect.
"Safe spaces are another technique for dealing with the consequences of histories that are not over," Ahmed wrote in June. "We have safe spaces so we can talk about racism, not so we can avoid talking about racism!"
History goes to show that the conversation on academic freedom is far from over.