Transgender community seeks safer campus environment at protest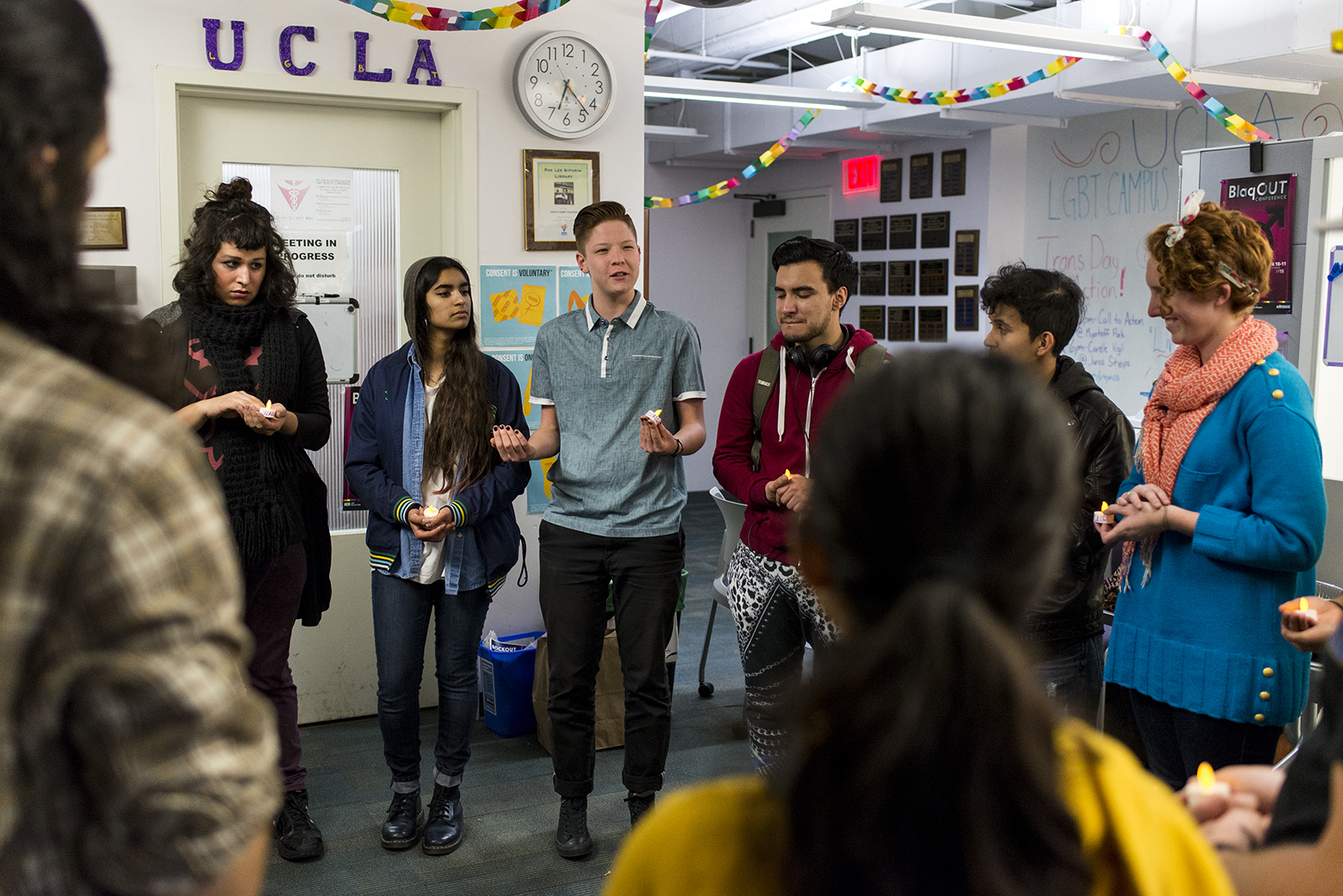 (Angie Wang/Daily Bruin senior staff)
Zo Anthony Shay yelled Tuesday afternoon. He marched to Chancellor Gene Block's office, demanding a safer campus for transgender students.
At night, as candles flickered at a vigil at the Lesbian Gay Bisexual and Transgender Campus Resource Center, Shay, a fourth-year ethnomusicology student and a transgender man, hugged his friends, thanking them for their solidarity.
Shay was one of about 20 students who participated in the Transgender Day of Action Tuesday. The day sought to promote a safer campus environment for transgender students, said Nami Hatfield, a graduate student in library and information studies and external president of TransUP, UCLA's transgender and genderqueer-centered group that focuses on finding social equality. Other student groups, such as MEChA de UCLA and Queer Alliance, collaborated in planning the events.
Students first held a protest Tuesday afternoon at Meyerhoff Park, speaking about their struggles with finding resources and feeling safe as transgender students on campus, while others expressed solidarity with the transgender community.
UCLA currently provides therapists and support groups specializing in gender identity concerns at the campus' Counseling and Psychological Services. The University of California Student Health Insurance Plan also covers hormone therapy for transgender students if needed. More recently, the University has made it so students can use their preferred names in academic record systems and has increased the number of gender-neutral bathrooms on some campuses.
Hatfield, a transgender woman, said at the protest she thinks the campus hasn't paid enough attention to struggles transgender students face, and she said she has been stalked by people as she walked near graduate apartments and been subjected to threatening comments.
"I'm sick of … obvious name-calling behind my back and being treated as ill," she said.
As he spoke on the podium at Meyerhoff Park, Shay said he often feels threatened as he walks through campus.
"Every time I took a piss, I need to look around so I don't have my face smashed into a wall," he said. "We're fighting for our lives."
Participants then marched to Block's office, demanding more funding for programming for the LGBT community on campus. Raja Bhattar, a director of the LGBT Resource Center, has said the center has been struggling to find funding because of rising operational costs and an increased demand for its services.
The protesters also demanded that Block meet with them personally in the near future.
As the day turned into night, they gathered one more time in the LGBT Resource Center for the vigil.
After a few moments of silence, Hatfield spoke, urging people to listen to the struggles and stories of the transgender community. Hatfield urged people present at the vigil to make each day a day of action.
"There are times I get angry," she said. "But that's because I know people can do better."