UCLA grad students stage sit-in following recent discrimination report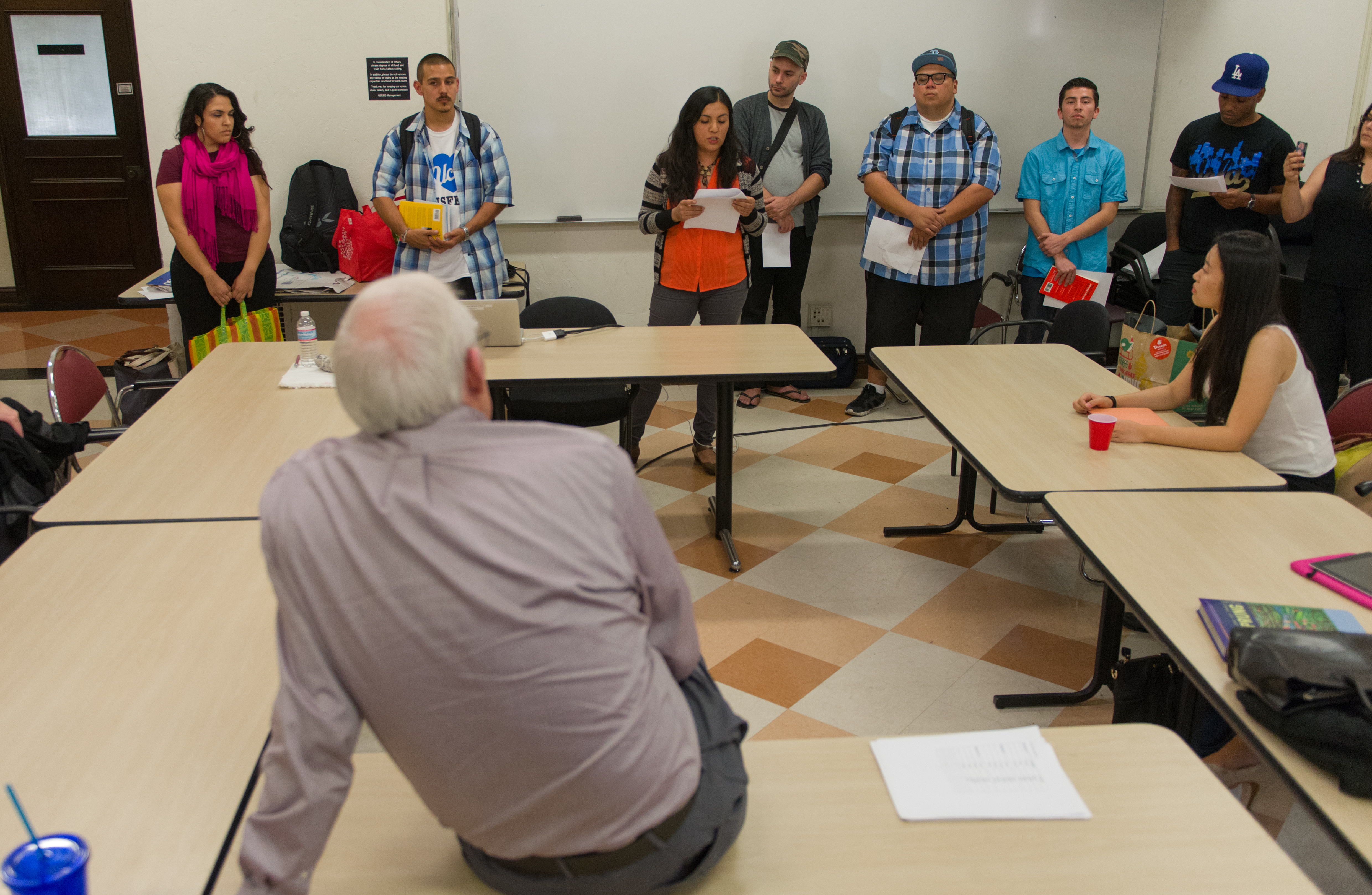 Students staged a sit-in Thursday in Moore Hall in response to a report released in October outlining how UCLA insufficiently treated incidents of racial discrimination.
This post was updated at 7:06 p.m.
About 25 graduate students staged a sit-in in a Moore Hall classroom Thursday afternoon, in response to a recent investigative report which stated that UCLA's policies and procedures do not sufficiently address racial discrimination incidents among faculty members.
The protest took place during a graduate class, where students participated in a mock oral examination, said Professor Val Rust, who led the class.
Nora Cisneros, a graduate student, read a letter written collectively by several students, which described the class – and the graduate school as a whole – as being an unsafe climate for students of color.
"There are documented and undocumented stories of a hostile and toxic environment for students of color here in Moore Hall and throughout the campus," she said, reading from the letter.
The 25 students in the class represented most of the students of color in the division, said Marianna Anaya, a graduate student and one of the organizers of the sit-in.
A majority of the students at the sit-in were graduate students at the UCLA Graduate School of Education and Information Studies, though some undergraduate students also attended. Many of the students were clad in UCLA T-shirts.
At the sit-in, students took turns sharing their personal experiences with racial discrimination as others listened. Some said they wanted the university to investigate these incidents and provide additional funding for improving campus climate.
Other students were emotional as they spoke about their experiences.
Alma Flores, a graduate student in the Graduate School of Education and Information Studies, became tearful as she talked about the racial discrimination she has faced at UCLA.
"As a woman of color, I should not have to get up every single day to have my identity questioned. … I am tired of it," she said, crying as she spoke. "I'm tired, and it hurts me so much."
The report the students at the sit-in were addressing was drafted by former California Supreme Court Justice Carlos Moreno after 30 faculty asked administrators for a review of the "campus racial climate." Chancellor Gene Block released the report and a statement in an email to administrative heads and faculty members last month. He announced plans to hire a full-time discrimination officer and work with the Academic Senate to ensure that UCLA's policies regarding discrimination are clear.
Nichole Garcia, another student in the Graduate School of Education and Information Studies, said Thursday's sit-in is one of a series of steps the students hope to take to address their concerns. "As grad students, we sometimes forget we can take action like when we were undergrads," she said.
The university said it did not want to comment further regarding the sit-in on Thursday.
Compiled by Yael Levin, Bruin senior staff. Contributing reports by Sam Hoff, Bruin reporter, and Samah Pirzada and Madeleine Wright, Bruin contributors.