Lecturer has brought outside connections, passion for subject to UCLA's LGBT studies program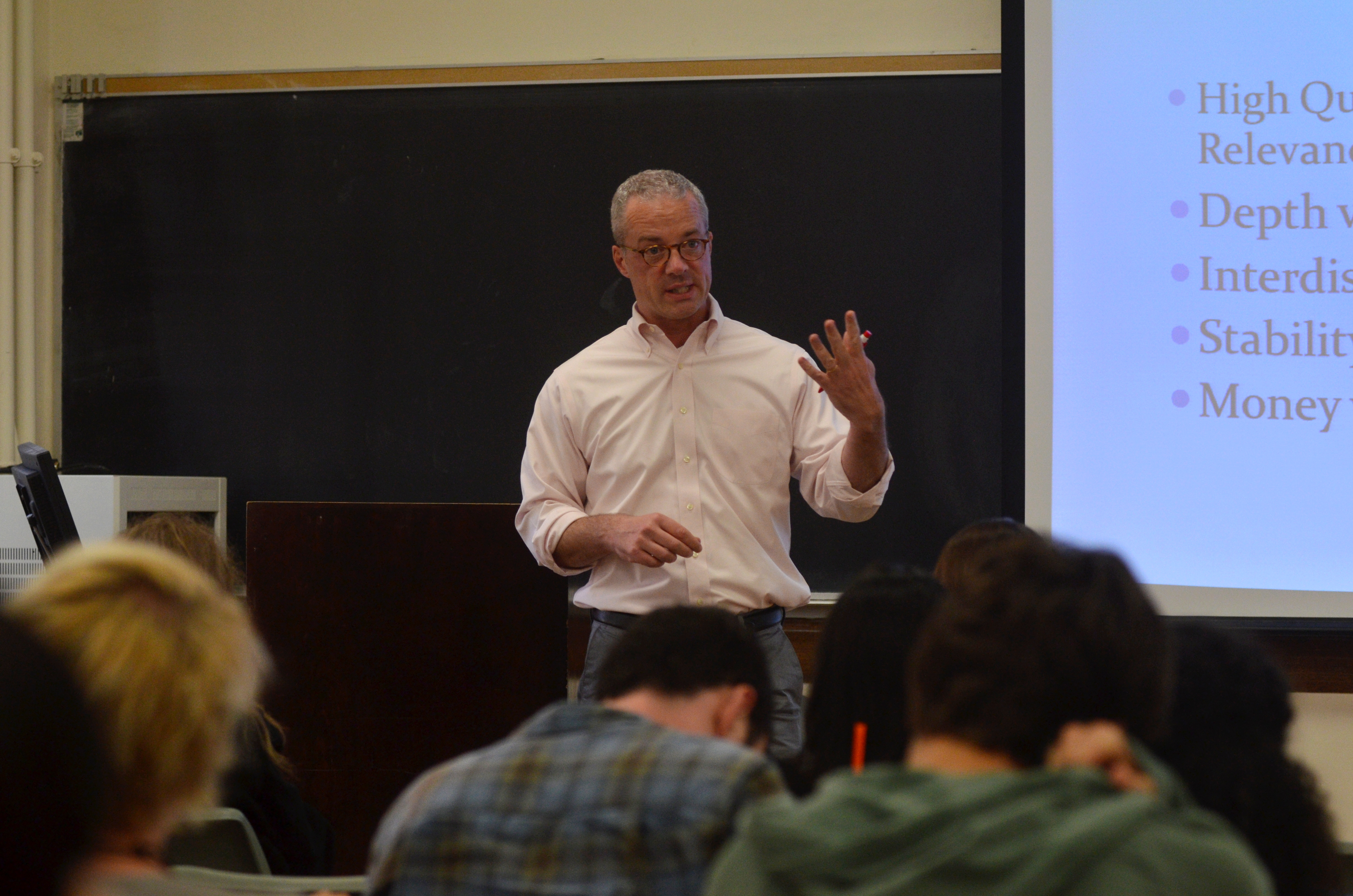 Michael Fleming is executive director for the David Bohnett Foundation and has taught in the UCLA LGBT studies program since 2003.
Michael Fleming had never taught a class when he was asked to lecture at UCLA.
The lesbian, gay, bisexual and transgender studies program at UCLA needed someone to teach a course, and Fleming had been suggested as a possible candidate because of his influence in the LGBT community in Los Angeles.
He had played a role in bringing the David Bohnett CyberCenter to UCLA as executive director of the David Bohnett Foundation, which provides technology and technical support to organizations and institutions that improve society through social activism. The foundation awards 60 percent of its grants to LGBT groups and organizations.
In 2003, Fleming stepped into a UCLA classroom to teach. He never left.
Almost 10 years later, Fleming is still teaching the LGBT Studies 187 class "Institutions and Organizations," which emphasizes service learning in community organizations.
The 187 course is a capstone requirement for those who are interested in an LGBT minor, said James Schultz, interim chair of the LGBT studies program and chair of the Germanic languages department.
A capstone class is a seminar students take to reflect on the work they have done for their major or minor, and is currently being initiated into all major and minors at UCLA, he said.
The class requires students to complete an internship at an LGBT organization outside the university for six to eight hours a week. In addition, Fleming invites guest speakers to the class each week to talk about LGBT organizations and activists.
Andrew Ojeda, a fourth-year history student who is currently in Fleming's class, said he was able to apply lessons from the class to his internship with the Latino outreach project at Lambda Legal, an LGBT nonprofit law firm.
"I get to meet leaders in the work that I want to do one day," Ojeda said. "This class teaches practical skills that you can't get in any other class."
Since starting at UCLA, Fleming has become an important part of the faculty, Schultz said.
"Fleming has contributed consistently and greatly to the LGBT studies program through his ideas and advice," Schultz said.
Fleming has also helped increase the program's funding for its annual conference by suggesting options outside of the university such as grants and sponsors, Schultz said.
"He has all these connections outside of the university, and he is able to bring that knowledge to our discussions," Schultz said.
Fleming, who is gay and has a husband of 22 years, said he thinks people of his generation should serve as mentors to younger members of the LGBT community.
The possibility of mentoring students is one of the reasons he initially decided to take the teaching position at UCLA, he said.
Fleming emails former students from the class each year to check in on whether they enjoyed his class and what they are currently doing, and he said a large amount of them reply back to fill him in on their lives.
He said he shares the same inquisitiveness and passion as his students, which keeps him coming back to teach every year.
"Every quarter, it's 20 sets of fresh eyes on a community I'm passionate about," Fleming said.