Senior gymnast Kaelie Baer bounces back from injuries to help lead off team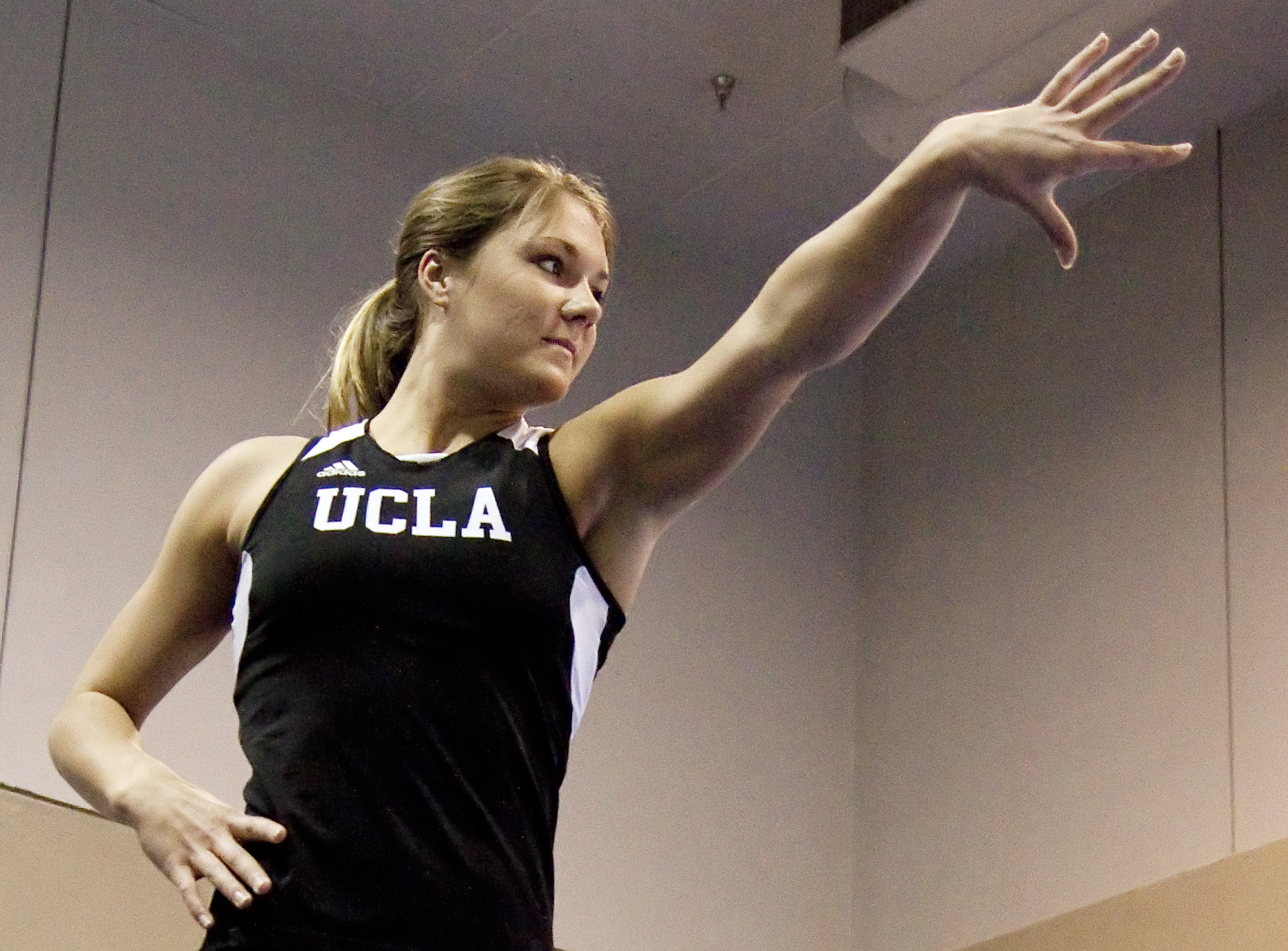 Senior Kaelie Baer is coming back from injuries from the last two years and has become a mainstay in the rotation.
Senior Kaelie Baer takes a deep breath.
She exhales and sprints into a run, her pace quickening with each step. Seconds later, she's spinning through the air, her body twisting a full 360 degrees before she lands dead center and salutes the judges.
Baer has done this 12 times in the past three months, performing in every single meet this season. Her presence in the vault lineup has become a staple for the Bruins at each and every meet.
Things haven't always been so great for Baer, though.
Her success at the collegiate level is largely a new feeling because of years of injuries holding her back.
After coming to UCLA in 2008, Baer headed into her second year fresh off a successful first season and a performance at the national championships.
Unfortunately, that momentum stopped before the season even started. Stress fractures in her shin and fibula kept her out her entire sophomore season.
"It was a hard season, especially because it wasn't something I could work to get back from," Baer said. "It was one of those things where you just have to sit there and wait for it to heal. It was completely out of my control."
She eagerly waited to compete during her junior year, only to be halted by a broken elbow early in the season.
After two years of working to fulfill her potential, Baer was again sidelined.
Instead of competing with her teammates, she was relegated to filling the role of supporter.
Baer says that her injuries have given her perspective more than anything.
It fostered in her a newfound appreciation for what it means to be a team player.
"If I went through my entire career and never stood on the sidelines, I wouldn't have that appreciation for my teammates and realize that it's not just the six girls that are out there competing for us," Baer said.
"It's also the people who are moving mats and cheering their heads off and encouraging those six people on that day."
An ability to appreciate her teammates is something coach Valorie Kondos Field says Baer struggled with as a freshman.
"She really is the pinnacle of a team leader now, and she wasn't always like that," Kondos Field said.
"(When she was injured), she really started looking at how she could help her teammates and how she could be a better team player with them, not just observing them."
Senior Aisha Gerber, who came to UCLA the same year as Baer, stresses that the role Baer played during her injuries was essential to the team's success.
"When she wasn't competing, she really embraced that role of supporter. She was part of the foundation," Gerber said.
"You can't be at the top if you don't have the foundation, and there's no way to talk about how important that is for the six people competing."
Baer said her injuries also taught her to accept that she could not control everything that happened to her, and she learned to heal day by day.
A strong Christian, she has relied on her faith to help her through the adversity and strengthened her relationship with God in the process.
"God has given me this gift and this ability to do it "" to glorify Him and to use it, and what I've learned through that whole experience is that it's not about me," Baer said.
"It's about serving God through this in addition to loving my teammates and being able to train with them every week."
This season, Baer is finally healthy and has gone from sustaining injuries for years to leading off the team on vault, where it has consistently ranked first in the nation.
"We knew that she had it in her, but we hadn't been able to see that here," Kondos Field said.
"She's a great competitor and I knew that if we just let her get the cobwebs out, that she would again be great, and she has been this year."
Gerber, who performs in the leadoff position on beam, understands the pressure of being first on an event better than anybody.
Despite this, she believes pressure will not be a problem as Baer starts UCLA off on vault at the upcoming national championships.
"She's done a fantastic job for us all year long, and it's a national championship, but it's no different from any other day of training, so I know that she's going to be fantastic at it," Gerber said.
Baer said she chooses to focus on the little things and not overwhelm herself with the idea of the national championship at stake.
Her injuries have taught her to look at things from a different perspective: Take everything, in injury and in competition, one step at a time, and success will follow.
Baer keeps that in mind every time she steps onto the vaulting runway.
She starts off slowly, but each step takes her closer toward the ultimate goal.
Then, before she's had time to think, she's flown over the vaulting horse and has landed safely, gazing back at all the steps she took to get there.