UCLA gymnastics to compete for a berth in the NCAA Championships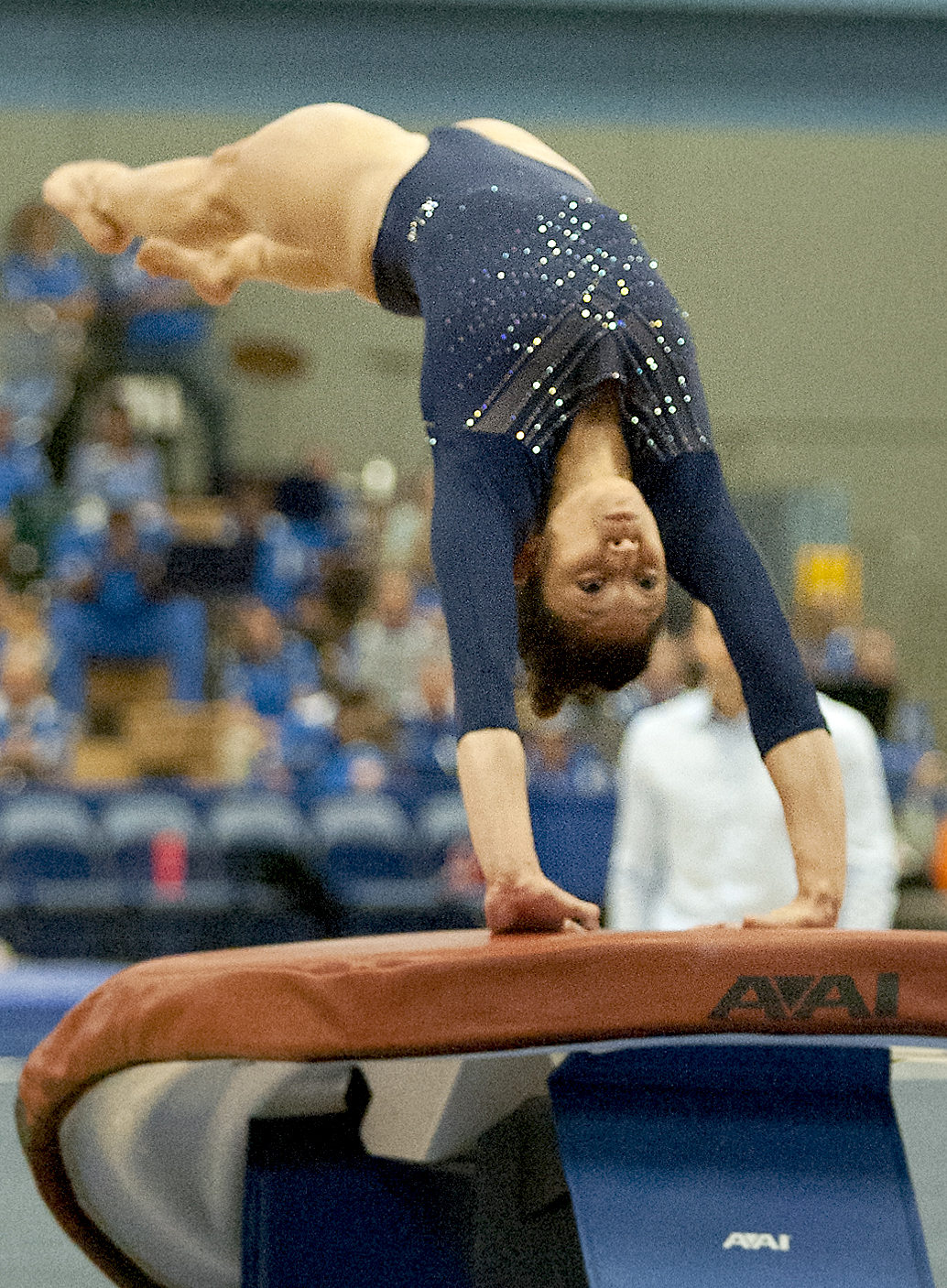 Redshirt junior Vanessa Zamarripa and the gymnastics team will participate in the NCAA Regionals on Saturday.
Gymnastics
NCAA Regionals
2 p.m.
Fayetteville, Ark.
Live video online
Info: No. 3 UCLA heads to Arkansas to compete for one of two spots in the NCAA Championships.
After clinching the first ever Pac-12 Championship title by a slim margin, the UCLA gymnastics team understands the importance of fine-tuning routines as it heads into the postseason.
No. 3 UCLA (17-2-1) heads to the NCAA Regionals in Fayetteville, Ark., to compete for one of two spots at the NCAA Championships.
The Bruins will compete against No. 10 Arkansas, No. 15 Boise State, No. 19 Missouri, No. 29 New Hampshire, and No. 34 Maryland.
At their last meet, the Bruins trailed behind their competition until the very last rotation, where they powered through the deficit and won the Pac-12 title by 0.05.
Coach Valorie Kondos Field did not think her team stood a chance of winning the title going into the last rotation, but noticed that a positive attitude still resonated throughout the team regardless of the score.
"They were just like, "˜I don't hear a fat lady singing. It's not over till it's over.' They didn't even think about winning," she said.
"They just went up and did the job they knew they could do. Winning was just icing on the cake."
The confidence from Pac-12 competition has spread throughout the team as they prepare for regionals this weekend. According to redshirt junior Vanessa Zamarripa, it has made all the difference in the Bruins' team mentality.
"We knew we'd gone out there and did the best we could. It's definitely a confidence boost going into Regionals, because I feel like the team is a lot stronger than we have been in the past months," Zamarripa said.
"We really connected and we trust each other, no matter what."
The team has used their momentum from Pac-12 meet to prepare for regionals. With their eyes on a 20th regional crown, the Bruins are focusing on the small details of their routines and sticking theirlandings.
"We're taking every day we have in the gym to get 1 percent better," said senior Elyse Hopfner-Hibbs.
"We're right on track. We still have improvements to make but we're climbing the mountain slowly and we're going to peak right when it's necessary."
Only the top two teams at each regional advance on to the NCAA championships, and one bad night of competition can mean missing a chance at the national title altogether.
But UCLA's surprising Pac-12 win has instilled a sense of assurance in the team, which has learned to rely on itself for motivation. Kondos Field believes her team is right where it needs to be.
"I don't feel any pressure. I think we're ready," she said.
"We've prepared well, and when you prepare well, you can be confident and it's not fake or false."