Miles of Memories: UCLA coordinator Shamar Jones runs marathons in honor of his father, who died from cancer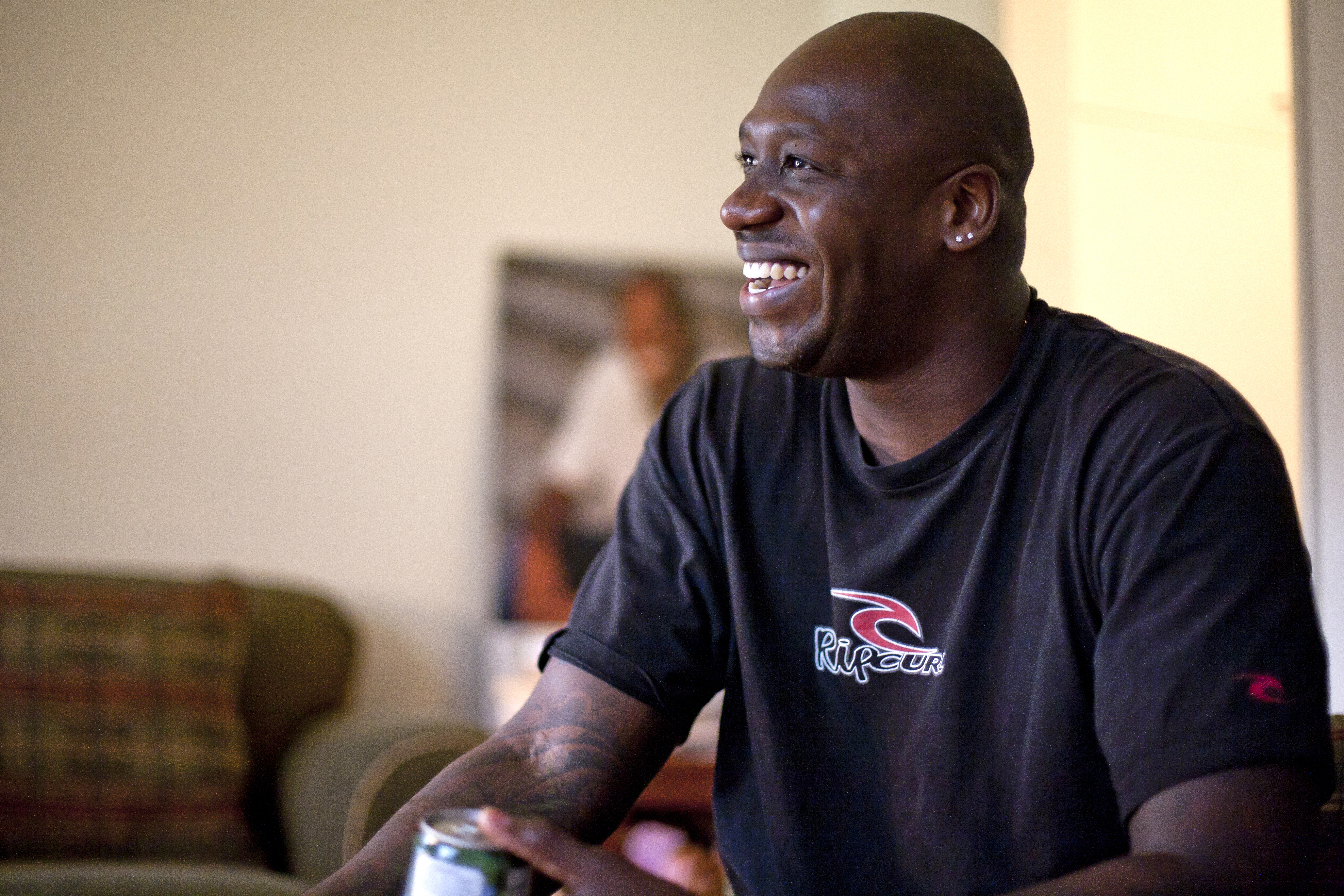 Shamar Jones, a career advising coordinator at the UCLA David Geffen School of Medicine, ran the L.A. Marathon on Sunday for the ninth consecutive year. He decided to start running in honor of his father, who died in 2004 after battling cancer for three years.
March 19, 2012 10:45 a.m.
He was completely dehydrated, and his entire lower body cramped. It felt as though someone had taken a match and lit his toes on fire.
His body was so worn out that he could no longer carry out a full run.
Barely shuffling his legs to keep going, Shamar Jones finished the ninth mile of the 2004 Los Angeles Marathon.
As he stumbled into mile 10, he saw a medical station where he could sit down, drink water, be attended by professional physicians "" even call it quits. He saw the long line of runners who had given up 16 miles away from the finish line.
Like him, the runners were worn out. They took their shoes off to relieve their blistered toes and guzzled down water without worrying about the repercussions for the rest of the race.
But the medical station tent was a siren call for Jones. He remembered why he was running: his father.
Lovell Jones had been battling colon cancer for three years. The cancer had spread to other parts of his body and, plagued by constant blood clots, he had lost the use of his legs.
Shamar Jones watched as his once strong and fun-loving father was limited to his bedroom by the disease. It broke his heart.
So he set out to inspire his father to keep fighting through the pain by running 26.2 miles.
After finishing, he would return to his father's bedside with the medal he won.
Jones had never run more than 3 miles at one time.
During the race, as almost every muscle in his lower body began to ache, Jones thought of his father and the pain he had to endure.
"With each step I took, it was as if I was taking my last, but I felt like my dad was walking next to me the whole way, and he refused to let me stop," Jones said.
Sixteen miles later, Jones crossed the finish line. Exhausted, he sat down on the sidewalk for about 40 minutes before going home. He felt accomplished.
But the next morning, Jones received a phone call with devastating news.
His father had died.
Lovell Jones would never get to see the medal his son had worked so hard to bring him.
***
Shamar Jones is a career advising coordinator at the UCLA David Geffen School of Medicine. He worked his way up from the residency program at the UCLA neurology department and another advising job at the chemistry department to his current position.
He ran his ninth consecutive Los Angeles Marathon on Sunday.
Coming in at 4 hours, 50 minutes and 5 seconds, this race was a far cry from the grueling pain he suffered in 2004, when the race took him nearly 6 hours to complete. He had to wear medical clogs for almost a month afterward to heal his blistered toes.
Yet after all these years, the reason he runs remains constant.
In the months after his father's death, Jones returned to work and went about his regular business. He made funeral plans but tried to stay as distracted as possible.
Then, one day, about six months after his father's death, Jones broke down. The impact finally hit him.
But instead of dwelling on his loss, Jones fully embraced his new hobby.
Jones said he felt running gave him a new sense of life and passion. He signed up for every race he could find.
He especially liked charity races, including the Bruin Run/Walk, which raises funds for the Chase Child Life Program at the Mattel Children's Hospital UCLA.
As he ran more events, he began using the races to talk to people about the high risk of colon cancer among men. He linked up with different foundations and raised money for colon cancer at races.
He brought that passion to his work when he convinced several faculty and residents at the UCLA neurology department's residency program to donate their time for causes he was running for, said Tracy Newman, a program coordinator at UCLA Life Sciences Core Curriculum, who hired Jones in 1997.
In 2006, Jones received a sponsorship from the shoe company Saucony. He invested that money into building a site for a charity organization he and his high school friend Derry Smith are working to create.
To share his passion with other runners, Jones started a blog with tips on how to train for races. He writes about everything related to running "" from what kinds of shoes and socks to wear for races to proper hydration.
But for David Garnett, a 41-year-old architect and Jones' running partner, the first post on the site is the most inspiring. In the post, Jones talks about his father's battle with cancer.
"Cramps, blisters, heat rash, dehydration tested me all throughout the marathon, but I kept thinking, if my dad had to battle cancer on a daily basis, I could suffer through the pain for one day, and I did," Jones wrote in the post.
Garnett said he returns to that blog post whenever he needs a boost of energy in his day.
"I think everyone can relate to family members' pain and suffering," Garnett said. "You can really see what drives Shamar, and that's just a really emotional thing."
Though Jones started running to inspire his father, it soon became a way for him to inspire others.
Scattered all over the living room of his Culver City apartment is running paraphernalia. A book titled "Born to Run" sits on a table, surrounded by a running article Jones read in that morning's Los Angeles Times. Articles on inspirational runners are taped on his wall, and two pairs of running shoes are placed neatly in front of the television set. His marathon medals are tucked away in a bag next to a sofa.
Since his first marathon, Jones has run about 80 races. His new hobby has taken him to the ING New York Marathon and to a half-marathon in Rio de Janeiro.
Running has also opened up a whole new circle of friends.
"At every race, Shamar has like five new friends either during the race or after," Garnett said.
Starting off as running partners, some of these people have become Jones' closest friends.
Jones is fun-loving and brings energy to any place he walks into, said Cristina Garcia, a 34-year-old professor of mathematics at Los Angeles City College, who met Jones through running.
She said one time during a race, Jones stepped to the side and started dancing to entertain the crowd.
It is those moments and his loyalty as a friend that draw people to Jones, she added.
"I've been here 26 years, and I don't think I've ever met anyone like Shamar," Newman said.
Newman and a couple of co-workers stand on a Westwood street corner every year to cheer Jones as he passes by during the marathon.
Every year, a week before the marathon, Jones visits the cemetery in Inglewood where his father rests to pay his respects.
The tattoo on his left arm that reads "Lovell" never lets him forget why he runs.
"Every year I know there's going to be something that's going to test me, that's going to be a gut check," Jones said. "But I always draw that inspiration, that my dad can pull me through it."