UCLA gymnasts deal with unexpected lineup changes in tie for first place with Oregon State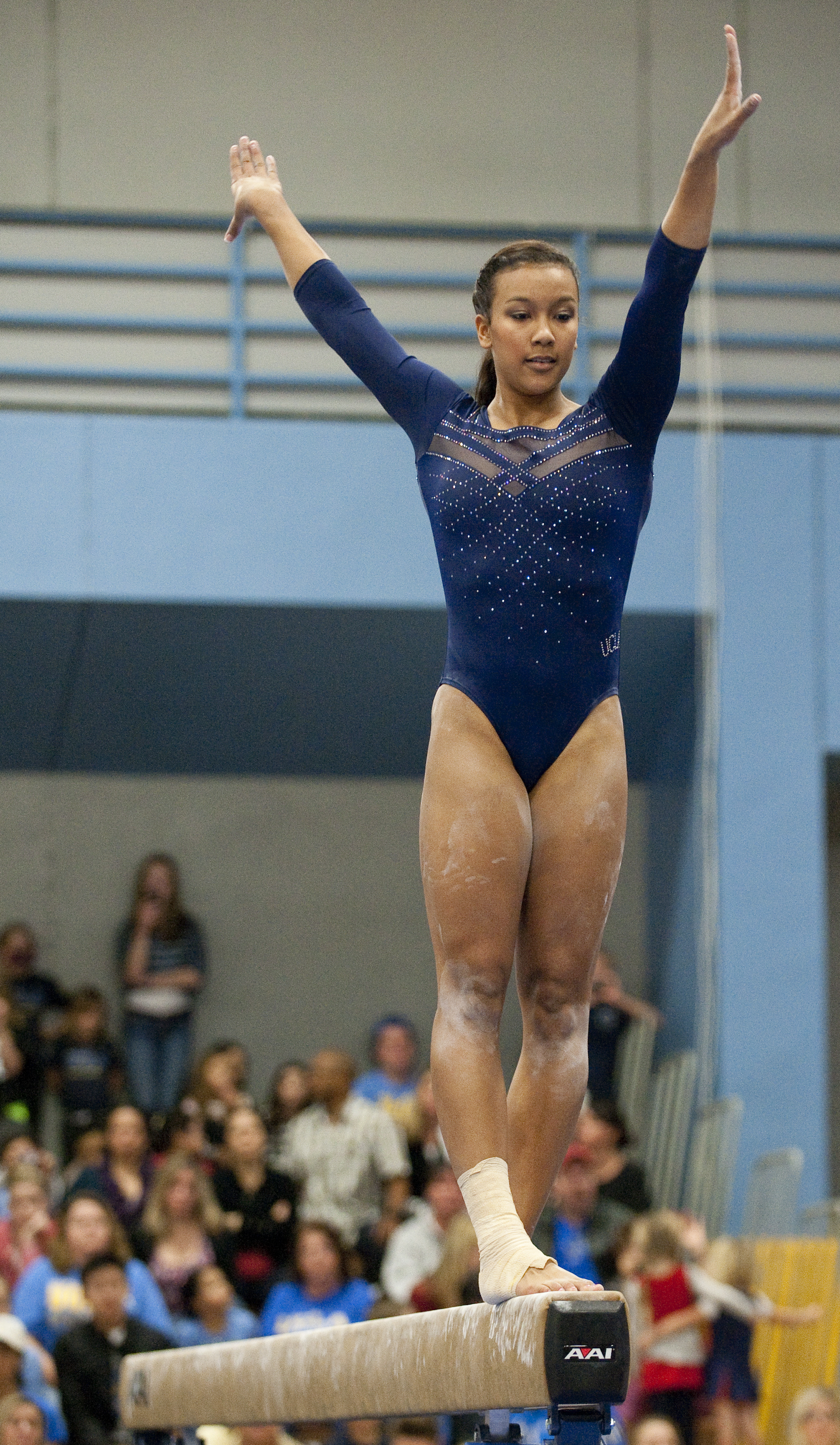 Junior Lichelle Wong scored a 9.825 on beam in this weekend's tri-meet. She did not compete on floor excercise after suffering an Achilles injury during the rotation's three-minute touch in UCLA's tie for first place.
Gymnastics
UCLA 196.775
Oregon State 196.775
Cal 192.350
A sea of black and orange greeted the UCLA Bruins as they entered Gill Coliseum in Corvallis, Ore., on Friday night. Bruin fans were few and far between in the crowd, and many Oregon State fans donned pink for the Beavers' annual "Pink Out" meet in support of breast cancer awareness.
As they entered the arena, the Bruins received a lukewarm showing of support; moments later, the Beavers received a thunderous barrage of claps from the crowd.
The lack of Bruin support in the crowd, coupled with last-minute illnesses and injuries, gave UCLA every opportunity to crumble under pressure.
Despite the distractions, the Bruins were able to remain focused on their ultimate goal. After numerous changes to the lineup, UCLA (7-1-1, 3-1-1 Pac-12) tied for the win with Oregon State (6-0-1, 3-0-1) with a 196.775 total while California (4-4, 0-4) finished with 192.350.
The Bruins began the meet on beam, where senior Aisha Gerber started the team off with a 9.825. UCLA faced its first stumbling block of the meet when sophomore Sam Peszek posted a score of 9.350, a score the Bruins would later discard in favor of five stronger scores.
"Sam injured her wrist, so we were trying to arrange her beam routine at the very last minute so that she wouldn't have to put her hand down," coach Valorie Kondos Field explained.
She remained positive about Peszek's performance despite the errors, though, and said that the mistake taught Peszek a valuable lesson.
"It was a really good experience for her in case we need to have her do this routine, especially if she gets to nationals and her wrist locks up," Kondos Field said.
UCLA met more mishaps going into the second rotation, where Oregon State led by a fraction of a point. Redshirt junior Alyssa Pritchett posted a score of 9.225 after coming off a career-high 9.90 during her last meet.
The Bruins maintained their composure and senior Elyse Hopfner-Hibbs closed out the rotation with a 9.875, effectively erasing any mistakes her teammates encountered on floor.
Junior Lichelle Wong, who scored a 9.825 on beam and later injured her Achilles tendon during floor warm-ups, attributed the Bruins' solid scores to remaining calm and prepared throughout the meet.
"We were really relaxed and were having fun more than anything," Wong said. "There were some uncharacteristic mistakes, but we're all ready to come in if we need to. It just shows how prepared everyone really is."
The Bruins, ranked No. 1 in the nation on vault, knew they had to perform up to their usual caliber on the apparatus as they headed into the third rotation. Sophomore Olivia Courtney and redshirt junior Vanessa Zamarripa posted scores of 9.90 and 9.950, respectively, narrowing the gap between OSU and UCLA.
"Heading into vault, there was no acknowledgement for our team," Kondos Field said. "There were a ton of people there, but they were all for Oregon State. We just kept our focus through that and didn't let the scores get to us. I had no idea if we were ahead or not, but it really didn't matter."
UCLA headed into its final rotation, bars, after posting a 49.450 on vault. When the first gymnast up slipped from the bars, the Bruins knew they were expected to perform their next five routines as perfectly as possible.
But Hopfner-Hibbs, who scored a 9.850 on the event, did not feel any added stress or pressure to perform better as she mounted the apparatus after the setback.
"I had to be prepared to go up and hit, fall or no fall. As far as scores go, there's nothing we can do about it, so we just have to stay focused on our gymnastics," she said.
Hopfner-Hibbs, who was not slated to compete in the all-around at the beginning of the meet, was substituted in on bars and placed third in the all-around with a 39.375.
The senior said that even though her team made mistakes, she considered the meet to be the Bruins' best of the season thus far.
"It's only February, but we honestly felt like we were competing at nationals already," Hopfner-Hibbs said. "We just behaved like such a team, and the fact that we could keep putting people in when the lineups were changing all the time was just absolutely amazing."