Artscapes: A brief yet enjoyable ride on Angels Flight Railway in Downtown Los Angeles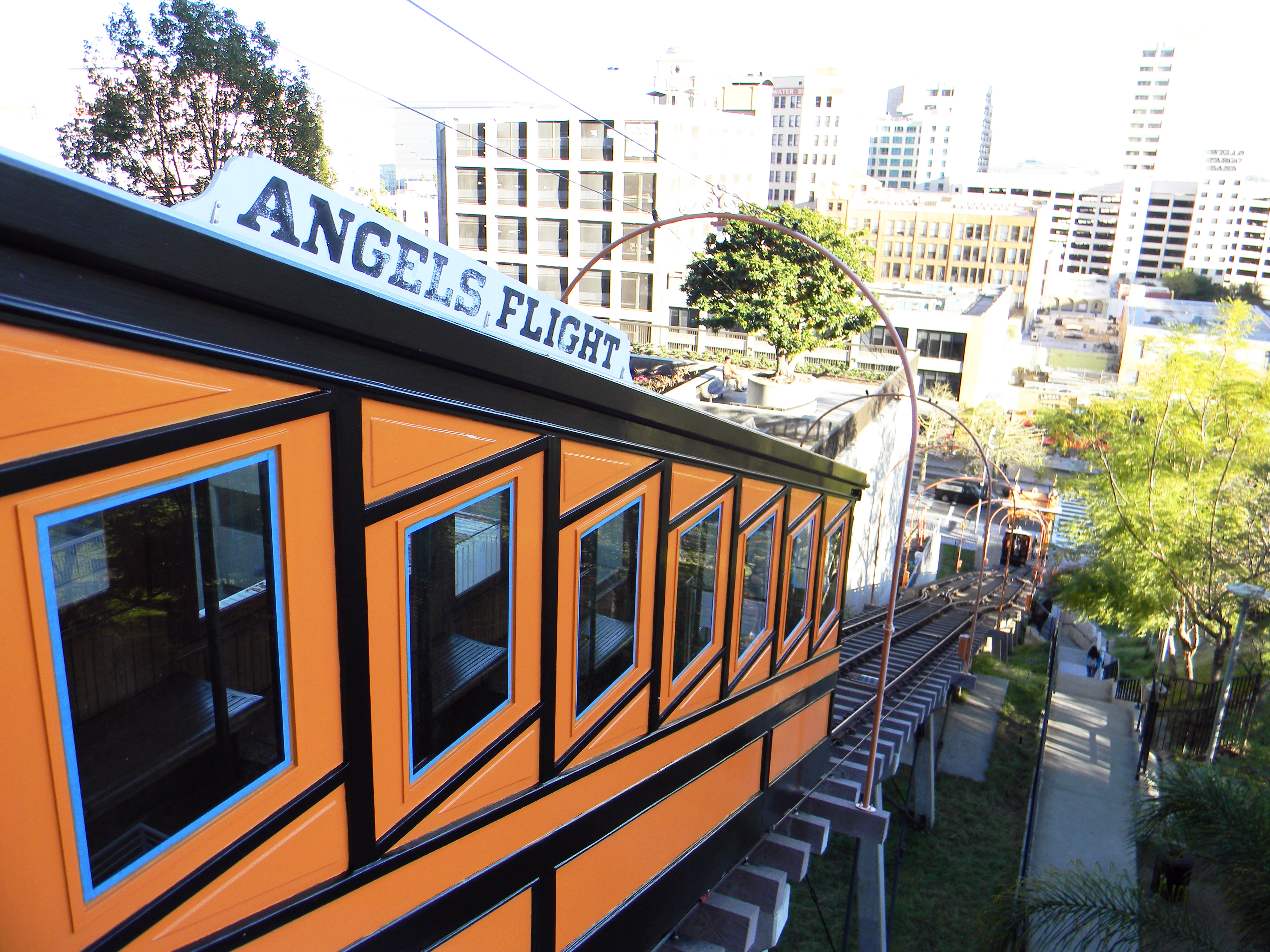 Angels Flight was designed in 1901 by Colonel J.W. Eddy. The turn-of-the century funicular railway was among the first cultural landmarks dedicated in Los Angeles.
Before you go:
Angels Flight Railway & Angels Knoll
Hours: Daily, 6:45 a.m. "" 10 p.m.
Rail Car Admission: 25 cents each way, or five rides for $1
Parking: Area lots vary, $6-10 flat rates or hourly rates on Hill Street
Compiled by Lauren Roberts, A&E senior staff
At first glance, Angels Flight has the look of a fanciful theme park trolley.
The inclined railway and vibrantly painted pair of orange and black rail cars seem like unlikely Downtown Los Angeles fixtures, but in fact, they've been around for more than a century.
In 1901, Colonel J.W. Eddy, a lawyer, engineer and personal friend of Abraham Lincoln, designed the Downtown railway as a convenient alternative to climbing the hill separating Hill and Olive streets.
Rail cars Sinai and Olivet, named for a pair of Biblical mountains, have graced Angels Flight's tracks ever since. (They also personally tweet regularly from Angels Flight's Twitter page).
While the restored cars currently link 351 South Hill St. with 350 South Grand Ave., they're just a half block south of the funicular railway's original site, which connected Hill and Olive streets from 1901-1969. After 27 years in storage following the closure of the original railway site, Angels Flight's track was re-assembled in 1996 at its current location.
Angels Flight Railway was a modern luxury at one penny per way during its heyday.
Today it's more nostalgic than truly functional "" its South Grand Avenue entrance is burrowed in an outdoor shopping plaza. However, this minor flaw in accessibility is easily forgiven with its cheap charm at 25 cents per ride.
The pure wonder of paying for anything in Los Angeles under one dollar "" let alone under 50 cents "" is an exciting experience in itself. I was so taken at the prospect that I splurged on a round-trip ride.
The 298-foot railway carries the title of "shortest railway in the world" "" a feat proudly noted on Angels Flight signage. But perhaps more amusing is its testament to Angelenos' long-standing aversion to walking.
The rail cars run alongside Angels Knoll, a park that's a patch of grass at best, but also home to a picturesque view of some of Downtown's most impressive architecture.
The park is reachable from the railway's Grand Avenue station entrance and is also home to the park bench made famous by the movie "(500) Days of Summer." A quirky plaque marks it from the others with the note "" "Days (95) and (488); Tom's favorite place becomes one of Summer's too," while surrounding trees bear the love notes of film fans.
While Olivet was undergoing biannual maintenance upon my visit, my ride down on the freshly re-painted Sinai was undeniably entertaining. The railcars have distinct old-fashioned charm "" from creaky wood platforms and paneled seats, to the soft yellow glow of bare light bulbs that illuminate the interior. And when riding through the center of Downtown's historic district, it's easy to imagine an earlier era.
It's a quick ride, but well worth the experience and the view.
And by running continuously 15 hours and 15 minutes per day without traffic interference, I'm willing to bet that it's easily the most reliable form of Los Angeles public transit "" and the most fun.
Email Roberts at
[email protected] if you're exploring Los Angeles' artistic and historical gems. "Artscapes" runs every Wednesday.