Annual blood donor appreciation ceremony at UCLA unites recipients with those who donated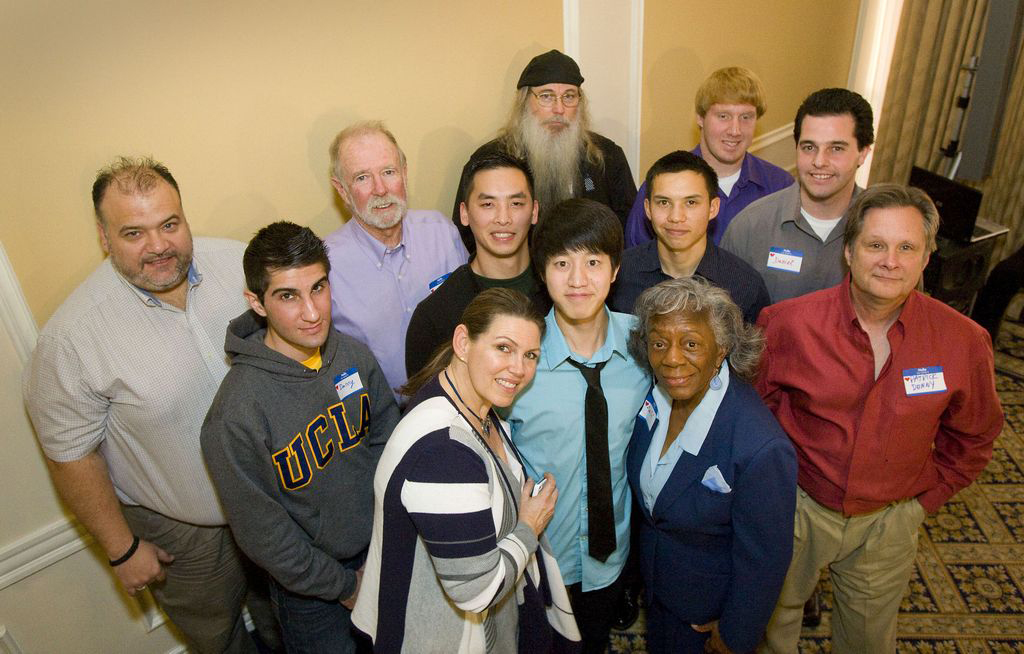 Courtesy of Reed Hutchinson
Seventeen-year-old Donovan Ho, center, stands with 11 of the donors whose blood was used during his 2010 heart transplant at Mattel Children's Hospital UCLA.
A group of 11 strangers, ranging in age and ethnicity, gathered in the front of a room in the UCLA Faculty Center on Friday afternoon.
They had one key uniting factor "" their blood flowed through the veins of 17-year-old Donovan Ho.
The UCLA Blood and Platelet Center's eighth annual donor appreciation ceremony focused on Ho's meeting with donors whose blood was used during his heart transplant in March 2010.
Ho was diagnosed with dilated cardiomyopathy in early 2010.
The condition, in which weak heart muscles cause the organ to expand, required him to undergo heart transplant surgery at Mattel Children's Hospital UCLA.
The surgery required a total of 72 units of blood, plasma and platelets.
"It's people like you that allow people like me to stay alive," Ho said to his donors before asking for applause for his "unsung heroes."
It is unusual to bring together the blood donor and recipient because of confidentiality laws, said platelet coordinator Alexander Garcia.
Through an extensive series of consent forms, however, UCLA brings both sides together once a year to emphasize the importance of blood and platelet donations, he said.
In addition to Ho's donors, the ceremony honored other individuals who frequently give to UCLA's Blood and Platelet Center both at Ackerman Student Union and at the facility on Gayley Avenue.
Several of the guests have made blood donations a lifestyle choice, going to regularly scheduled appointments every few weeks.
One of Ho's donors, 75-year-old UCLA alumnus Sean Holland, has donated 145 times in the last 25 years. That amounts to about 18 gallons of blood, he said.
"It's a thrill knowing you have done something that has had such an impact on someone else's life," Holland said.
Platelets can be donated 24 times a year, and Holland said he regularly reaches that goal.
Whole blood, however, can only be donated every 56 days, or about six times per year.
Certain circumstances, ranging from a recent piercing to travel destinations, can prevent a person from donating. After Holland was deferred from donating for a year after visiting the Philippines, he has started avoiding travel to places that prevent him from donating, he said.
Another one of Ho's donors, 56-year-old Ross Carmichael, first donated blood to the victims of the deadly 2008 train crash in the Chatsworth area of Los Angeles.
Now, he donates platelets every two weeks.
"You can't buy this feeling," Carmichael said at the reunion. "Meeting (Ho) is very euphoric. Very humbling."