UCLA men's basketball falls short against Stanford in Pac-12 opener, 60-59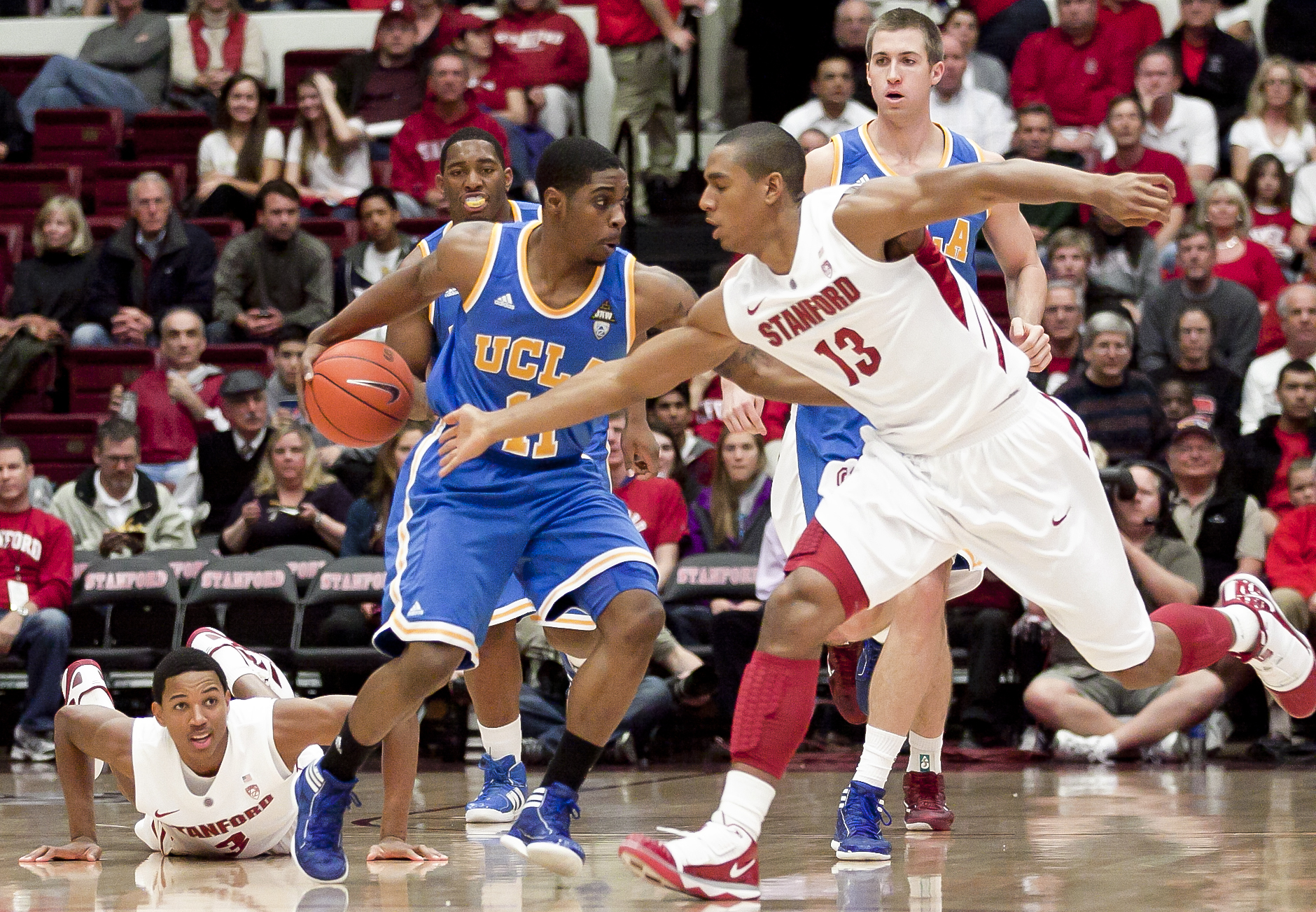 Senior point guard Lazeric Jones, seen here evading Stanford center Josh Owens, accounted for half of UCLA's 28 first half points and led all scorers with 26 total points.
By
Daily Bruin Staff
Dec. 30, 2011 1:23 a.m.
STANFORD ""mdash; Amid the loudest roar of the night from the Maples Pavilion crowd in what was UCLA's first true road game of the season, the Bruins had no timeouts down one point with nine seconds to play.
On a night when he served as almost half the team's offensive output, it was once again Lazeric Jones' time to take the ball in his hands.
Stanford, prepared from the barrage it had taken from Jones earlier in the game, knew it as well. The Cardinal sent a double team at UCLA's 6-foot-1-inch senior guard and 6-foot-7-inch sophomore forward Josh Huestis met Jones at the top of his jumper.
The blocked shot ended a 60-59 Stanford win in the teams' Pac-12 opener. After scoring a career-high 26 points, it was Jones' shot to take or create at the end. He wished afterward that he had done the latter.
"I was just rushing," said Jones, who shot 8-for-13 and 4-of-6 on 3-pointers. "I should have passed it. As soon as I did it, I knew I should have passed it. I knew there was two people on me, but at the time it was just rushing."
UCLA (7-6, 0-1 Pac-12) left the arena with a missed opportunity to notch a quality road win over what could be the best team in a watered-down conference. The Cardinal (11-2, 1-0) entered the game as the only Pac-12 team receiving votes in the most recent AP poll, though that wasn't enough to merit a ranking.
The Bruins tied the game six times in the second half but couldn't ever tilt the momentum in their favor, not once taking the lead after halftime. There were easy opportunities to do so, especially from the free-throw line, where the Bruins shot 15-of-24.
"We were in a hurry to get the lead," UCLA coach Ben Howland said. "We needed to be a little more discerning."
The free throws came in front of a rowdy crowd of 6,777 in what was the first-ever road game for three of the Bruins that played. But the crowd was largely bipartisan, with one especially vocal UCLA section and blue scattered throughout the arena.
"It wasn't like we were rattled or anything," said sophomore center Joshua Smith, who had 10 points but missed three free throws and fouled out late. "They had a good home crowd, we had a good showing. It wasn't a big deal."
After falling down by seven, UCLA once again switched from man-to-man to zone defense, and it helped the Bruins get back in the game. An 11-point Stanford first-half lead was trimmed to just one by halftime.
Stanford shot 35 percent from the field, but not for a lack of quality looks. Coming out of a media timeout with the teams tied at 47, the Cardinal patiently rotated the ball and proceeded to hit three straight 3-pointers "" all from almost the exact same spot in the left corner.
The zone got UCLA back into the game, but what sophomore guard Tyler Lamb called a "lack of focus" on rotations was almost its undoing.
"They were overloading one side of the floor, and we weren't rotating quick enough," Howland added.
A timeout could have helped Howland diagram a play with the game on the line, but there was little doubt who was going to have the ball. After driving and finding an open shooter one play earlier, Jones decided to pull up, the wrong choice on a night when he made plenty of right ones.
"Zeek was our horse the whole game," Smith said. "He was carrying us. We wanted him to have the ball and he tried to make a play. They just made a stop."