Concert review: Joe Jonas, along with Jay Sean and Jojo, gives an entertaining solo performance but falls short of his Jonas Brothers days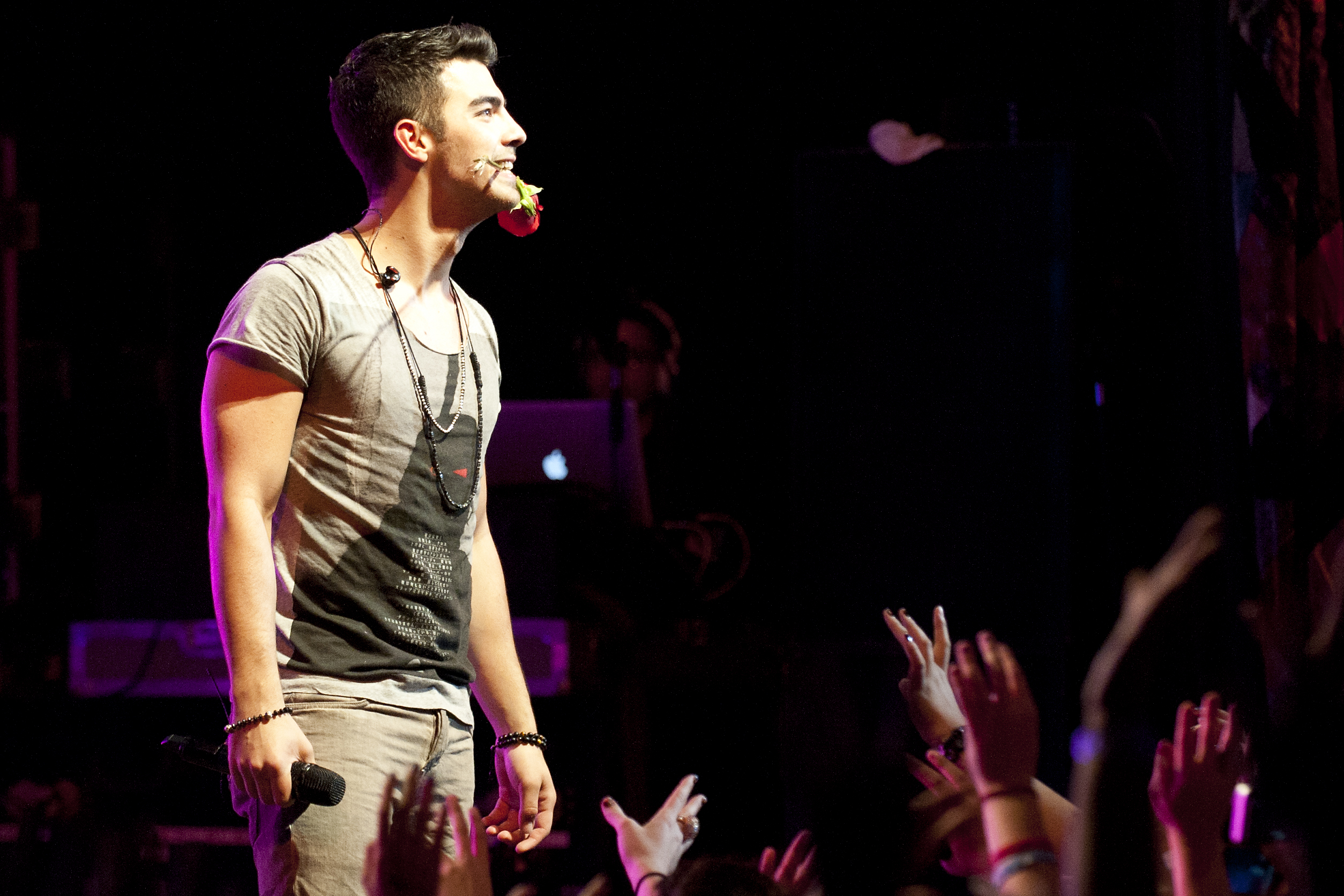 Joe Jonas holds a rose in his mouth, which he later threw out to the audience.
September 22, 2011 11:01 am
Joe Jonas, Jay Sean and Jojo
House of Blues on the Sunset Strip
Sept. 20

For eager Jonas Brothers fans that are excited about Joe Jonas' trek down the solo path, Tuesday night's show in Los Angeles might have left some a bit disappointed but hopeful. Jonas, along with co-headliner Jay Sean and opening act Jojo, performed at the House of Blues on the Sunset Strip. The show featured new music by all of the artists, including some past hits by Jojo and Jonas.
Wearing black tights and a leather body suit, Jojo opened the show as she strutted onto the stage through a thick, gray fog. When the familiar melody of "Leave (Get Out)" was heard, the audience grew wild with excitement, and girls who knew the song by heart began chanting the lyrics. Her second song was a cover of Drake's "Marvin's Room (Can't Do Better)," which showcased that she has indeed grown up and her music stylings have changed.
Jojo explained that the title of her next song, "Disaster," described the lowest point in a relationship, hinting that she herself once battled that situation in the past. She performed with such energy and emotional intensity that the crowd waved their arms in the air, feeling her pain. She ended her set with another old song, "Too Little Too Late," which left fans wanting to hear more of her old music.
After Jojo's set, a DJ played some top 40 songs that pumped up the crowd for Jay Sean's performance. Jay Sean entered the stage wearing sunglasses and a green jumpsuit and was joined by his friend and extremely talented beatboxer, MC Zani, a sweet and surprising addition to the concert.
He opened his set with his radio hit, "Do You Remember," and multicolored lights began to dance across the stage. After the high-energy performance, he sang his first ever single, "Eyes on You." Throughout his set, he also had short beatbox battles with MC Zani to songs such as Lil Wayne's "A Milli," demonstrating Jay Sean's unexpected talent at beatboxing. He closed his set with one of his most popular songs, "Down."
It was finally Jonas' time to perform. The crowd's anticipation seemed to grow at the prospect of judging whether he could perform as well as he did with his brothers. He opened with the infectious single, "Love Slayer," which had a dance and electronic feel. Two backup dancers joined him on stage for his next two upbeat songs, "Fast Life" and "Just in Love." Teasing his fans, Jonas sat on a stool at the end of the stage, signaling he was ready to perform a slow ballad. He introduced his next song, "I'm Sorry," which he hinted was about a past relationship.
Jonas followed it up with a Jonas Brothers medley, including the songs "Hello Beautiful," "Burnin' Up" and "When You Look Me in the Eyes," to which fans responded with earsplitting screams. The short medley was no doubt the most memorable part of his performance. Nearing the end of his set, Jonas' brought red roses to the stage and tossed them one by one to the audience, causing girls to tackle one another in hopes of getting one.
He ended his set with a catchy song and his first single as a solo artist, "See No More." While Jonas takes on the challenge to create a more mature sound and steer away from his tween image, there's no doubt that fans were more receptive of his songs from his Jonas Brothers days.