Softball season ends with loss to Florida Gators at NCAA Regionals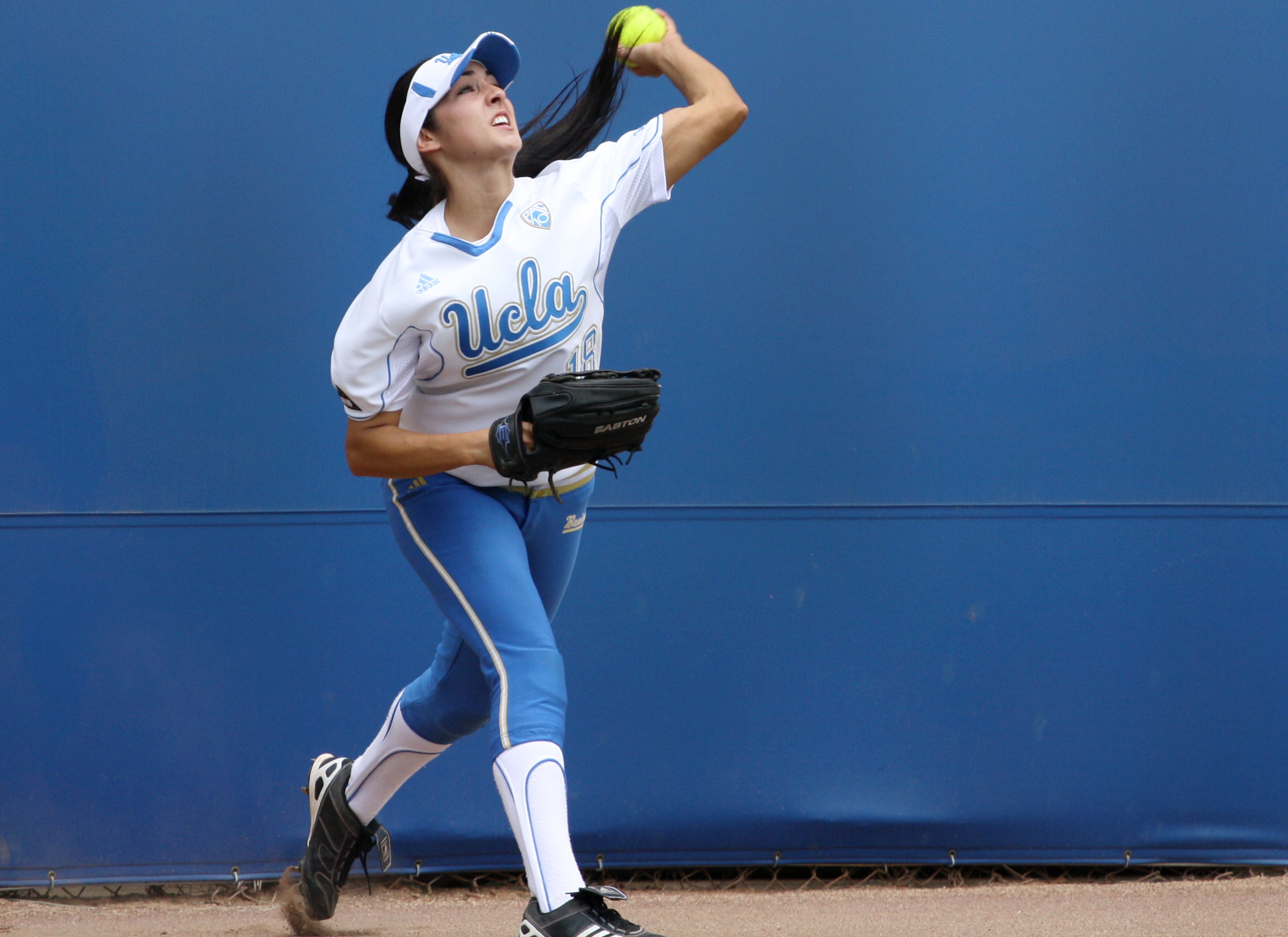 Junior left fielder Andrea Harrison and the Bruins saw their season come to an end on Sunday after suffering an 11-3 run-rule loss against the Gators in the second game of a doubleheader.
Softball
Florida 11
UCLA 3
UCLA 3
Florida 2
UCLA 12
Jacksonville 4
Florida 4
UCLA 2
UCLA 2
Jacksonville 0
There were no records this time around. Or three times, for that matter.
In 2010, the Bruins greeted Oklahoma City and the College World Series by storm, and the Florida Gators were simply another victim in UCLA's march to a banner season.
With a 16-3 mercy-rule victory over Florida in the opening game of the World Series last year, UCLA broke a school record with 97 home runs belted throughout the season.
This weekend at the NCAA Regionals in Gainesville, Fla., the Bruins (36-19) faced the Gators (50-10) yet again, but this time, Florida had the offensive firepower on its side in a 11-3 win that signaled the end of UCLA's season. The Gators, champions of the Southeastern Conference, were equipped with different personnel: a team-maximum six players were named to the All-Region team, while UCLA had just one.
After shutting out Jacksonville (44-16) 2-0 in its playoff opener Friday, thanks to senior Donna Kerr's third complete game of the season, the UCLA pitching staff held a potent Florida offense in check Saturday, but the Gator speed proved to be the difference when the Bruins' freshman catcher Alyssa Tiumalu left the game in the second inning with a right leg injury.
Florida scrapped runs by stealing and capitalizing on costly Bruin mistakes in its 4-2 win: a passed ball, an error that would have ended an inning and a wild pitch. With that loss, UCLA faced the difficult challenge of having to defeat Jacksonville again and then beating the Gators twice on Sunday in order to advance in the NCAA Tournament.
"This weekend, we didn't know what was going to happen. We expected (junior catcher Dani Yudin) to be back," senior third baseman GiOnna DiSalvatore said. "We faced a lot of adversity, but we are prepared for anything."
After going 5-for-5 with the bat and helping the Bruins rout the Dolphins 12-4 in Saturday's nightcap, junior left fielder Andrea Harrison again proved her worth on Sunday. With the team down one run with one out in the seventh inning of Sunday's first contest, and DiSalvatore anxiously waiting on second, the first-team All-Pac-10 performer singled up the middle to tie the game at 2-2.
After a flyout, freshman shortstop Kellie Fox and redshirt junior outfielder Samantha Camuso both singled to left. Senior Amy Crawford then followed with a walk-off single to right to complete the rally.
"We showed that we were fighting down to the very finish against a very talented opponent and got a win out of it," coach Kelly Inouye-Perez said.
The Bruins saw all but 11 pitches in that frame, yet they strung together five singles and a season-preserving 3-2 victory.
Yet if any momentum had carried over, it certainly was fleeting.
After sustaining a masterful six-inning performance in that previous game, Kerr had little time to settle in the circle in UCLA's third weekend meeting with Florida. The Gators chased her out of the game after just a third of an inning. Subsequent efforts from junior Aleah Macon and sophomore Destiny Rodino proved to be futile against the Florida offense, which exploded for a nine-run first inning.
The Gators would cruise to victory while the Bruins were sent home, their season over. For some, the loss marked the end of a career.
"I came into the program expecting to fill a role, and that's what I have done over the past few years," said senior Grace Murray, who filled in for Tiumalu behind the plate. "This team believes to the last out of every game."