Volunteers for second annual Westwood Organized MEGA Project work to revitalize the streets of the Village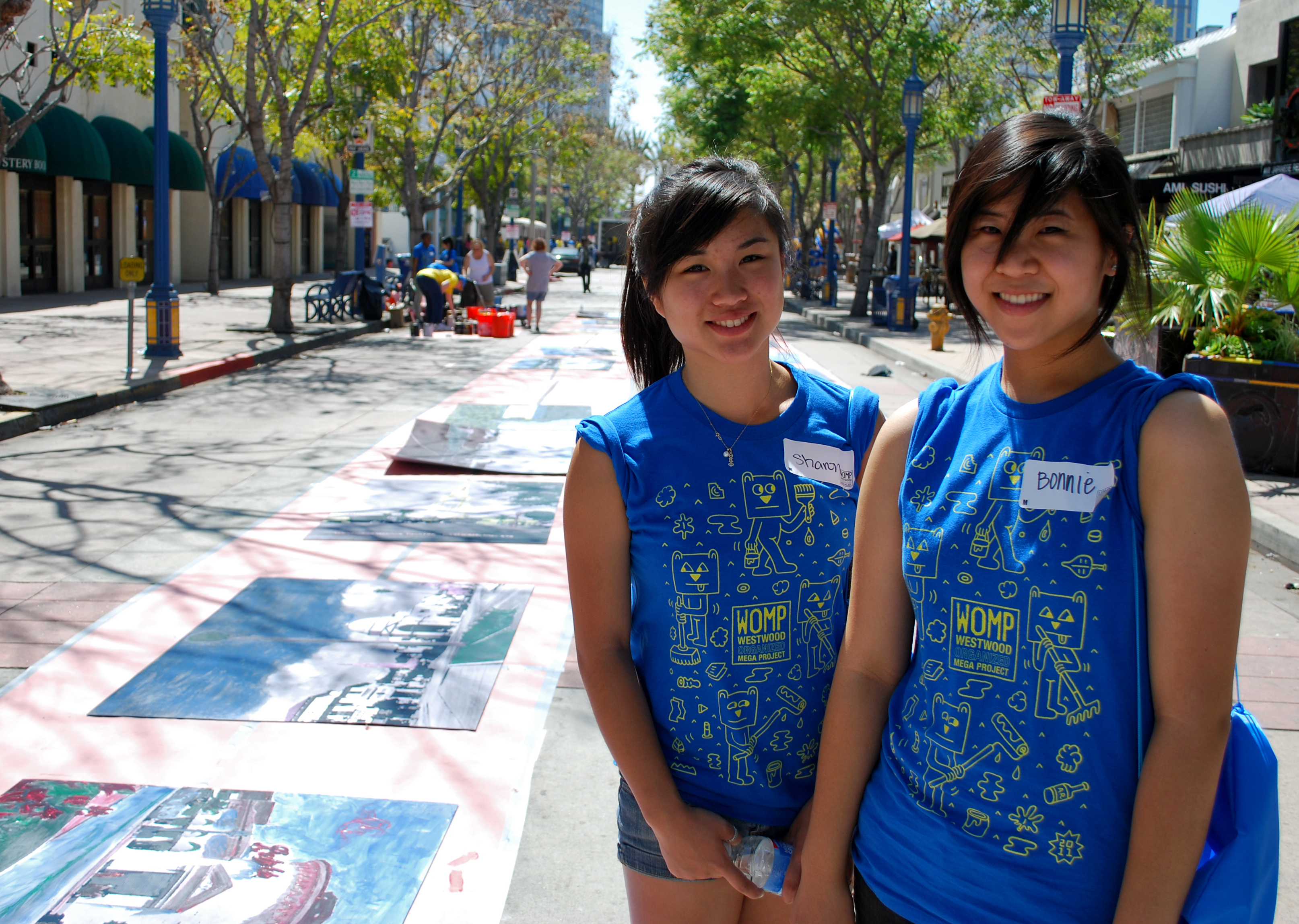 Second-years microbiology, immunology and molecular genetics student Sharon Tran and Design | Media Arts student Bonnie Chen participated in WOMP.
April 18, 2011 12:11 a.m.
Crouched on the ground in the middle of Broxton Avenue, Sharon Tran put the finishing touches on a mural of the original Ralphs in Westwood Village.
The storefront in the image looks strikingly similar to that of Peet's Coffee & Tea. In fact, it's the same one, as Peet's now stands where the neighborhood supermarket once was.
Tran, a second-year microbiology, immunology and molecular genetics student, threw fresh paint over the enlarged black-and-white photo in a union of the old and new. Her mural and 24 others now hang in empty store windows, integrating Westwood's vibrant history into today's community as part of the second annual Westwood Organized MEGA Project.
Five hundred volunteers took to the streets Sunday morning to improve and beautify Westwood for WOMP, sponsored by the UCLA Volunteer Center and the Westwood Community Council.
Continuing last year's efforts, UCLA students worked alongside local merchants to clean up the sidewalks and splash paint on shabby bike racks, trash cans, curbs and poles. This year, volunteers sought to bring more permanent change to the area by painting murals, planting trees and raising a street banner on Broxton Avenue.
"I like that it was more of an interactive service," said Tran, who worked in the center of operations on a closed-off Broxton Avenue.
Around the corner, teams of two toiled away with shovels to plant new trees in key locations such as in front of Enzo's Pizzeria, where a construction cone nailed to a tree stump had proven an eyesore in previous months.
Westwood business owners supplied project materials and breakfast and lunch for the volunteers.
The event has tripled in size and budget, and the complexity of the tasks has grown since last year, said Steve Sann, chair of the Westwood Community Council and a former Bruin.
Even with the immense growth, the project was more organized this time around with the help of David Tracy, the student representative for WOMP and a third-year business economics student. Drawing from his experience with other volunteer projects and his Eagle Scout project, Tracy said he noticed as a WOMP volunteer last year that the operation could run more smoothly and decided to get more involved.
"This year we're shooting for organized chaos," Tracy said with a smile as volunteers split up into groups headed by one of 50 task captains.
Besides students, the event attracted professional support such as Laguna Beach artist Marlo Bartels, who crafted the five colorful cube benches and three planters made of reclaimed tiles that embellish Broxton Avenue. After installing the pieces in 1997, Bartels returned this weekend to touch up his artwork, which has been chipped by skateboarders and heavy use over the years.
"I would've come here at night and done this work," Bartels said.
Beyond revitalizing the community, developing this sense of investment in the community was the main focus of the project for Los Angeles City Councilmember Paul Koretz, who attended the event to support the project and generate interest.
"Hopefully, we're going to … get Westwood back to where it was when I was here at UCLA," he said.