Gymnastics uses spring break to refocus for the NCAA Championships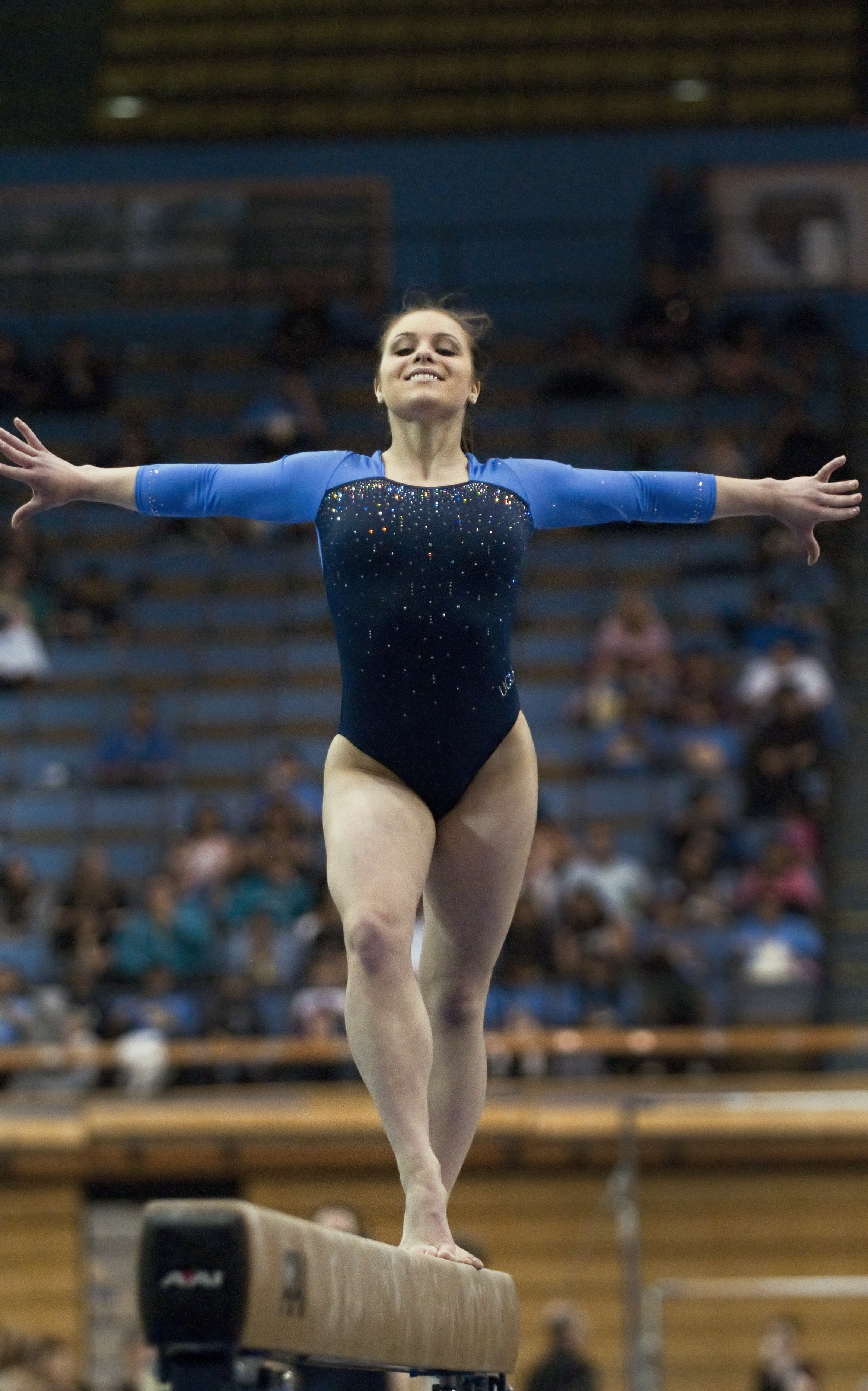 Elyse Hopfner-Hibbs and the Bruins are headed to the NCAA Championships in Cleveland.
For most students, spring break presents a perfect opportunity to become a couch potato. But for the UCLA gymnastics team, a week without classes meant exactly the opposite: a chance to increase the intensity of training.
Elyse Hopfner-Hibbs said she enjoyed being able to practice without having to worry about school.
"Especially since we have a lot of science majors on the squad "" not that it really matters what your major is "" the break was just so relieving for everyone," the junior gymnast said. "There was none of the pressure of class so we were able to focus better."
The training sessions during spring break paid off for the Bruins, who look as if they have returned to national championship form after posting a nation-leading 197.425 during regional competition on Saturday.
Posting scores higher than 49 on every event, UCLA showed off some of the hard-earned consistency it learned during detail-oriented practices.
By now the Bruins have mastered the skills in their routines, so what coach Valorie Kondos Field is concerned about is making sure her team executes to perfection. This means returning to fundamentals, such as maintaining a tight form on vault, high dismounts on bars and proper conditioning on floor.
"The last few weeks we have really zeroed in with laser focus on different aspects of every event," Kondos Field said. "We have had assignments where everyone has to perform two perfect routines, which means no wobbles. All in all we have been working a lot in the beginning of practice on basics. We are trying to get bigger skills that are easier to stick."
Being able to concentrate only on gymnastics for a week has helped the Bruins refocus on fixing problems with technique that have plagued them throughout the regular season. Freshman Olivia Courtney believes that setting high standards in practice translates into solid performances during competition.
"During intersquads, we always bump our goals up because we knew that we could achieve more," she said. "It forced us to be more consistent when we performed and that showed (on Saturday)."
The Bruins have almost two weeks to prepare for the NCAA Championships in Cleveland, and they plan on using the time just as efficiently as they did during spring break. With their above-197 score on Saturday, UCLA established itself as a dominant contender for a national title that is up for grabs.
"Every team has been beat this year; it really is anybody's ball game," Kondos Field said to reporters after the regional. "I really think who puts it together that night with the most confidence is going to win it."
Around the Pac-10
Besides the Bruins, Oregon State was the only other Pac-10 team to advance to the NCAA Championships, capturing its 10th regional title at home Saturday.
Despite losing only once in the regular season, No. 4 Stanford was upset in its regional qualifier by Kent State, a team that has never qualified for the national championships before. Two falls on balance beam led to a season-low team total for the Cardinal, who was eliminated from the NCAA Tournament for the first time in five seasons.
Arizona and Washington were the two other conference teams that failed to qualify, placing fifth and third in different regional competitions, respectively.