Men's basketball hopes for another double win to avenge Washington losses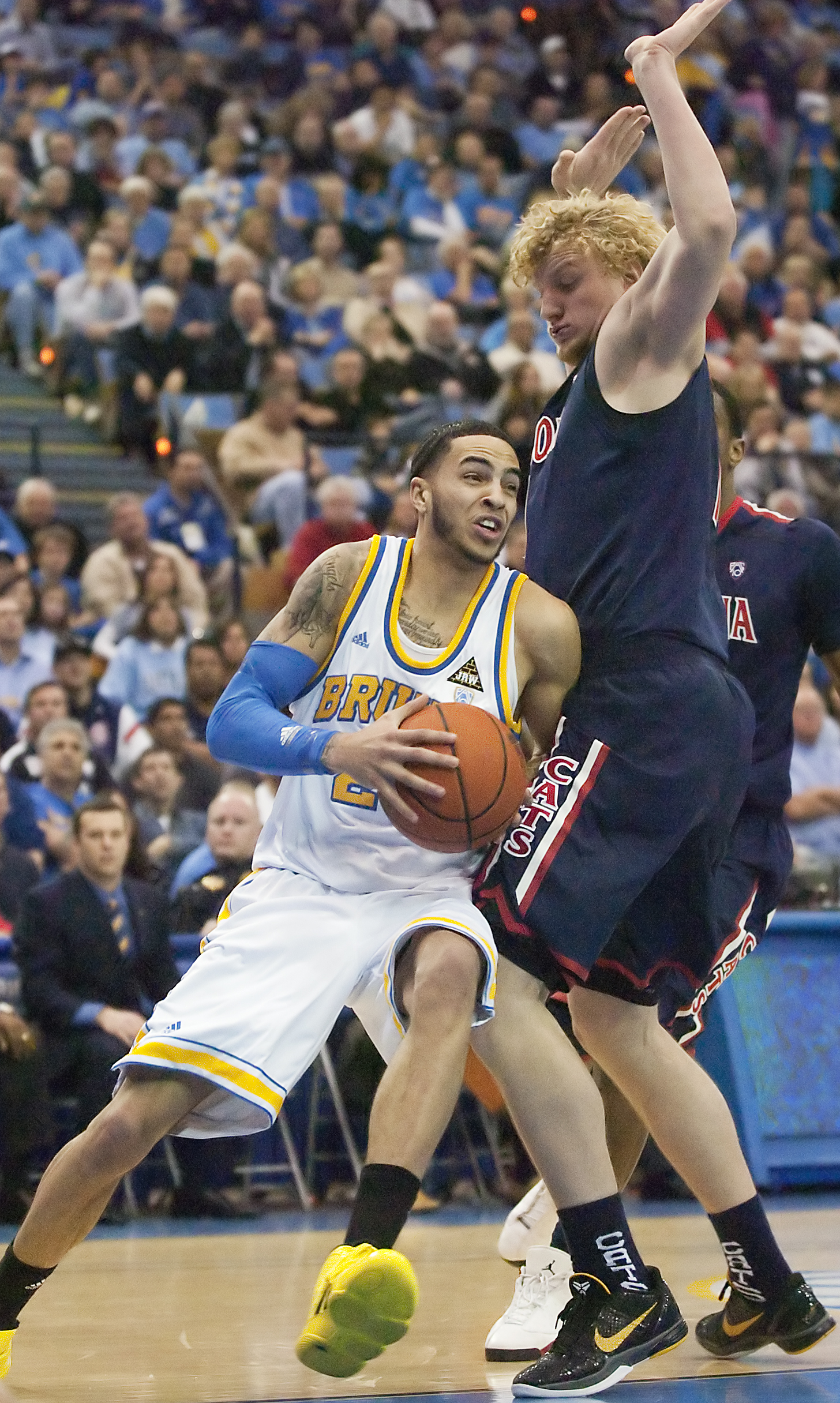 Sophomore forward Tyler Honeycutt and the Bruins head to Seattle to take on the Huskies today. UCLA has not won since 2005 at Washington's Alaska Airlines Arena, which is famous for its commanding home-court advantage.
Men's basketball
Washington
Today, 6 p.m.
Seattle
ESPN2
The Bruins looks to avenge a December loss to the Huskies today in Seattle.
Correction: The original version of this article contained an error. Washington's arena is the Alaska Airlines Arena.
Around this time of the year, the Bruins are seeing double.
UCLA travels to Seattle today to challenge Washington in a hugely important game that pits two of the conference's three best teams against each other. But the matchup has lost a little luster because the Huskies suffered an upset loss to the Washington State Cougars in their last game.
The scenario sounds strikingly like the one the Bruins found themselves in at this very time last week.
That weekend, UCLA proceeded to pummel the Arizona schools en route to a double dose of blow-out wins.
That's the kind of doubling the Bruins like to see "" the kind they would like to duplicate.
But it won't be easy in Seattle.
"It's real electrifying in there," junior guard Malcolm Lee said of the Huskies' Alaska Airlines Arena at Hec Edmunson Pavilion.
"They're aggressive. And the crowd feeds off of them and they feed off of the crowd."
Raucous "Hec Ed" "" as it's known by the locals "" is indeed known to leave teams woozy, dazed and defeated. Add to that the anticipation of native freshman Joshua Smith returning home after spurning the Huskies in recruiting, and the crowd is likely to be especially hostile. UCLA will do its best to avoid the sort of blurred double vision that results from a beatdown. The last six seasons should remind the Bruins how that feels.
UCLA has lost six straight to Washington in Seattle by an average of 12.5 points. Those six losses include three by eventual Final Four teams. But the most recent one might sting the most.
This year's crop of Bruins are just one year removed from a 29-point drudging in Seattle.
"It was embarrassing," sophomore forward Tyler Honeycutt said. "It was one of our big games on national television. We were hyped for it, and to be embarrassed like that "" I still feel it personally. It wasn't a good experience."
But add to that unpleasant memory the euphoria of Saturday's win over Arizona. The Bruins indeed are a year removed from a blowout loss in Seattle, but they are also coming off of their biggest win of the season and their best-played game.
Sophomore forward Reeves Nelson was particularly impressive in Saturday's win over the Wildcats. Nelson saw double, scoring 27 points and pulling down 16 rebounds to lead the team in both categories and give him his eighth double-double of conference play.
One of those eight came against Washington at home in UCLA's second Pac-10 game of the year. That afternoon Nelson was again the high man in points and rebounds.
"Their fans are already crazy," Nelson said. "It's going to be us against the world, and we're going to have Josh's back, no matter what."
But a lot remains on the line for both teams tonight besides standing up for Smith.
UCLA is locked in a tie for first place with Arizona. While both teams are fighting for the regular-season conference crown, they'd both also enjoy the No. 1 seed in the conference tournament that comes with it.
The top seed likely won't have to play Arizona, Washington or UCLA until the championship game, a good omen for teams looking to put the finishing touch on their resume.
"You always want that No. 1 seed," Honeycutt said. "Being conference leaders is a good title to have for your NCAA resume."
Washington meanwhile, still mathematically in the conference title race, might be more concerned about slipping back onto the NCAA Tournament bubble "" not a good place to be as the calendar turns to March.
The Huskies, however, are an impressive 13-1 at home this season, their only loss coming against their rival Cougars on Sunday.
As Lee noted, Washington feeds off their crowd's energy to play an up-tempo, high-scoring brand of basketball.
UCLA is coming off of its best defensive performance of the year, holding the conference's top team to shooting only 32 percent from the field for a total of 49 points.
Something will have to give.
"We know it's going to be a war on Thursday," Nelson said.