The Bruin road show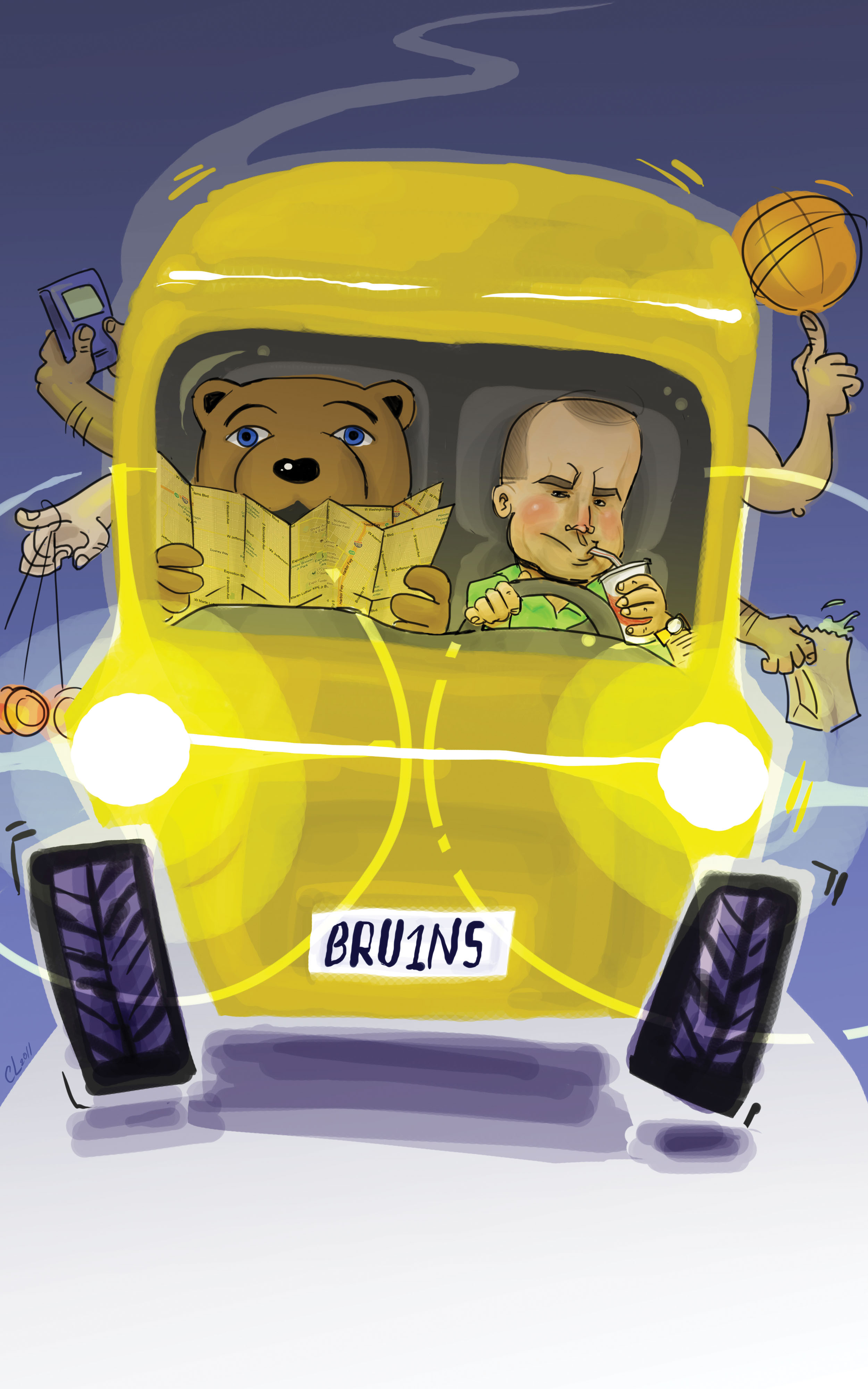 February 23, 2011 11:59 pm
It doesn't have three rings, or lions or tigers.
No Barnum, no Bailey, no unicycle riders.
No acrobats, no trapeze acts, nothing on fire.
But it's hitting the road in 2012 and the situation looks dire.
It's the world-famous Bruin Road Show "" coming to a town near you.
To Bakersfield, to Ontario, to Anaheim, to San Diego and oh yes, to Los Angeles, too.
It features hard-nosed defense, low scoring and a lot of tattoos.
Basically, it's the greatest show on earth.
Get your tickets now "" or later, since they'll still be available.
The UCLA Athletic Department is calling for a "Blue Out, Sell Out" as it waves goodbye to Pauley Pavilion Saturday against Arizona.
Saturday will be the last men's basketball game played in the historic building until the renovated version reopens at the start of the 2013 season.
In the interim, UCLA will play its home games anywhere from the Los Angeles Memorial Sports Arena, 15 miles down the road, to the Valley View Casino Center in San Diego, 130 miles south of campus.
It makes sense, then, that the Athletic Department wants a sellout Saturday because it likely won't get another one for a while.
"Obviously, we're in a crappy situation, playing all of our games away," said Elan Bigknife, president of the Den. "Someone's got to think outside the box, because I don't see how to get students to all these places."
Bigknife isn't the only one who's stumped. UCLA's predicament came about when it was officially announced Feb. 15 that the L.A. Forum in Inglewood was no longer an option for home contests.
Though an e-mail survey sent to Bruin fans said the Athletic Department had "expended a considerable amount of time looking at the L.A. Forum," Madison Square Garden's purchase of the building squelched that effort. The new owners are renovating the building in hopes of making it into more of a concert venue.
Now it looks more and more likely that UCLA will play as many as 18 games across the street from USC at the Sports Arena. But that won't be all.
"I think without question, we're looking at the Bruin road show," said Mark Harlan, senior associate athletic director for external relations.
Harlan said he expects to have things all sorted out in the coming weeks, but wherever UCLA goes, it's certain that it won't feel quite like home.
The Bruins have the makings of a top 25 team in 2012, but they won't have any single place where they can get really comfortable.
"I'd rather play in Pauley because it's what's familiar to me, but you just have to play the cards you're dealt, so I'm not too worried about it," sophomore forward Reeves Nelson said. "A gym's a gym."
But not all gyms are equal.
The road show is likely to travel often to Anaheim's Honda Center, might find its way to Ontario and could make a pit stop in Bakersfield. The Staples Center was an option on the survey, but the trendy venue has limited availability and potentially restrictive cost. Each location presents its own set of pluses and minuses.
And then there are the logistical problems of getting students and fans through L.A. traffic to a Thursday night game at 7 p.m.
Bigknife said students would likely only show up on weekends.
"And that's still a big maybe," he said. "We've seen a declining number of students who go to games. … Students don't want to walk down from the dorms to go to a game "" what will make them want to go traveling on the road? It's going to be a giant student population drop."
Coach Ben Howland has spent the last few weeks visiting fraternities and sororities to strike up student interest, but said he has given "zero thought" to the way the road show will affect fan turnout.
"We're going to play wherever they tell us to play," Howland said. "It doesn't matter what my preference is. … It's so far down the list of things I think about, it's not even funny. I have no thoughts."
Junior guard Malcolm Lee doesn't really need to think about it. He said he sympathizes with students who have midterms to study for and other commitments on weeknights.
"The closer we are (to campus), the better," Lee said. "That way, more fans will come out, and we need the fans."
San Diego is not very close to Westwood.
"That doesn't sound like a very good idea," Lee said.
In fact, it seems no one has good ideas just yet.
"There's a lot questions to be answered," Bigknife said.
Even Harlan was short of specific answers. He said the Athletic Department would use the survey, listen to season-ticket holders and work with students to "make some really good choices." He added that he sees some attractiveness to playing single Pac-10 series in more distant venues.
For students, he reiterated ideas that were raised as early as fall 2009, but did not provide any additional details. He said the Athletic Department would "absolutely" utilize a bus system and would look into providing incentives.
"It's going to be a challenge for (students) on any weekday (game) that's not on campus," Harlan said. "We can't get away from having weekday games. We're going to have to make it as easy for them as we possibly can."
How the Athletic Department will make it "easy" still remains to be seen.
"The only reason students are even part of the question is because Ben Howland wants it and the team wants it and that's what gets the rest of the crowd energized," Bigknife said.
"For as much as they want to get us there, for all practical purposes, it's almost unrealistic to expect a full amount to be there. It's going to take a lot of creativity "" maybe professors will have to cancel midterms for a week or something ridiculous."
Perhaps Anthony Stover's confusion tells the story best.
A reporter told the redshirt freshman center that the team could play a game next season at Rabobank Arena in Bakersfield.
"Really?" Stover asked, a bewildered look spreading across his face.
Then he hung his head and laughed off the possibility.
"I'm not even quite sure where exactly that is," Stover admitted.
"Bakersfield," a reporter offered. "It's an arena."
"Wait," he paused. "So our home games would be in there?"
And as reporters tried to clarify that there likely would only be one game in Bakersfield, Stover cut the explanations short.
"No," he said. "That's the dumbest … "
And he trailed off.
Everyone might be wise to enjoy the sellout Saturday night.